Hello, friends! Today I'm sharing the new version of Season's Greetings + More Strawberry Lemonade Quilts. This collection has been so incredible to work with, and we are appreciative of all of the wonderful feedback we've received. So today I'm sharing seven more quilt–some I've sewn, most were sewn by Chelsi, and one was sewn by my friend Nancy Lane!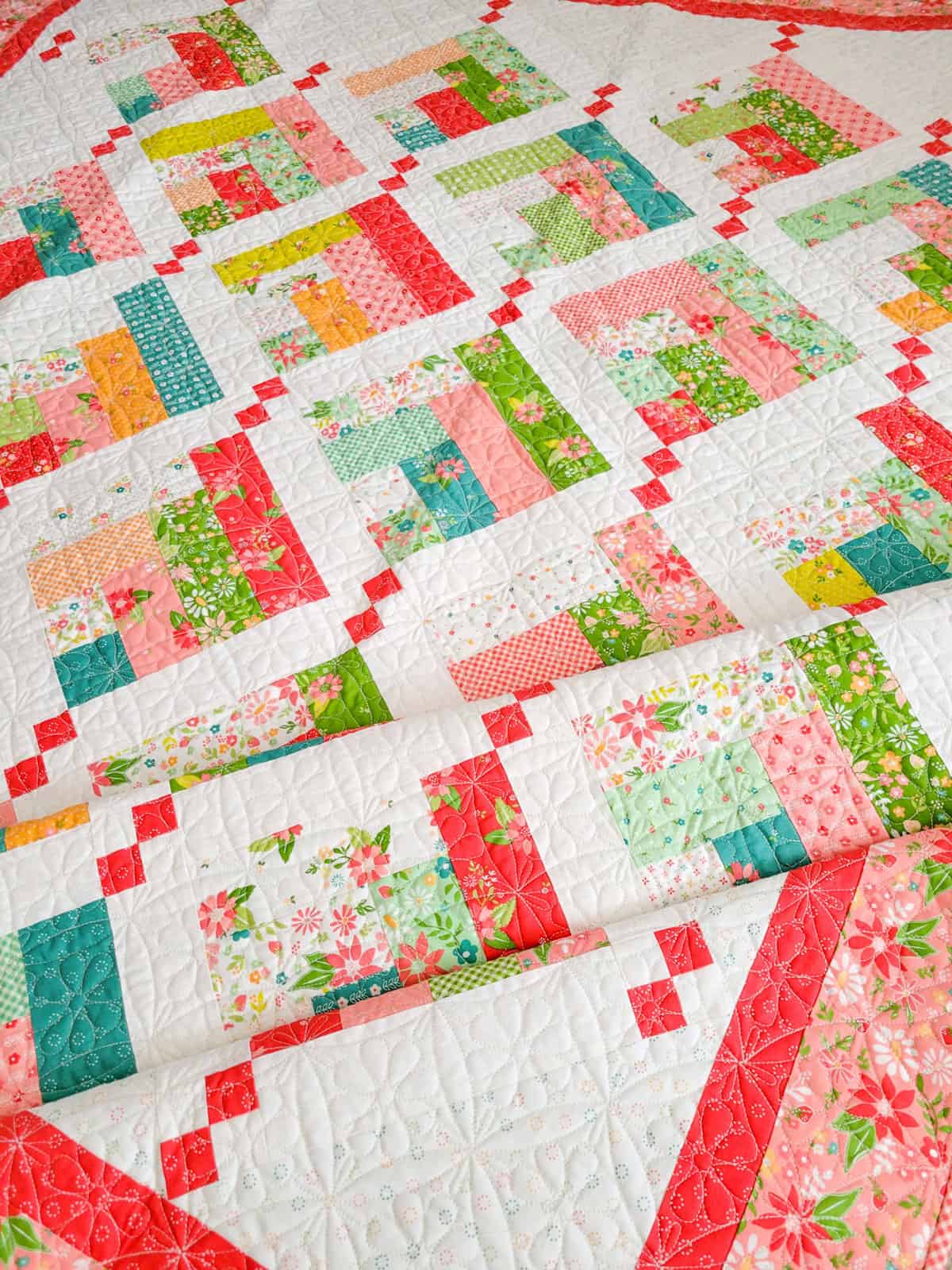 Season's Greetings + More Strawberry Lemonade Quilts
Season's Greetings in Strawberry Lemonade
When I pieced my original version of my Season's Greetings Jelly Roll pattern in our Favorite Things fabrics, I knew it would be beautiful in any collection. (You can see the original version of this quilt here). So, I was thrilled when my friend Nancy offered to make this up in our Strawberry Lemonade fabrics. She did beautiful piecing. My friend Marion Bott did the quilting, and I did the binding! Season's Greetings finishes at about 70 ½″ x 84 ½″. I've been receiving a lot of comments on this since I had it hanging on the door in my sewing room, and it showed up in several videos!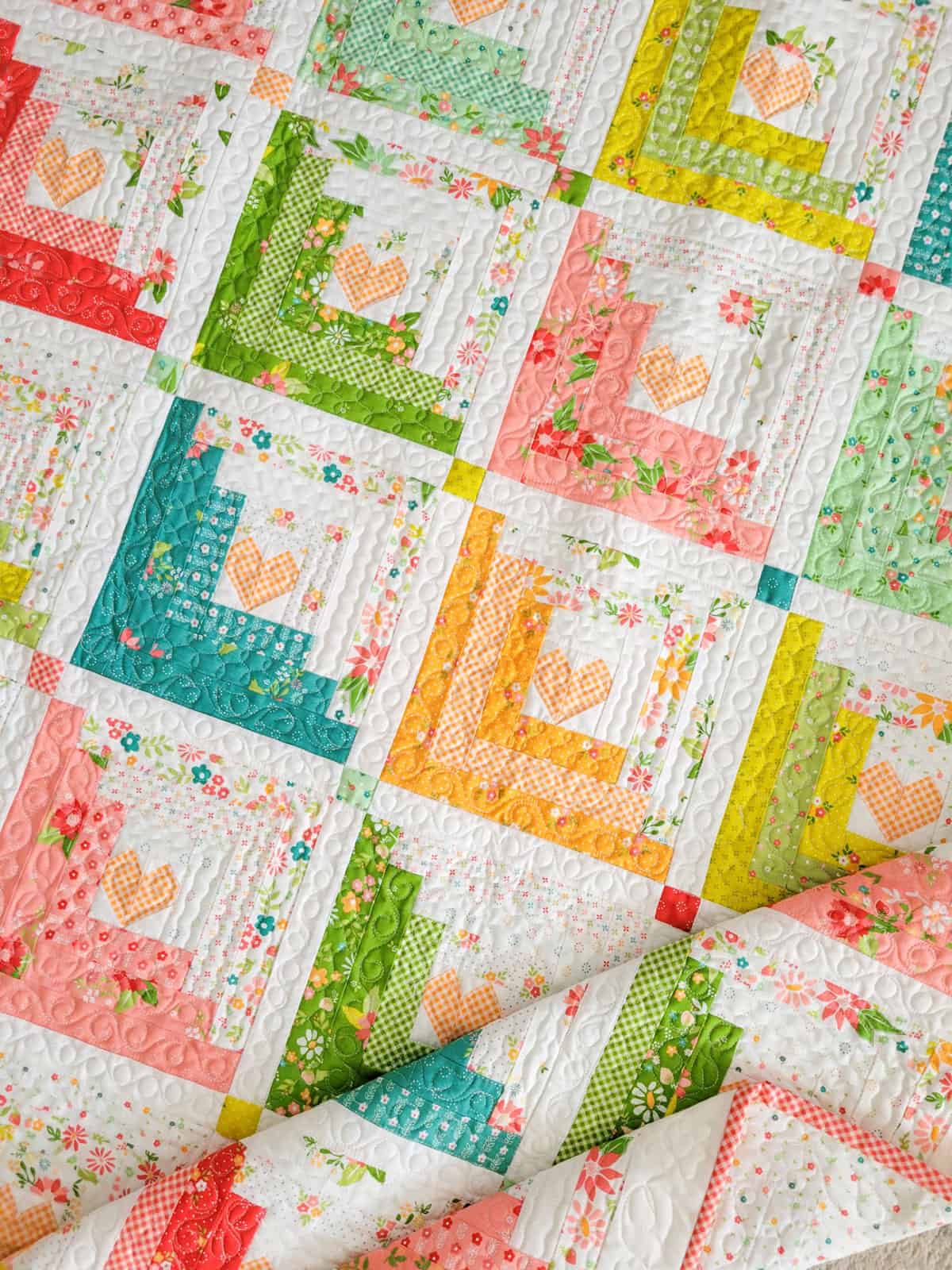 Hearts at Home II
I'm also super excited to share Hearts at Home II in Strawberry Lemonade. I pieced both the full-size version (48 ½″ x 57 ½″) and a 9-block wall hanging (about 30″ x 30″) of this delightful design by my daughter. This pattern is an older one of Chelsi's, but she really wanted it shared in Strawberry Lemonade fabrics, so I was happy to help out. The gorgeous custom quilting was done by my friend Val Krueger.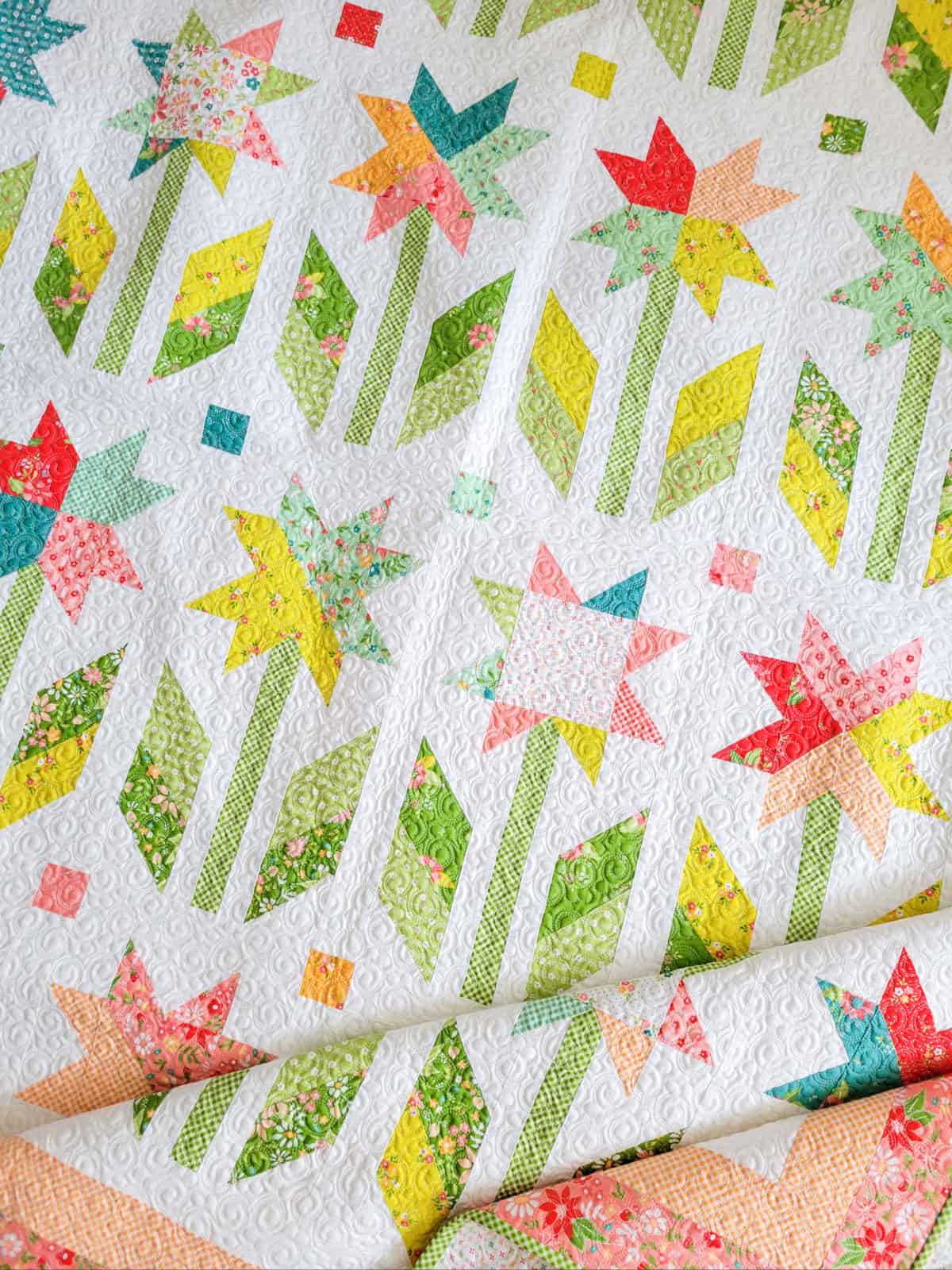 Botanical Remix
Botanical Remix is one of the brand-new patterns by Chelsi and finishes at 68″ x 81″. This star flower quilt features different star designs and darling stems and leaves. This will be a Moda boxed quilt kit, too! The all-over quilting was done by our friend Marion Bott, and I was able to really enjoy this one while I did the binding.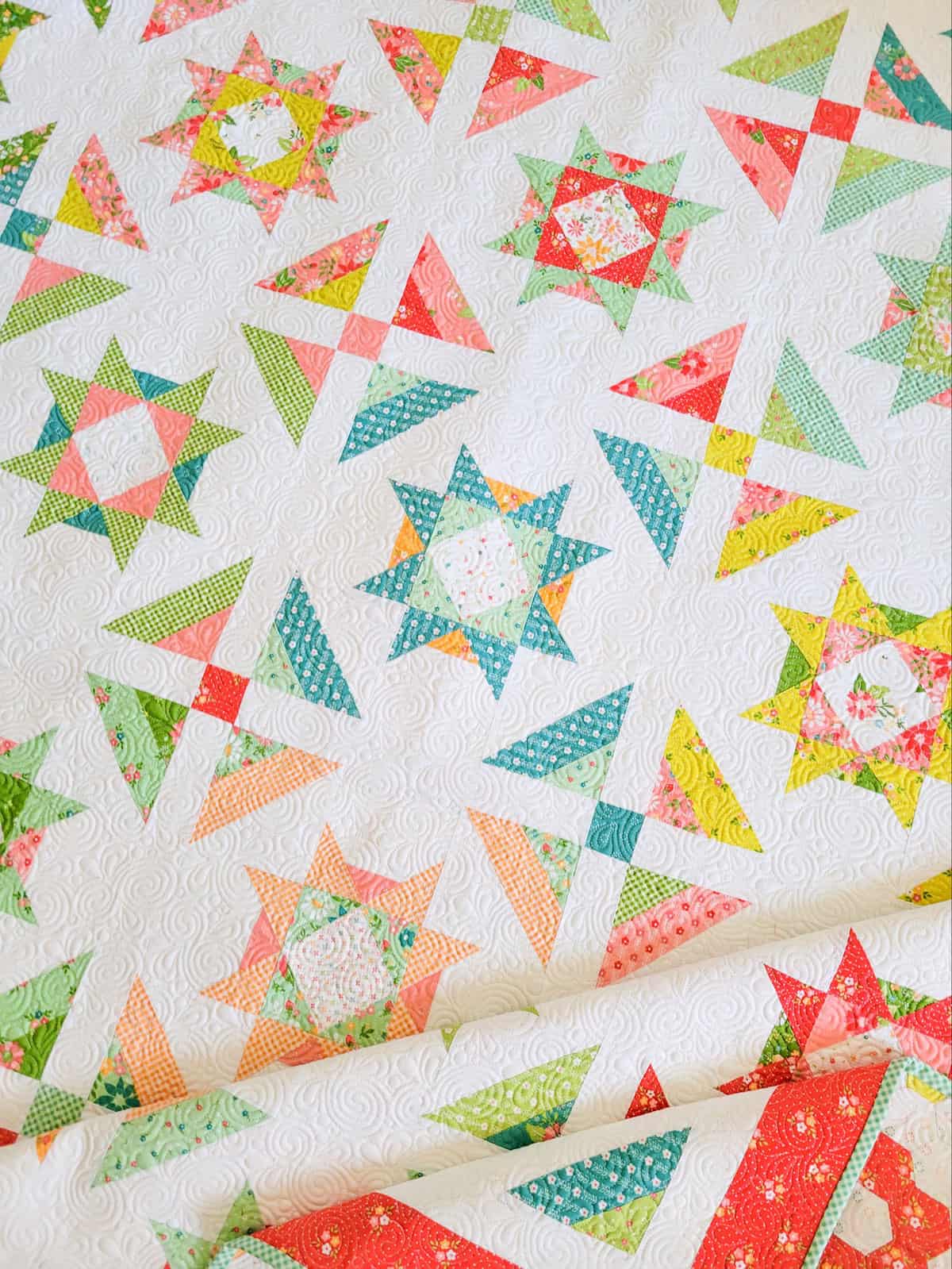 Sunshine Girl
I just finished up the binding on Chelsi's Sunshine Girl quilt the other day. And it wasn't until just the other day that I found out Chelsi named this quilt in honor of my love for the ocean and the southern California coast! Sunshine Girl finishes at 74 ½″ x 88″ (perfect twin size quilt). There are so many fun color combinations in this quilt. And that is one of the great things about this collection–the prints and colors are so versatile and work together in so many ways!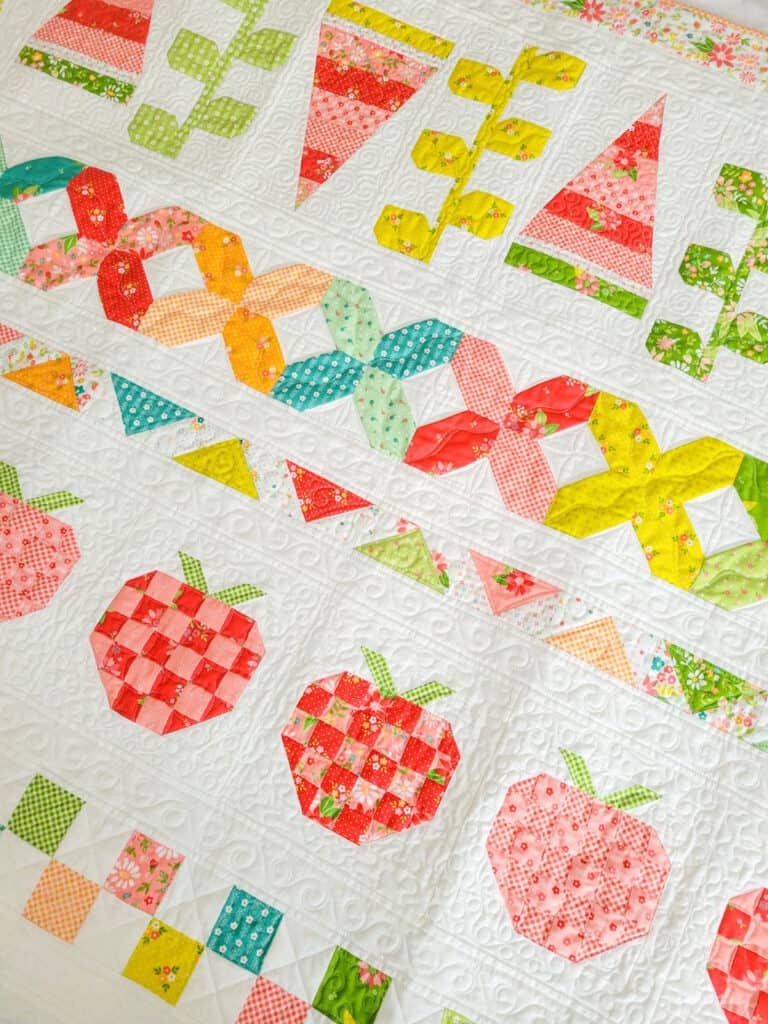 Summer Slice
Chelsi's new row quilt design, Summer Slice, is absolutely darling. This quilt finishes at 59 ½″ x 71″ and was also quilted by Val Krueger (with binding by me). With strawberries, watermelons, vines, lemons, limes, and fun patchwork designs, this quilt is sure to be a summer favorite.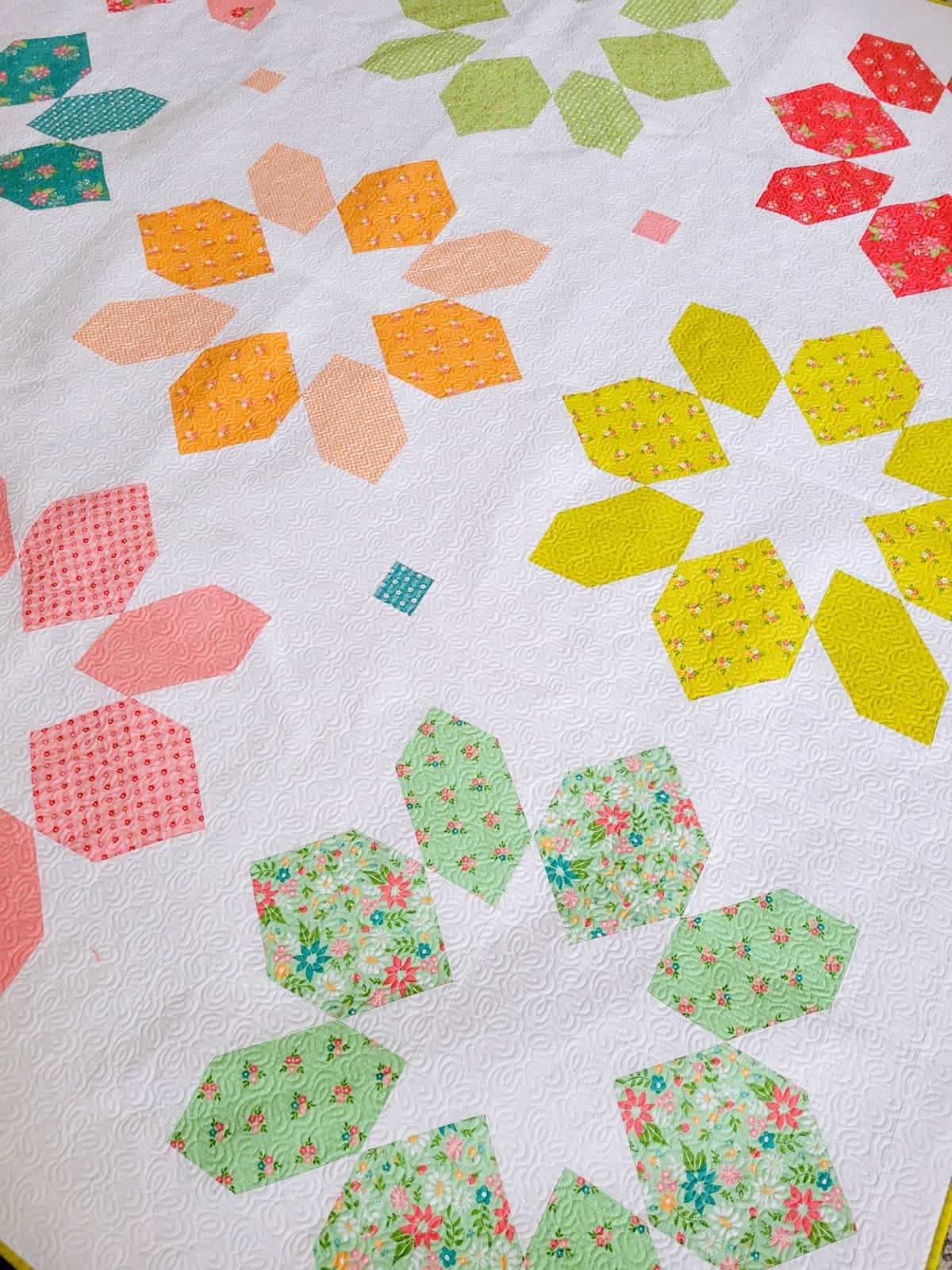 Miss Magnolia
Miss Magnolia is a striking big block quilt by Chelsi and finishes at 81 ½″ x 81 ½″. It also has all-over quilting done by Marion Bott with binding by me. The blocks are large, and the piecing is simple on this one, so this design is a great way to get a large quilt done quickly. I think this design would make such a fun Christmas quilt, too!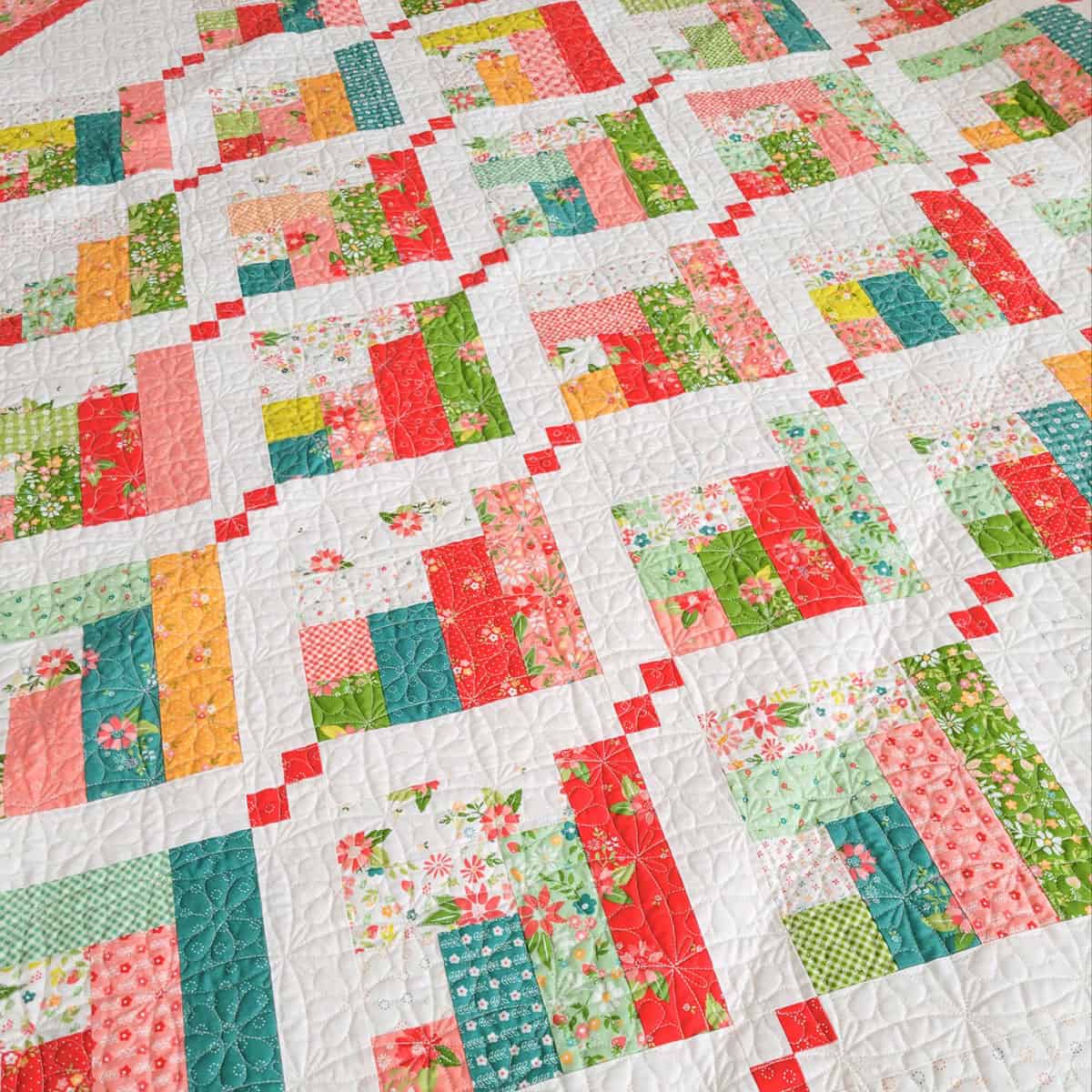 More with Strawberry Lemonade
Below is a list of the previous posts sharing the Strawberry Lemonade quilts and fabric:
Thanks so much for stopping by to see the new Season's Greetings Quilt + More Strawberry Lemonade Quilts.
Happy quilting!