Hello, friends! Today I'm sharing my new Summer Star Medley & More with Strawberry Lemonade Fabrics. The Summer Star Medley pattern contains four different projects including a mini, table runner, wall hanging, and lap quilt and is pieced in our Strawberry Lemonade fabrics. I'm also sharing more small projects already made with this collection. I know you'll find one or more things included in today's post that will be next on your list!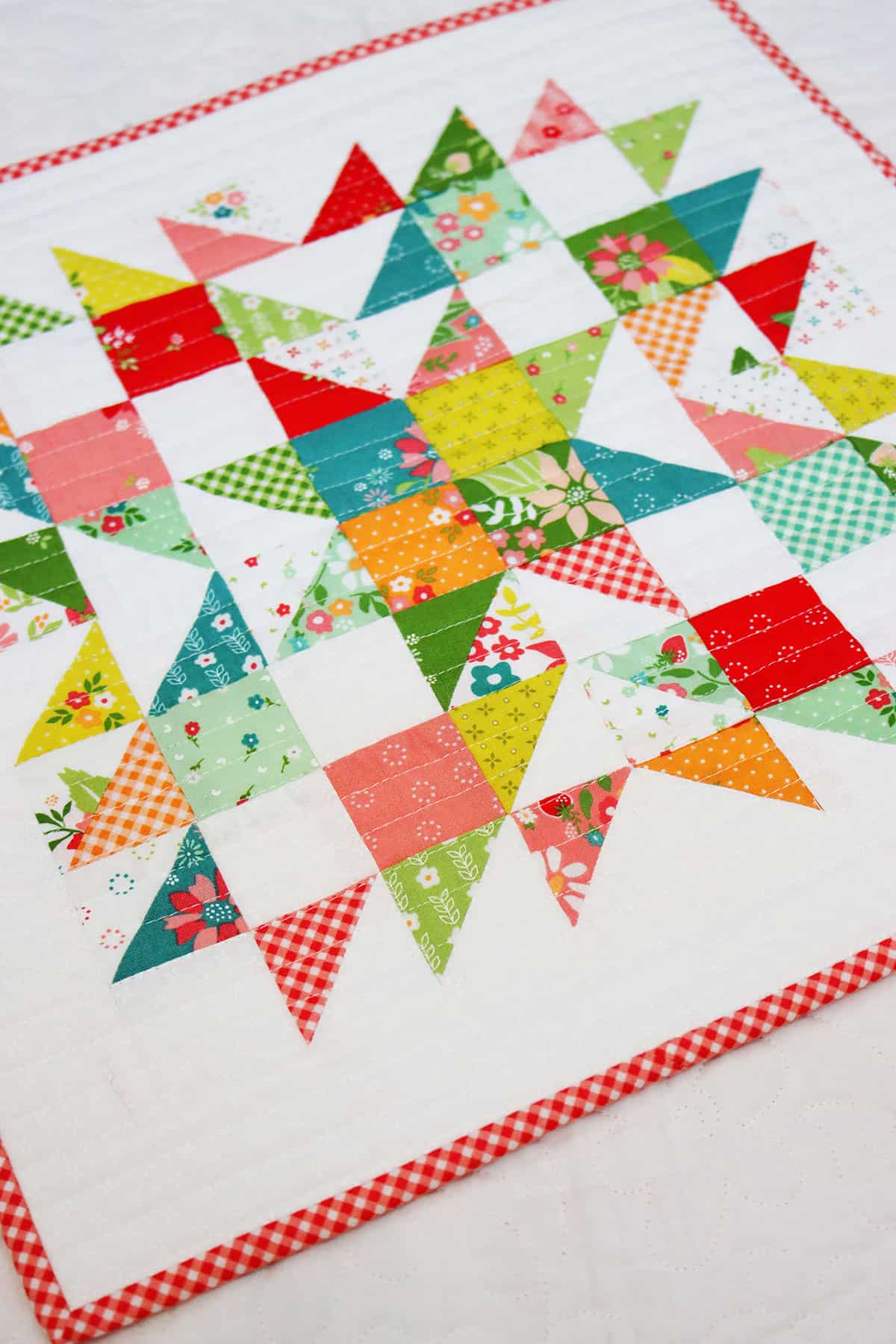 Summer Star Medley & More with Strawberry Lemonade Fabrics
Summer Star Medley Pattern
I'm excited to share my new Summer Star Medley pattern. Several years ago, I designed one of my favorite mini quilts to date–the Summer Star Mini. And for quite a while I've wanted to update that pattern to include more sizes. The mini is shown above in our Strawberry Lemonade fabrics. I did straight line quilting on my home machine spaced about ½″ on this one. The pattern now includes the following:
The Summer Star Mini
Summer Star Table Runner
Summer Star Wall Hanging
Summer Star Throw Quilt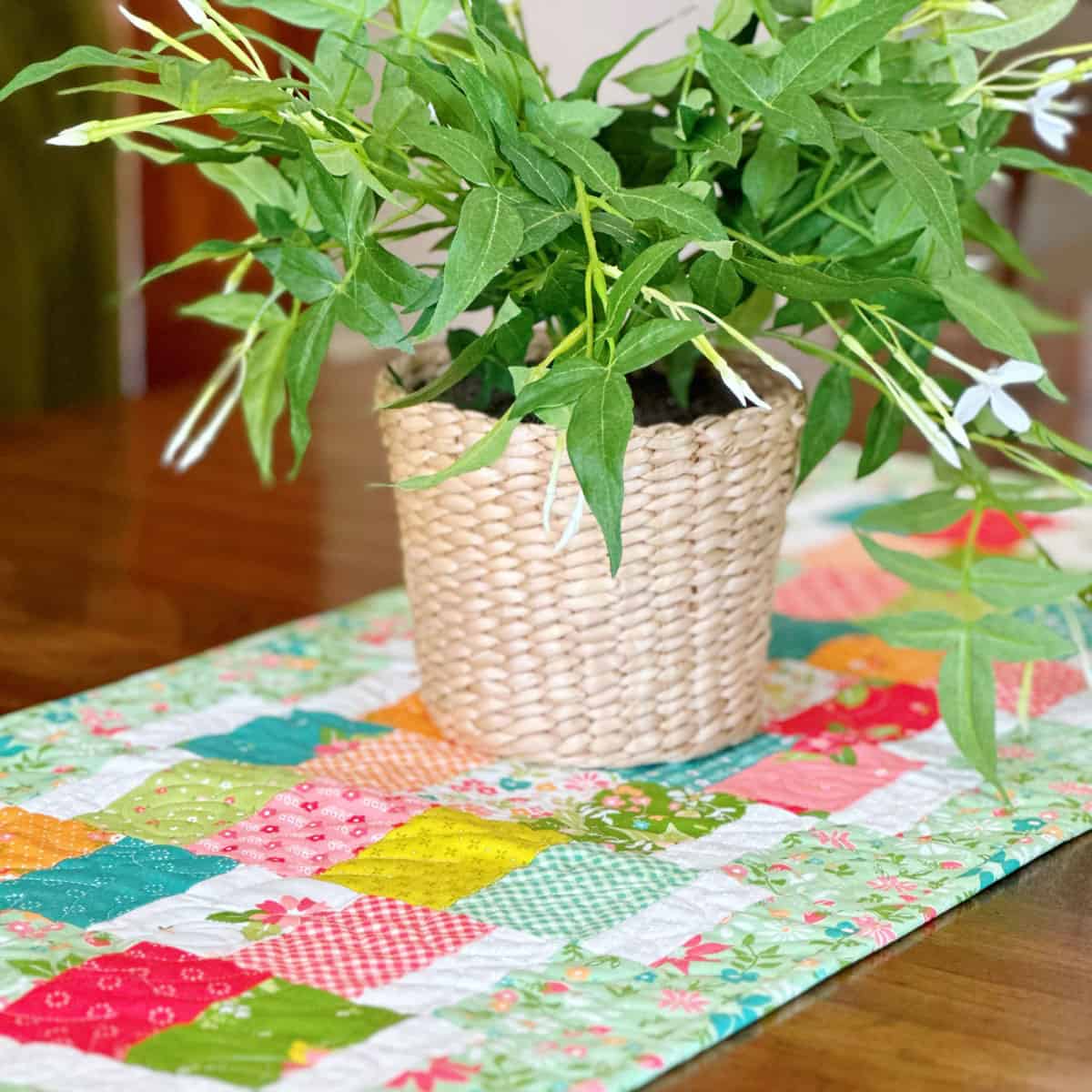 Strawberry Lemonade Table Runners
I couldn't help but make some fun table runners as soon as the sample yardage arrived for Strawberry Lemonade. Two of the runners were pieced from a couple of my go-to scrappy patterns, and I also was able to piece a runner from left over blocks from my Getaway quilt. I am working on another runner that I'll share soon.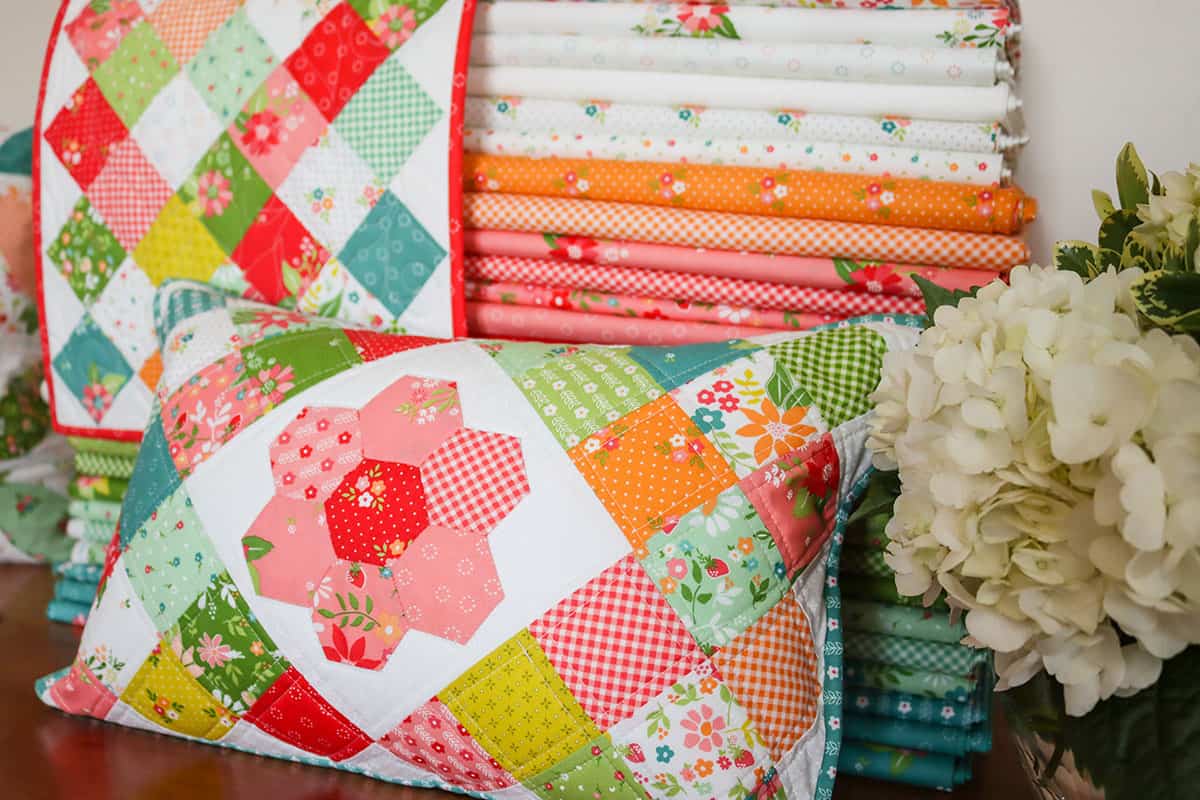 Mini Charm Pillow + Table Mat (Free Pattern)
I also made a fun Mini Charm Pillow and Table Mat which I've shared as a free pattern with Moda Fabrics. One Mini Charm pack and a little background fabric are all that is needed for this fun project. The hexagon flower block is optional (see the table mat version behind the pillow without the hexagon flower). I did the straight-line quilting on the pillow with my machine and had all-over machine quilting done on the table mat. I will have a tutorial and link to this free pattern here soon!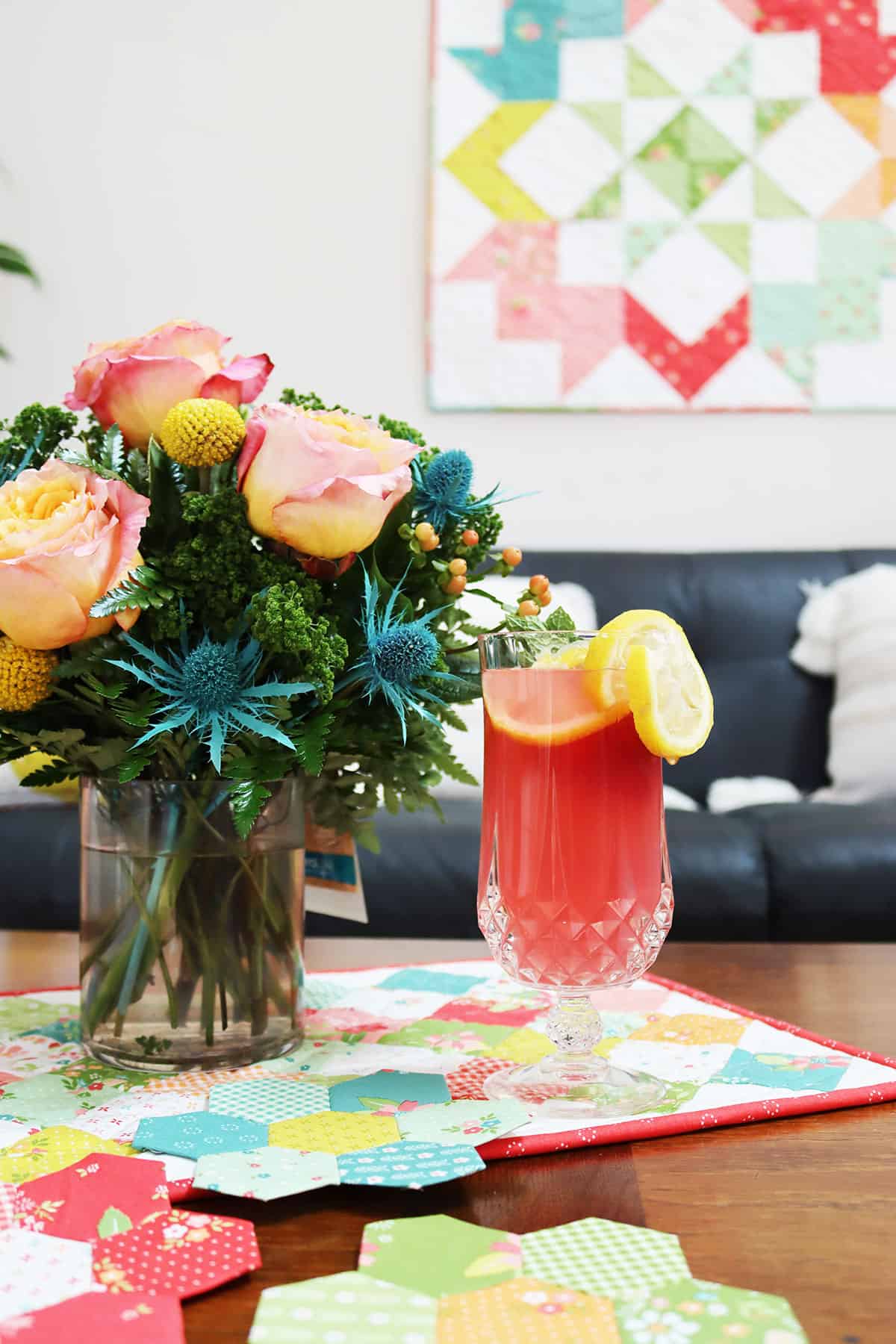 Moda Love Wall Hanging in Strawberry Lemonade
I pieced the Moda Love wall hanging in the photo above (and on the cover of the catalog) from charm squares cut from our strike off fabrics. We really wanted a fun wall hanging in our cover photo, and the free Moda Love Wall Hanging was such a fun option. I did a scrappy binding on it because our yardage hadn't yet arrived! I am grateful to my friend Vicki who did the quilting so we could have it in time for our photo shoot!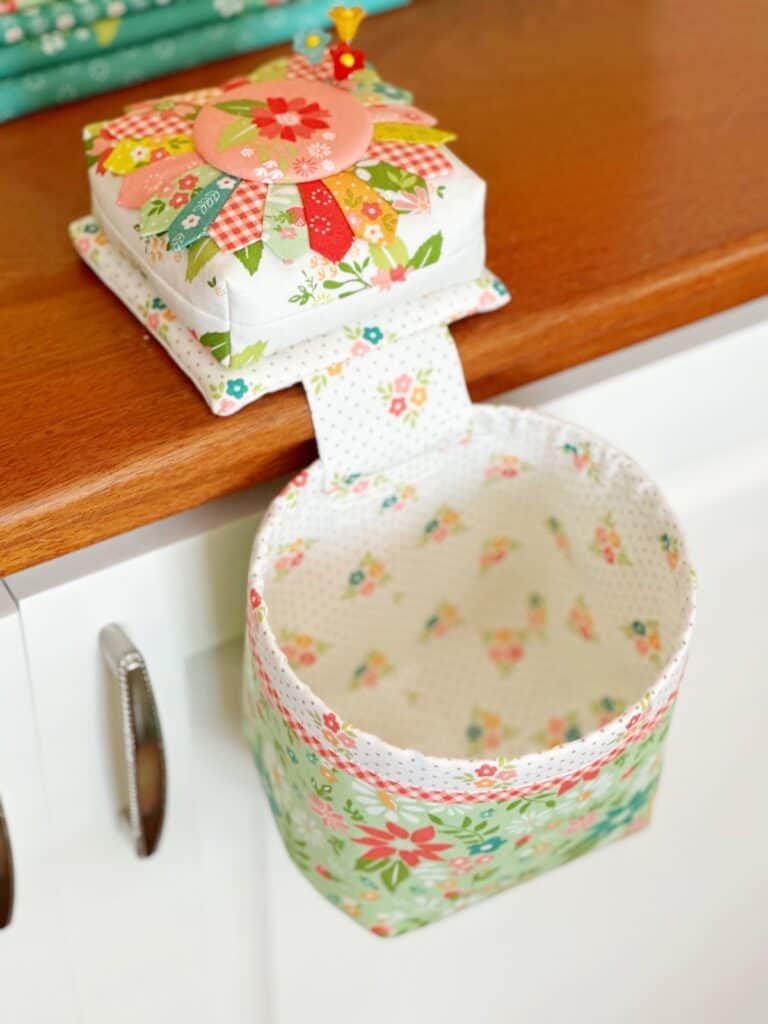 New Strawberry Lemonade Pincushions
I sent my friend Teri some Strawberry Lemonade fabrics for two custom pincushions. I'm absolutely in love with how they both turned out. Teri does the most beautiful work, and you can also find patterns for these pincushions in her shop.
Strawberry Lemonade Cross-Stitch Designs
My friend Katie from Count Your Stitches Designs has once again pieced some darling cross-stitch projects based on a few of my Strawberry Lemonade quilts and projects. You can find her Montage cross stitch (above left), her orange peel mini project (above right) and her Coastal Summer cross stitch designs in her shop.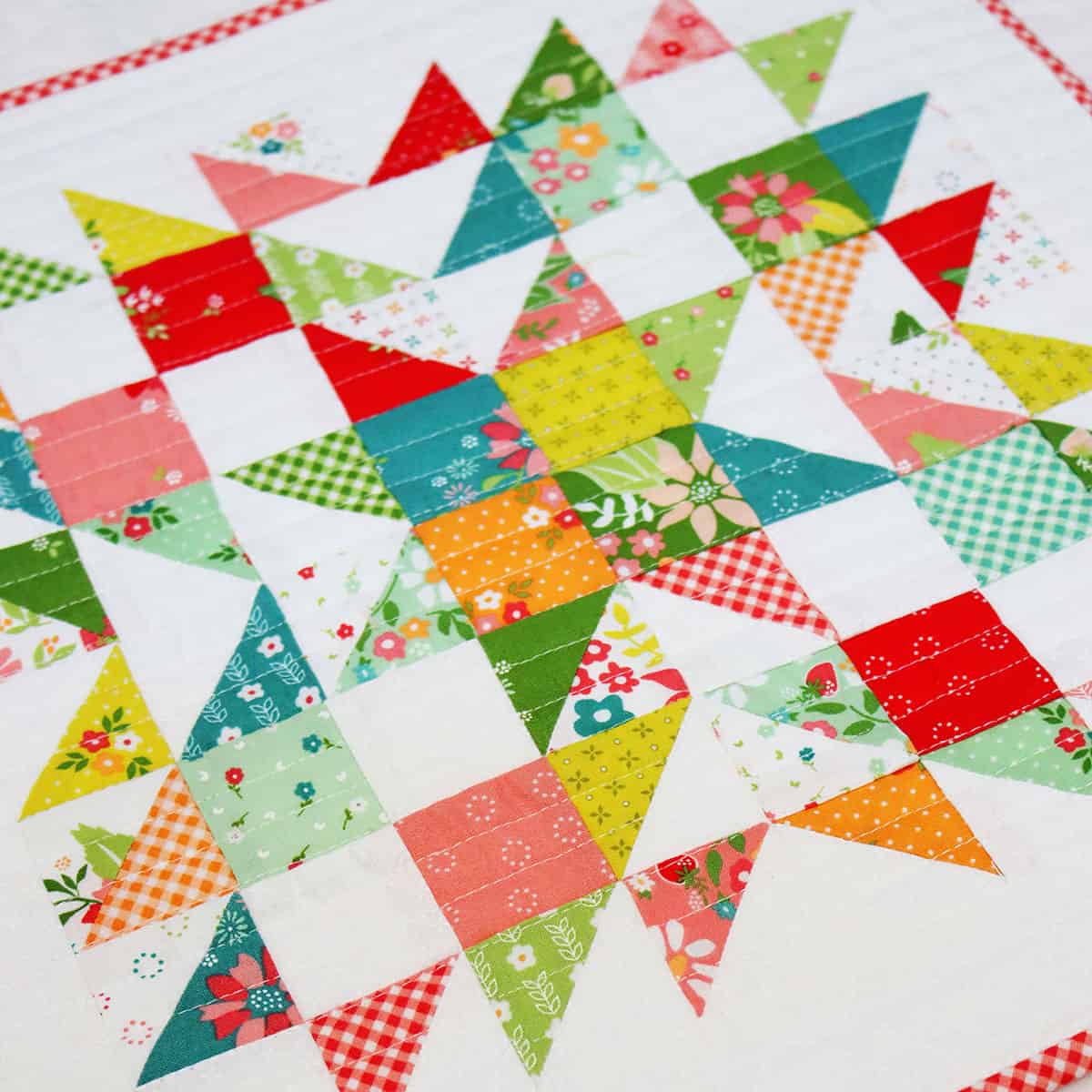 I know I'll be making more small projects over the coming months with these fabrics and will share more soon. Thanks so much for stopping by for the Summer Star Medley & More with Strawberry Lemonade Fabrics post.
Happy quilting!