Note: This post was originally published in February 2019 and updated in January 2020. Hello! I'm getting ready to design my new sewing room and thought a review on Sewing Room Organization Tips might be in order for me and for some of you. I refer to some of these ideas within other post topics but haven't ever devoted an entire post to just this subject. Here is a little of my sewing room history: When I was ten I received a sewing machine for my birthday and proudly placed it in my room. Back then I used a nice wooden sewing box for notion storage. (I kept that in my closet when I wasn't sewing). And at that time I usually just worked on one project at a time, so there was no need for storing anything else.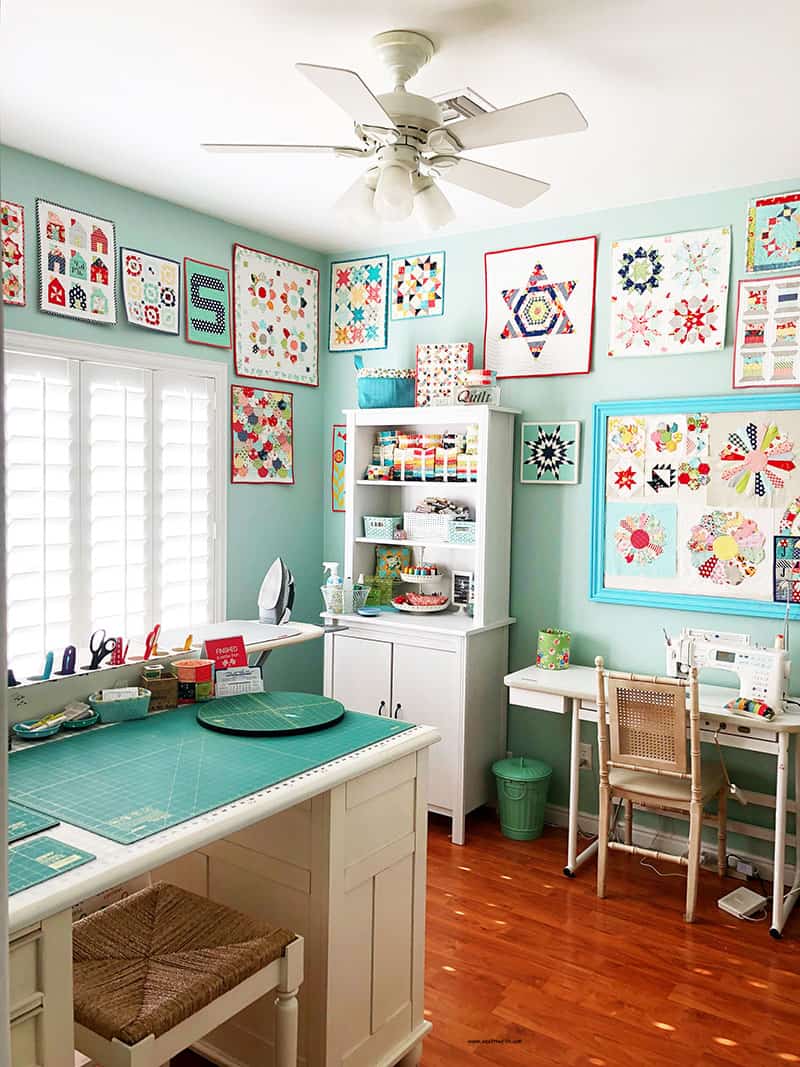 Sewing Room Organization Tips
If I fast forward to life as a young married woman and young mom…my machine was also kept in my bedroom. We simply didn't have the space for a designated sewing area for many years. When I worked on big projects like prom and wedding dress sewing or Halloween costumes for my children, I would often take over our dining room table. I actually spent years looking at beautiful sewing spaces and thinking "one day…". But about seventeen years ago I moved my machine into our small office area, and then a couple of years later I was finally able to have a designated space.
A sewing room or space doesn't need to be very large in order to be effective, but there are some things that will really help make the most of any space. A comfortable work space, good lighting, a designated ironing area, and simple storage are key components to a great sewing space.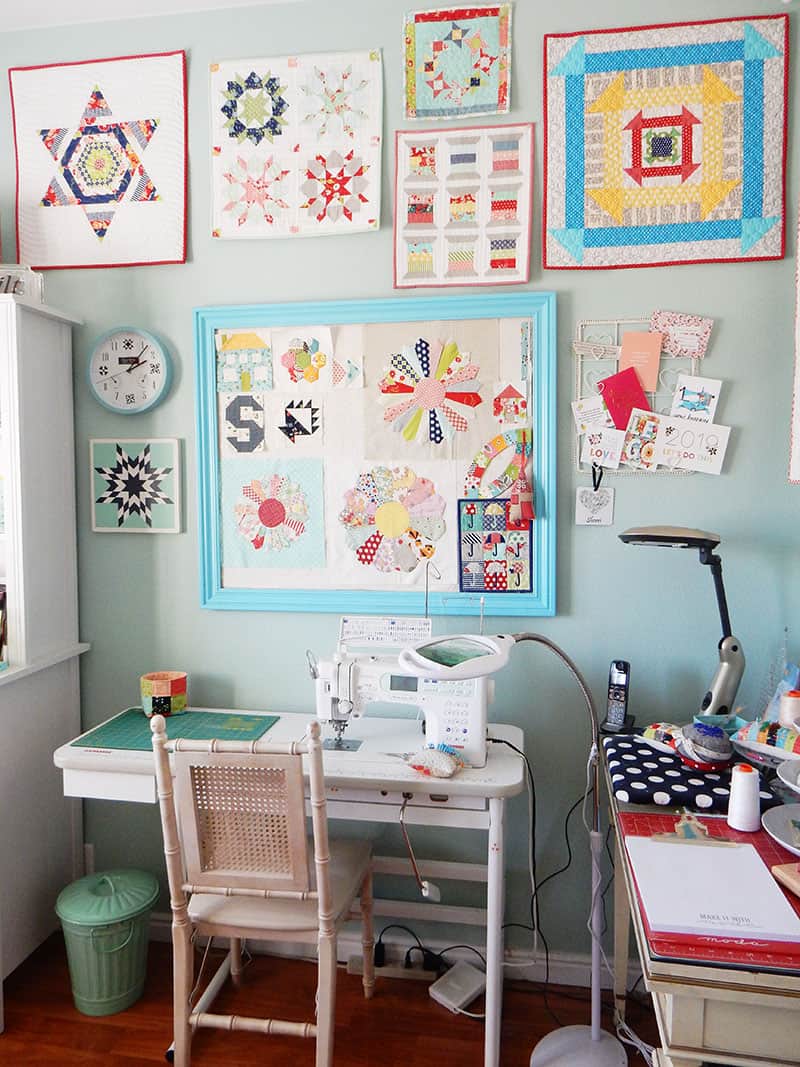 First, Create a Comfortable Work Space
Having a comfortable work space is one of the most important factors in choosing where you'll sew. And that space might be different at different times of your life. Your space needn't be large, but you should have a sturdy sewing table at the right height to prevent shoulder and back fatigue while sewing. A comfortable chair is a must as well. (My machine is a Janome Memory Craft 6600P, and the table it sits on is also by Janome).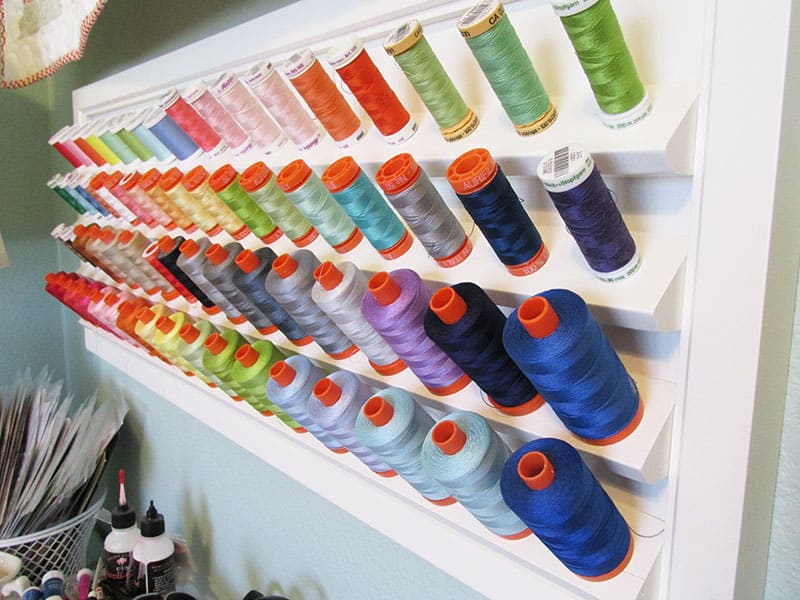 Next, Utilize Great Lighting Features and Colors you Love
Terrific natural lighting is one of my favorite things about my sewing room. If you're able to sew in a well-lit area, so many aspects of sewing are easier. If the lighting isn't terrific in your sewing area, then definitely invest in good sewing lamps. It makes a world of difference. Additionally, I love the extra light provided by this simple addition to my sewing machine.
If you're able to do some decorating in your sewing area, be sure to use the colors that make you happy. The majority of our home is decorated in soft neutral colors…but my sewing room and laundry room are both my favorite shades of aqua. I just feel happy by walking into those rooms!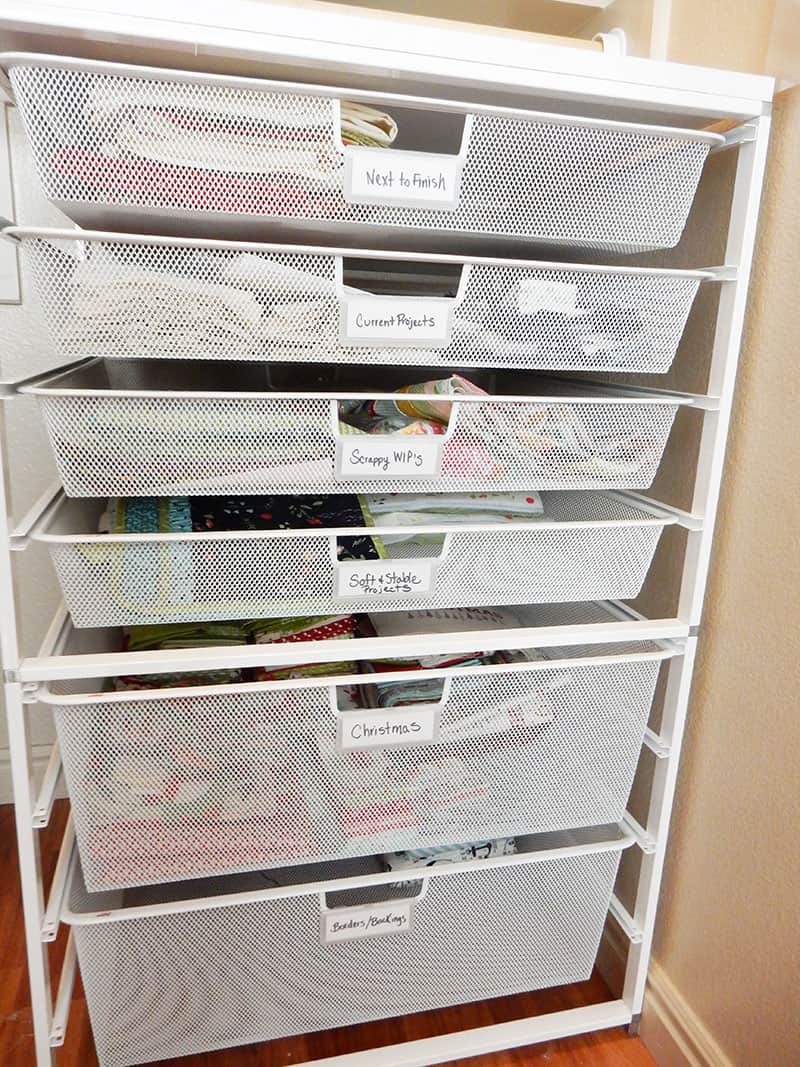 A Designated Ironing or Pressing Area
Being able to have a designated ironing and pressing area is a necessity. I keep my ironing station in front of the window so that I have a nice view when ironing a lot. (My ironing board is from Costco, and I love it)! I also keep a wool pad on top of it for pressing blocks and block pieces. Recently I compiled an entire post with my favorite iron and pressing essentials. You can find it here.
Simplify Your Storage
Storage is one of the most essential topics related to sewing room spaces. Good storage is essential but need not be expensive (for years I kept projects in pizza boxes while I collected other boxes and bins for project storage). I recommend not purchasing storage items until you've first used items you might already have available for storage and until you've done some basic organization and made a list of what you might need. Here are a few of my favorite storage solutions:
I love to use pretty bowls and dishes where possible to store sewing notions and items. Glass Mason jars are another favorite storage item.
I still have lots of things in plastic bins and drawers, but I've been slowly moving toward using baskets and bins so that air can circulate around my fabrics and projects.
Labels help a lot…and they don't have to be fancy. Find a labeling system that works for you and use it.
Store like things together. My most-used tools are kept within an arm's reach of my sewing machine. My next most-used notions and tools are on my cutting table. Things that are used less frequently are in the closet or in cupboards. Everything is stored together with other similar items as much as possible.
For specifics on my favorite organizing products and resources, see this page.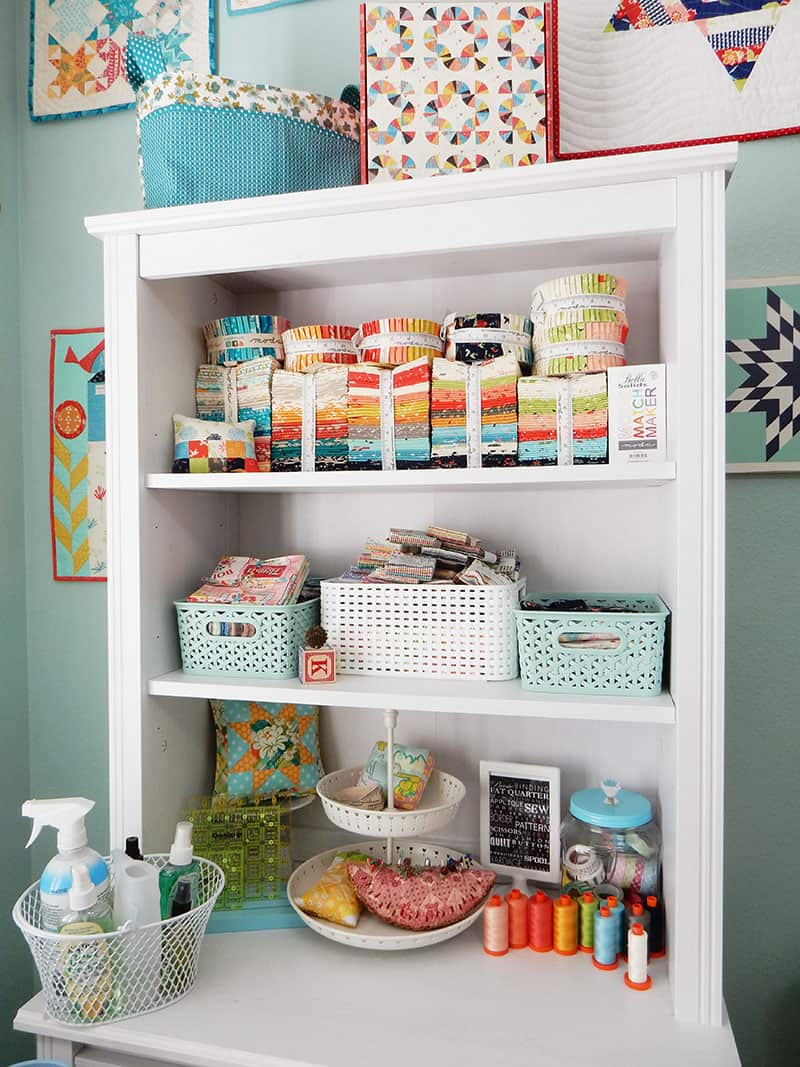 Create Inspirational Displays
A lot of artists utilize an inspiration board in their work areas. And I do love having an inspiration space above my sewing machine where I keep favorite quilt blocks and even inspirational quotes. But I decorate throughout the room with favorite things which also helps keep the space motivating. Like many other quilters, I hang mini and smaller sized quilts in favorite designs and fabrics throughout the room.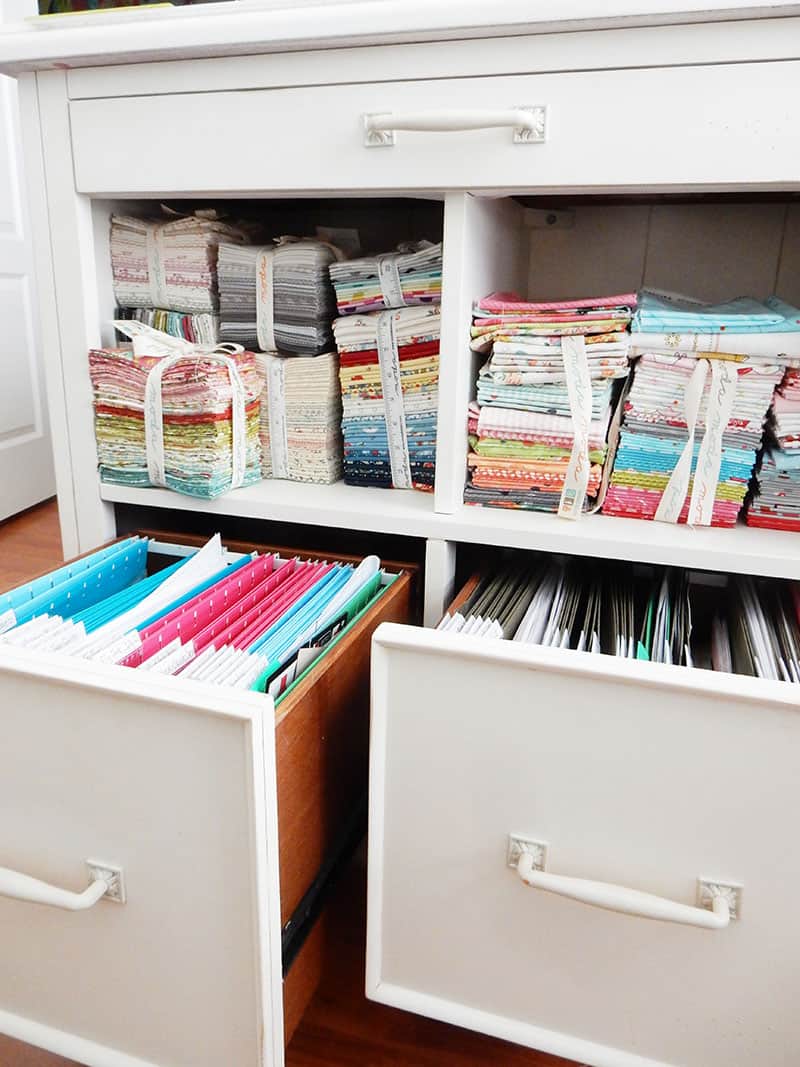 More On Organizing Your Sewing Space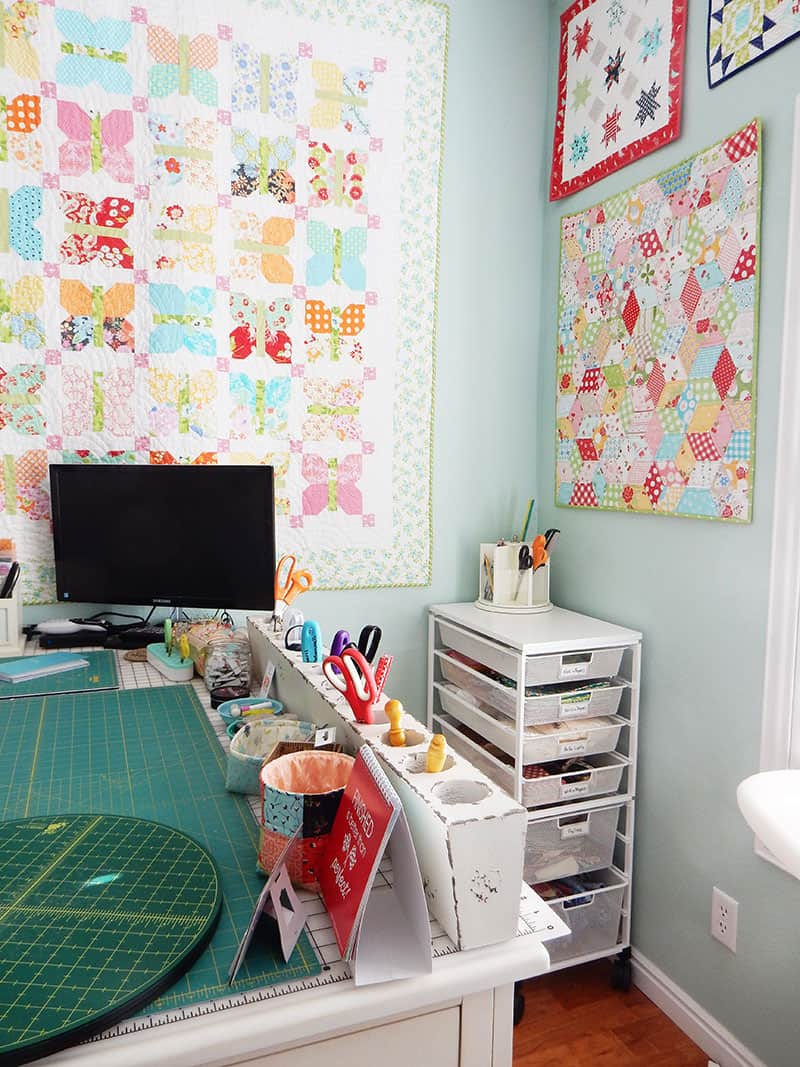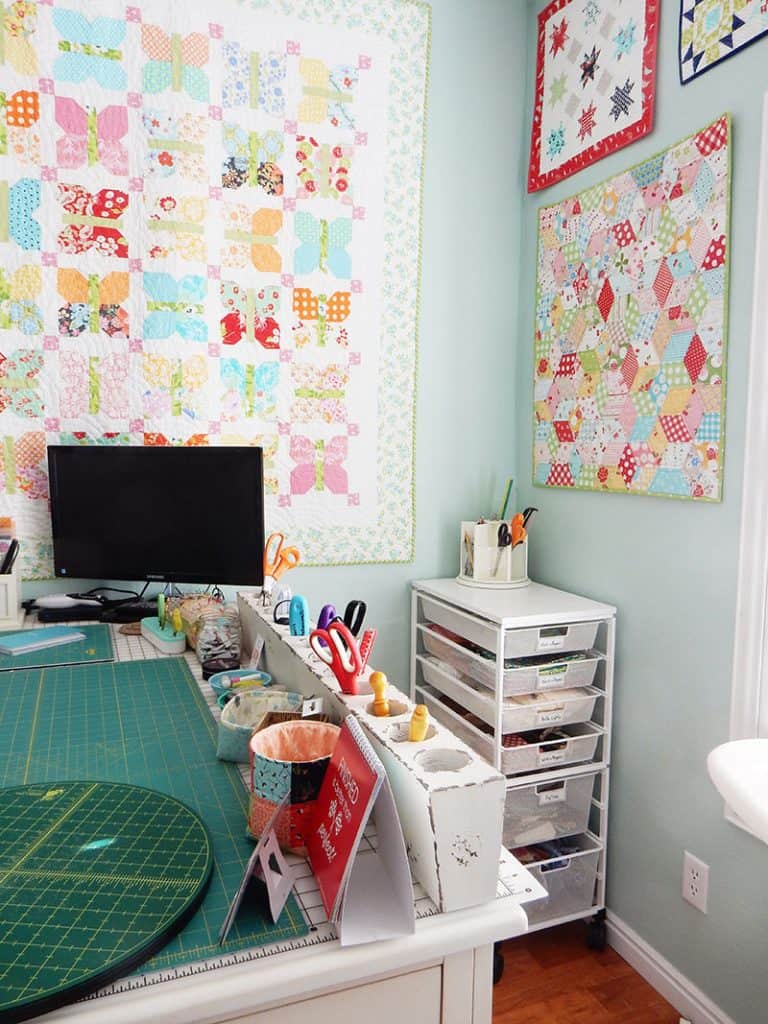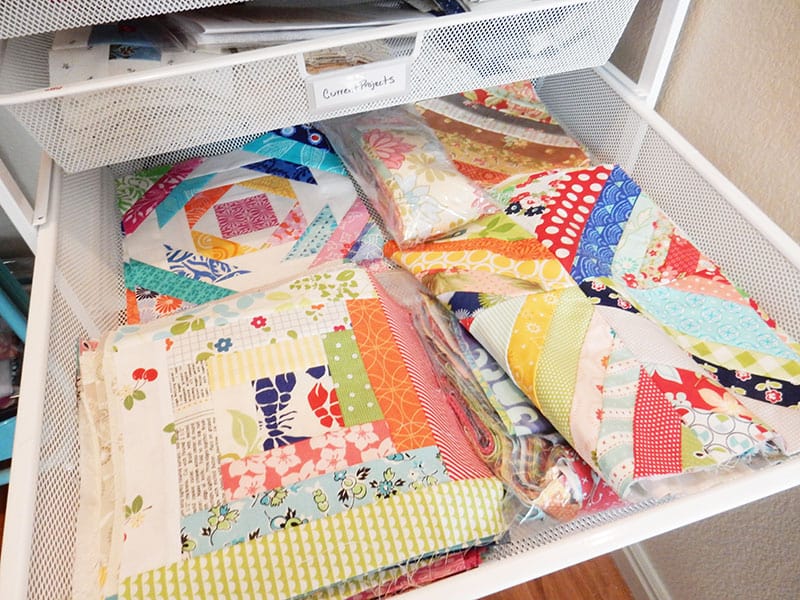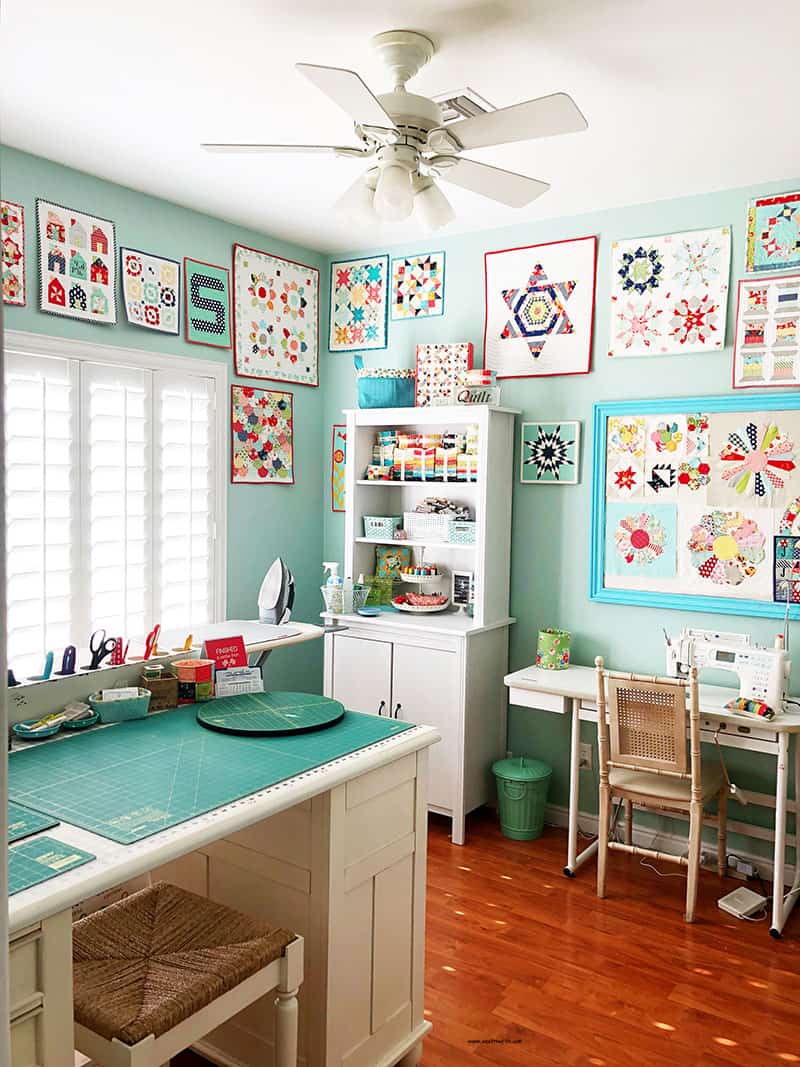 I hope you've enjoyed these sewing room organization tips! I plan to share my step-by-step process for organizing as I update and organize my new space over the next few weeks. And I hope your week is off to a terrific start. Thanks so much for stopping by!