Hello and happy Wednesday! Today I'm sharing 9 Pressing Essentials for Quilters with information on how to improve your quilting with better pressing. I've been wanting to put all of this information together into one post for a little while and am excited to finally have it all in one place for your reference. (There are affiliate links included in this post; however, I've only linked to products I've used and love).
9 Must Have Pressing Essentials for Quilting: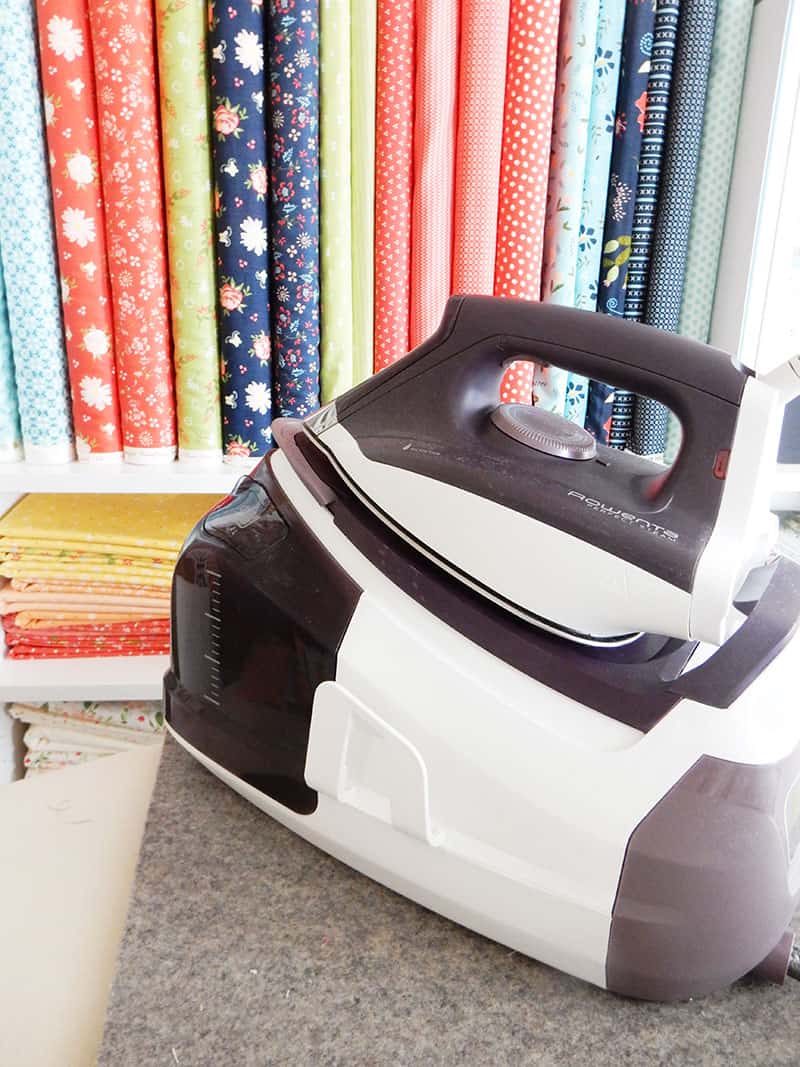 1. Iron
The number one pressing essential for quilters is, of course, an iron that you love and that works well. I've used a number of irons over the years and have loved some and been incredibly frustrated with others. My most recent iron is my absolute favorite. It is a little pricey, but I used it at several events over a two-year period and finally picked one up at the end of this summer. I can't imagine using anything else. If you like to press with steam, then this is the perfect iron. I mix distilled and tap water in a 50/50 mix and haven't had a single issue. You can find my iron at a terrific price here.
2. Ironing Board
The next pressing essential for quilters is a sturdy ironing board or station. I'm currently using a large, portable ironing board I picked up at Costco and have really loved it. But there are many different options for ironing boards including ironing stations and large board ironing set ups. Choose whatever works best for you and fits in your space.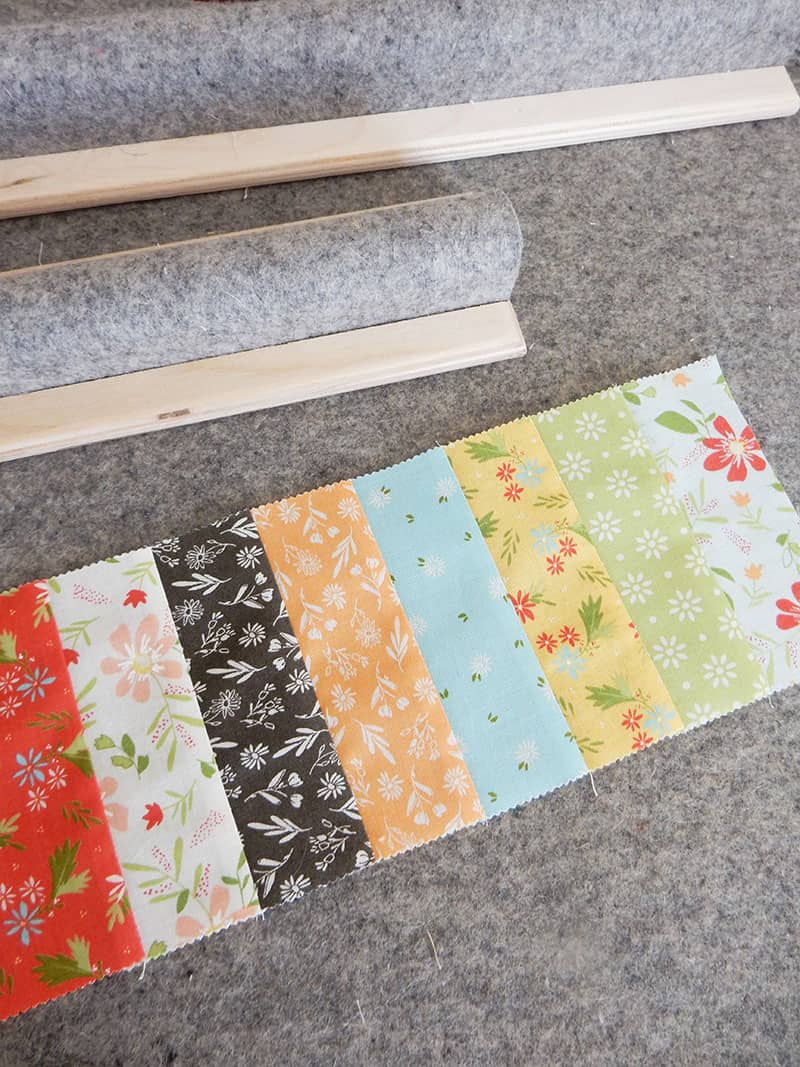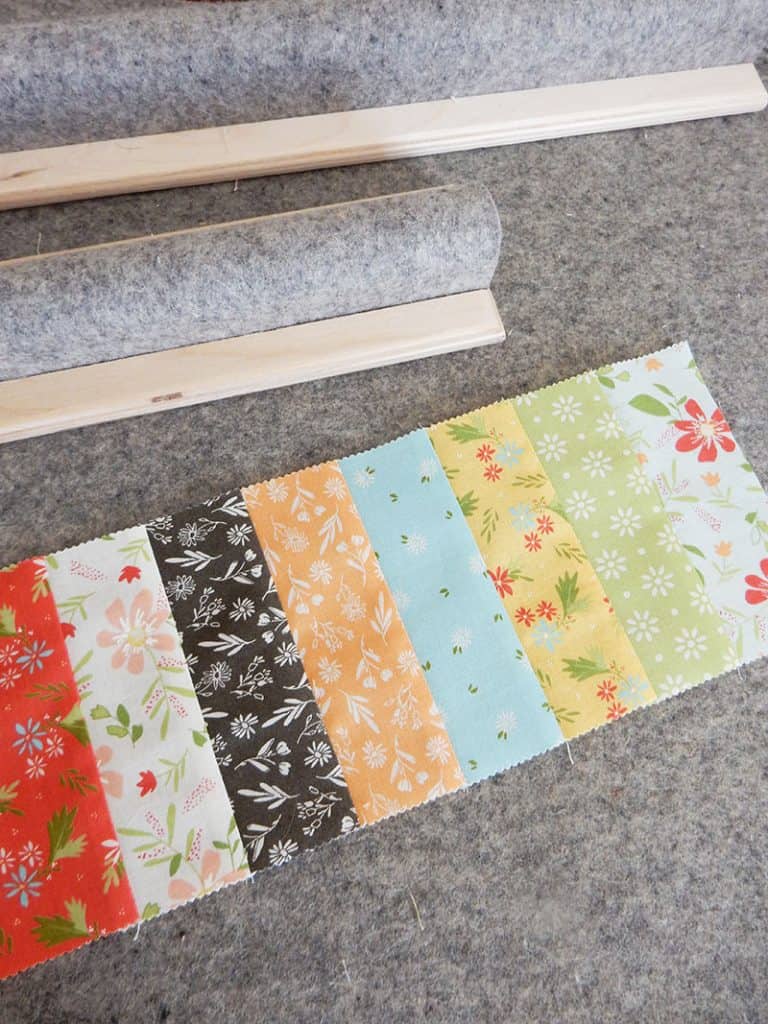 3. Wool Pressing Mats & Bars
I first started using wool pressing mats and bars a couple of years ago and have been really impressed with how they affect pressing accuracy. Using a wool mat on top of your ironing board also prevents your board cover from being stained. Wool mats come in a variety of sizes with smaller ones that are perfect for travel and even larger ones that will cover your entire ironing surface. You can find wool pressing mats in a variety of sizes here.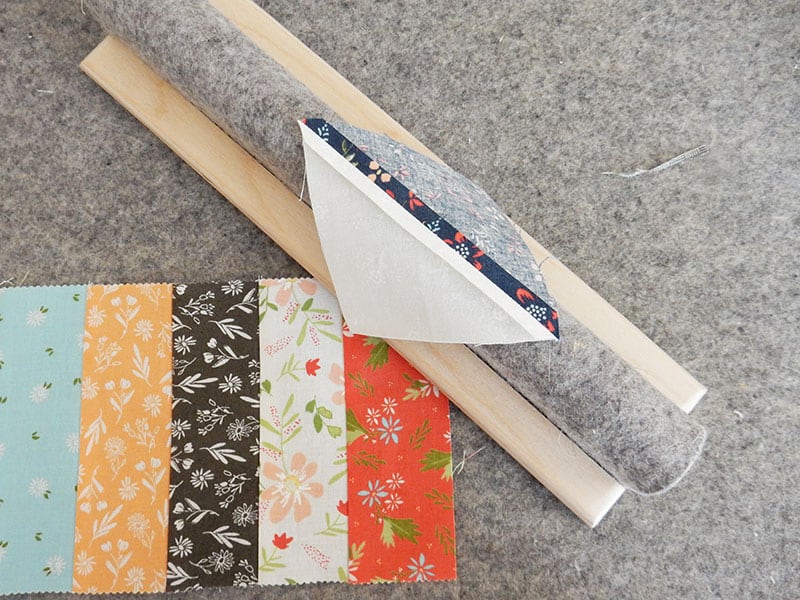 I've also loved using my Wool Pressing Bars and have them in two sizes (12″ and 20″). I can easily travel with the smaller size bar, and the larger one is nice for pressing seams in bigger blocks. These bars are used when you need to press seams open. Your seams will be wonderfully flat. Find the pressing bars here.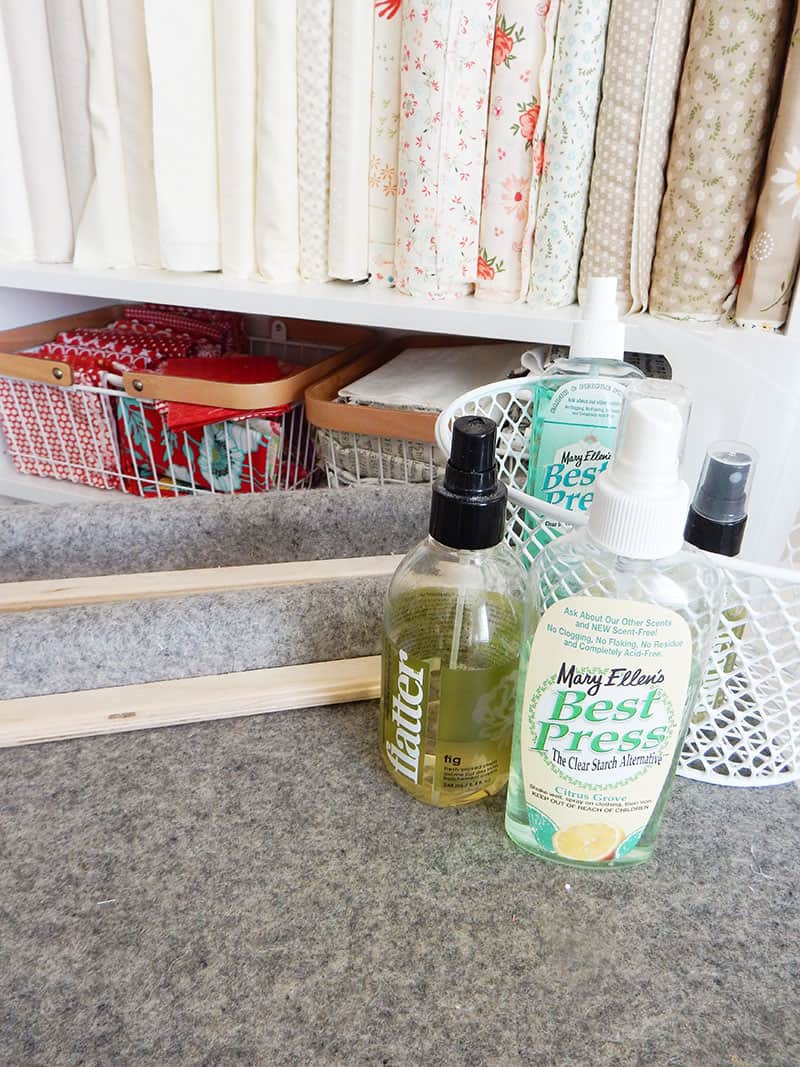 4. Pressing Sprays
There are a wide variety of pressing sprays on the market, and they all have different uses. I'll share the three I've used and explain the difference between each.
Flatter is a starch alternative spray that will smooth your fabric for easier sewing and quilting without the use of starch. There are a variety of lovely scents available as well as a scentless version. This is the spray I use most often. Find Flatter sprays here.
Best Press is a starch spray that will remove stubborn wrinkles and prepare your fabric for sewing and quilting. There are several scents along with a scent free version available. I use Best Press particularly when I have a stubborn wrinkle to remove or when I'm working on Mini Quilts which often need just a bit of starch. Get Best Press in several different varieties here.
Finally, for heavy starching, Faultless Heavy Spray Starch is perfect. If you want to starch all of the fabrics you're using in a quilt before you begin, this is the starch you'll want to use. Quilters who use this technique spray fabrics heavily and then let them air dry before ironing and cutting quilt pieces.
5. Pressing Cloth
Pressing cloths are used when you don't want to place your iron directly on the surface of the fabric you're ironing. You might be ironing a piece of needlework you'd like to protect, or there may be some fusible involved which you don't want to adhere to your iron. Pressing cloths can also help improve the effectiveness of the pressing. This one and this one are good options.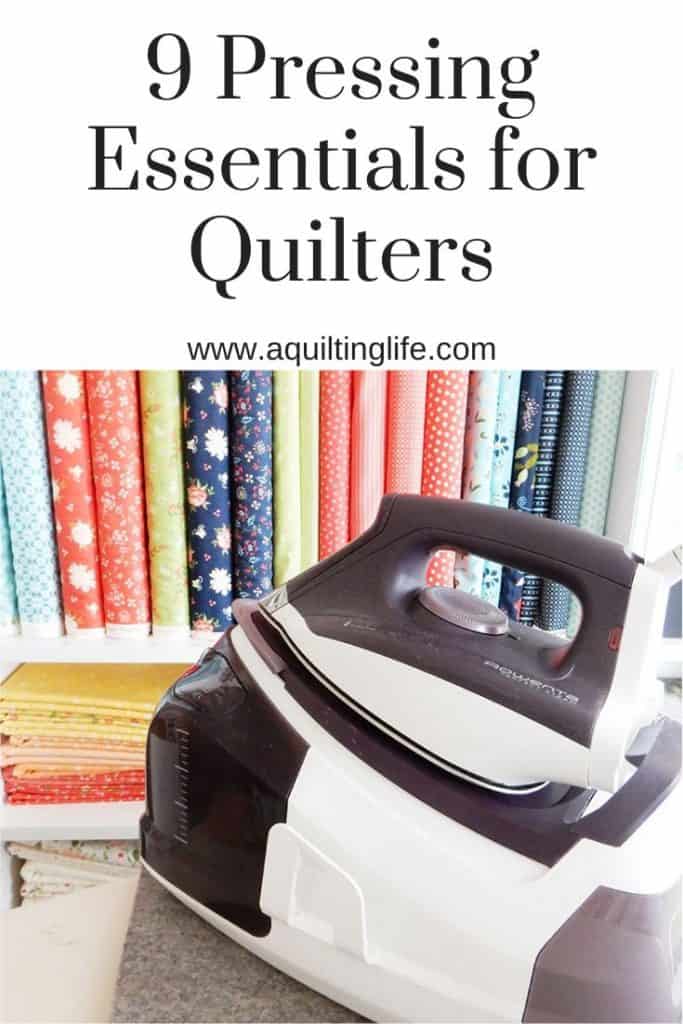 6. Non-Stick Pressing Sheet
If you do applique with fusible web, you'll definitely need a non-stick pressing sheet. I've had this one for years and continue to use it when pressing applique pieces. This product will protect your iron and ensure your applique pieces adhere where you want them to. Another thing I like about this particular pressing sheet is the large size which enables you to press multiple items at once depending on their size.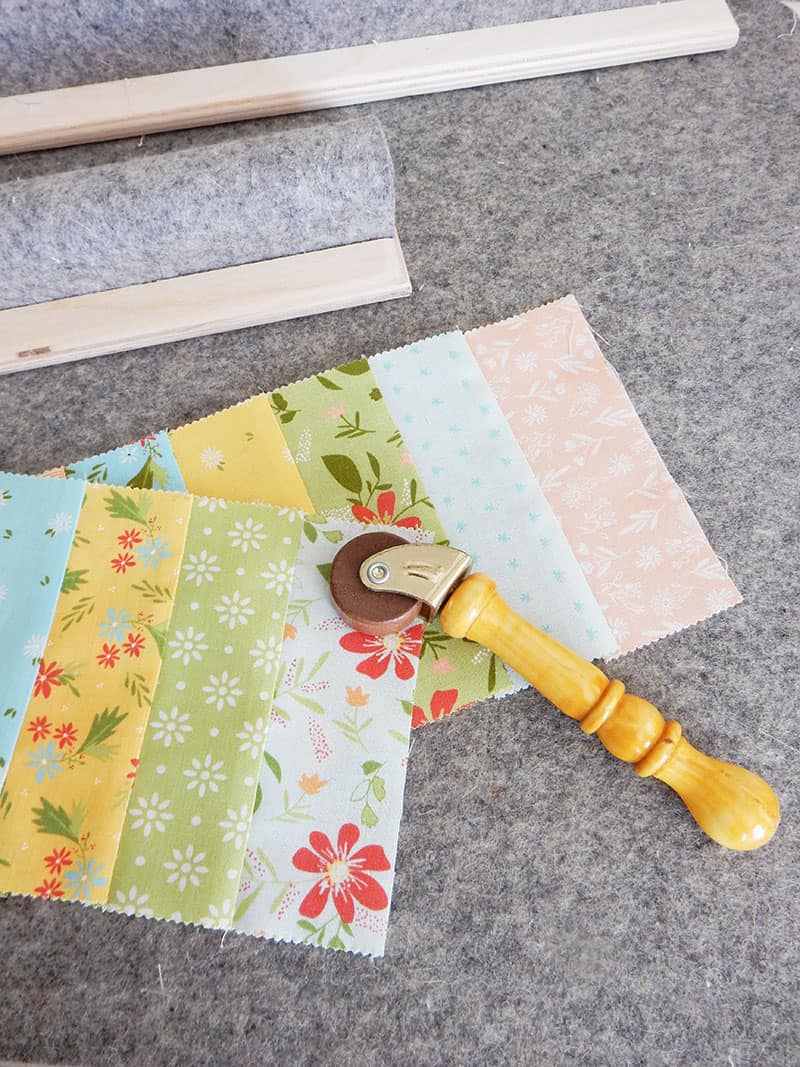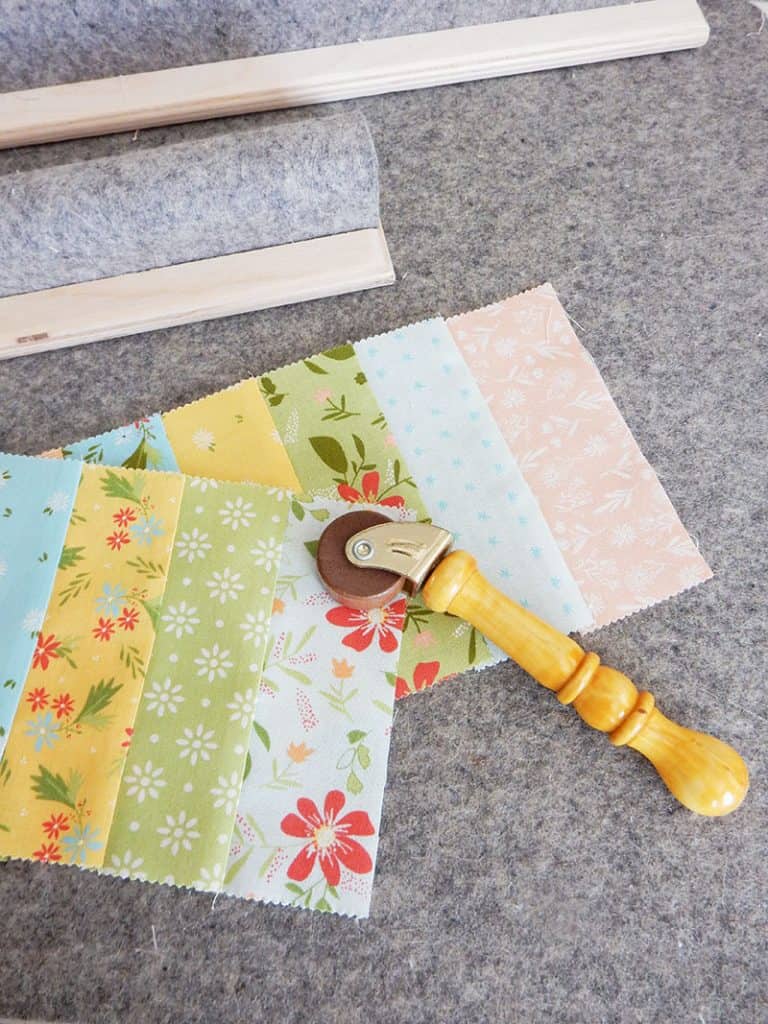 7. Seam Roller
Seam rollers are extremely handy. They are perfect for pressing small seams while taking a class when an iron isn't available. They are also wonderful for English paper piecing and will save time there as well. Finally, they also help create flat seams when working with applique. I have a handcrafted version that I love. Find similar ones here.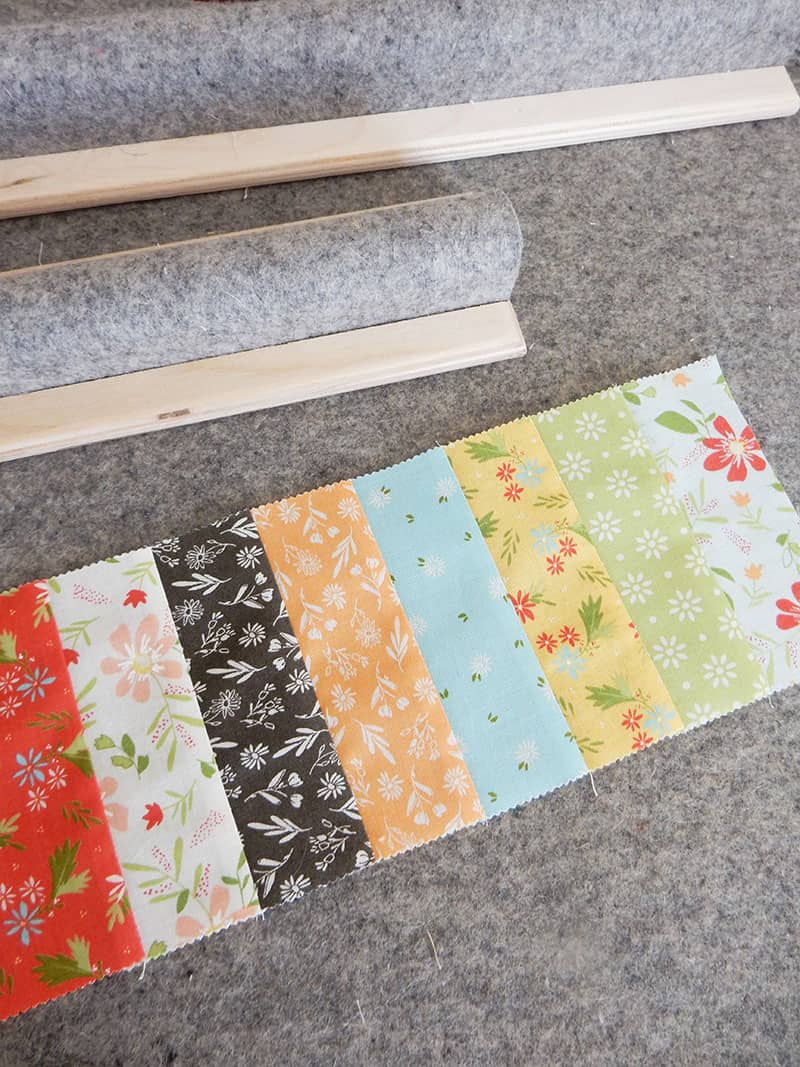 8. Spray Misting Bottle
Next on the list of pressing essentials is a spray misting bottle. Sometimes you just need a little water to use while pressing. While you can pick one of these up at any variety store, there are also some fun options especially for quilters available here.
9. Pressing Supplies for Travel
In addition to some of the items I've already mentioned, you'll want a couple of extra items for pressing when you travel or take a class. Here are some additional pressing essentials for when you travel: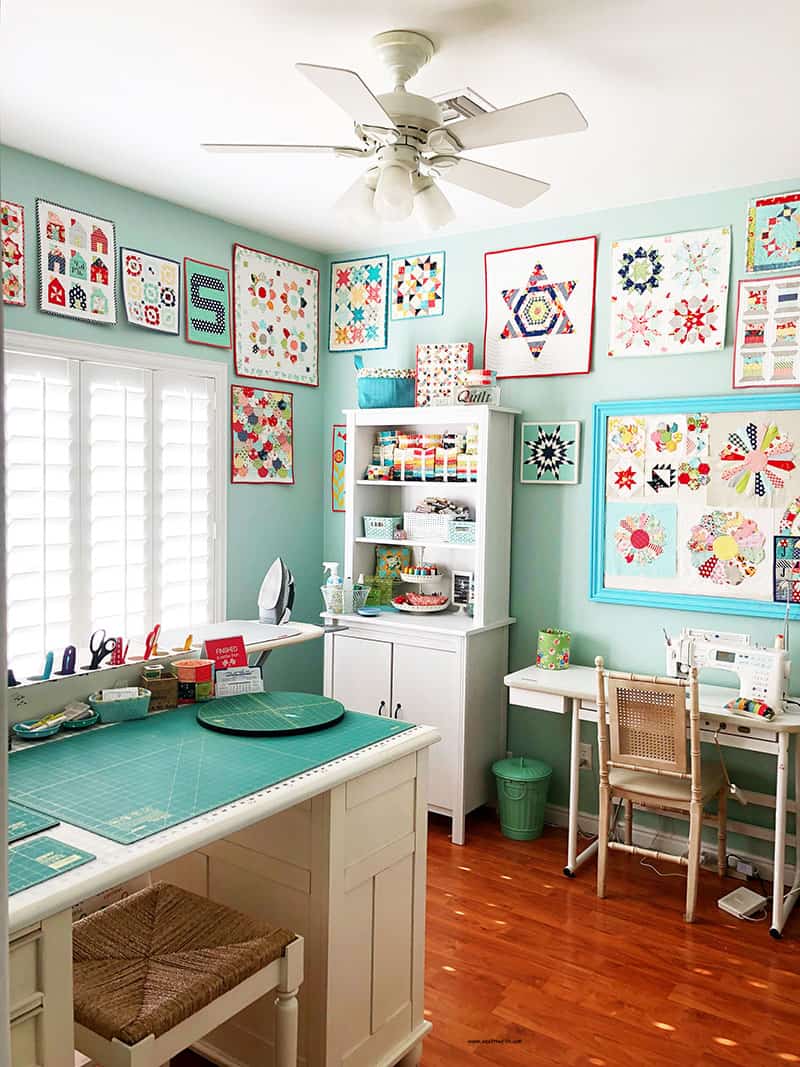 More on Pressing Essentials
I hope you've enjoyed this post on pressing essentials. I have several other posts that I'll be writing on this topic with tips for improving your pressing. If you have any "pressing" questions, feel free to leave them in the comments section so I can be sure to answer them in a future post. One topic that I've already written on is this post on pressing strip sets. It has a video included as well.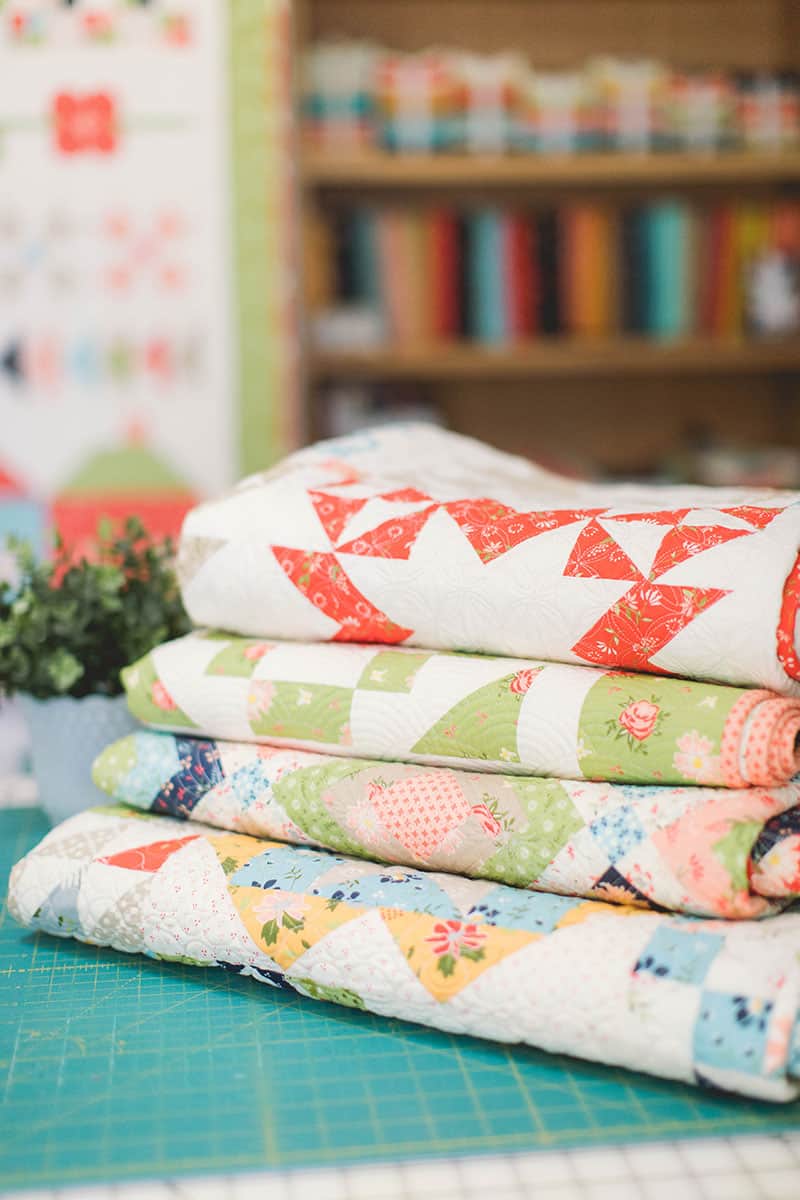 Happy quilting, and thanks so much for stopping by.