Hello! Today's post shares 10 Tips for Using Jelly Roll Strips…those adorable bundles of 2 ½″ by width of fabric strips. Of course, you can also make your own jelly roll strips from your scraps by simply saving 2 ½" strips from project leftovers or by purchasing fabrics specifically to cut into these wonderfully usable pieces! (This post was originally published earlier and has been updated with some new information).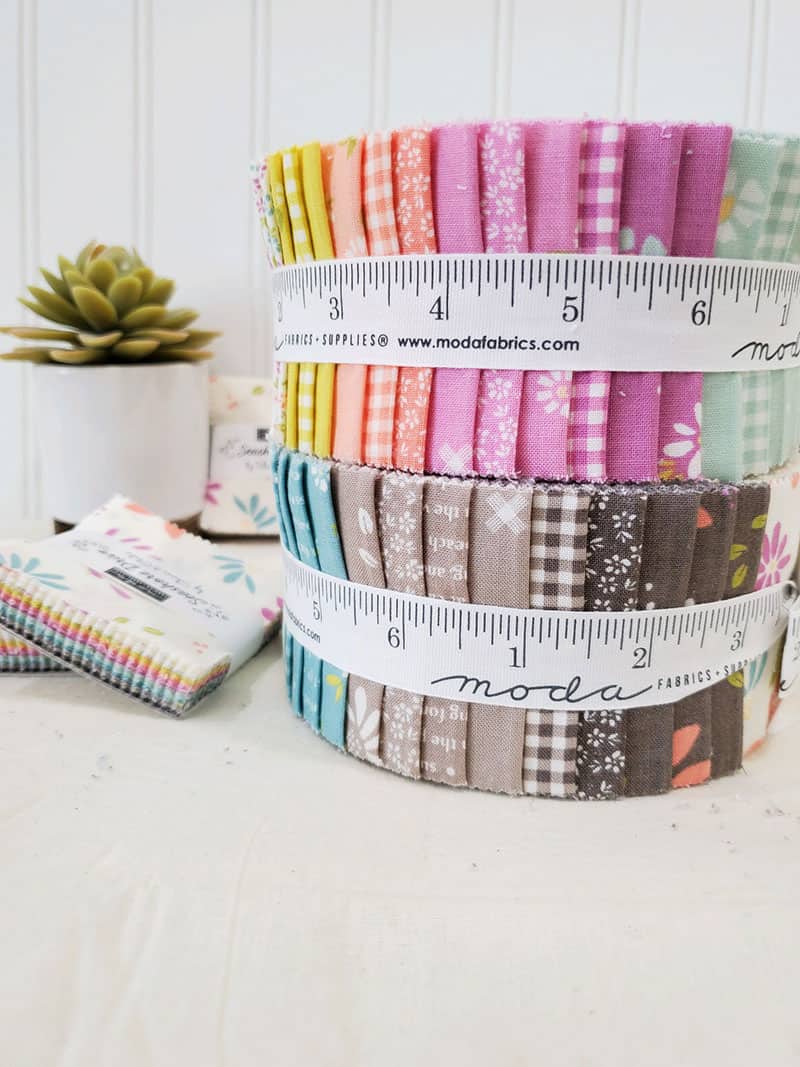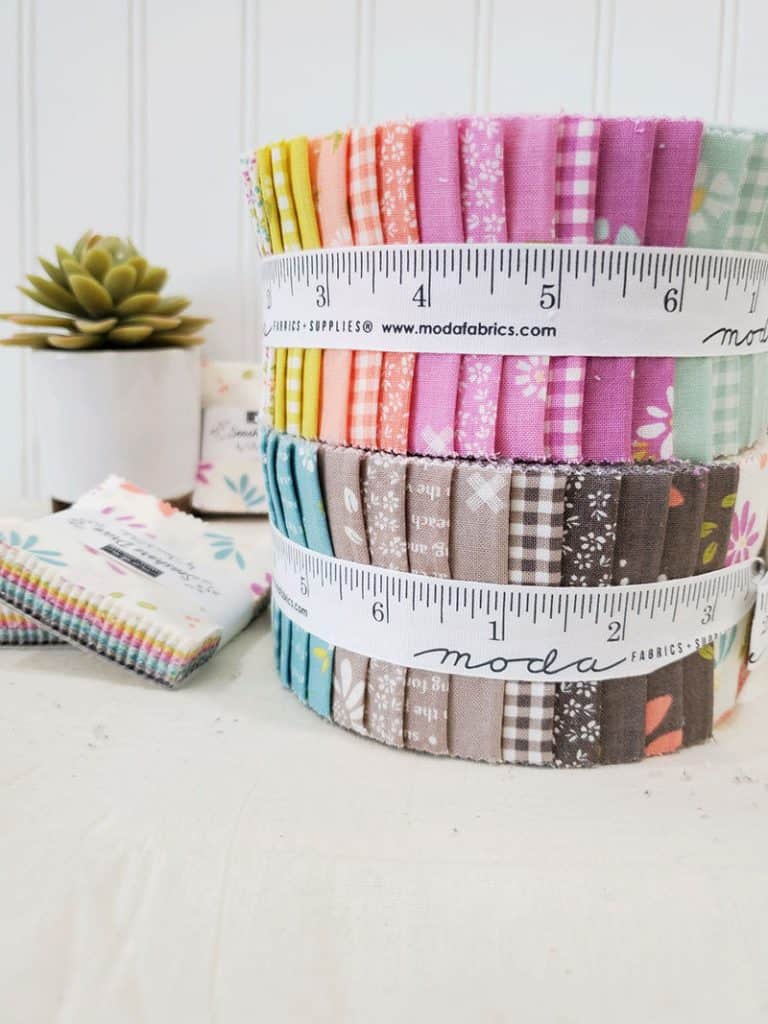 Storing Jelly Roll Strips
For me, it's easiest to store my 2 ½″ jelly roll strips together, and I have quite a few different bins with these strip sizes. I have a general bin with 2 ½″ strips left over from all different projects, a Fig Tree fabrics 2 ½″ strip bin, a Denyse Schmidt 2 ½″ strip bin, and a bin of 2 ½″ strips from our fabrics. I also have a bin of 2 ½″ strips with Christmas fabrics.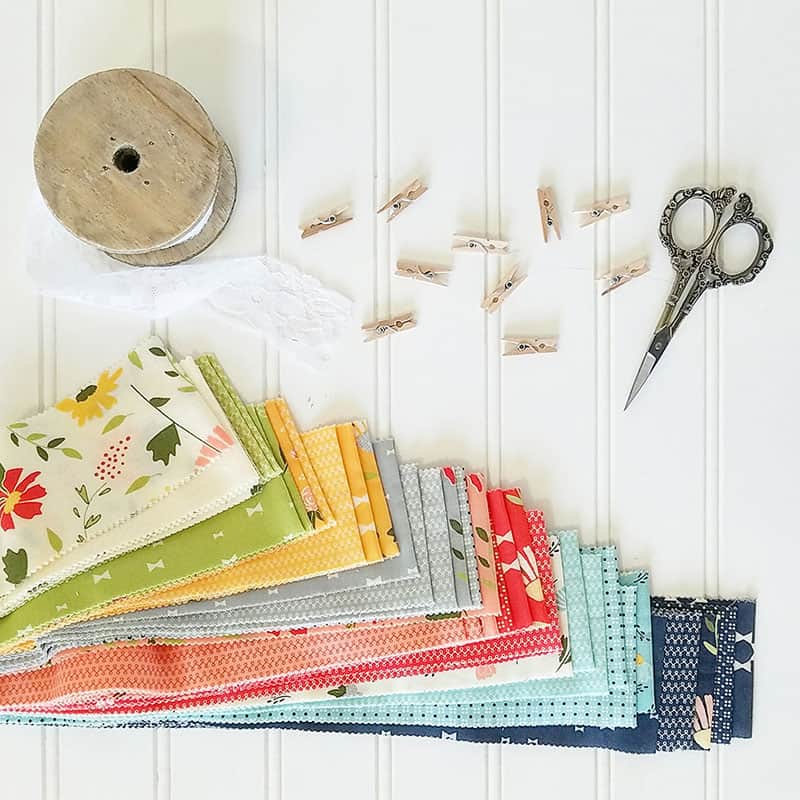 Jelly Roll Patterns and More
You can see some of my favorite Jelly Roll Quilts and patterns in the following posts:
While there are a wide variety of strip-pieced quilt patterns available, there are also a lot of other ways to use jelly roll strips…read on for some ideas for these very versatile fabric cuts!
10 Tips for Using Jelly Roll Strips
Make strips sets for 9-patch blocks (sew together in groups of three and then cross-cut in 2 ½″ widths.

Make strip sets for 16-patch or 25-patch blocks (sew together in groups of four or five).

Sew strips together for totes or bags

Cut 2 ½″ squares from the strips.

Make flying geese units (cut 2 ½″ x 4 ½″ segments and 2 ½″ x 2 ½″ segments for a 2 ½″ x 4 ½″ unfinished block.

Frame any finished block…cut two strips for the left and right sides and two strips for the top and bottom. This is a great way to put orphan blocks together for a scrap quilt.

Make log cabin blocks.

Save smaller pieces to make a scrappy log cabin border.

Make place mats using 8 strips 2 ½″ x 14 ½″.

Sew together to make a scrappy backing–or blocks for portions of a backing.
More Tips for Sewing with Jelly Rolls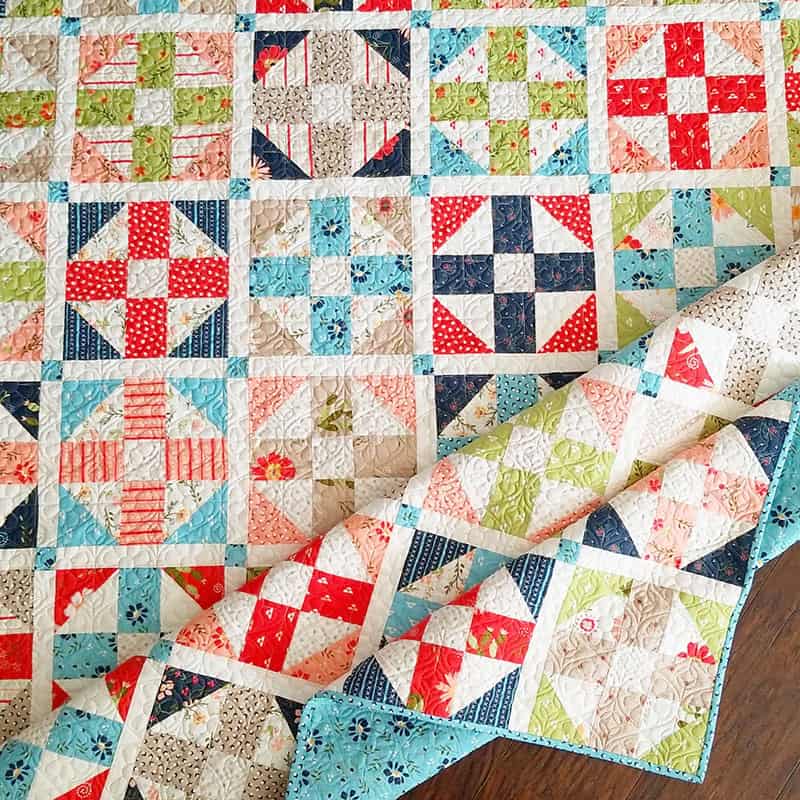 And for Some Scrappy Quilt Projects…
You might also be interested in my Scrap Quilts from Strips post which features simple-to-make quilt patterns using jelly roll strips.
Finally…find the very best selection of Jelly Rolls for all of your Jelly Roll projects here.
Happy sewing with jelly roll strips!
Thanks so much for stopping by!