Hello and happy Monday! I hope you had a wonderful weekend!  Today I'm sharing my jelly roll rug in Clover Hollow.  I'll be taking this beautiful rug to Portland to use in our booth at International Quilt Market next week.  My good friend Gail made this for our booth this past week and gave me some of her thoughts and tips on sewing this project.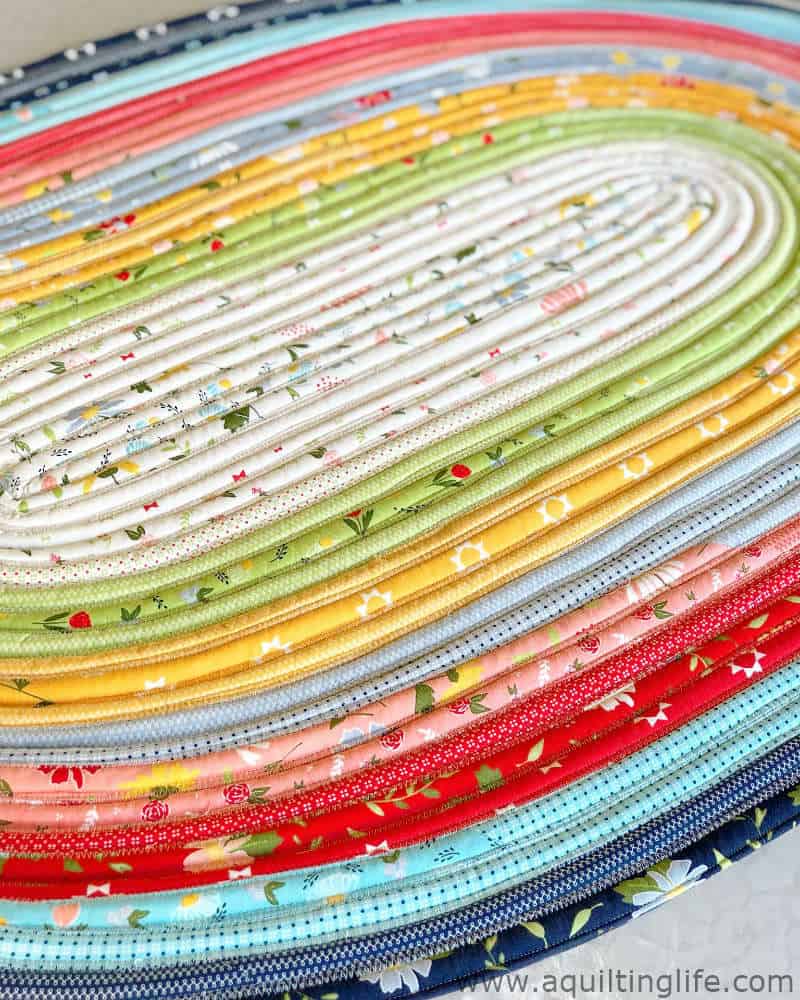 The Jelly Roll rug is made from this pattern. The pattern comes in paper and PDF with a second pattern available for a rectangular rug.  I am definitely going to make the rectangular version after Quilt Market.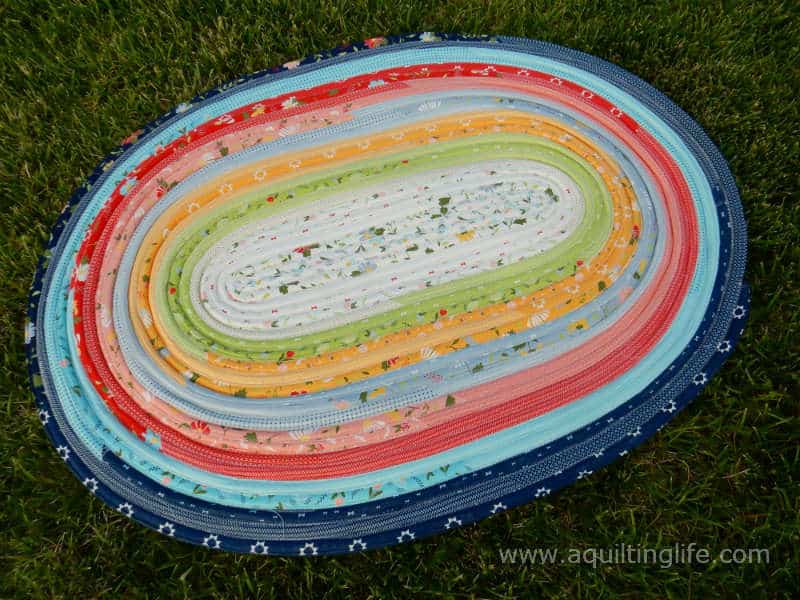 The rug is just so beautiful–I might have a hard time standing on it in the booth! This is the second Jelly Roll Rug Gail has made, so she had a few thoughts on the process.  You can use batting scraps for your rug, but you'll need to sew them together according to the pattern directions.  Or you can purchase this pre-cut package of batting on a roll. The packaged batting is cut to the width you need; however, you will need two packages  for one rug.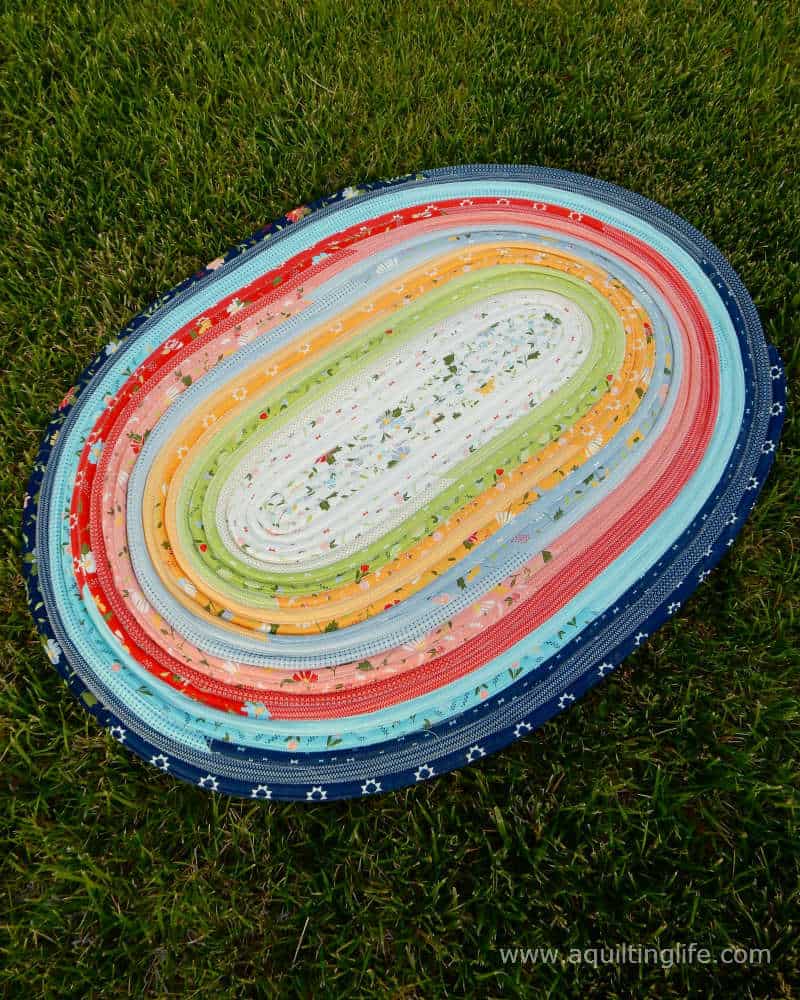 Since Gail made her first rug using her batting scraps and my rug using the pre-packaged batting we were able to compare the two rugs.  Gail pointed out that the first rug was a little more sturdy or substantial because the Warm and natural batting she used was a bit thicker than the batting used in my rug.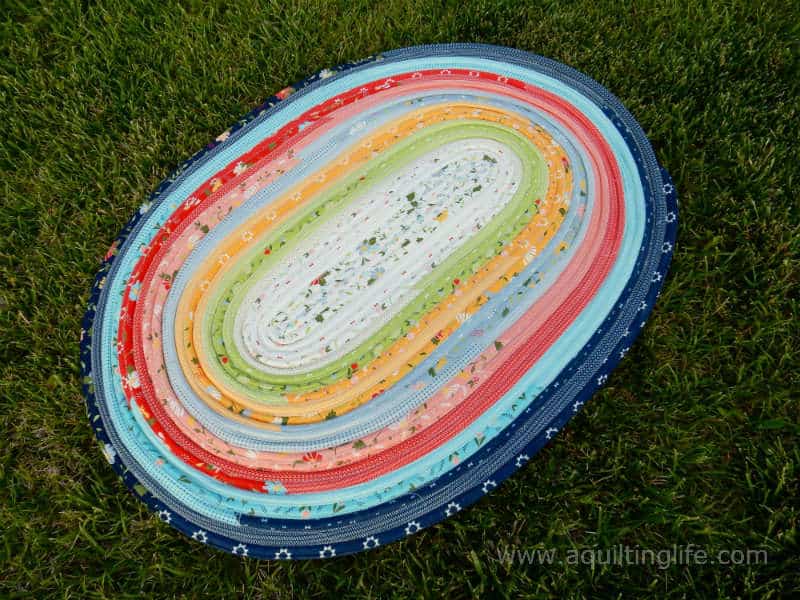 However, she said it was very much easier making my rug with the batting on a roll!  So if you are looking for a heavier rug I would suggest using your own batting scraps.  And if you are looking to make the rug construction much easier and faster, choose the batting on a roll.
Tips for Making a Jelly Roll Rug
Use your favorite jelly roll or cut 2 ½″ strips from your scraps
Use batting scraps for a "heftier" rug or purchase pre-cut batting on a roll for ease of construction
Follow pattern directions for construction helps and tips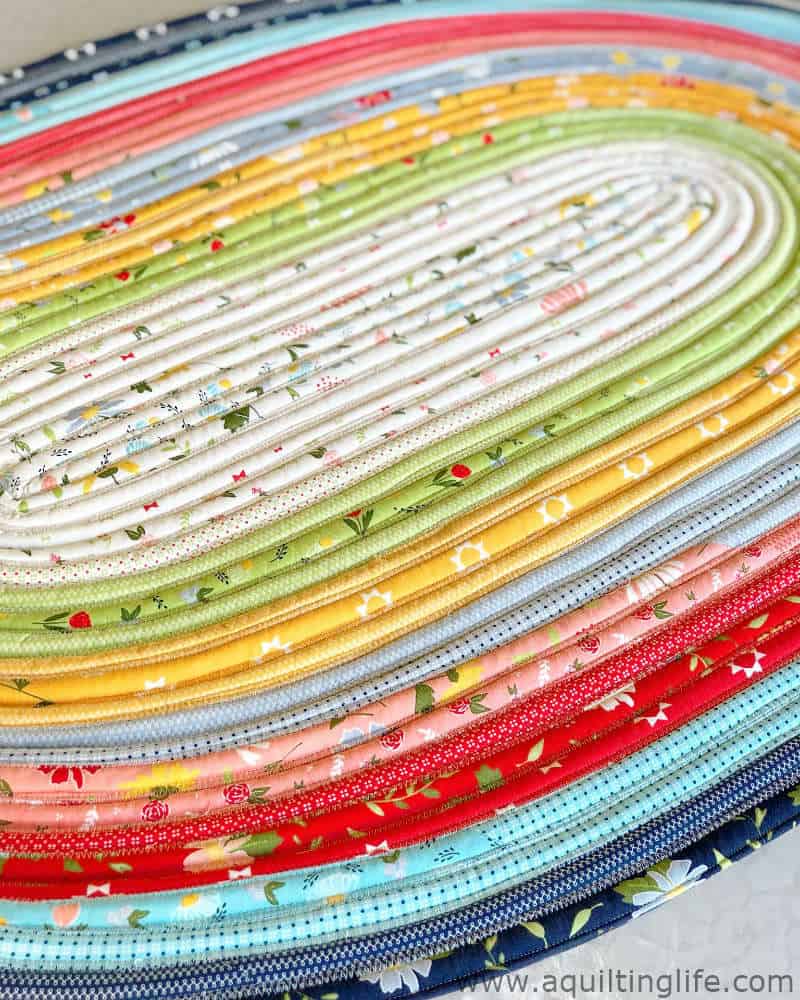 This jelly roll rug is a great project to use with your favorite jelly roll or with left-over jelly roll strips.  When you first see this rug in person you will not only want to make one, but several! I can easily imagine a Christmas version and seasonal versions to change out throughout the year (that will make them last longer as well)!  I'm definitely going to have to update my 10 Tips for Using Jelly Rolls post to add in "make a Jelly Roll rug!"
What about you? Have you made a jelly roll rug yet?
I can't wait to make my first one!  Happy quilting, and thanks so much for stopping by!