Happy Monday! Today I'm sharing a favorite how-to post from a few years ago. (This post was originally published in July 2015). I've also added a brand new video with even more ideas on my process for piecing and sewing a Scrappy Quilt Binding. I hope you'll enjoy learning about this method for binding and have fun trying it out on your next quilt.
Scrappy Quilt Binding
If you have left-over binding bits and pieces from other quilt projects, you can sew together a pieced scrappy binding in a hurry. But even if you're cutting strips from your scraps or stash, this is a great way to make a fun binding. The first couple of times I made scrappy bindings I was super concerned about what size to cut the strips. I even emailed some of my friends to ask what size strips they used. After finishing several quilts with scrappy binding, I have some definite preferences on strip sizes depending on the size quilt I'm working with.
Scrappy Quilt Binding Video
Watch my new video on scrappy binding above, or go here to watch it on my YouTube Channel. In the video I share even more details about what sizes strips to use depending on the finished size of the quilt you are binding.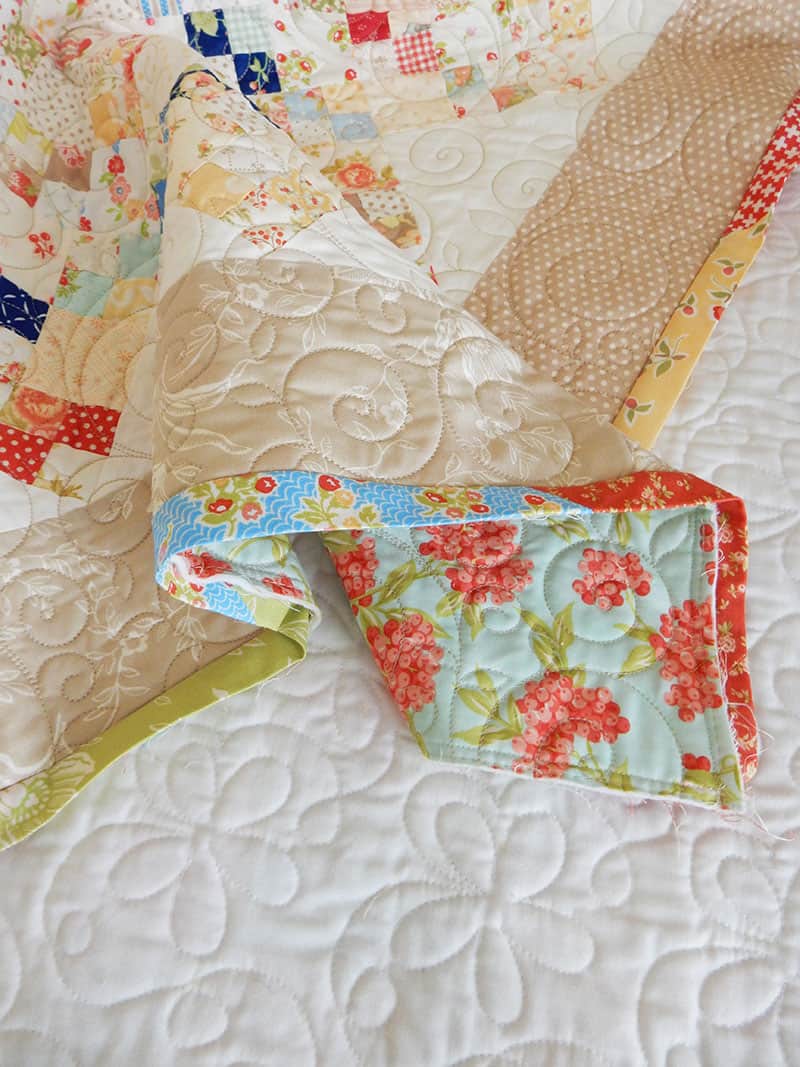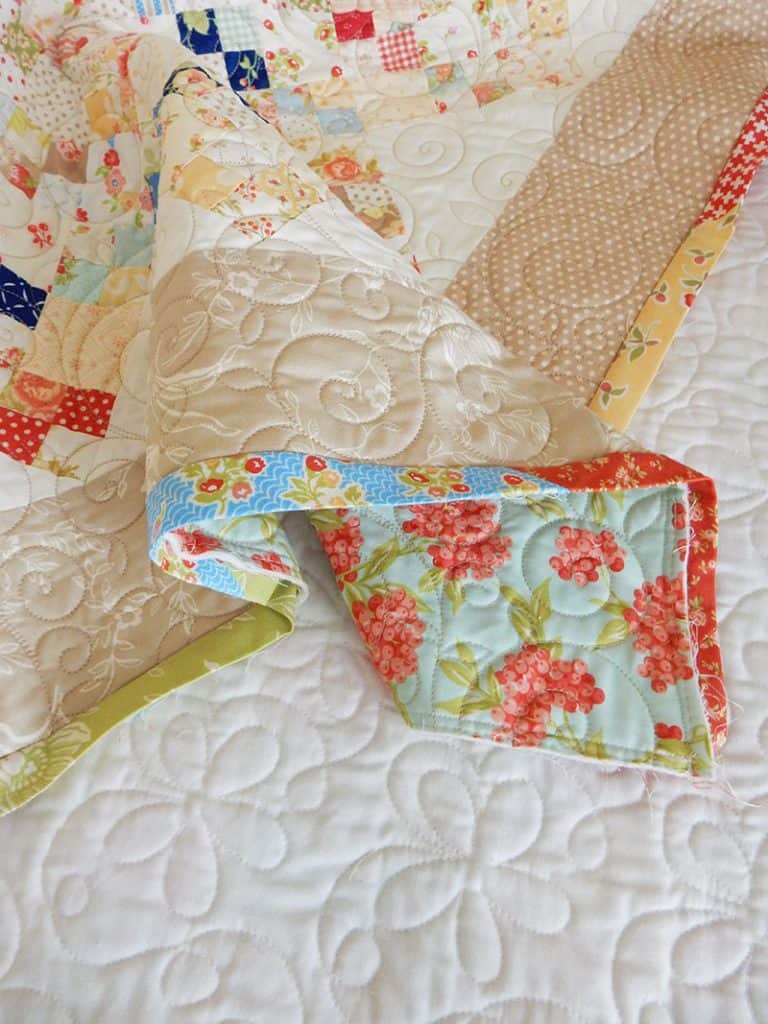 When to Use a Scrappy Binding
I generally use scrappy bindings when my outer border isn't too "busy." (Or when I don't have enough of one fabric for a binding). With the neutral-colored outer borders on the quilt above, a scrappy binding was definitely a good option. (While you can make a scrappy binding with a variety of fabrics in one color family, multi-colored scrappy bindings are also a lot of fun).
Save Left-Over Binding Strips for Use in Scrappy Bindings
I keep all of my left over binding strips in a bin so they are easy to find when I need them. My first step in making a scrappy quilt binding is to sort and pull the ones I think I might want to use. For the quilt in this example I pulled out my favorites in Fig Tree collections. I even had extras I wasn't sure I needed to use.
Strip Sizes for Scrappy Bindings
For this quilt (it's king-sized), I cut all of my left-overs into lengths close to 11″ long. Most strips were right at this size, but some were a bit smaller and some a bit bigger depending on what I had to work with. I've also used strips up to 20″ long, though, for a king-sized quilt. (I talk more about strip sizes in the video). Next I put the strips into a row so that the colors were distributed evenly.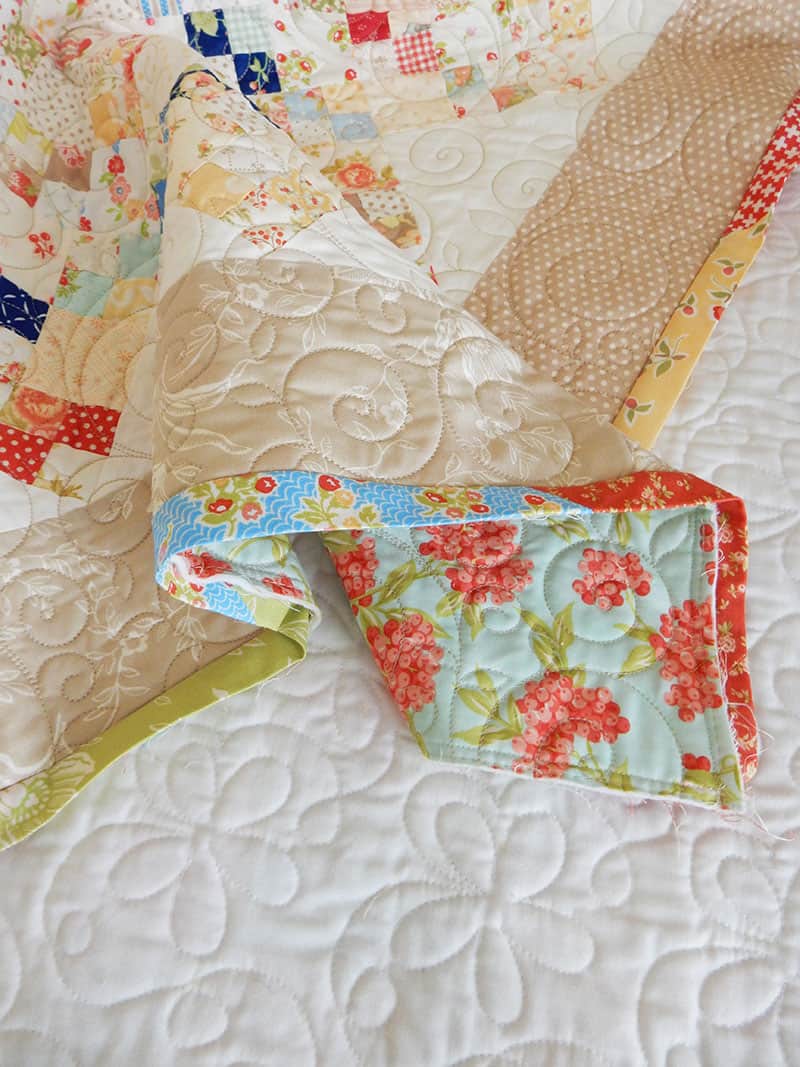 After putting all of the strips in piles, I began sewing them together with diagonal seams as shown above. As strips ran out in some of the piles, I shifted the piles a bit to keep contrast between the strips. Chain-piecing the strips together made the process go quickly.
Finishing + Some Quilt Math for Scrappy Binding
 After trimming and pressing the new seams I rolled up the binding so it would be easier to manage while stitching to my quilt top. In the end I had about 50″ of left-over binding. (This makes a great beginning for a future scrappy binding).
In order to figure out how much binding you'll need, measure the perimeter of your quilt. Then add 10″ for going around the corners. I also added an additional 25″ since there are so many seams in scrappy binding.

I was pretty happy with the look…so glad I went with scrappy for this quilt instead of with just one color or even with a scrappy version of one color.
Binding Tip…
One of my favorite tips for binding is to press the binding out away from the outer border after I've machine stitched it to the quilt top. I do this before I hand-stitch it to the back of my quilt. My grandmother taught me this over 25 years ago, and it's a step I never leave out. It really makes the binding look crisp. However, if you are using bias binding you can sometimes distort the binding when ironing. Always use care when pressing bias bindings.
More on Quilt Bindings
For more information on quilt binding, here are a couple of binding tutorials you can watch on my You Tube channel for even more information:
I also have an earlier binding post you might be interested in:
Hope this week is a great one…thanks so much for stopping by!