Hello, friends! Today is the day I'm sharing my updated A Quilting Life Sewing Room Tour | May 2022 edition. If you've been following along here over the past while, you know that I've been working on my sewing room for about two years (since we moved). We had some major home improvement projects that took priority for the first year and a half we were here, so it was exciting to finally be able to begin with some wonderful projects in the sewing room.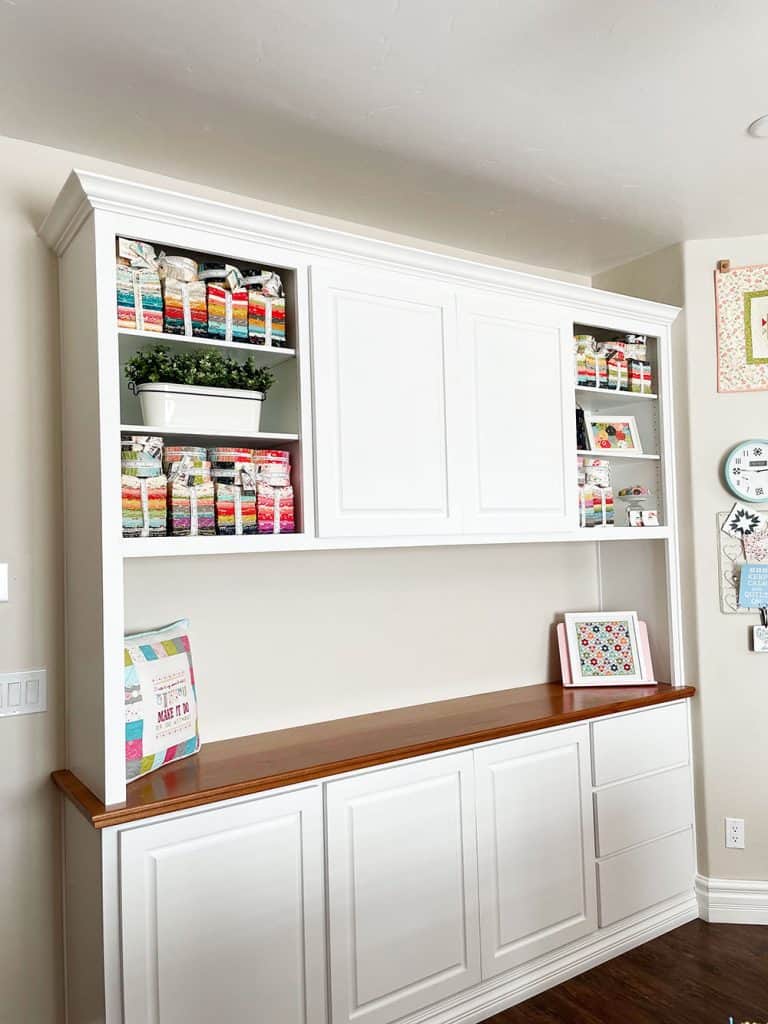 One plus about all of the organizing has been that I've been able to really evaluate what works for my space. I was also able to really utilize the ideas I wrote about in my Quilting Life Planner & Workbook. We filmed a video of nearly every aspect of the room, and I've also got all of my favorite products linked below. I hope you'll enjoy today's post and video. If you want to watch the video, you'll find it here on our YouTube channel. Keep reading for details and links.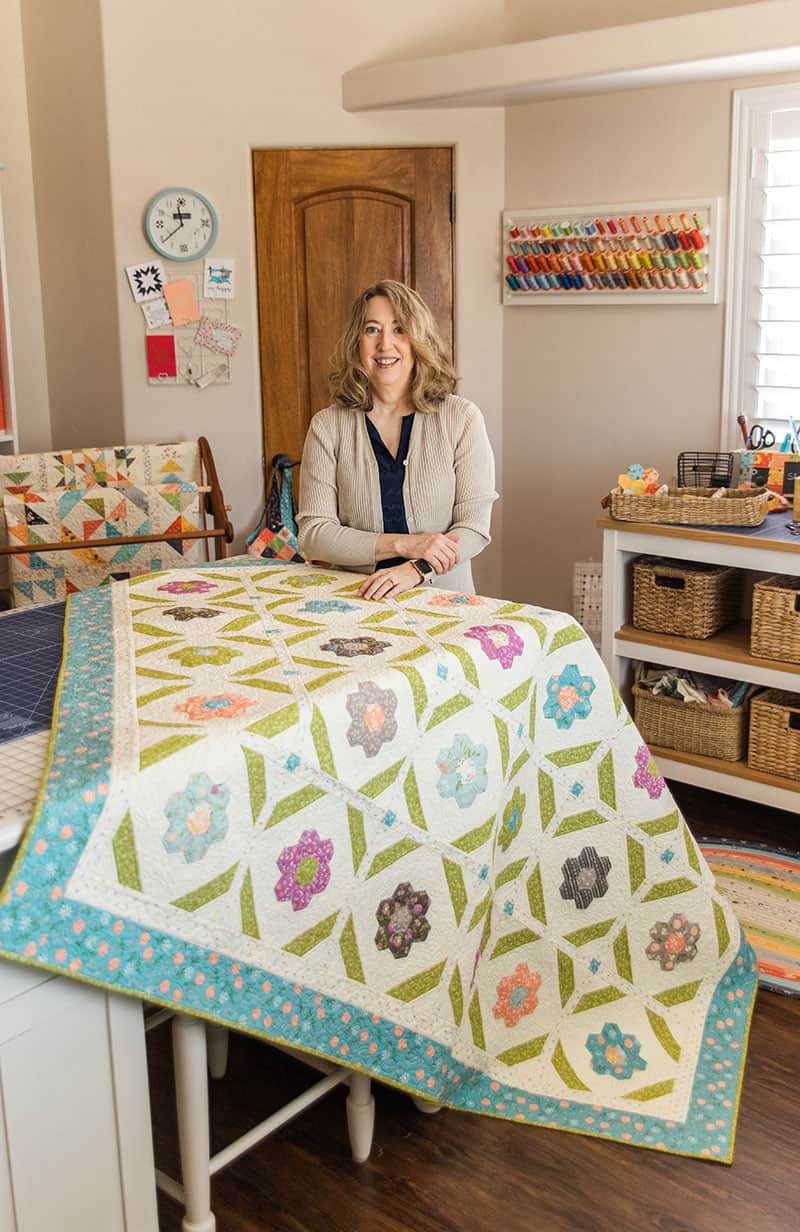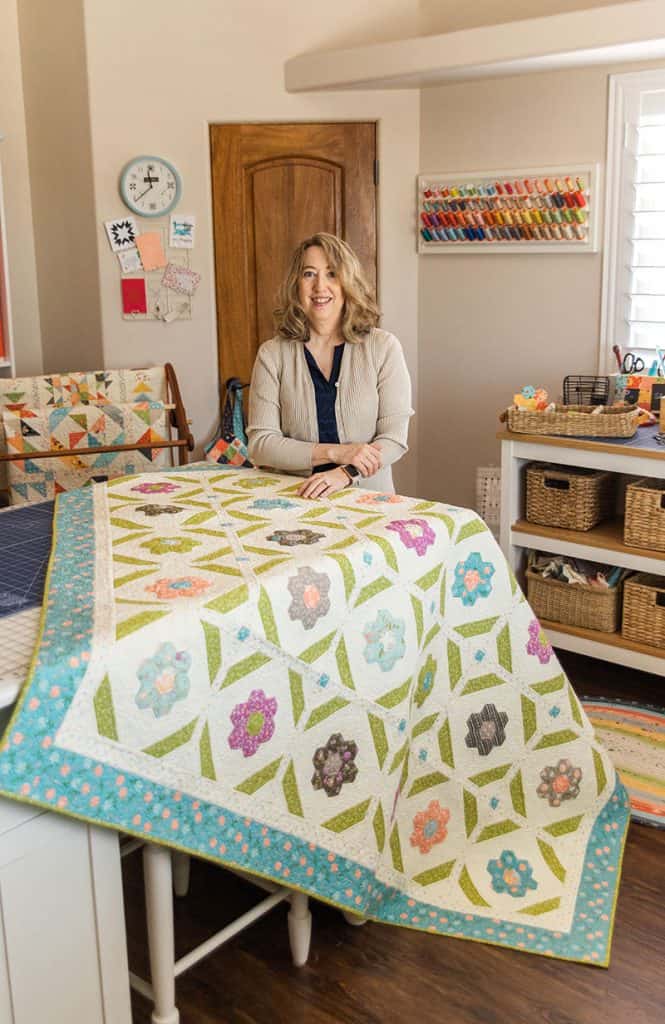 Sewing Room Tour | May 2022
Center Cutting Island
My center cutting island is a piece I've had for several years now and was truly the luckiest find in a small out-of-the-way furniture store. It is made by Klaussner Home Furnishings from the William Mangum Carolina Preserves Collection. It's the perfect height, contains drawers, cupboards, and open storage spaces. While I don't believe it's currently being manufactured anymore, I have heard from readers who have been able to locate this piece through yard sales or small shops. The large clear plastic cutting mat on the table was one I got at Joann's several years ago that just happened to fit on my table.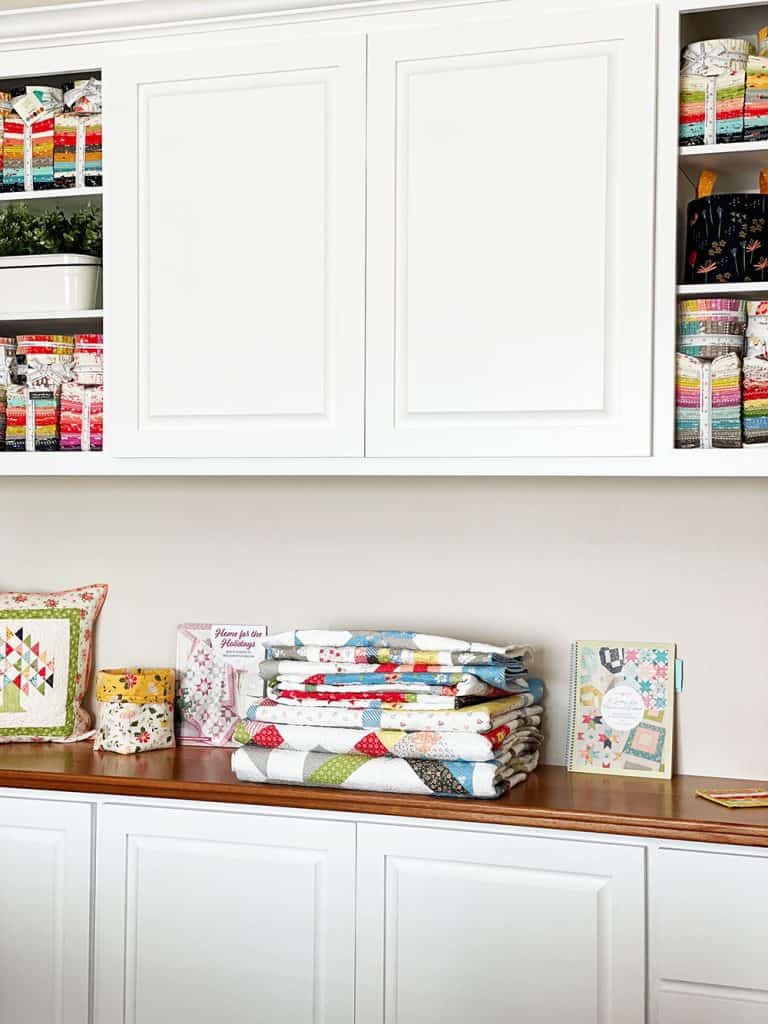 Storage Cabinet + Cupboard Wall
The new storage cabinet + cupboard wall was the first major project we had done this year. Previously I used three Billy Bookcases from Ikea (two large and one small) to store fabrics. But I really wanted to make better use of the space and knew that custom would be the best option. I love the open storage combined with the cupboards I'm able to keep closed. And the three deep drawers are one of my favorite additions. I really love the option of having drawers for storage in the sewing room.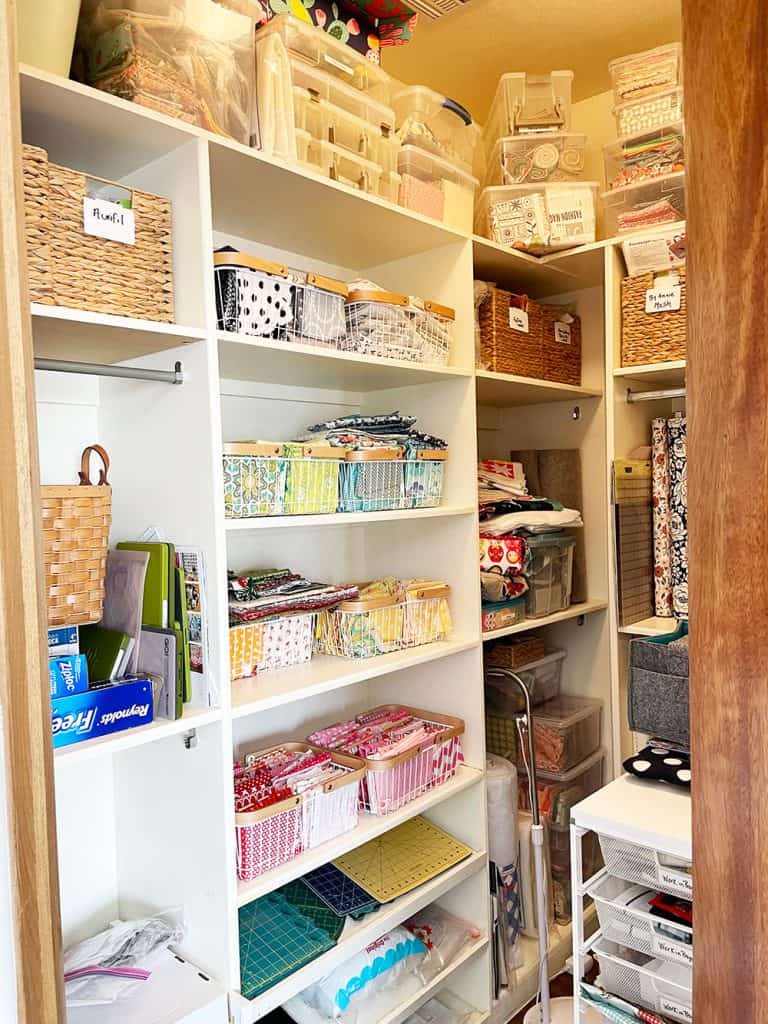 Closet
Better utilizing the closet was another goal. We were able to utilize the basic layout of the closet but add many more shelves to make better use of the space. When I took everything out of the closet before the construction began, I was amazed at how much I had piled in! I didn't allow myself to put anything back in unless it was labeled and in a container. And I still have the top shelves mostly empty!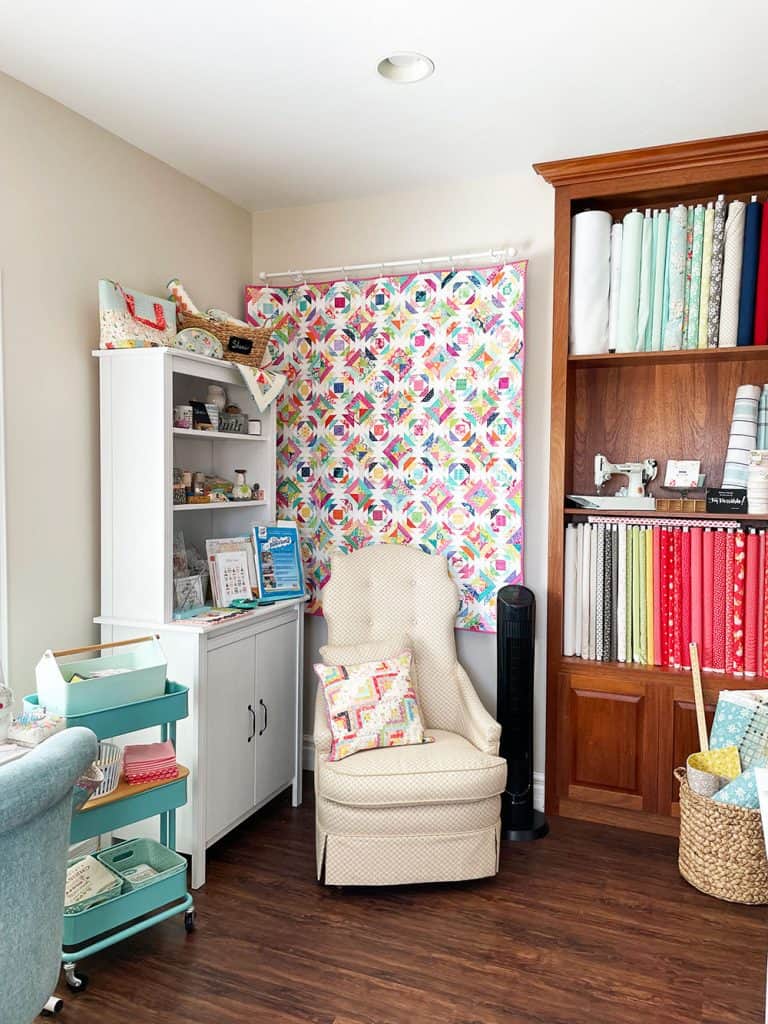 Simple Shelving + Cabinet
I am still using two Billy Bookshelves and an Ikea cabinet on the other side of the room. The Billy bookcases are really ideal for fabric storage and have worked well for me. I might consider getting the upper units available for these shelves to expand the storage higher on the wall. There are also some built-in shelves and cupboards near the bookcases that we had put in when we first moved in. They filled a niche in the wall that seemed to be meant for a storage piece. I also love having the Ikea Brusali cabinet in the corner here. Because my chair often blocks the lower cabinet doors, I put lesser-used items in the cupboards.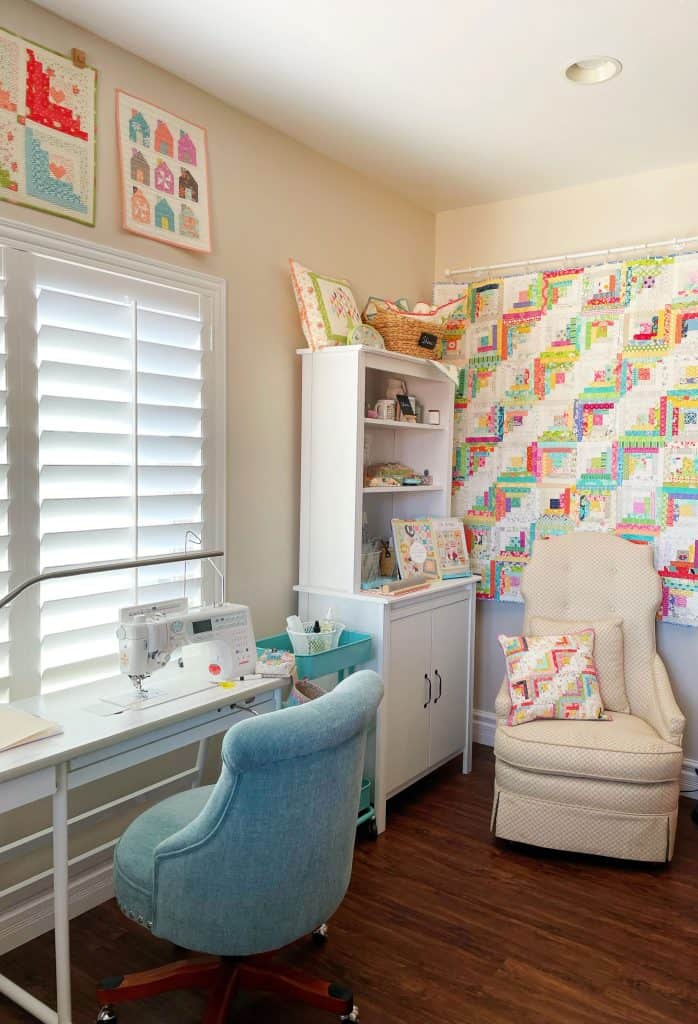 Sewing Workspace
I'm still sewing on my Janome Memory Craft 6600P that I've had for nearly a decade now. The table I use to sew on is also made by Janome and has also served me well. I keep an Ikea Raskog cart near my sewing machine that I can easily use for an extra tabletop and project storage while working.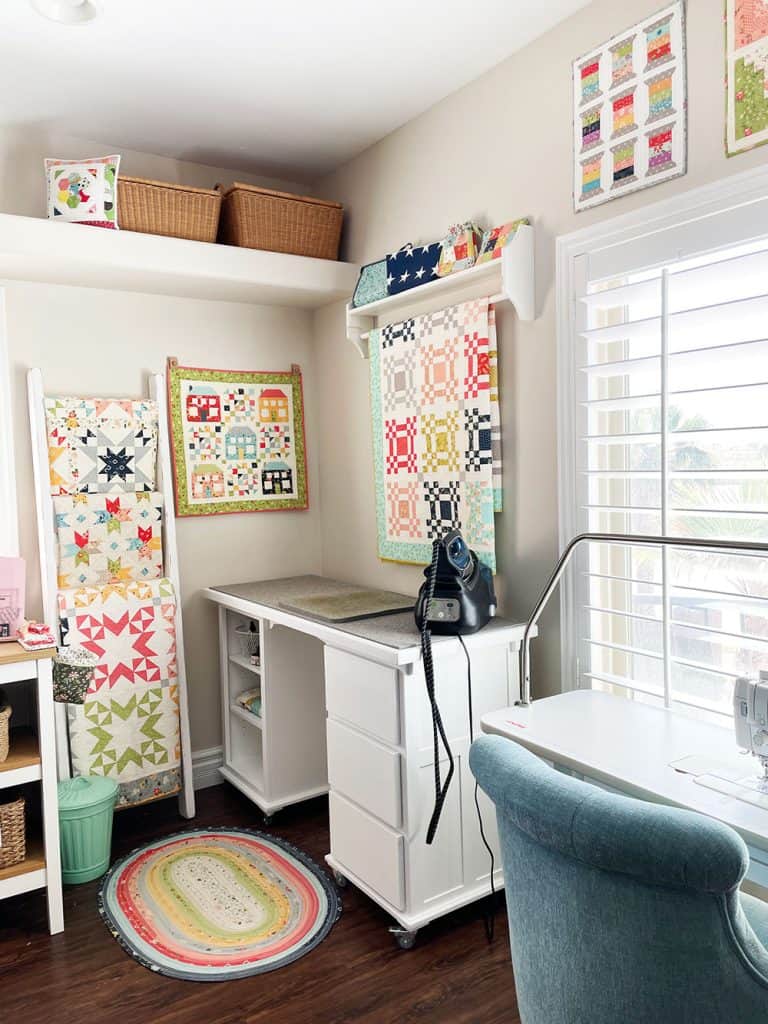 Ironing Station
I've been looking at these Ironing Tables for a few years now and realized they are several months out if you order one. My carpenter was able to custom make this unit for me based on the photos I showed him. I also love that he was able to add the three drawers for storage at the iron.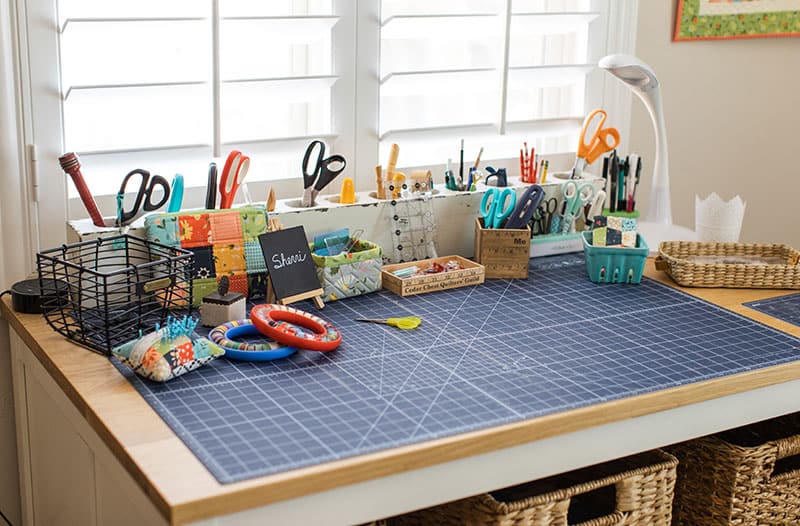 Secondary Workspace
I initially purchased this Ikea Tornviken table thinking it might work as an ironing station. But it's been super helpful to have a secondary workspace in my room. I store a lot of my frequently used tools here and am able to trim blocks here when my main workspace is crowded. The tool storage piece on the back of this table was an online find from Magnolia several years ago.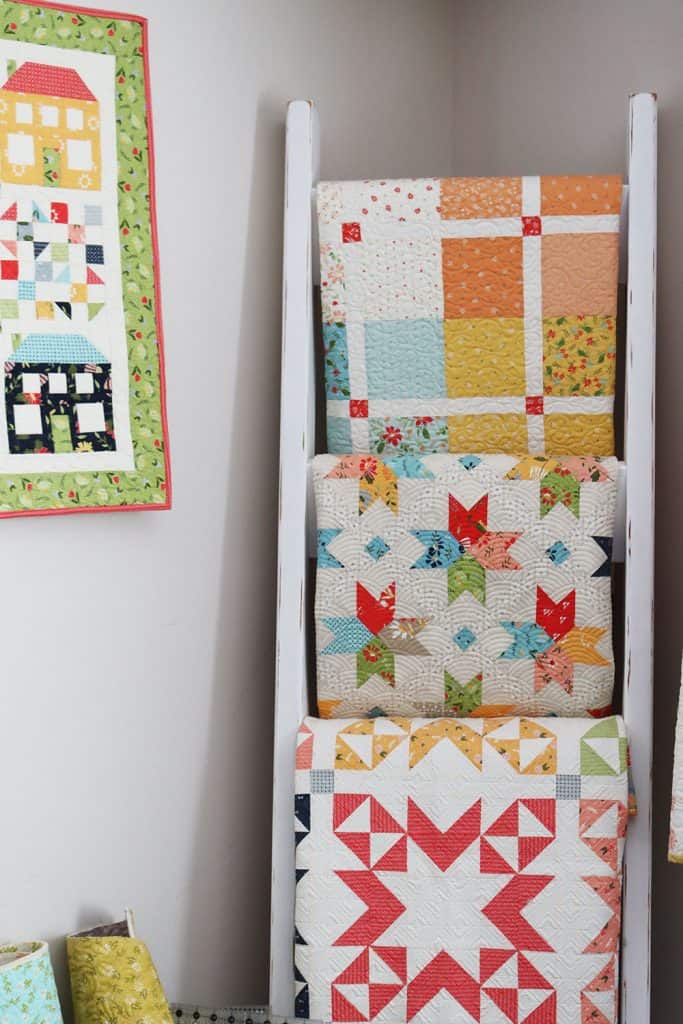 Favorite Sewing Room Products and Organizational Helps
Here are some of my favorite sewing room products and organizing containers: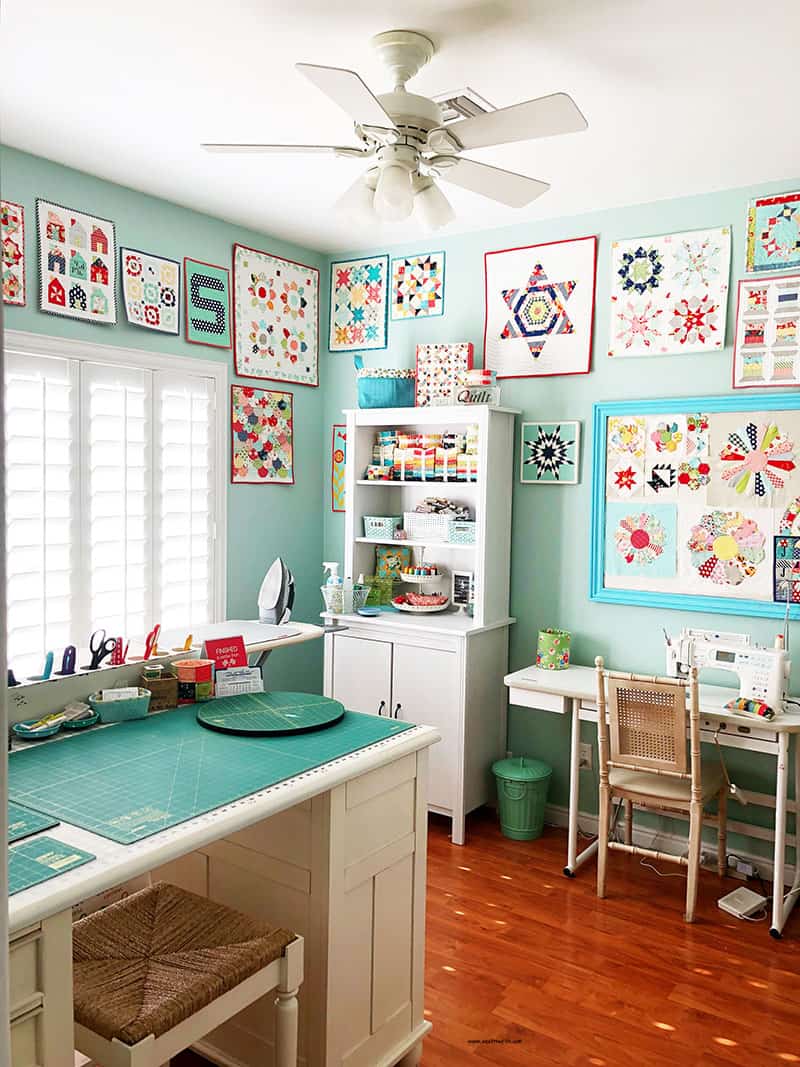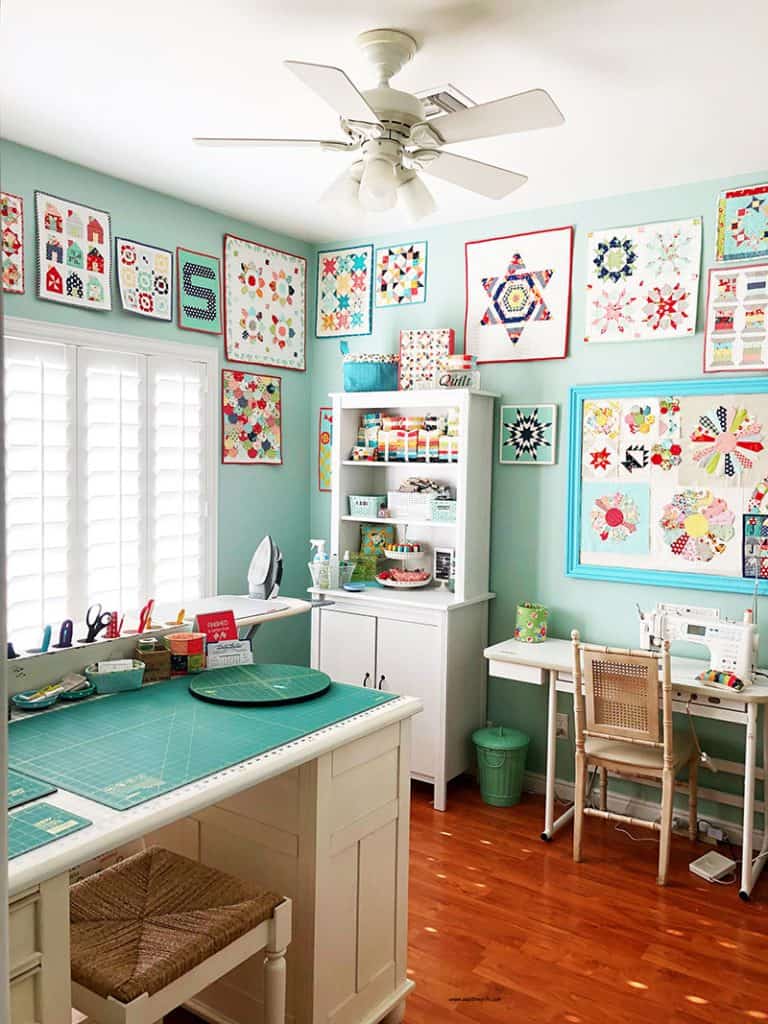 More Sewing Room Organization Posts & Tours
I've shared several other sewing room organization posts and sewing room tours over the years. You'll find more ideas below:
Thanks so much for stopping by for the Quilting Life Sewing Room Tour | May 2022. If there is anything I left out of the links that you'd like more information on, please leave a comment so I can update the post with those details.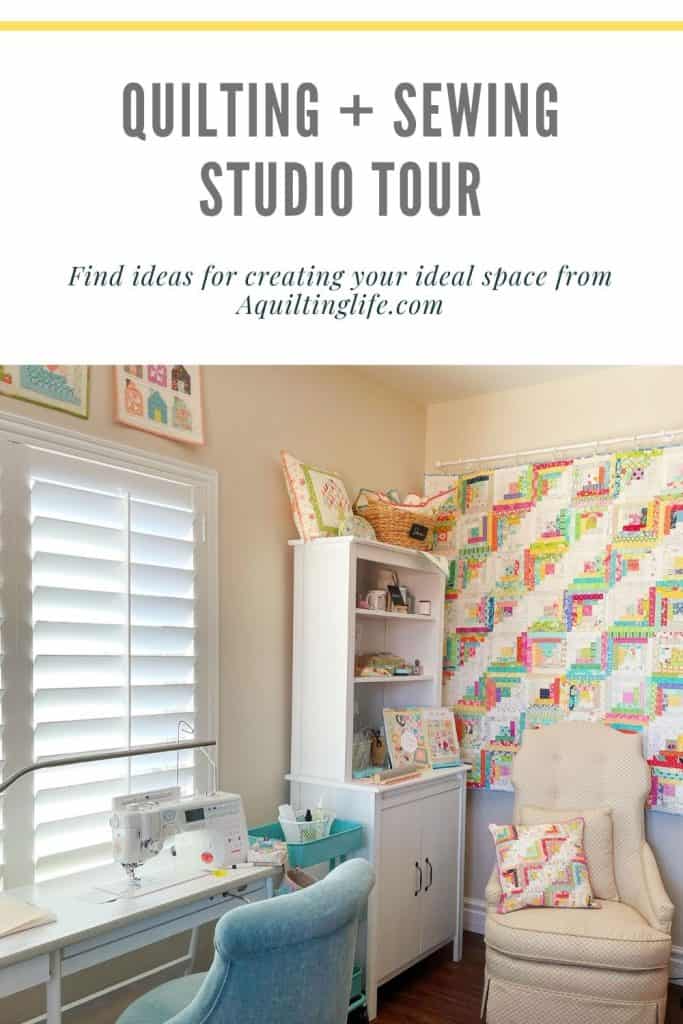 Happy quilting!