Hello, friends! Today I'm sharing all things sewing room with 5 Tips to Set up Your Sewing Space and more Sewing Room Ideas and thoughts on Sewing Room Organization. This post was originally published in 2019, but I've updated it and added even more organization ideas since going through this process twice in less than a year. I have found some things that really worked as well as some things that I wish I had thought out a little more.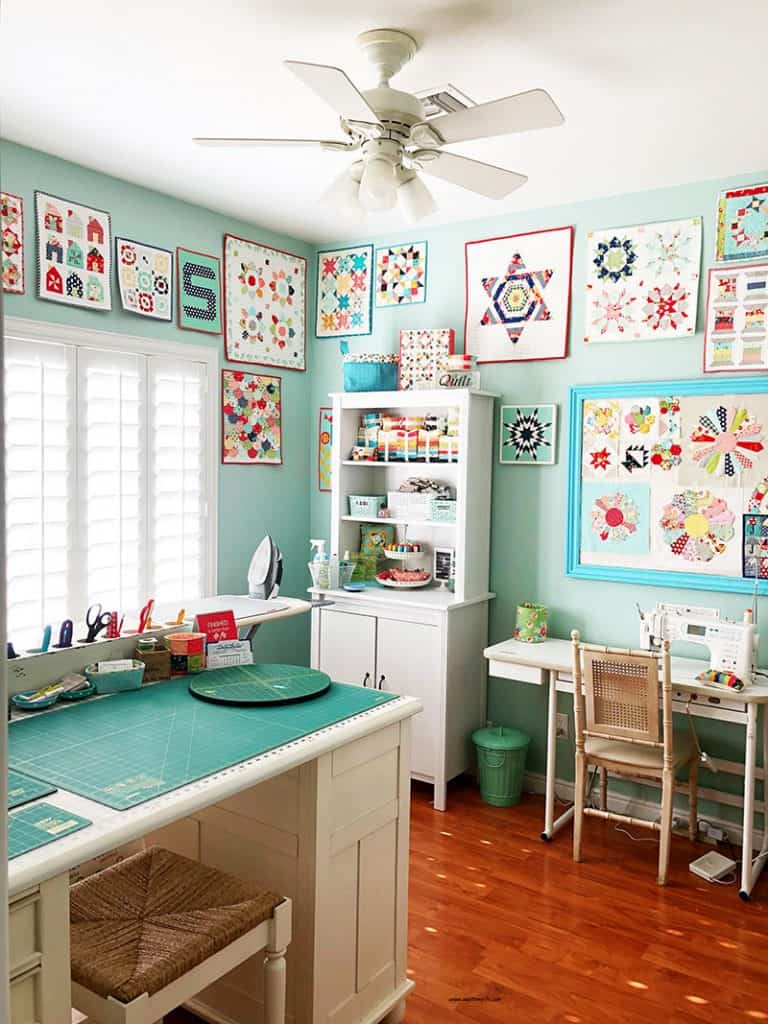 Sewing Room Ideas
1. Consider the Work Surfaces First.
The most important parts of any sewing space whether you have a dedicated sewing room or just a corner of a bedroom or even the dining room table (I've used all three over the years) are the work surfaces. You need to have the following three workspaces in some format:
You need a workspace for your sewing machine. While a nice sewing machine table is a luxury, I've also used smaller tables and the dining room table.
You also need a dedicated cutting space. Again, a separate cutting table is a true delight, but over the years I've used my dining room table and my kitchen counter when needed. It is nice if the cutting space is in close proximity to your sewing machine, but you definitely get extra steps in if they are further apart.
An ironing space is a must. I love my large ironing board and new steam station (I'm thinking of a post on this in the near future as well–my new iron is a complete game changer–and a necessity). But even a small tray table can be fitted to make a nice ironing surface that sits right next to your machine.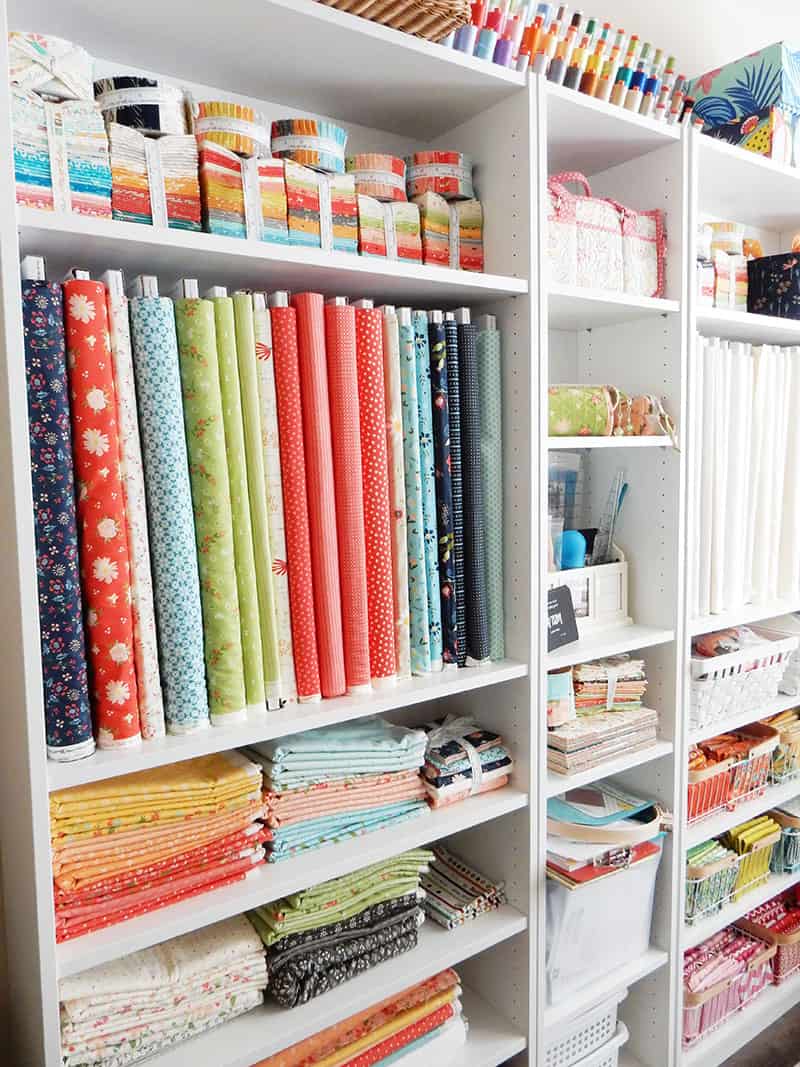 2. Next, Plan for Organized Storage Spaces.
What I've found over the past couple of years in moving into a new sewing space (twice) is that shelving is the number one option if you have a choice. I recently read that Marie Kondo said storing things vertically is the desired method for storage, and book shelves prove that point. I do love storing things in boxes, bins, baskets, and drawers, but shelving definitely makes the most of your real estate. Basically, you should try to have as many shelves as possible for storing fabrics, notions, and accessories. I'm really grateful that I was able to line two different walls with two groupings of bookcases because it gave me a lot of extra storage. While we were waiting to move into our new home, my sewing room didn't have a closet. The shelves were definitely lifesavers.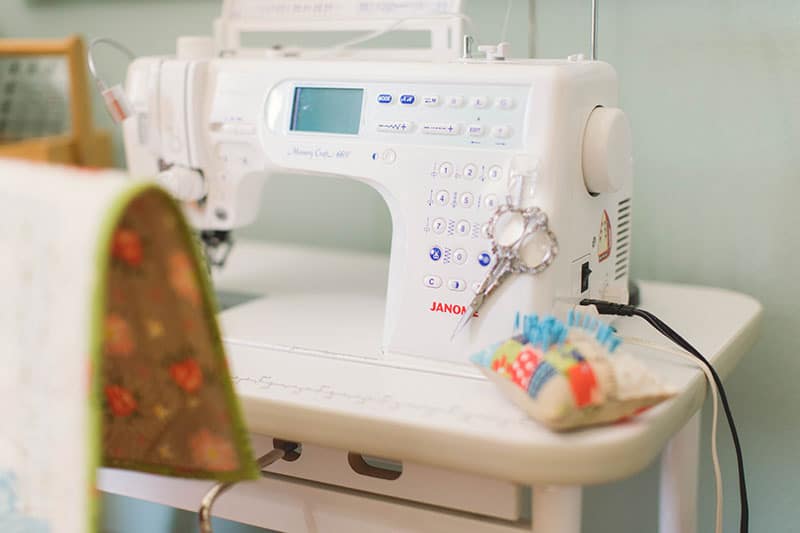 3. Sewing Supplies, Tools & Notions Should be Easily Accessible.
Consider the tools you use most frequently and make sure they are readily available. I have a terrific organizer for scissors, rotary cutters and other tools that sits at the back edge of my cutting table and don't know what I would do without it. I love having easy access to those items. But there are other items I have stored in a variety of bins and boxes. Some other thoughts on this topic:
Most-used items should be visible. They have a place. And when I'm finished using them, I return them to their spot immediately. (If I don't I end up searching for them later).
Less-frequently used items are stored in labeled containers.
My most-used items: rotary cutters, scissors, threads, fabric, rulers, pins, needles, and pincushions are all stored in easy reach. (See my favorite tools and sewing notions here).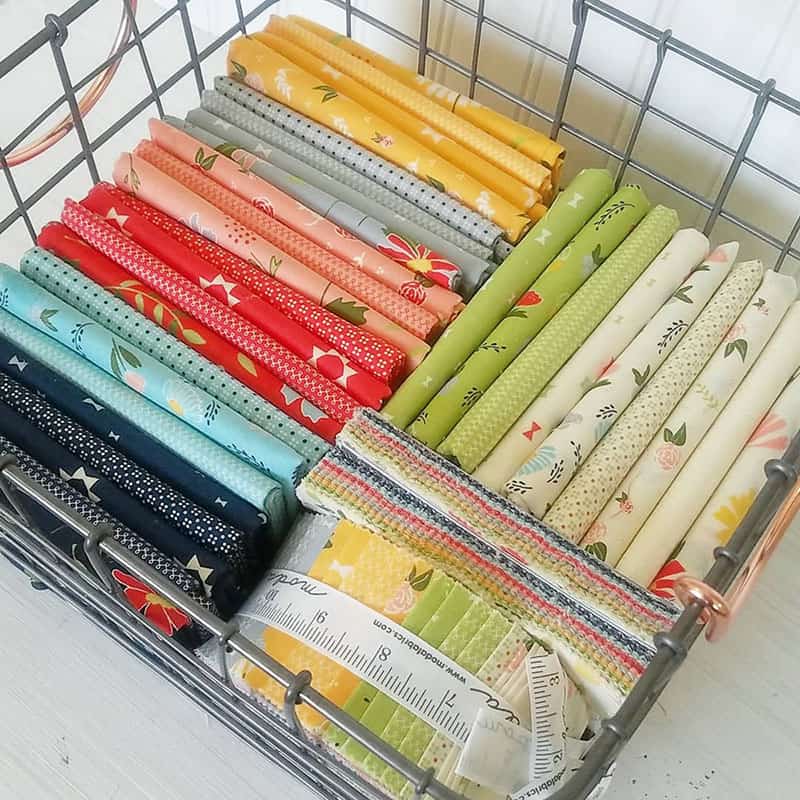 4. Labeling is Key to Organization.
I don't label things that are clearly visible. But whenever I store items in a box or bin in which the contents aren't entirely visible, I make a label. I have a couple of containers that have been hard to label, so I have a list tucked just inside of those bins. I simply don't want every single tool or item I have stored visibly, and it's nice to contain those items. But it's also really nice to be able to find them quickly and easily when needed. You might also want to consider a master list of where everything is if you forget where stored items are kept.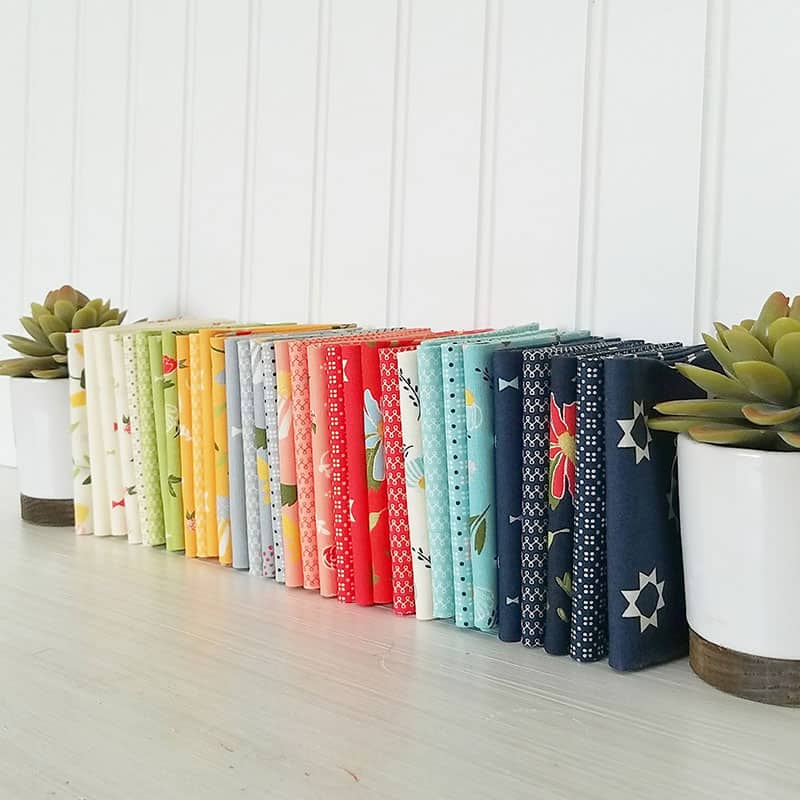 5. Make a Plan for Regular Upkeep & Editing.
Having a nice well-organized sewing space is a blessing. But after making a plan for your space, the very next thing you should do is decide on an upkeep and editing schedule. By editing I mean purging, sorting, or donating things that just aren't being used. Of course you don't need to worry about donating things that you love, that inspire you or are part of a collection you might be showcasing. If you're having trouble deciding what to donate, invite a friend over to help you make those decisions.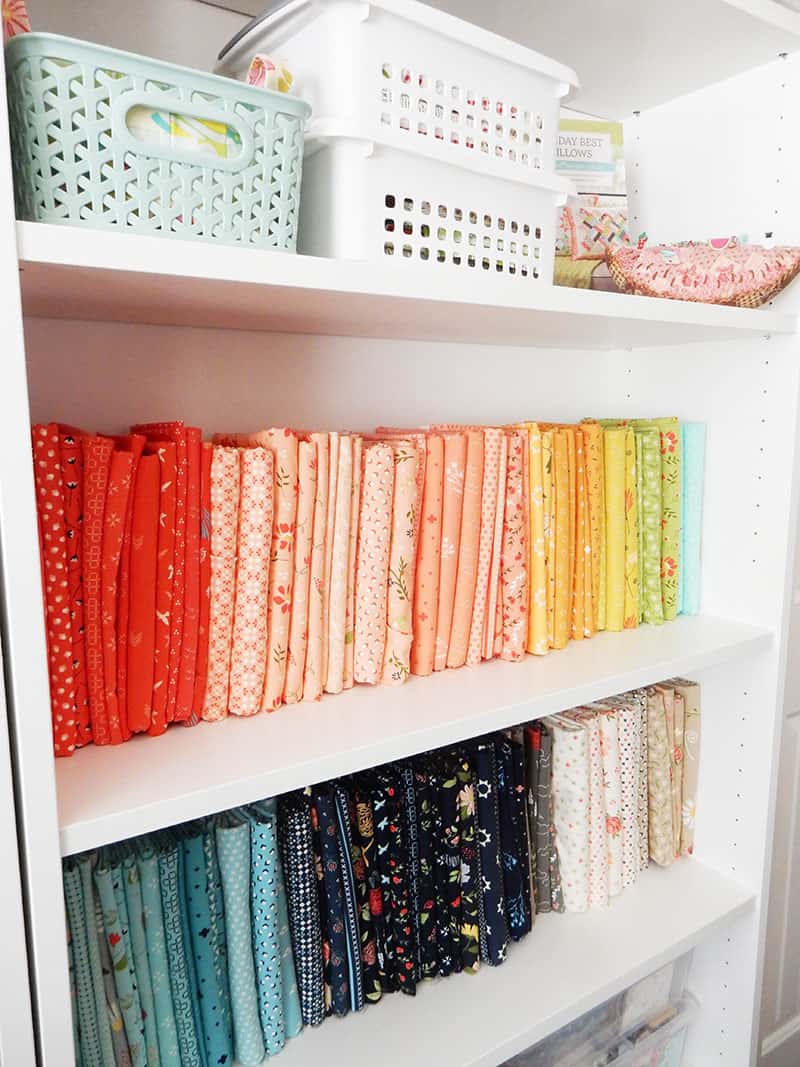 More Considerations for your Sewing Room
Here are just a few more ideas I've found important when setting up my sewing rooms:
I love natural light and how helpful it is when sewing. If possible, utilize a space with good natural light.
Think about the decorations you'll have in your space–mini quilts, fabric and notions, and photos can all be inspiring decor for a sewing room.
Consider using jars, pegboards, and other organizational items meant for other spaces like kitchens and bathrooms.
Routinely sort sewing supplies so you aren't having to organize products you aren't currently using.
If you have a closet, be sure to organize your closet in order to make optimal use of space in the room.
Sewing Room Organization Ideas
If you're looking for some more ideas on sewing room organization, here are some other posts to look at:
I hope you've enjoyed these Sewing Room Ideas for creating the perfect sewing room layout. It seems my sewing room is frequently a work in progress, so I'll keep sharing more ideas as I go!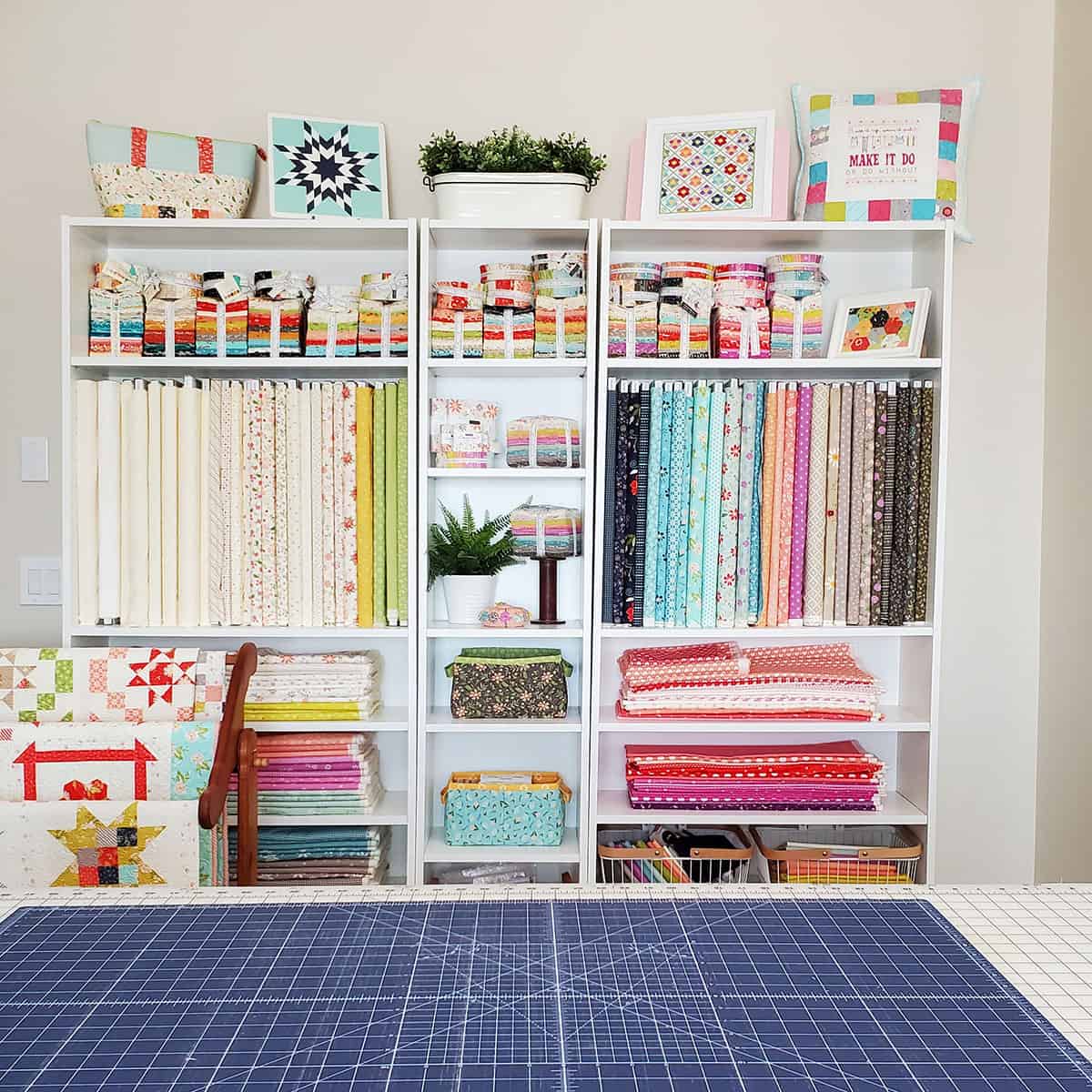 Happy quilting, and thanks so much for stopping by!