Hello friends! I hope you had a great weekend and that you are well and safe at home. I finished up a quilt late Friday and then took some time to straighten up my sewing room and get a couple of projects ready for this week. So I'll be off and running on my next Balboa quilt this morning. As I was cleaning up, though, I realized it had been a while since I shared progress in my new sewing room. I hope you'll enjoy today's Sewing Room Tour as part of the A Quilting Life at Home series.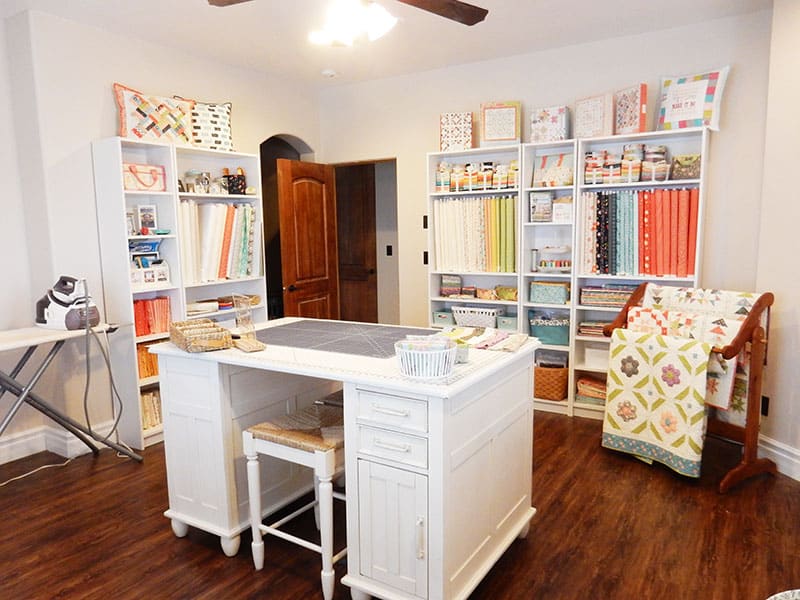 Sewing Room Tour
I last posted about my new sewing room on March 2nd…and oh, how the world was different then. Of course, I had no idea what would shortly be happening in our world. I just feel so very blessed that we were able to get moved in with the most important things finished up before everything shut down last month. I'm grateful that most of our shutters were installed, our laundry room cabinets got installed (we don't have a counter top or sink in that room yet, but I'm happy to have storage at least), and our pantry shelves were finished.
But now I've finished up five quilts in the new sewing room and have made a few changes since I last posted about this room. For me, two of the most important updates were getting the shutters installed and getting my large cutting table in the sewing room. I was worried we wouldn't be able to get the table in, and we wouldn't have if my husband hadn't figured out he could remove the top so we could bring it up in three very heavy pieces. Then he re-assembled it in the room.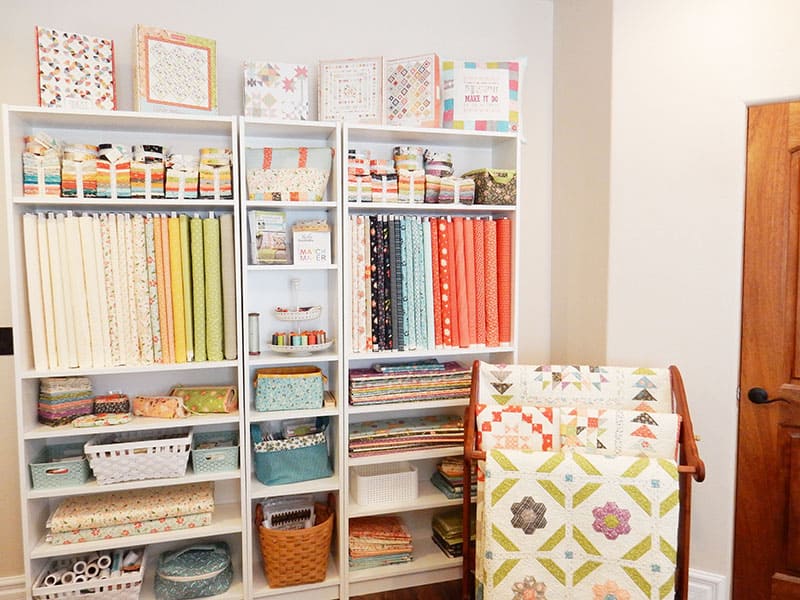 Shelving
I have five Billy bookcases from Ikea that I use for fabric storage. These shelves are easily adjustable and hold so many things. I love having the fabrics and items I use most often so readily accessible. This room is about 16′ x 16′–much larger than my sewing space in our last home. It's definitely been nice to have the extra room to move around in. And I love that this room has two windows for amazing lighting during the day.
Cutting and Storage Table
My cutting and storage table really is the heart of my work room. I've had it for several years now, and it sure was a random lucky find! It has five drawers and two cupboards. There are two identical drawers and a cupboard right behind the one shown in the photo above. I store frequently used notions in the drawers and fabrics in the cupboards. On one end of the table there is a wide shallow drawer where I keep rulers. Below that are two open storage areas and two file drawers where I store patterns.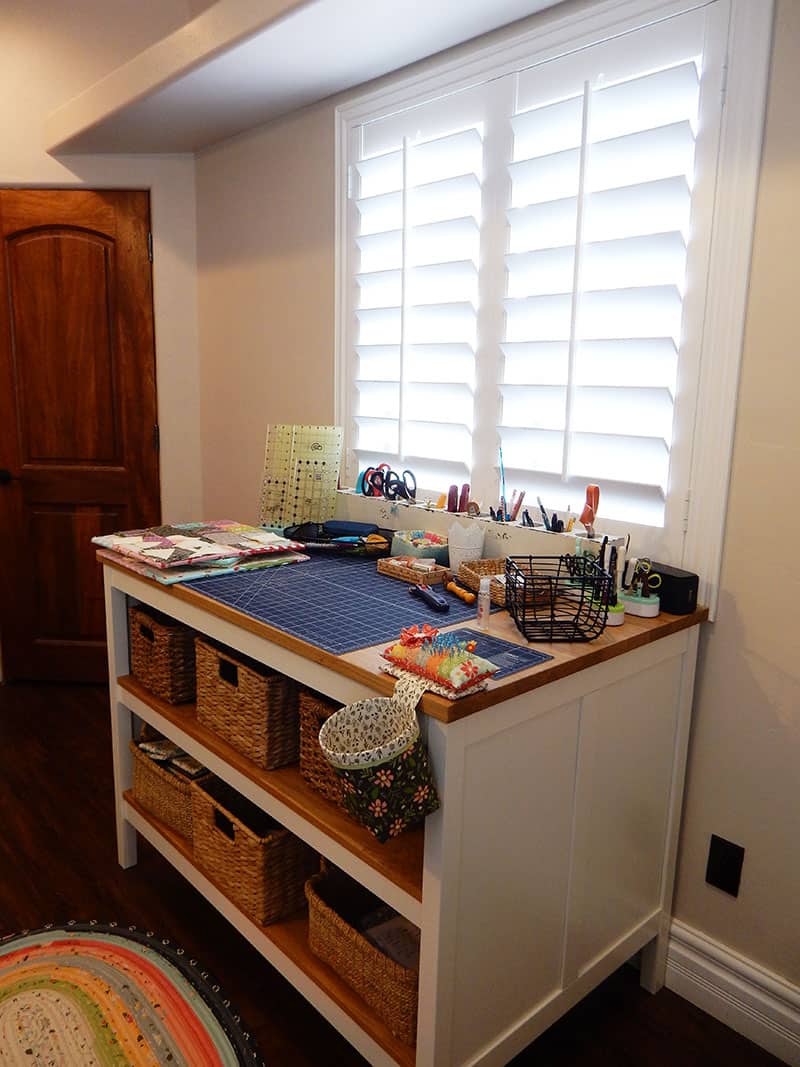 Worktable
I also have another worktable on the east side of my room. I've thought about making this an ironing station, but honestly, it's been so nice to have another work surface that I may just keep it as it is now. I love that I can store many things on top so that my main cutting table isn't cluttered. And the bins below keep fabric scraps and parts and pieces from current projects.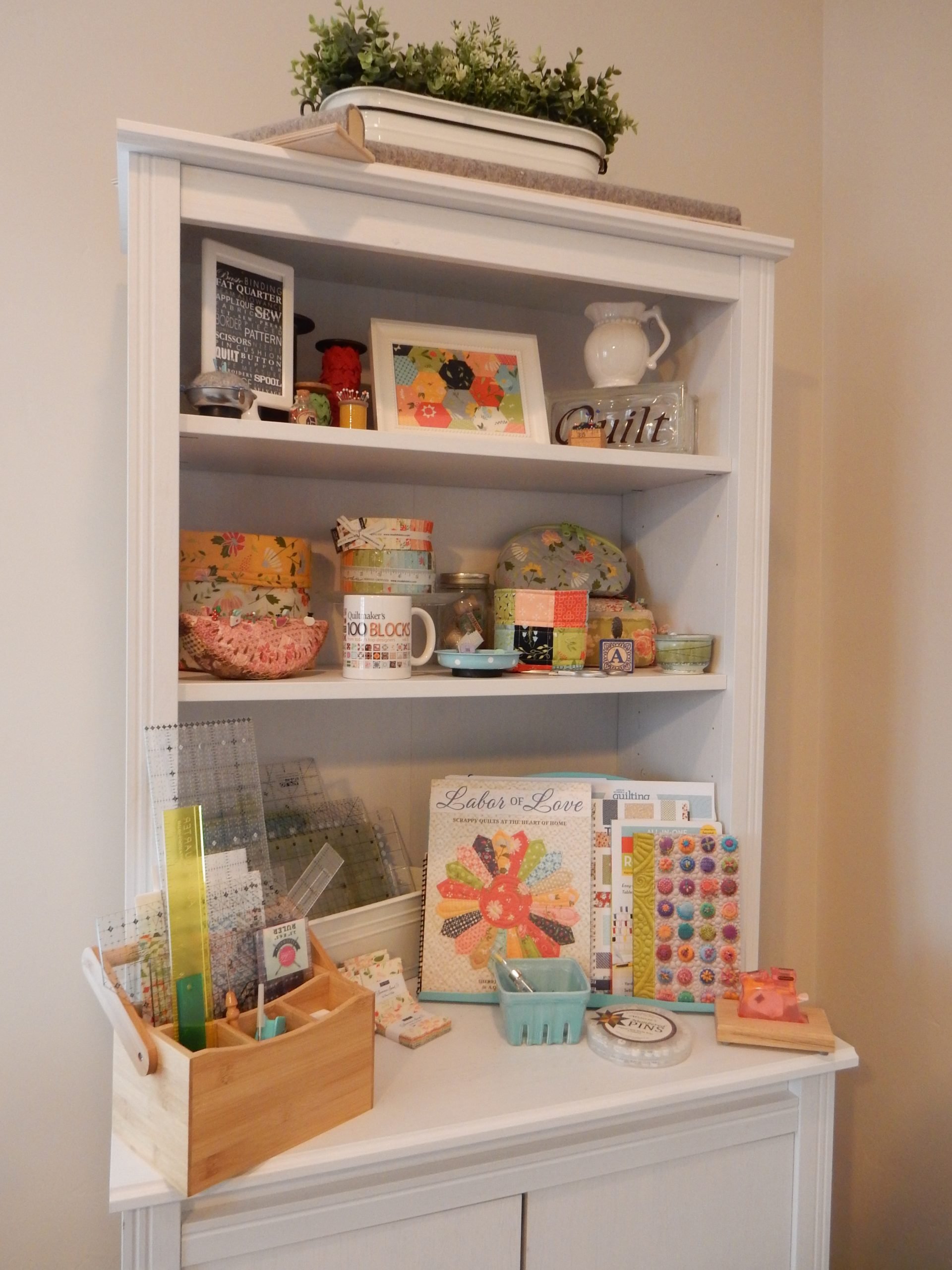 Storage
I also keep fabric and supplies in the cupboards in this Brusali Ikea cabinet. I love that the cabinet has two shelves both large enough to store larger rulers and plenty of fabric and notions.
More Storage
Along with storage in the bookshelves, cabinet, cutting table, and work table, I'm using the closet to store more fabrics and notions. The closet isn't completely organized yet, so I'll share that at a later date. But I do have my scrap bins by color stored in the closet along with my labeled woven baskets with a variety of notions.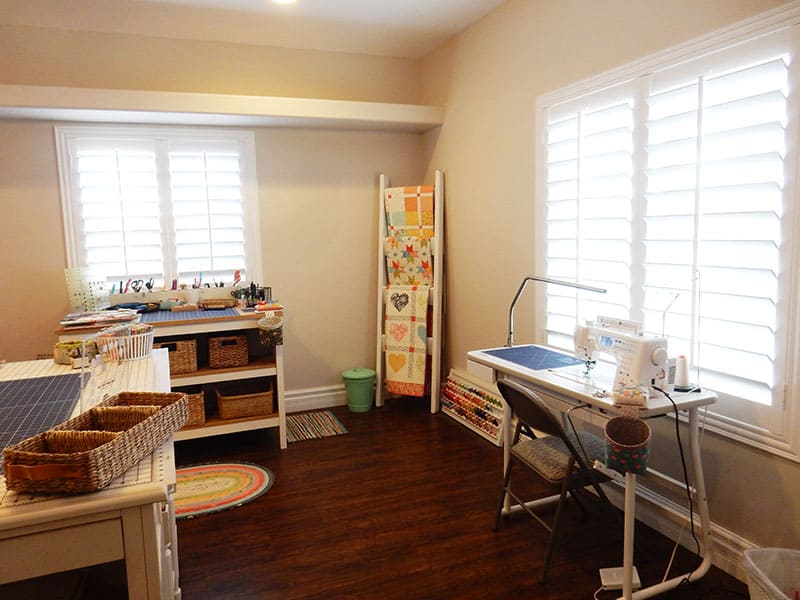 Sewing Space
I sew with a Janome Memory Craft 6600P that I've had for quite a few years now. It's been a terrific machine. The table is actually one manufactured by Janome that was made for my model machine. I've recently added a terrific light (find my clamp-on Daylight light fixture here) that really gives great lighting when I sew in the evening or even on cloudy days. It's been my favorite sewing table light to date since it takes up so little room on my table while giving wonderful bright light.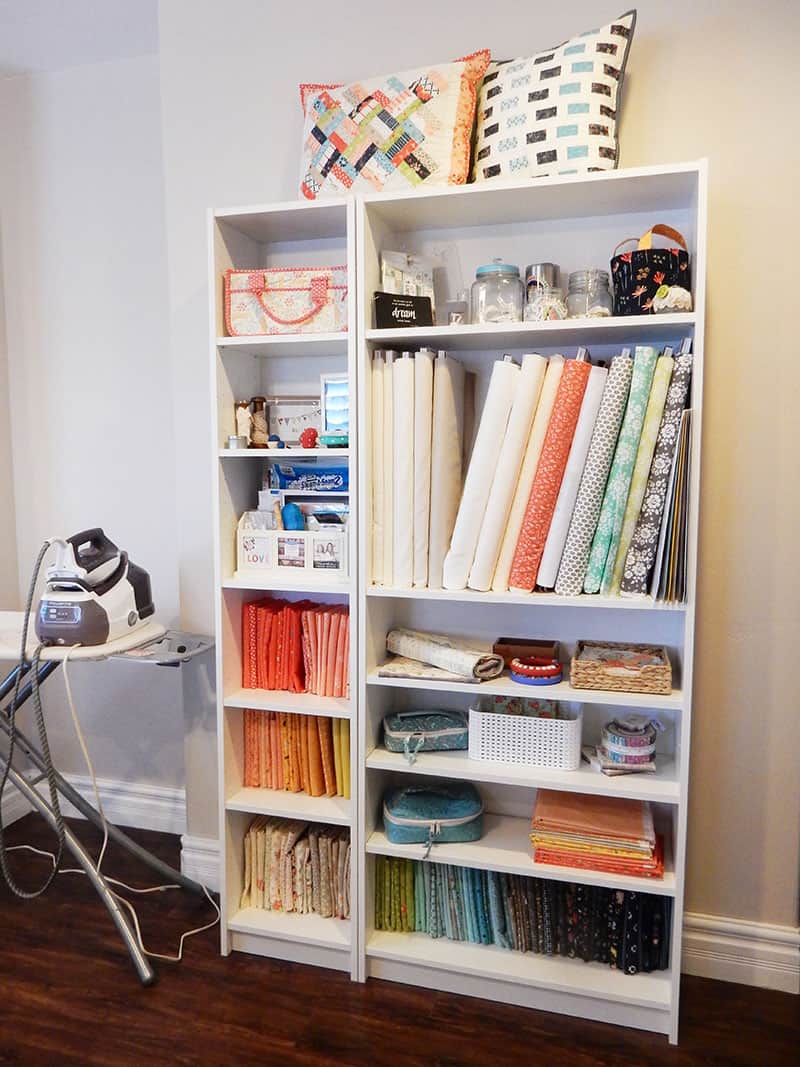 Future Projects
There is a nice niche in the wall right behind where I'm currently keeping my ironing board. We have a custom cupboard with shelves being built that will be going in that space. (Social distancing has slowed down a few of our projects)! I'm waiting to finalize the closet storage until I see how I'll use this space.
I'm also waiting to hang my quilts and mini quilts until the cabinet is put in and I'm sure about the arrangement of everything. I may hang my clock this week, though, because I'm sure the space for it won't be affected by the cabinet addition!
More on Setting Up a Sewing Space
Earlier this year I wrote a post on Sewing Room Organization Tips. While my room isn't yet complete, I did follow the tips in that post while deciding how to arrange my new space. Read the Sewing Room Organization Tips post here.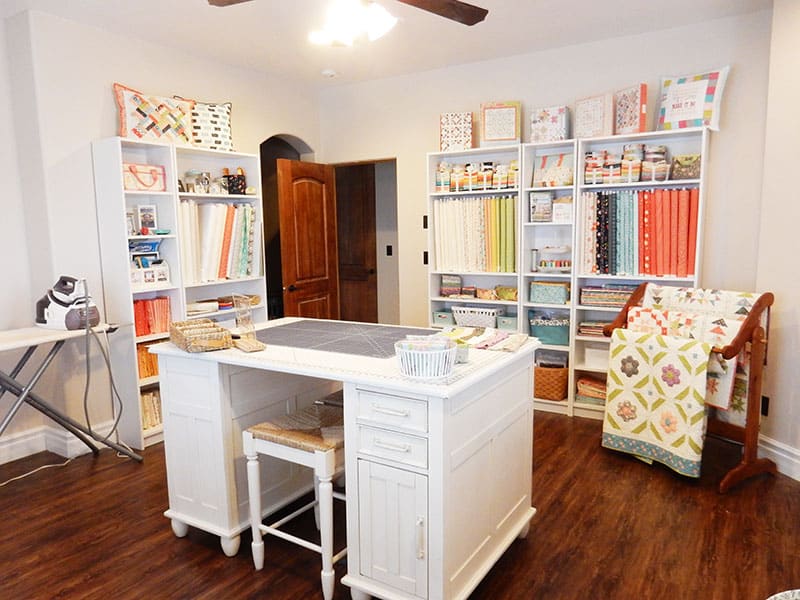 I hope you enjoyed the Sewing Room Tour today! I'll wait until the cabinet is installed and I've hung all of the quilts and minis to share again. Stay well, happy quilting, and thanks so much for stopping by!