Hello, friends, and happy Saturday! I hope your weekend is off to a beautiful beginning. Today's Saturday Seven 230: Lifestyle & Inspiration for Quilters post features articles and ideas to help you take care of you and your family, get organized and inspired, and find ideas for your home and life. I hope that if you're new here you'll enjoy this roundup of things I found inspiring this week. I'm hoping to truly take some time off this weekend. Next week is going to be very busy since our Seashore Drive fabrics are arriving. (Photos in today's posts all feature Seashore Drive fabrics). There will be lots to talk about soon 🙂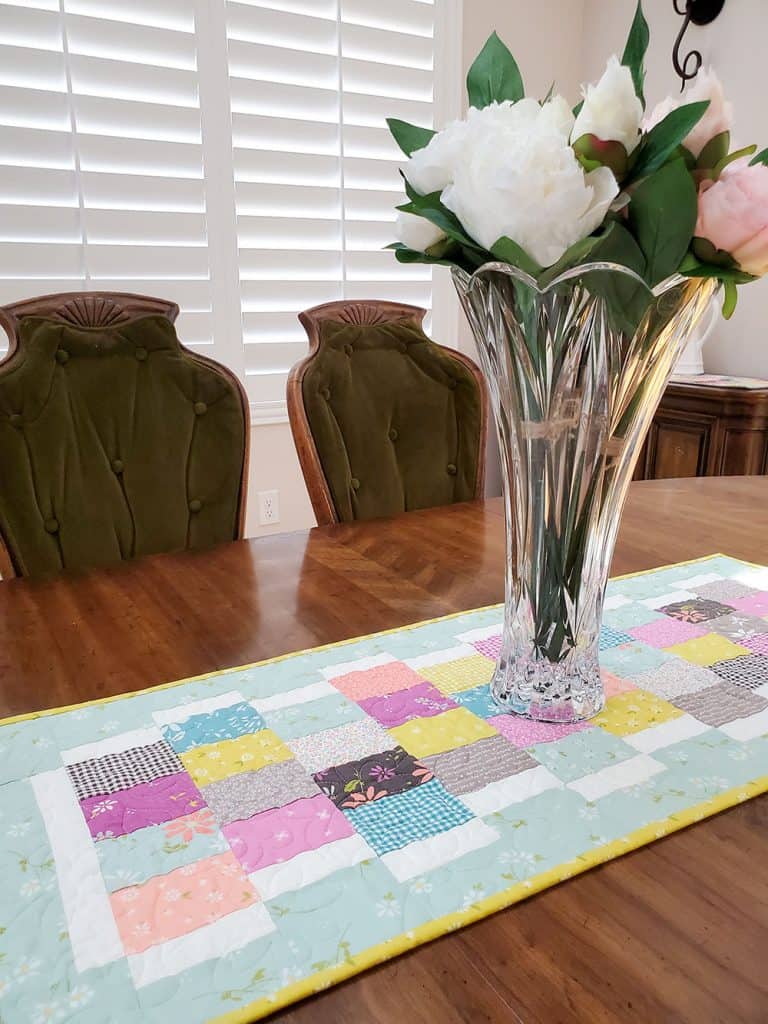 Saturday Seven 230: Lifestyle & Inspiration for Quilters
1. Self-Care
I love the great ideas in this post on a "reset ritual" to come back into focus. Also, this article gives lots of ideas for getting a jump start on a new habit. These daily rituals can help us eat healthier. These Positive Affirmations for Anxiety are so helpful. And finally, I loved this list of "5 Simple Ways to Remind People that You Love Them"–sometimes it's those around us who need the self-care treatment.
2. Cook
Here is an Easy Cheesy Weeknight Pasta Bake–(great for taking a meal to a friend, too–add a salad and some bread). If you want to try making homemade Ranch Dressing–give this one a try. And, I love the taste of banana in baked goods–so I can't wait to try these Soft Banana Cookies. Lastly–this list of the 100 Greatest Snacks of All Time is a fun one.
3. Quilt + Sew
I can't wait to make some of these Fabric Pint-sized Baskets. And strawberry pincushions remind me of days gone by–find a simple tutorial to make your own here. The designers at Riley Blake have been sharing some fun quilt block designs lately. Find a roundup of three in Amy's post here. Also–my friend Elizabeth just posted part four of her incredible Heart's Garden quilt featuring our Sincerely Yours fabrics. Stop by to see this amazing quilt here. Finally–our Seashore Drive fabrics are finally shipping after a three-month delay! It's going to be so exciting. Watch for lots of fun things in my shop very soon (including finishing kits if you're sewing along with my block of the month).
4. Organize
I love Sarah's planner podcasts–her recent episode had some terrific organizational ideas for when life gets crazy. Listen to the episode or just find her written round up of ideas here. Also, these ideas on making progress on a project are so good! Finally, I love these Simple and Stylish Book Storage Ideas.
5. Doing Good
I'm grateful to have been able to contribute designs to many books published by Martingale for which the proceeds go to a variety of charities. If you love the Moda All-Stars books, you might be interested to watch this short video to see the different charities who receive proceeds from the book sales. It just made me happy to watch the video!
6. Spring Things
First, here are cleaning tips for things we often forget to clean. Also, find more simple spring-cleaning ideas here. And I just got this book and am absolutely loving it–of course I'm reading the spring section first. Finally, Mother's Day is just around the corner–this post has menu and gift ideas for your mom or someone special you want to remember at this time.
7. Recently on the Blog
Thanks so much for stopping by to read the Saturday Seven 230: Lifestyle & Inspiration for Quilters post. For more inspiration, you can find all of the previous posts in this series here.
Happy quilting!