Hello, friends! Today I'm sharing the details for the Happy Go Lucky Quilt Sew Along Week 3. We are finishing up the sew along by making the churn dash blocks. I love churn dash blocks and quilts and have a couple of ideas for you if you want some more project ideas with them. I've also got some full photos of the quilt here on the blog along with some additional size options for smaller on-point quilts.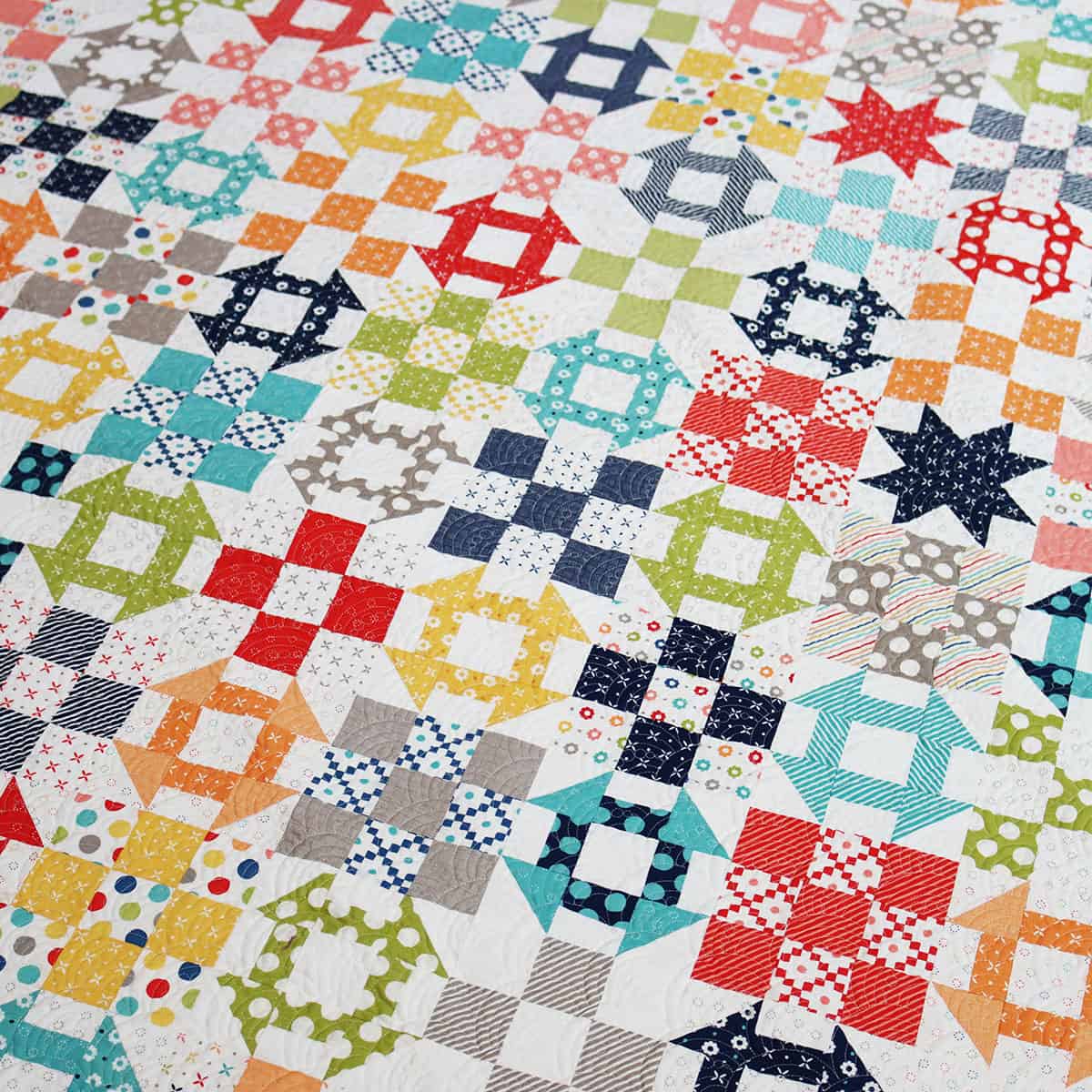 Happy Go Lucky Quilt Sew Along Week 3
Happy Go Lucky Quilt Details
The Happy Go Lucky quilt finishes at 79 ½″ x 79 ½″.
I used 38 fat quarters from our Simply Delightful collection for my quilt.
The quilt contains a variety of Sawtooth Stars, Nine-Patch, and Churn Dash blocks with a lot of light and low-volume prints used in the blocks.
You will need the pattern (available in paper or PDF) to sew along.
Find the free PDF printable to keep track of your progress on the week one post here.
Get all of the details and helps for the Nine-Patch blocks on the week two post here.
I have several full-quilt photos today for those of you looking for my exact block combinations. Use the photo below for a full quilt reference and then see the following two photos for close-ups of the left and right side of the quilt.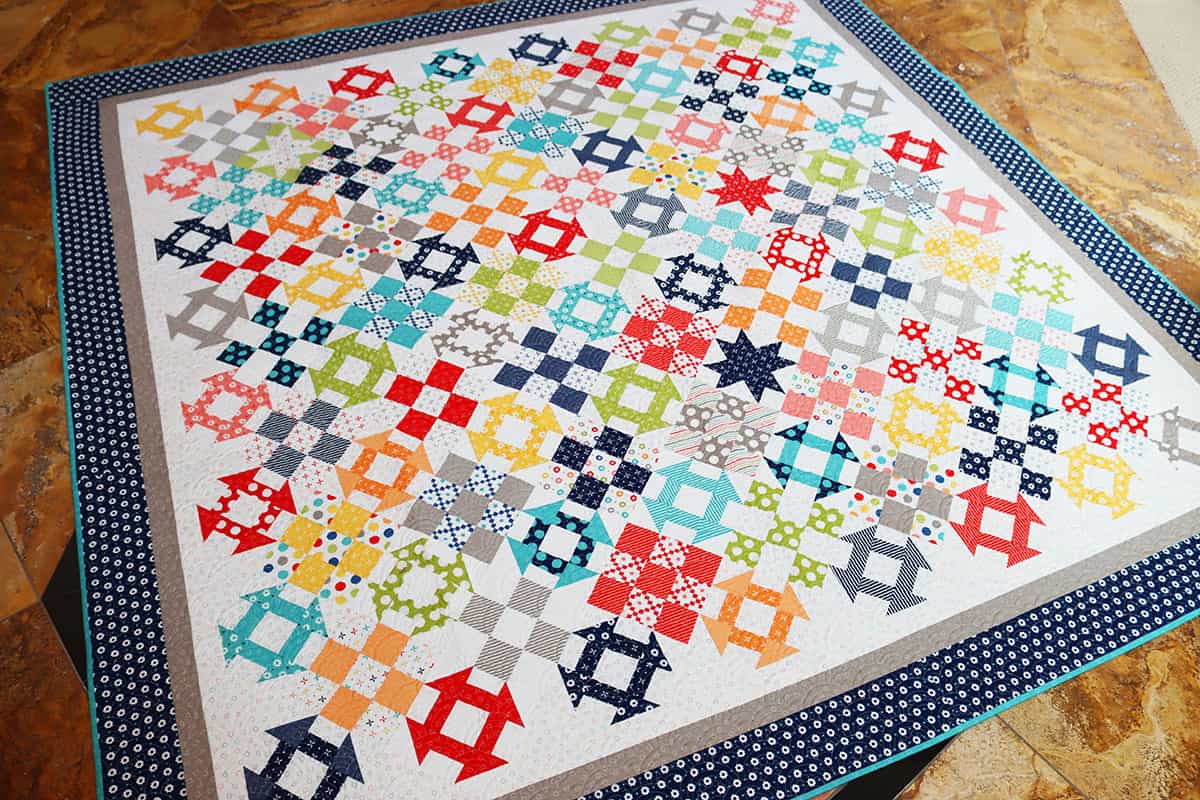 Week 3: Churn Dash Blocks
First, watch this week's video above or watch it on our YouTube channel. I share a few ideas about the churn dash blocks and some of the other things that are in today's post.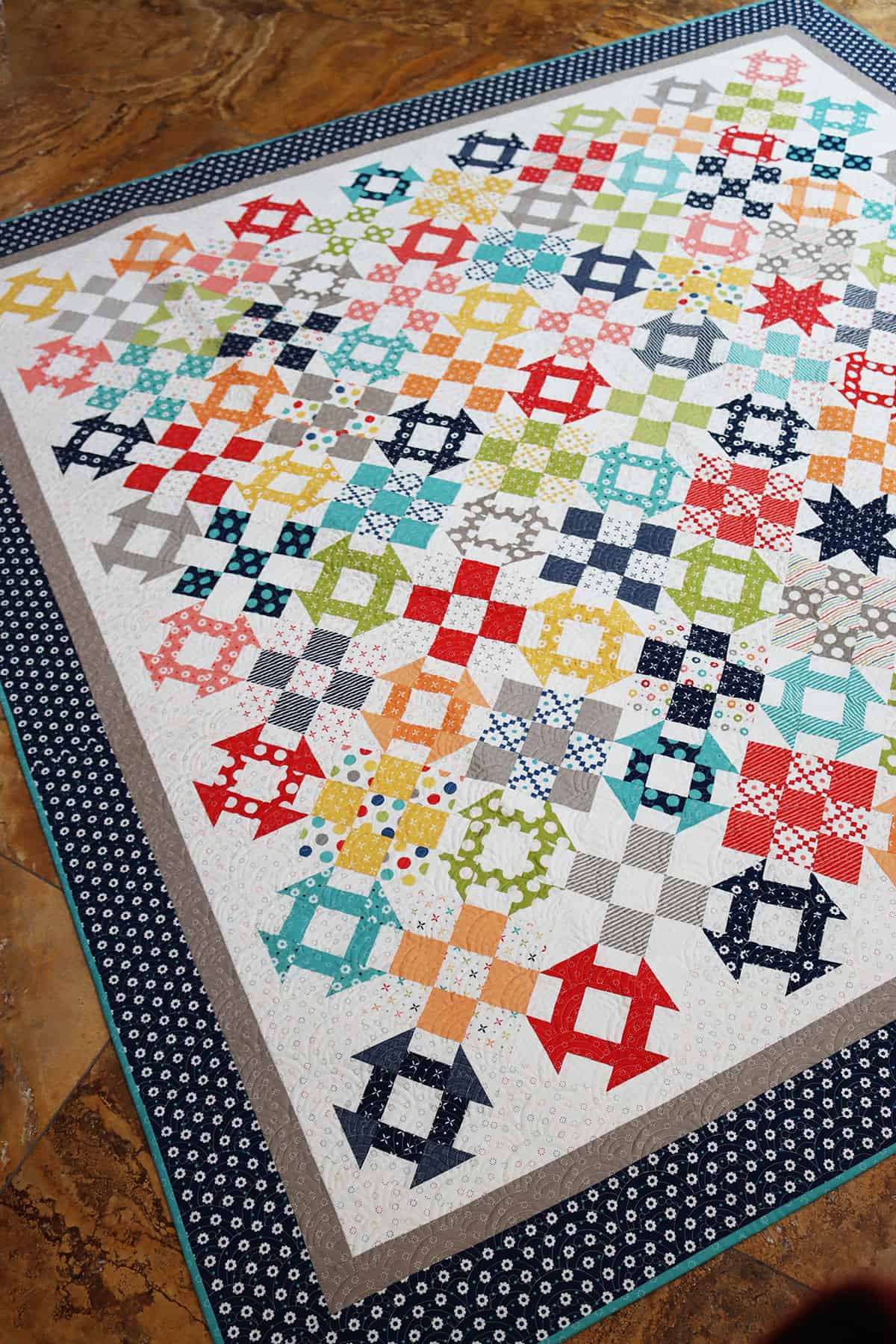 Helps for Finishing
I have a blog post and video to help you with finishing your quilt if you've never put together an on-point quilt before. In addition, you can also set these blocks together in a straight setting for a smaller quilt. Click on the button below to read the post. And keep reading for a few smaller size options for the on-point quilt layout.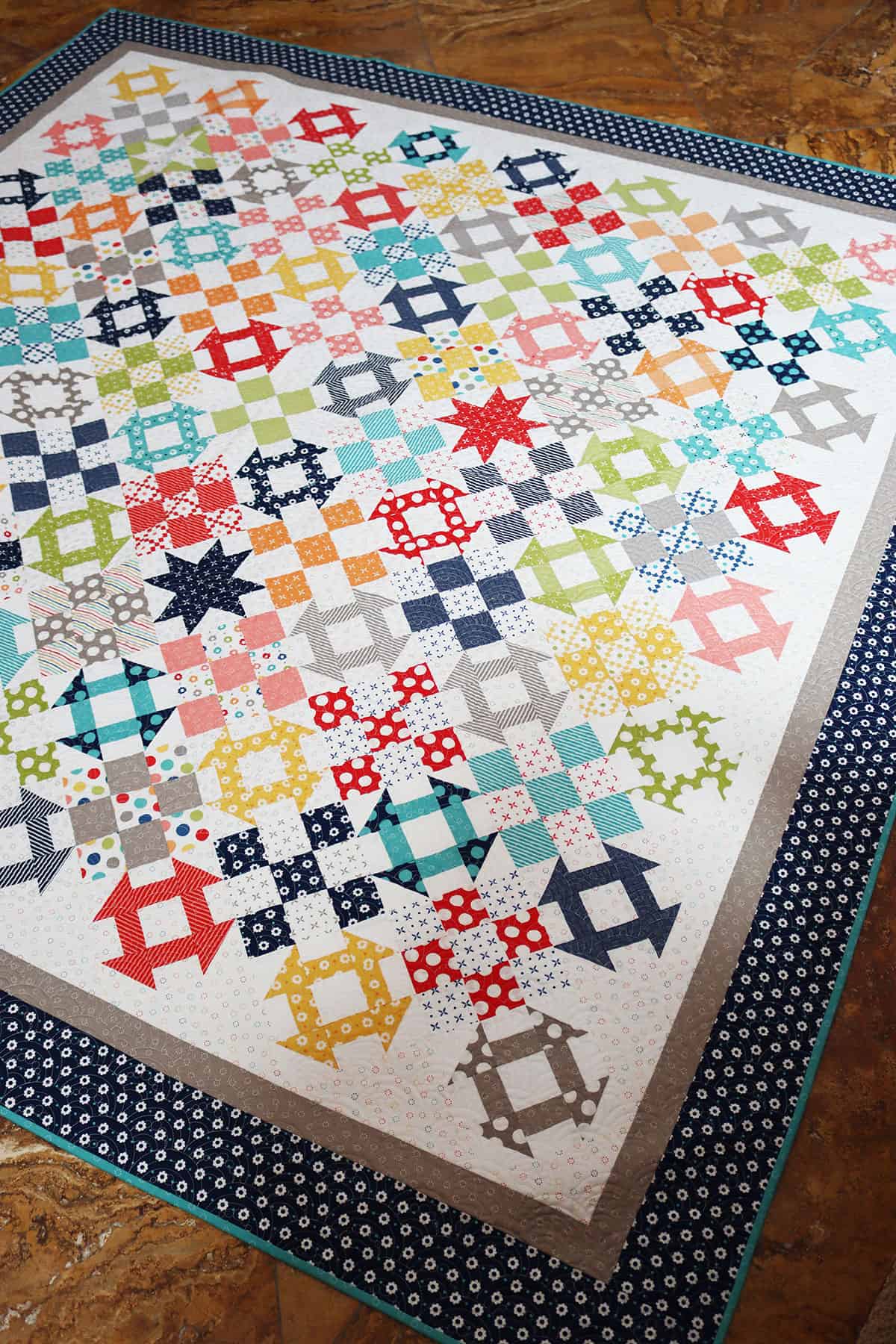 Additional Size Options
Finally, here are a few size options if you'd like to make a smaller quilt with the blocks set on-point. These quilts use the border sizes included in the pattern.
Baby–make 32 total blocks in a 4 x 5 layout (approx. 45″ x 54″)
Lap–make 50 total blocks in a 5 x 6 layout (approx. 53″ x 62″)
Large Throw–make 72 total blocks in a 6 x 7 layout (approx. 62″ x 71″)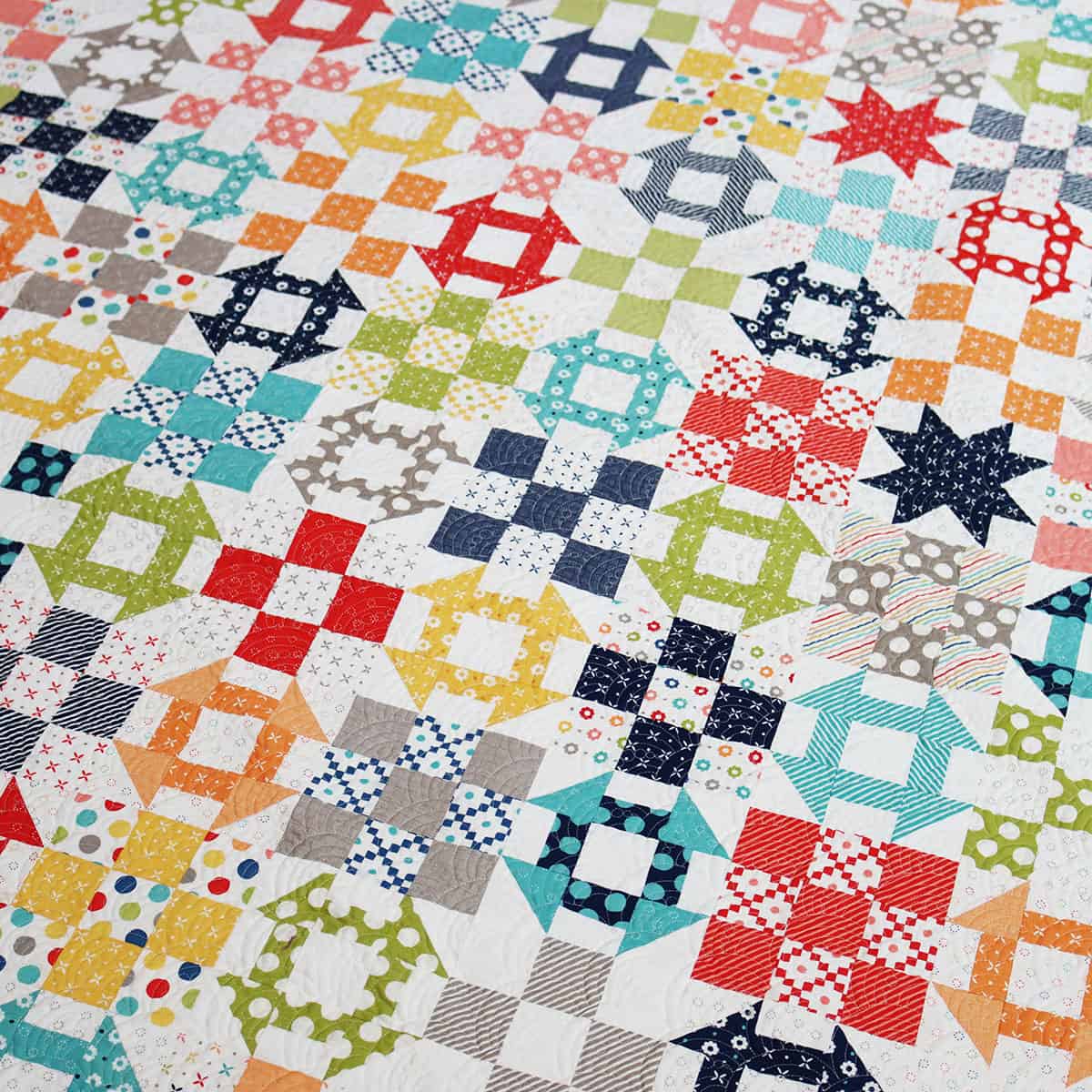 Thanks so much for stopping by for the Happy Go Lucky Quilt Sew Along Week 3 post. I look forward to seeing all of the finished quilts!
Happy sewing!