Hello, friends! It's just one week until Christmas Eve, and so today I'm sharing my A Quilting Life Christmas Home Tour 2021 edition. This is our second Christmas in our new-to-us home, and I did some things the same as last year and a few things differently. I decorate primarily with quilts, pillows, and table runners and mix in small decor items that have been gifted to us over the years. And, I did make a few notes for next year that I wrote down as I went through each room taking pictures. I hope you'll enjoy this year's tour.
A Quilting Life Christmas Home Tour 2021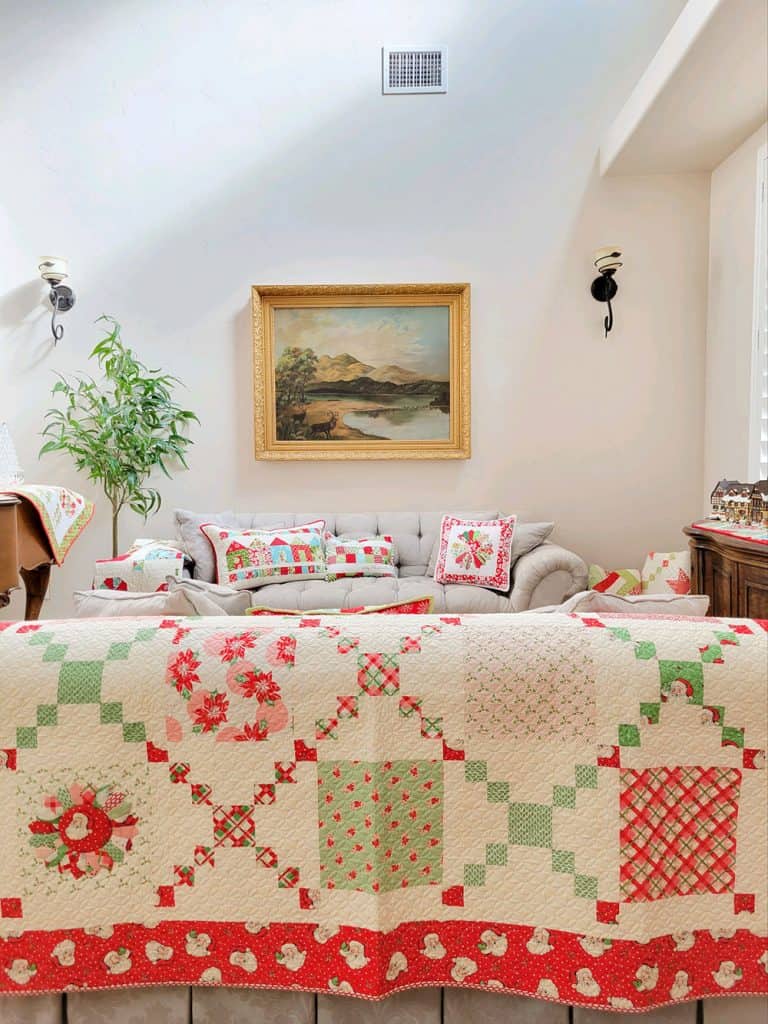 Living Room
When you enter our home our formal living room is on the right with our formal dining area on the left. In the formal living room we have our piano, a sofa and loveseat, and a table. So I loaded up the seating area with decorative pillows, added a quilt to the back of the loveseat, and draped a quilt over the piano. I also added a fun runner and our Christmas village to the table top. I'm thinking of moving my nativity currently on the coffee table in our family room to the top of the piano before little ones are here on Christmas so I don't have to worry about the pieces 🙂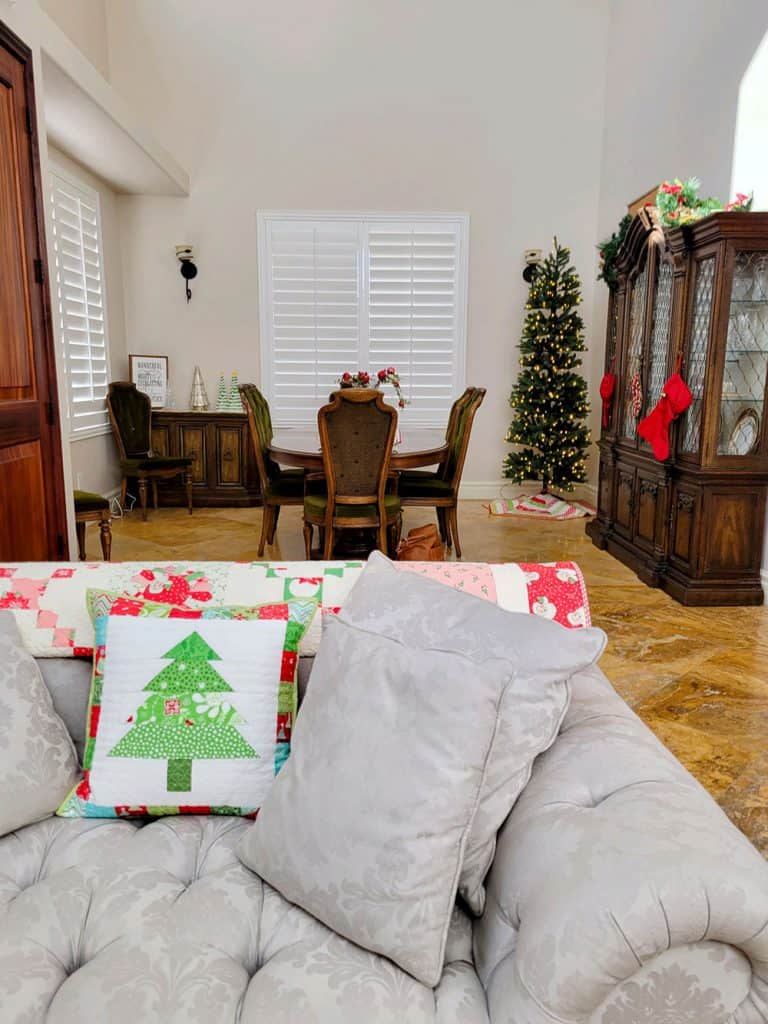 Dining Room
The dining room is on the left as you walk into our entryway. This year we added a tree to the dining room which we love. We have high ceilings in this part of our home, so next year I'll be putting a 9-foot tree in this space instead of the 7 ½-foot tree there now. But I do love the tree in the dining area. I have some crystal and ceramic trees displayed on the buffet, garland on top of the china cabinet, and stockings hanging from the cabinet knobs. I also have a vintage-looking runner and pomegranate stems in a crystal vase on our table.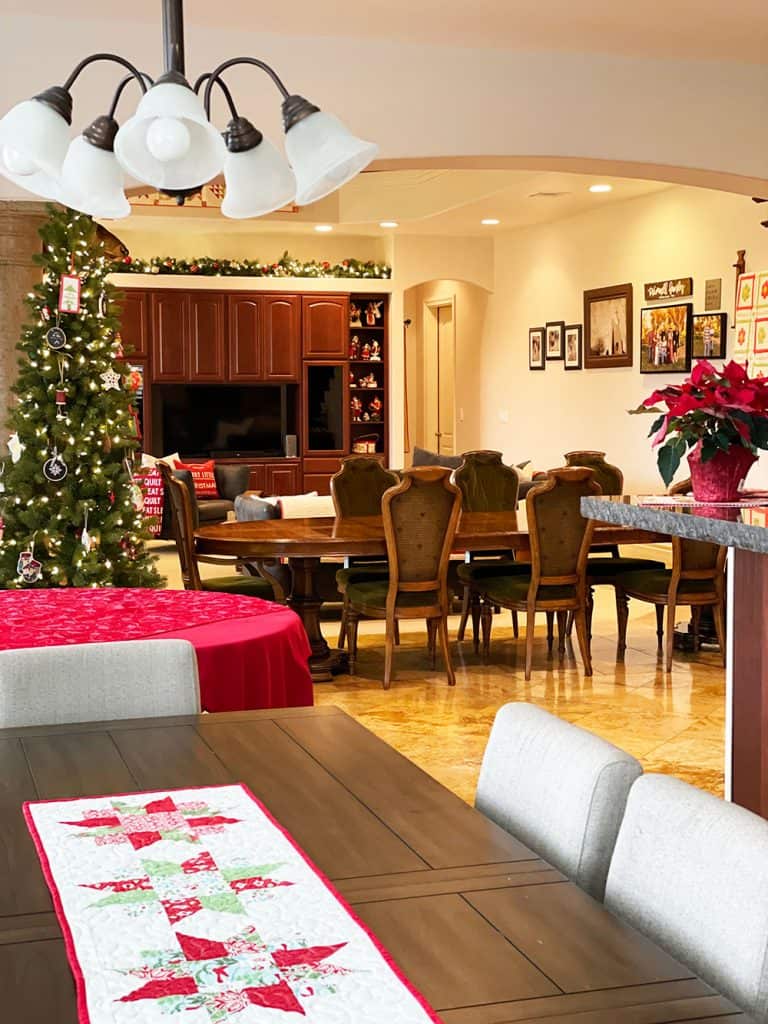 Family Room
Our family room is right off our kitchen area which I love. In one of the photos above we had temporarily moved our dining room into this area for a get-together. I love to be able to see the quilts hanging over the banister from the family room. And I also love having the nativity on the coffee table so I see it frequently. We have a few Christmas quilts and pillows in the family room and also have a tree in this area. I emptied the shelves of the entertainment area to display my santa and snowmen collections (and also to have them up and away from little ones). A lighted garland from Costco sits on the shelf above the entertainment center.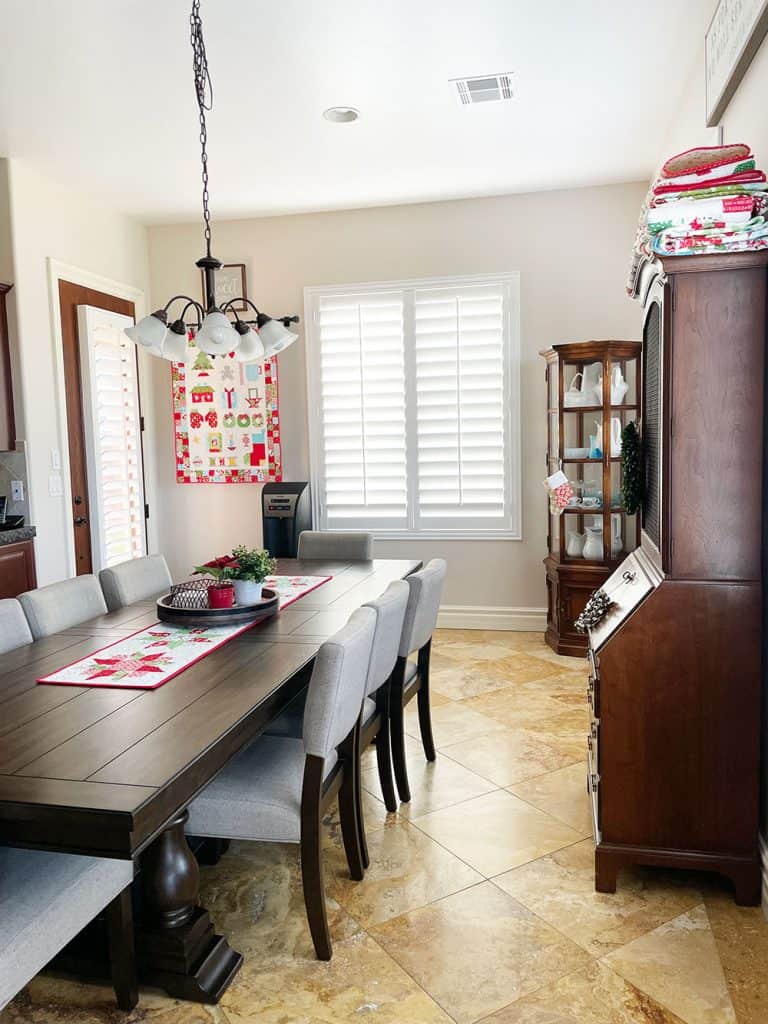 Kitchen
We have another large table in our kitchen area decorated with a favorite runner. One of my favorite Christmas wall hangings is on the wall with a fun stack of bright Christmas quilts on top of our secretary. I also have stockings hanging from the knob of the curio cabinet where I display some of my white pitcher collection. I love having a small nativity in our kitchen, too!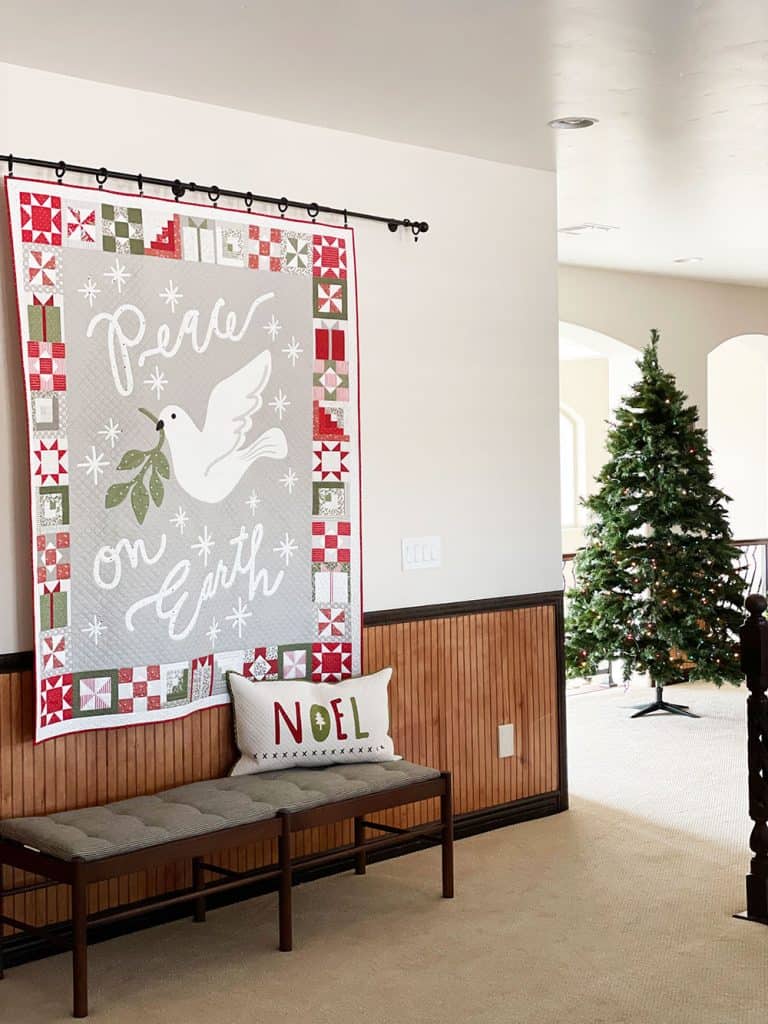 Upstairs Landing and Primary Bedroom
One of my favorite new Christmas quilts this year is the Peace on Earth panel I have hanging on the wall in our upstairs landing. I just added a bench there about a week ago and added a pillow there as well. The tree in the upstairs landing area can be seen from the front door and is the only tree in our home with colored lights (I do love the warm white lights). You can also see that I need to make a tree skirt for this tree for next year!
In our primary bedroom things are much the same as last year. My log cabin Christmas quilt is on our bed with patchwork shams from the same fabrics. We also have a tree in our room with a Fig Tree fabric tree skirt that matches the log cabin quilt. The red and green print fabrics on the bench at the end of the bed are all from Sherri & Chelsi collections.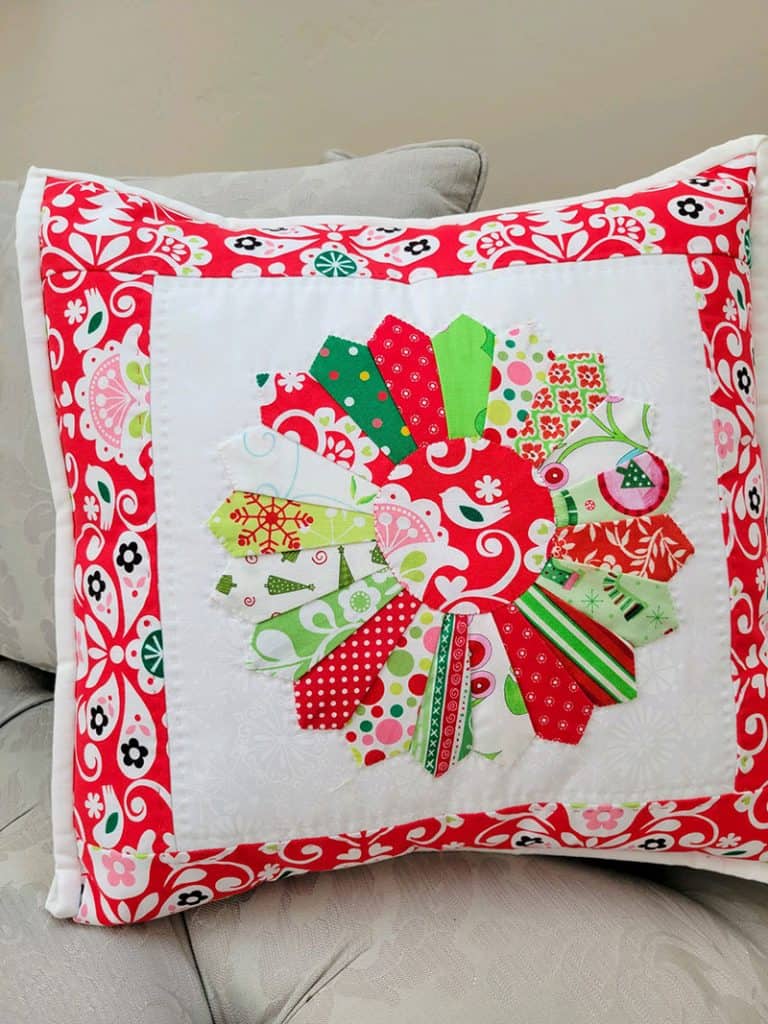 Pillows
I do love Christmas pillows! Here are close-ups of some of them that are harder to see in the other photos. I have a few more that are quilted and ready to be finished. Not sure if they will get done for this year or next. I also have them in my notes in case I don't finish them for this year. You can find details on most of the Christmas pillows I decorate with in this post.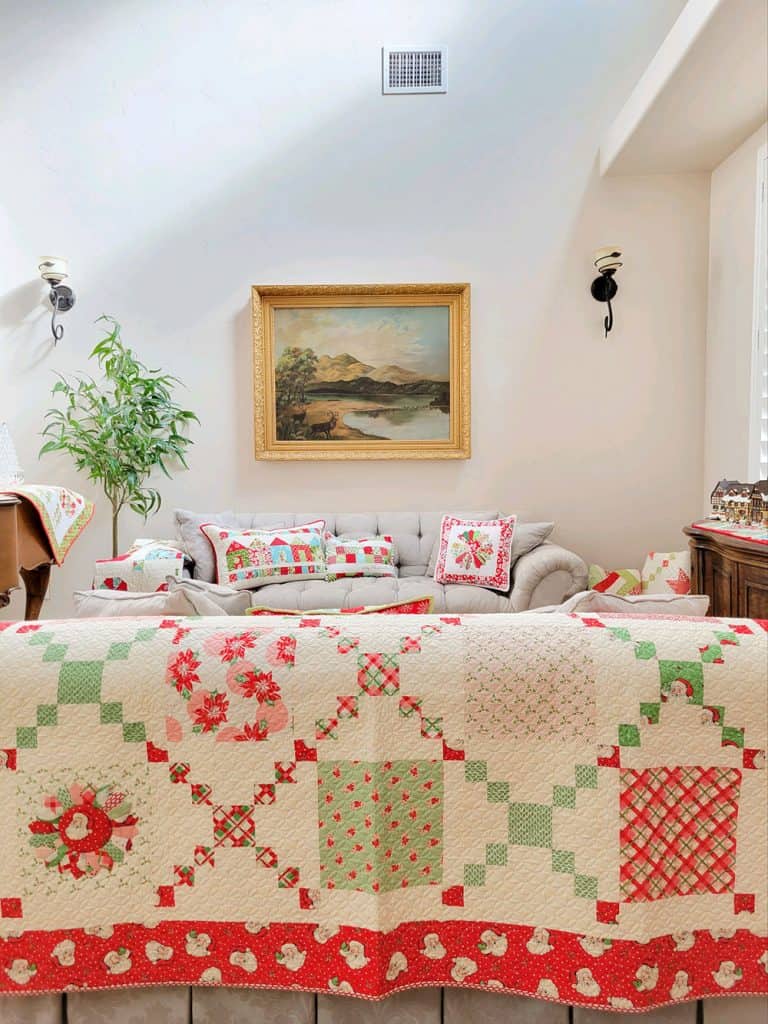 Christmas Decor Notes
As I mentioned above, I have a few ideas for next year. I'd like to buy a couple more lighted garlands and definitely need to make another tree skirt. One of our guest rooms has a Thimbleberries Christmas quilt on the bed, but our other guest room needs a Christmas quilt–so that quilt is on the list. I also have a plan to make some scrappy Christmas quilts for family members for next year and am gathering fabrics for that now. Finally, I've been wanting to make a small stocking garland for our family room for some time now–maybe 2022 will be the year. For more inspiration, I've got links below to a couple of previous Christmas Home Tour Posts I've shared below: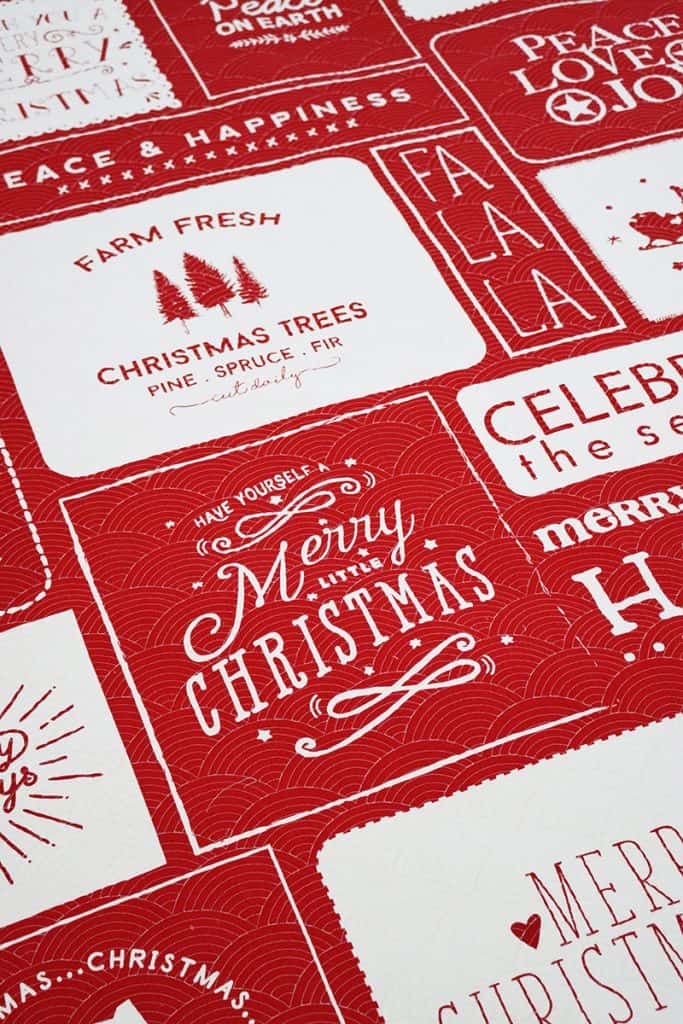 Thanks so much for stopping by for my A Quilting Life Christmas Home Tour 2021. Happy quilting!