Hello, friends! There is just one week remaining before Christmas, so I decided I'd better post my Quilting Life Christmas Home Tour for 2020, ready or not! Decorating has been a little different this year since it's the first year in our new home. I've been trying things out, changing them up, and making lists of things I might want to do in the future. I was determined not to purchase a lot of items that I might realize later I didn't need. So my decor process has definitely been very intentional this year.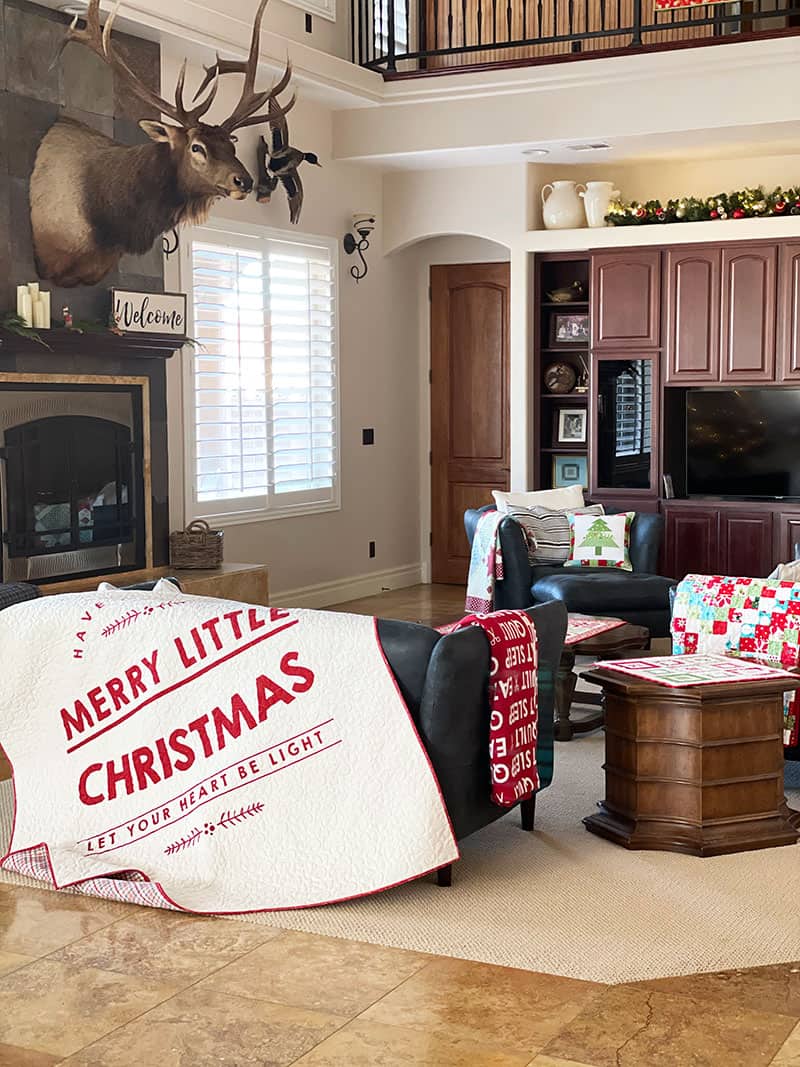 Christmas Home Tour
I started decorating just a few days before Thanksgiving this year (first time ever I've decorated before Christmas). I've enjoyed taking it slow and having fun with the process. I've also been making a list of projects to complete for next year and have some tips to share about that at the end of this post. But first, just a few pictures of Christmas around our home this year 🙂
Christmas Family Room
Our family room is right off of the kitchen, so I'm able to enjoy the decor while preparing food and while binding quilts and watching television. The ready-to-quilt Christmas quilt panel quilt along with the Merry Christmas and Noel pillows are finishes just from the past few days. (You can still find the ready to quilt pillow panels here). The tree skirt on our family room tree is one I made several years ago. Finally, I also hang quilts over the upstairs railing and enjoy being able to see them from below. (You can see my Sweet Christmas quilt and my Pot Luck Christmas quilt peeking over the railing in the photo on the right). My "Eat, Sleep, Quilt" Moda blanket is a favorite–I pull it out to use each Christmas.
Christmas Living Room and Entry
One of my favorite features about our new home is the little hall that leads from the entry/living/dining room to the kitchen and family room area. I was so excited to be able to hang a curtain rod on the high ceiling there and rotate quilts throughout the season. My Christmas Figs BOM quilt will be there until the end of the year. We also have a small living room that showcases lots of my Christmas displays, pillows and quilts. And my Four-Square quilt is one of my favorites and is draped over the grey sofa in the center.
Christmas Dining Room
I'm definitely looking at some more ideas for the dining room for next year. I'm happy with a simple garland and some of my husband's grandmother's satin stockings to dress up the china hutch. And I have a table runner, ceramic trees, cloth napkins, and a favorite sign on top of the buffet in the corner. But I'll definitely need to make a larger runner for the dining room table for next year. (The one I've used in the past on this table is on the kitchen table this year). Also, the table has two additional leaves that make it extend to comfortabley seat 10. So more quilted table ware is definitely in order. I do have some beautiful Christmas dishes and will take another photo of the dining table when it's all set next week sometime.
Christmas Kitchen
Our new kitchen table arrived just a week before Thanksgiving, and I've been hurrying to make more place mats for Christmas (so far there are just two finished using this tutorial). I love my Swell Christmas table topper inside the tray that holds napkins, coasters, and a simple pot that was my grandmother's. And I added a red and white quilt to the top of the secretary that holds some of my favorite white pitchers. A patchwork stocking and a simple wreath add just a bit more Christmas in this little area of our home.
Christmas Master
I've enjoyed having some simple Christmas decor in the master bedroom this season. I made my scrappy red and green log cabin quilt a couple of years ago (get the details and link to pattern tutorial here), and made some standard size accent pillow shams to add another holiday touch (find the tutorial for the pillow shams here). My Delight quilt from Sunday Best Quilts drapes over the bench at the end of the bed, and my tree skirt is from this book. If you're looking for current fabrics that match this look, you can find them here.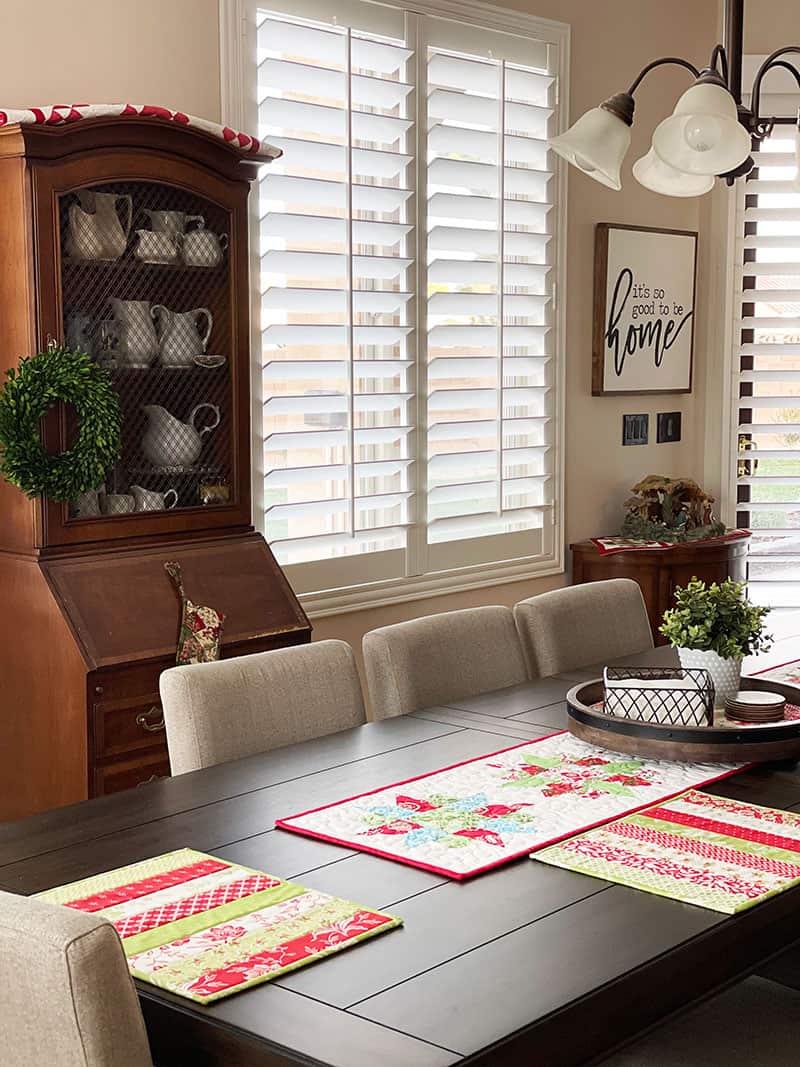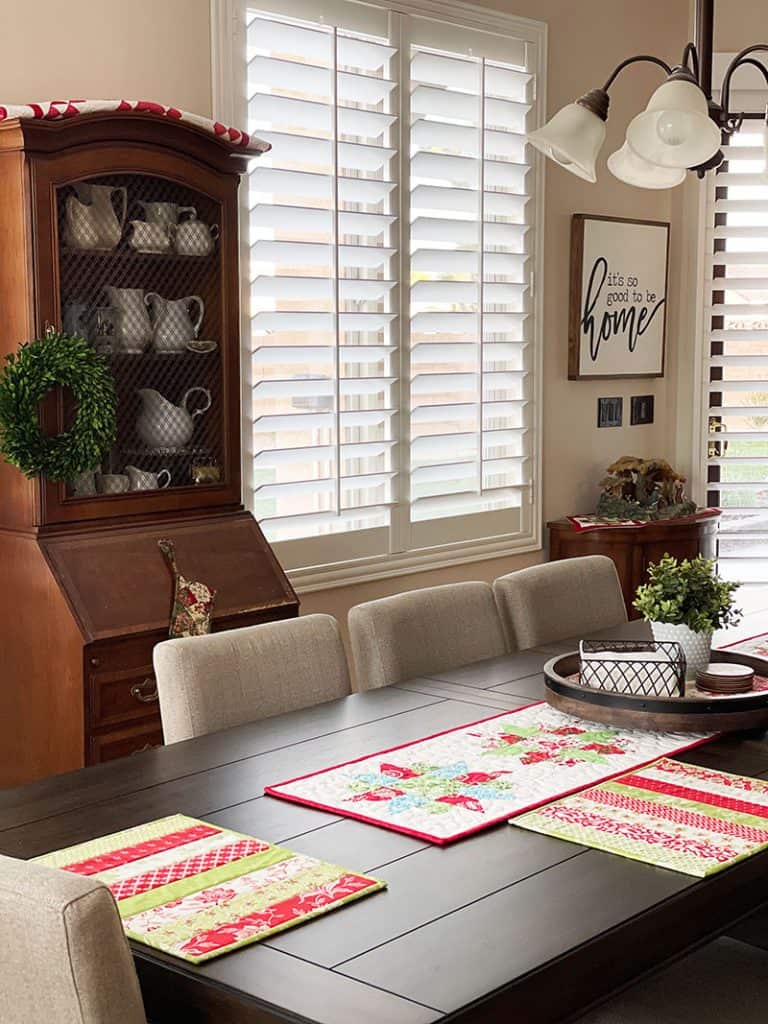 Tips for Christmas Decorating
As I mentioned earlier, I've been keeping a list of things I want to do when I decorate next year. I have a section in my Quilting Life Planner (see pages 108-110) for keeping lists of holiday decor items, where you store them in the off-season, and where you used them to decorate. This has been super helpful to have one place to keep all of this information. Additionally, I have a blog post with tips and ideas for storing and organizing Christmas decor that you can read here. You can read about all of the steps I'm taking now and over the next couple of weeks to make it easier to remember my ideas for next year.
I hope you've enjoyed the Quilting Life Christmas Home Tour 2020. I'll definitely share a few more pictures in my posts over the next week as I finish up a few more projects and get them set out.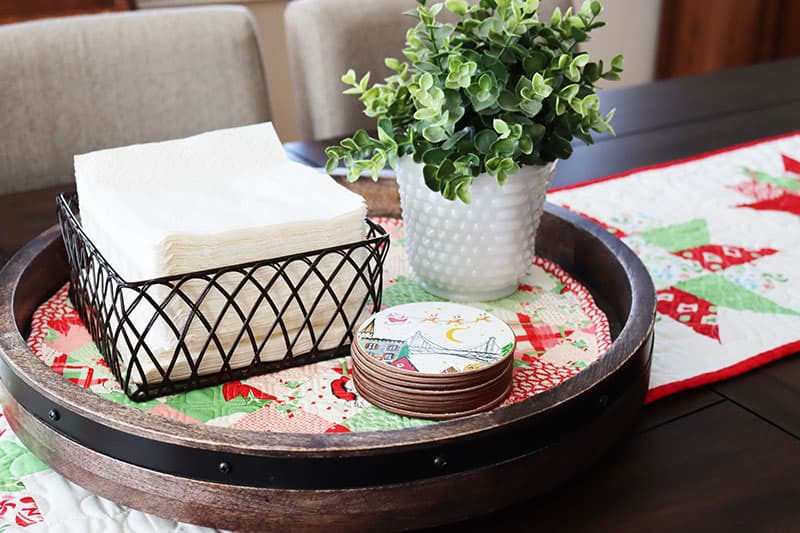 Happy quilting, and thanks so much for stopping by!