I have always loved Christmas tree skirts! Since I just finished a new one this weekend, I thought I'd share it along with a couple of my other Favorite Handmade Tree Skirts. A patchwork tree skirt was actually the very first "quilt" I ever made. I remember cutting out the squares using regular scissors and a cardboard template. Then, I tied it with small pieces of yarn. It's so much easier to make tree skirts now that I'm a quilter and have access to rotary cutters, cutting mats, and acrylic rulers!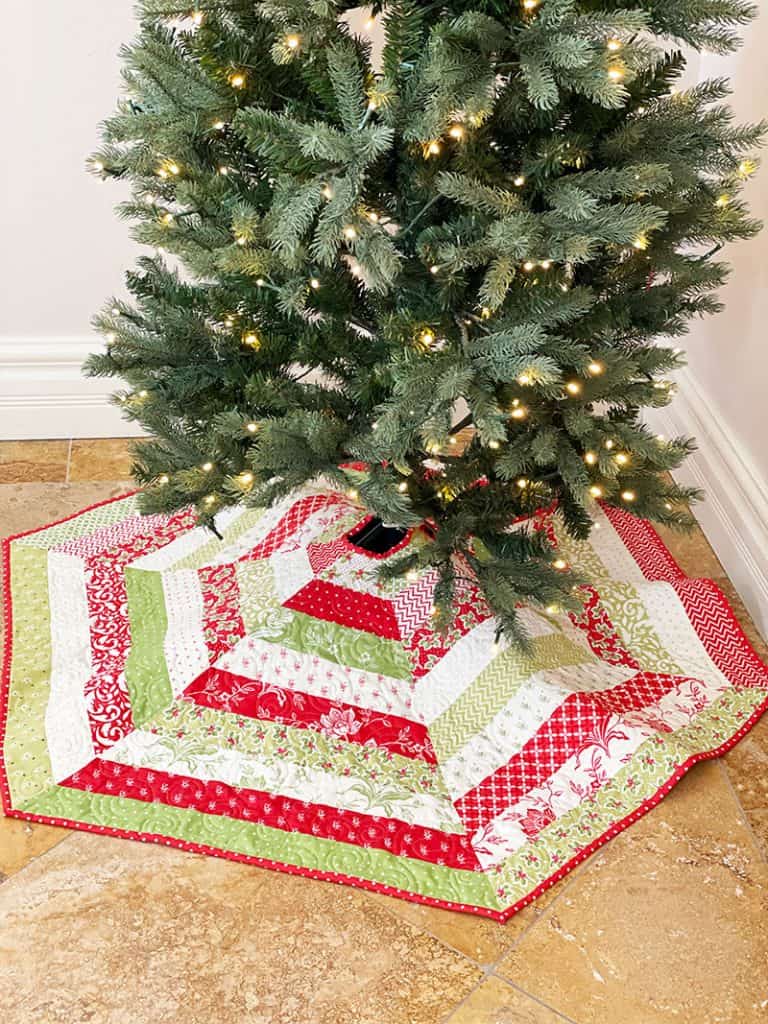 Favorite Handmade Tree Skirts
Strip-Pieced Tree Skirt
Just this weekend I finished piecing the Holly Jolly Tree Skirt using some Christmas Figs II fabrics. I've actually had this pattern for a while and have been wanting to make it for such a long time. The pattern works for Jelly Roll strips, but also has directions for using larger cuts of fabric. The pattern includes three different tree skirt sizes with information on what size trees work best with each size skirt. I made the smallest size, and it's perfect for the 7 ½-foot slim tree above. I think with a full-size tree you would probably want to make at least the medium size on the pattern. Also, this was a really quick project. I pieced it in under three hours 🙂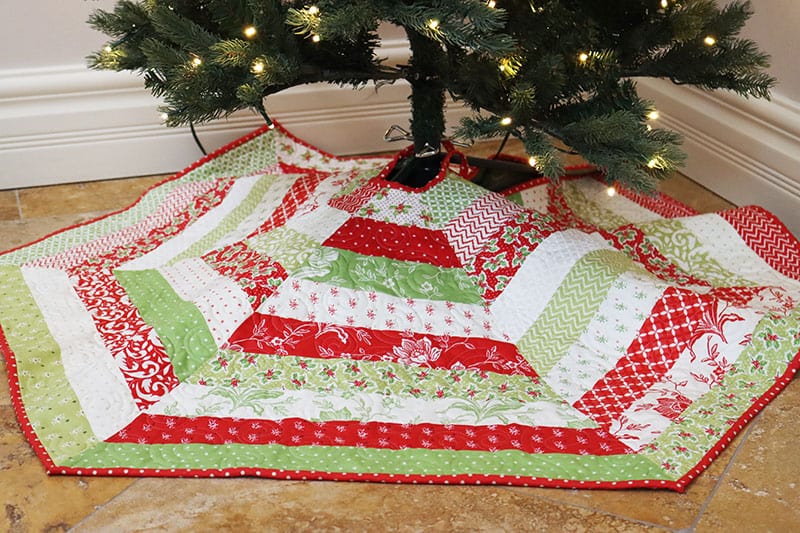 Holly Jolly Tree Skirt Tips
If you're thinking of making the Holly Jolly Tree Skirt (which I highly recommend–it's a great pattern), here are a few tips:
Plan your strip sets ahead…this is important so that you don't have two really similar fabrics ending up next to each other. There are also suggestions in the pattern about color placement when making the tree skirt with wider strips.
I didn't make ribbon ties as instructed in the pattern. I simply cut an extra strip of binding and used it to have enough length to finish the center opening and have length for ties.
My quilter suggested that it would have been easier to quilt if I hadn't left the back open and had instead sewed it together and then cut back open after quilting.
Nine-Patch Tree Skirt
A few years ago, I made the tree skirt sample for the Christmas Figs Block of the Month book! If you love a good nine-patch, this tree skirt is such a good choice. I loved making this one and use it under the tree in our primary bedroom. Find the Christmas Figs Block of the Month book here (if you don't already have this book, it's a great one. The Block of the Month quilt and all of the other projects included are super fun as well).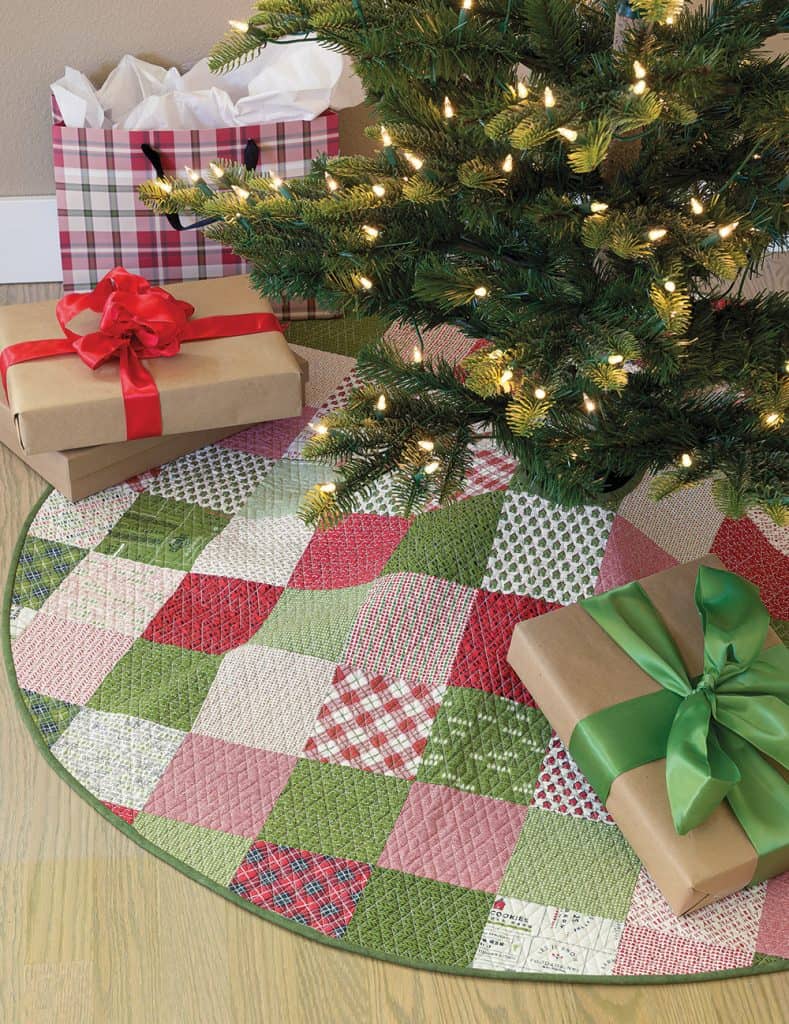 Home for the Holidays Classic Patchwork Tree Skirt
One of my recent finishes is the Classic Patchwork Tree Skirt found in my Home for the Holidays book. I do love a round tree skirt and love how simple patchwork squares can easily make a classic skirt. (You can also find this book on Amazon here).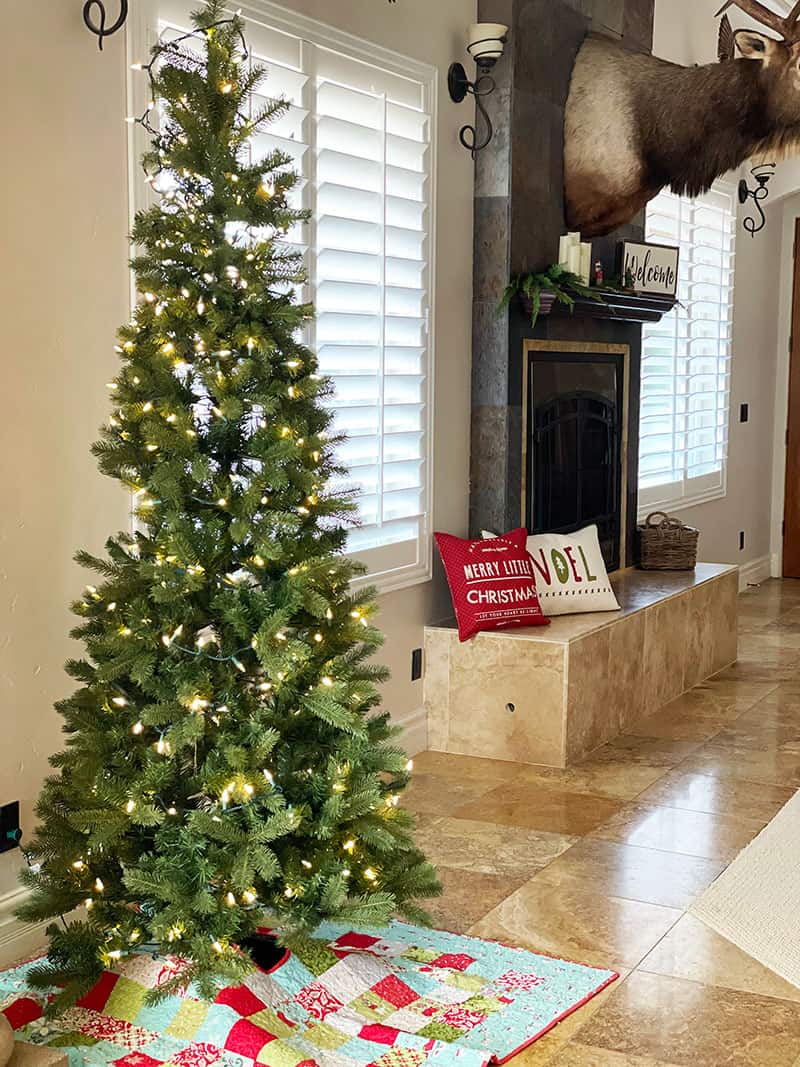 Scrappy Patchwork Tree Skirt
I made this scrappy patchwork tree skirt pictured above several years ago with a mix of Christmas fabrics from my stash. Most of the fabrics came primarily from some Kate Spain collections along with some Aneela Hoey Christmas prints (both designers for Moda). I simply pieced an 11 x 11 patchwork of 4″ cut squares for the center section. I used border strips cut at 5 ½″. Then, I used a bowl to cut out my center opening after it was quilted and finished it off like I did my Holly Jolly Tree Skirt above.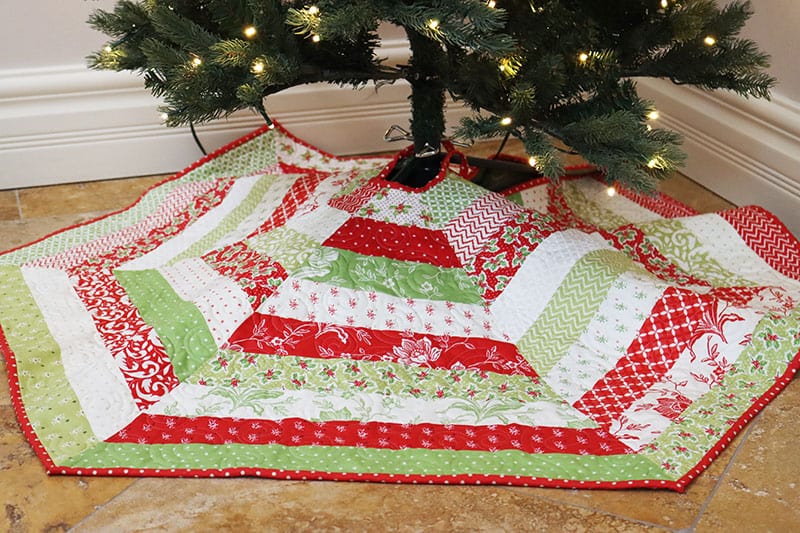 Tree Skirt Pattern Links and Details
Thanks so much for stopping by to read my Favorite Handmade Tree Skirts post. I'm definitely going to be making more tree skirts in the future. I think they make wonderful gifts and are a terrific way to use up scraps or a favorite collection.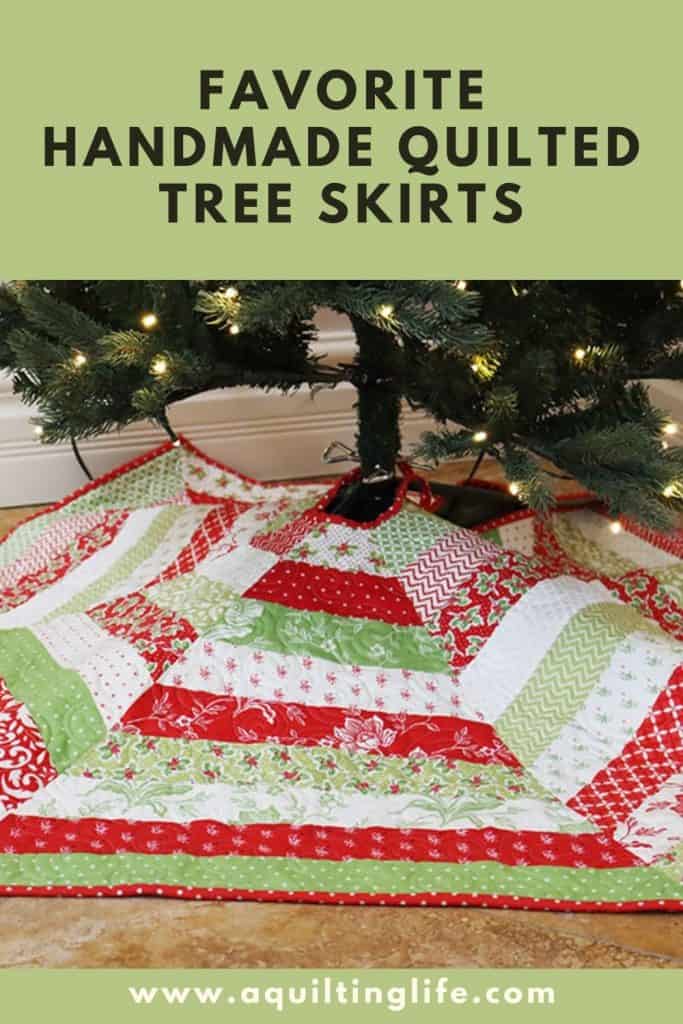 Happy Quilting!