Hello! Christmas decorating is definitely underway here (although we haven't yet decorated our tree), so I thought I'd stop in to share some of our Christmas quilts and decor and offer a few tips for decorating with quilts.  I'll have more to share after I get everything finished up, so this will be post one of two!
Quilts on Ladders
We have two quilt ladders…this white one is in our front entry way, and I change out the quilts seasonally.  I added these quilts to the ladder a couple of days ago, and I just smile every time I walk by! Quilt patterns from top to bottom are: the Farmer's Wife quilt The Farmer's Wife Sampler Quilt: Letters from 1920s Farm Wives and the 111 Blocks They Inspired
, scrappy trip around the world quilt, Cameos, and Hometown.
Wall Quilt Hangers
Quilt Hangers are another terrific way to display your quilts.  My Lori Holt scrappy Christmas wall hanging is also in our front entry, just across from the white quilt ladder.  This was an Instagram quilt-along pattern from a few years ago.  I used all of my Kate Spain Christmas scraps for this one.  The bows on the wreaths are my favorites! 
More Ideas for Quilt Display
Our living room is always full of quilts and Christmas décor.  Not only do I display them on couches, but I also drape them on tables, and even on an antique trunk.
Mix and Match Sizes in your Displays
Wall hangings aren't just for hanging on the wall.  Two of my favorite wall hanging sized quilts are placed over the back of a sofa and on top of an antique trunk.  The sofa quilt was an early one…made with charm squares, and the quilt on the trunk is a Thimbleberries pattern I finished up just before we moved into this home in December 2004.
Pillows on Sofas
I love, love, love this Township pillow made with Kate Spain Christmas fabrics…it's such a nice size for the sofa.  And I have plans to make one for each bed in fabrics that match the Christmas decor in that room.  You can find the free pattern download here.
Pillows on Chairs
Christmas pillows are my favorite!  The tree pillow on the left is from this tutorial, and the Christmas Dresden is from my book A Quilting Life: Creating a Handmade Home.

Table Runners
Table runners can be used in a variety of ways at Christmas time.  We have a fun collection of glass and ceramic Christmas trees, Santa figurines, and music boxes that always look beautiful on top of the piano with a Kate Spain Christmas fabric table runner (see close ups of my Christmas table runners on this post).
Another Table Runner…
My Christmas village also sits on a table runner (I haven't yet finished accessorizing the village).
Favorite Pillows
More pillows…another Christmas Dresden, and my favorite pillow with a touch of sweet embroidery (free pattern information here).
Quilts on Beds
Our guest room has a couple of my Fig Tree fabric Christmas quilts on the bed (I definitely need to make the township pillow I showed earlier in Fig Tree fabrics for a decorative accent for this room. The quilt on the bottom is the red and green Fig Tree sampler from 2016, and the top quilt with the stars is my Sugar Pine Stars pattern.
Sugar Pine Stars
Here is a better photo of the Sugar Pine Stars quilt…
You can see a few more of my quilted Christmas pillows in this post from last year…
 Tips for Christmas Decorating with Quilts and Quilted Items
1: While you are decorating this year, start a list of projects to complete for next Christmas.
2: Edit your Christmas decor while decorating–it's easier to place something in the give away or donate pile while setting things out.  It will be much tougher to do this when you're putting everything away after the holidays.
3: Take pictures of your Christmas decor so you'll remember where to put things the next year.  Even if you move things around a bit, this will help you to remember which items look good with other decor pieces.
4: Enjoy your decor…it's not about perfection but rather is about the wonderful memories associated with your quilts and quilted items. One of my very favorite pillows is the one above on the bottom left.  My grandmother made it for me over twenty years ago, and it reminds me of her each year when I get it out!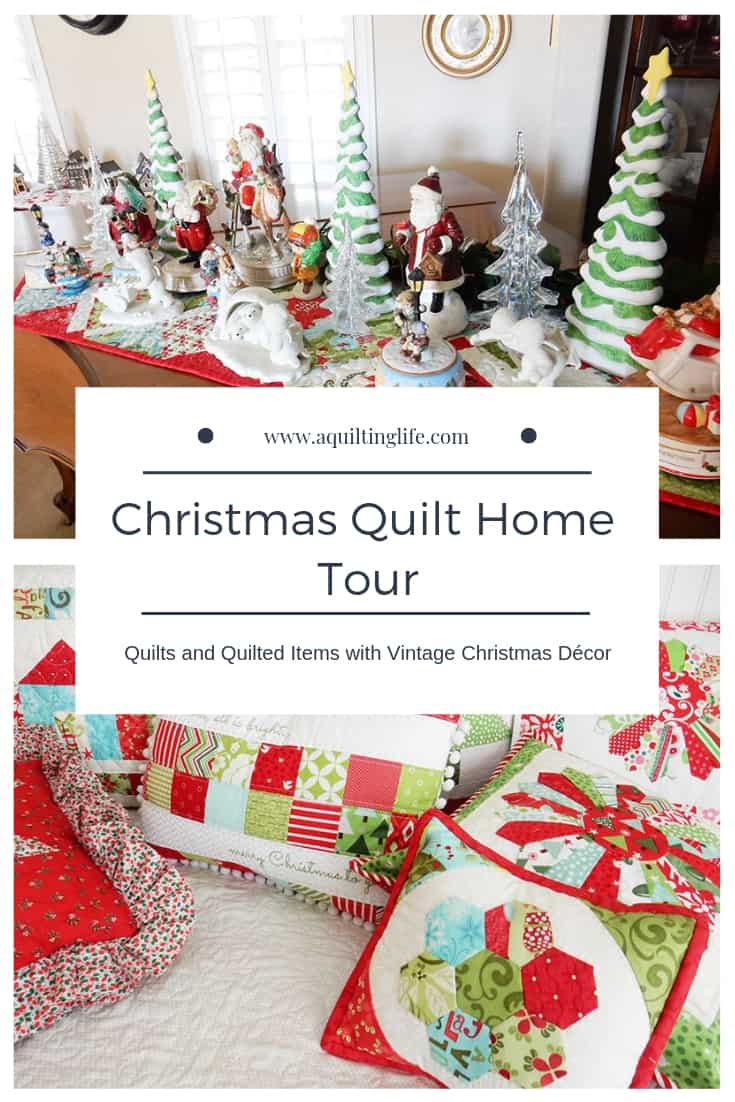 Thanks so very much for stopping by…I hope you enjoyed my little Christmas Quilt Home Tour!