Hello, friends! Today I'm sharing 12 Tips for Sewing on the Go. I've taken my sewing projects on the road many times over the years and have some tips for you that will make it easier for you to travel with sewing projects whether you are headed on vacation or just want to sew in the carpool lane or at a sporting event.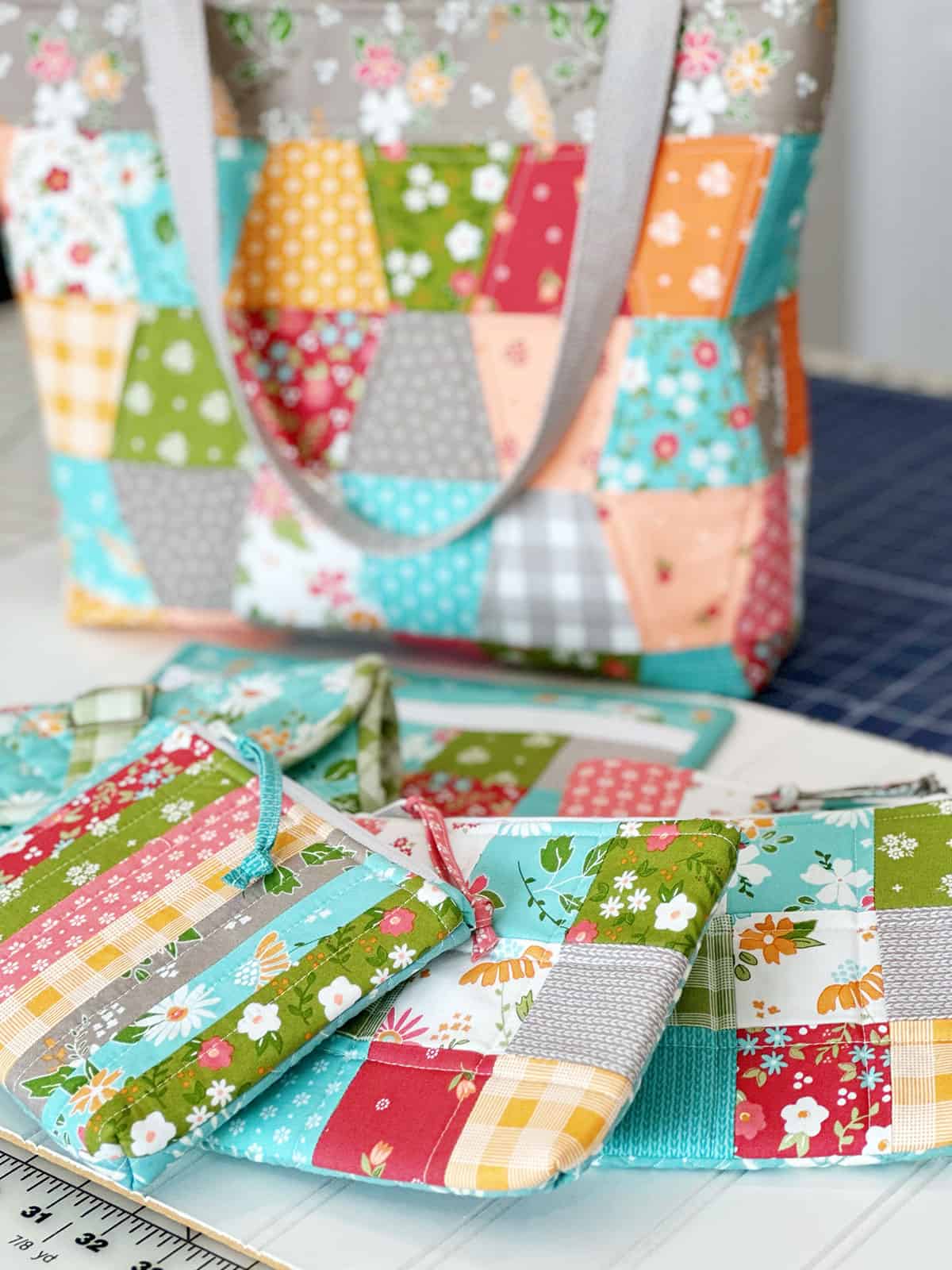 12 Tips for Sewing on the Go
1. Make Notes
One of the first steps in preparing to travel with your sewing projects is to make some notes in a notebook regarding your trip. I have one page with notes for things to remember to take when I travel to a retreat or on a sewing vacation. I have another page that includes notes for my grab-and-go portable projects (more on this below). If you are looking for ideas and helps for attending a sewing retreat, you will enjoy the posts below along with my PDF containing my top tips: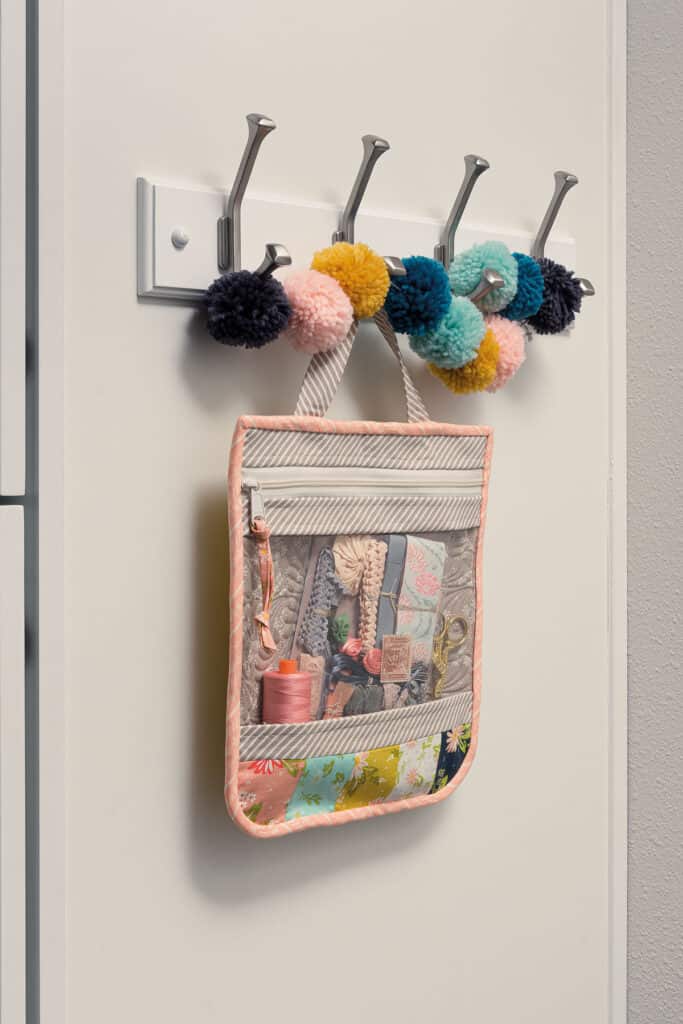 2. The Sewing Kit
It's handy to have a simple sewing kit that will easily travel with you and include the basic items for sewing. I have two sewing kits I use depending on where I'm going:
First, I have a Sew Together Bag packed full of notions and supplies for attending retreats, teaching classes, and longer vacations.
I also have my Simple Sewing Kit that is small enough to take along any time I'm taking a project along to work on.
3. Fabric
When I travel with fabric I prefer to have as much of the pre-cutting done before I travel. I usually cut all of the pieces for a project I want to sew while I'm away before I leave and have them labeled and packaged in bags or projects boxes depending on how I'm traveling. But it's also a great idea to have extra fabric with you for mess-ups or even for using if you come up with a new idea.
Always bring at least a yard of extra background fabric for the project you are working on. There is nothing like having to stop working on a project because you don't have a match for the background.
I always bring a few coordinating fat quarters from a collection I really love in case I find a new project to begin while I'm traveling.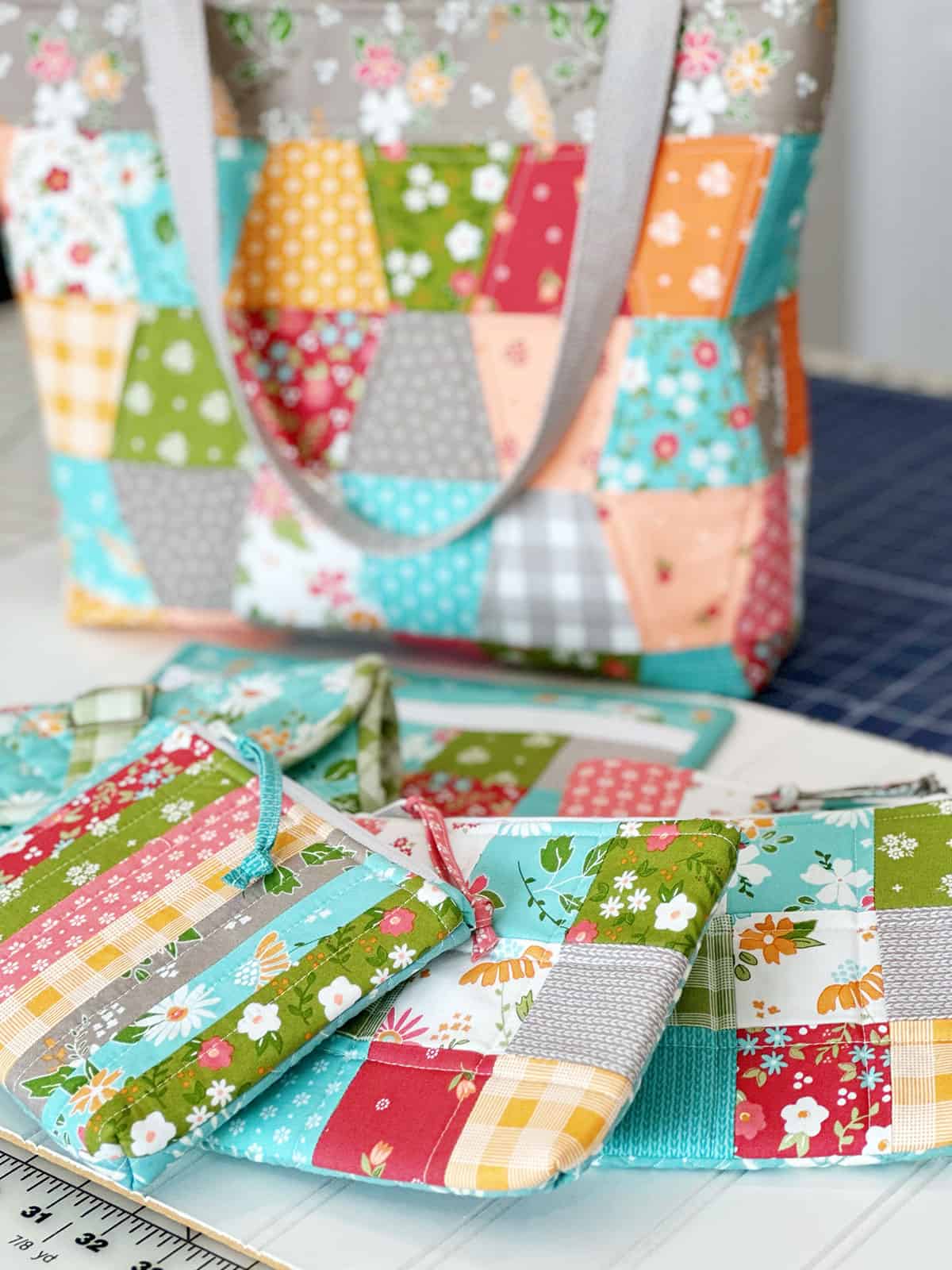 4. Tools and Notions
Be sure to pack any specialty tools and notions you'll need for your project(s) that aren't already included in your sewing kit or bag. Additionally, here are a few other ideas for traveling with tools and notions:
I absolutely love my fold-up cutting mat. It is so easy to take and provides a nice size cutting surface. (I have both sizes shown and take the biggest one I have room for when I travel).
Recently a student in one of my classes showed me a small project bag that included all of her flying geese and half-square triangle rulers. By bringing those to every class she attended she was sure to have just the ruler she needed.
I love taking along smaller sized rulers to use when traveling. They are easy to pack in project bags and have less of a chance of breaking.
Don't forget an extra spool of thread. I take an extra spool of my most-used thread.
I can't remember where I learned this, but having a BobbinSaver filled with bobbins in a variety of thread colors has saved the day on more than one occasion. (And kept me from having to buy thread while traveling).
5. Portable Projects
Having a few different types of portable projects that are always ready to go has been one of my favorite ways to make the most of sewing on the go. I always have a bag with hexagon papers, pre-cut hexagons, thread, and a needle for working on English Paper Pieced Grandmother's Flower Garden blocks. I've worked on these on planes, at track meets, and even on a cruise ship! If you are interested in learning English Paper Piecing, find all of the information you'll need to get started here).
I also have some simple stitchery projects with embroidery floss prepped and ready to go in a separate bag in case I need a change of pace.
And taking along quilts that need binding is a great option if you have the space to bring an entire quilt.
6. Equipment That Travels Well
Over the past several years, I've gathered a variety of equipment for sewing that travels well. (For information on traveling with a sewing machine, see number eight below). Having good lighting for sewing when traveling is a necessity. So I have a variety of lights that I keep in padded cases when traveling to make sure they don't break. Make notes about what works as you travel and soon you'll have your own go-to list of products that work for you.
7. Bags & Containers for Travel
Over the years I've sewn a variety of project bags in many different sizes to use when traveling. You can find most of them in the post linked under number two above. If you don't have time to sew, there are also many available for purchase. You can even use packing cubes meant for clothes to pack your clothes and projects.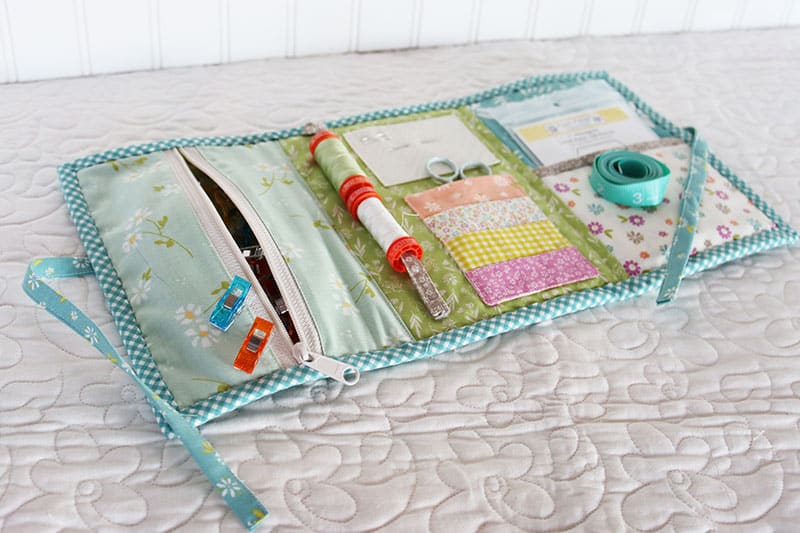 8. The Sewing Machine
I have a travel sewing machine that fits in a carry-on sized bag I purchased at Costco that has done very well in airplane overhead bins. (My travel machine is a Janome Gem Platinum). When I'm driving, I will sometimes take my larger machine in a bigger case.
9. Sewing at Home
Many of the ideas in this post are helpful for sewing at home. If you have great weather and like to sew outdoors, keep a project bag ready to take outside. I love to bind quilts while watching television, so I keep my binding bag with clips, scissors, and thread in a basket in our family room.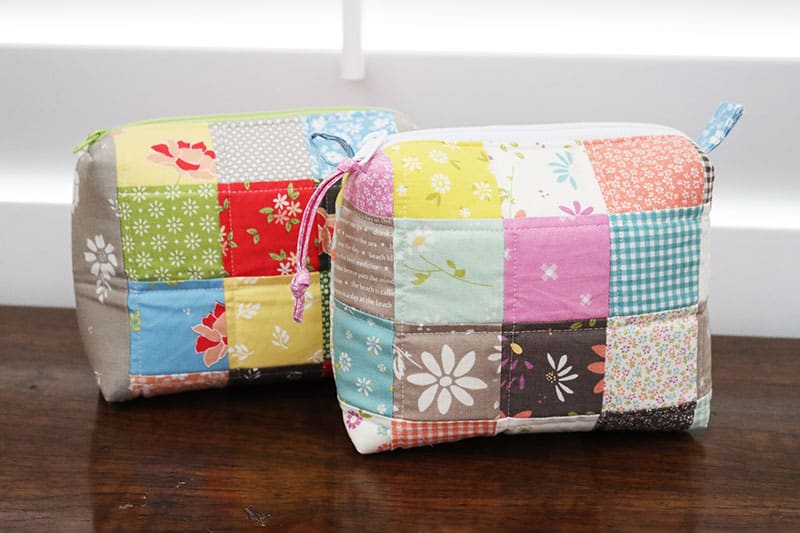 10. Sewing in Hotels
I've sewn in hotel rooms quite a bit over the years. Usually the biggest downside is a lack of good lighting. Be prepared to bring at least one light to make it easier to see. Also, hotel irons are not very predictable. Consider getting a travel iron if you plan to sew in a hotel room. If you're traveling by car and have room, a small fold-up table is always a big plus in a hotel room.
11. Sewing on Vacation
I have loved sewing on vacation over the years. I have several quilts that remind me of the places and family and friends I was with while I worked on them. Just be sure that sewing on vacation is fun and relaxing and that you aren't stressed about getting a certain amount of a project completed.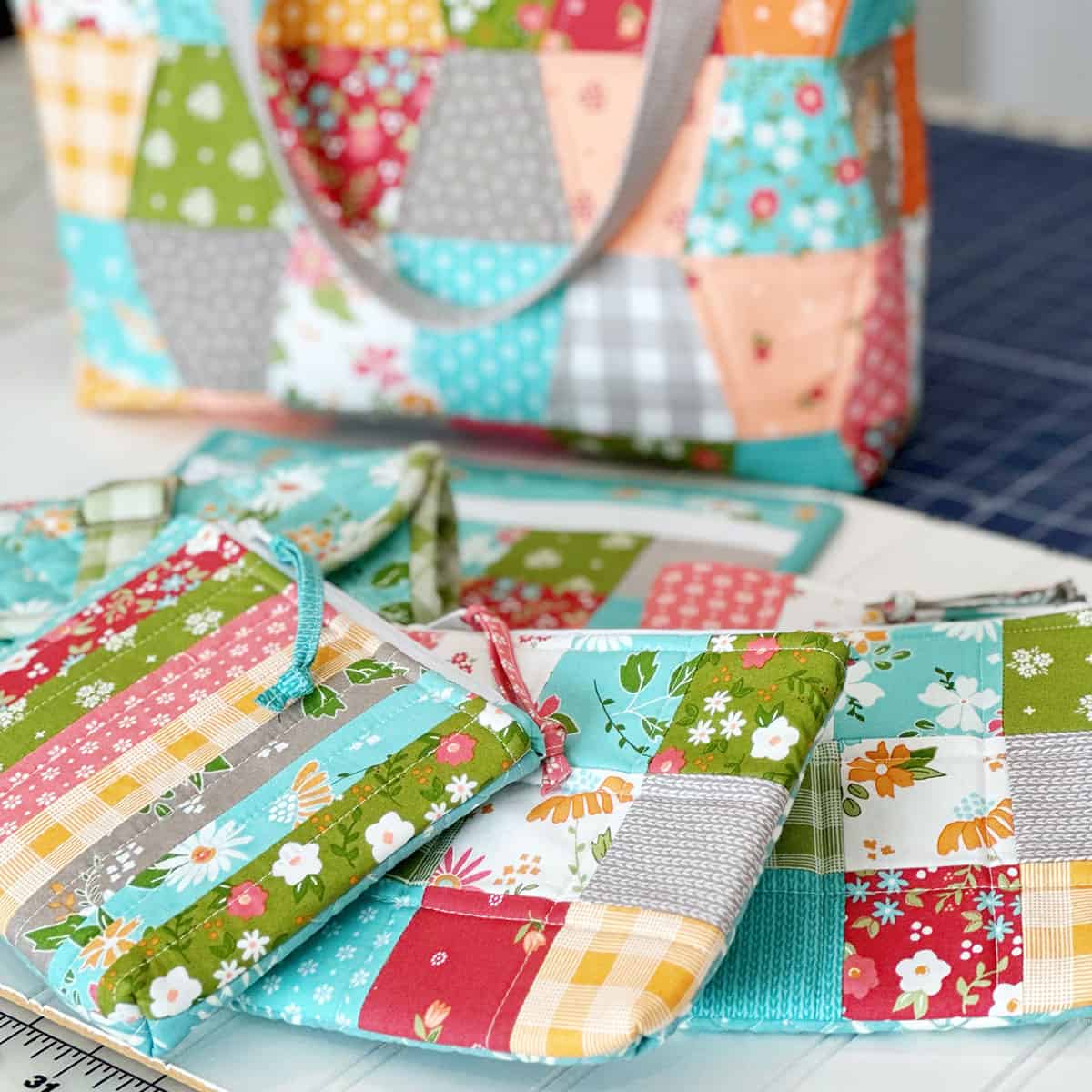 12. Other Travel Sewing Tips
Re-evaluate your notes on travel sewing periodically to see if there is anything you need to add to your travel sewing kit or project bags. And you might even want to consider keeping a travel sewing project in your car in case you end up with extra time somewhere that you weren't expecting. Finally, it's also fun to keep a list of projects you've worked on or completed while traveling–a traveling sewing diary of sorts.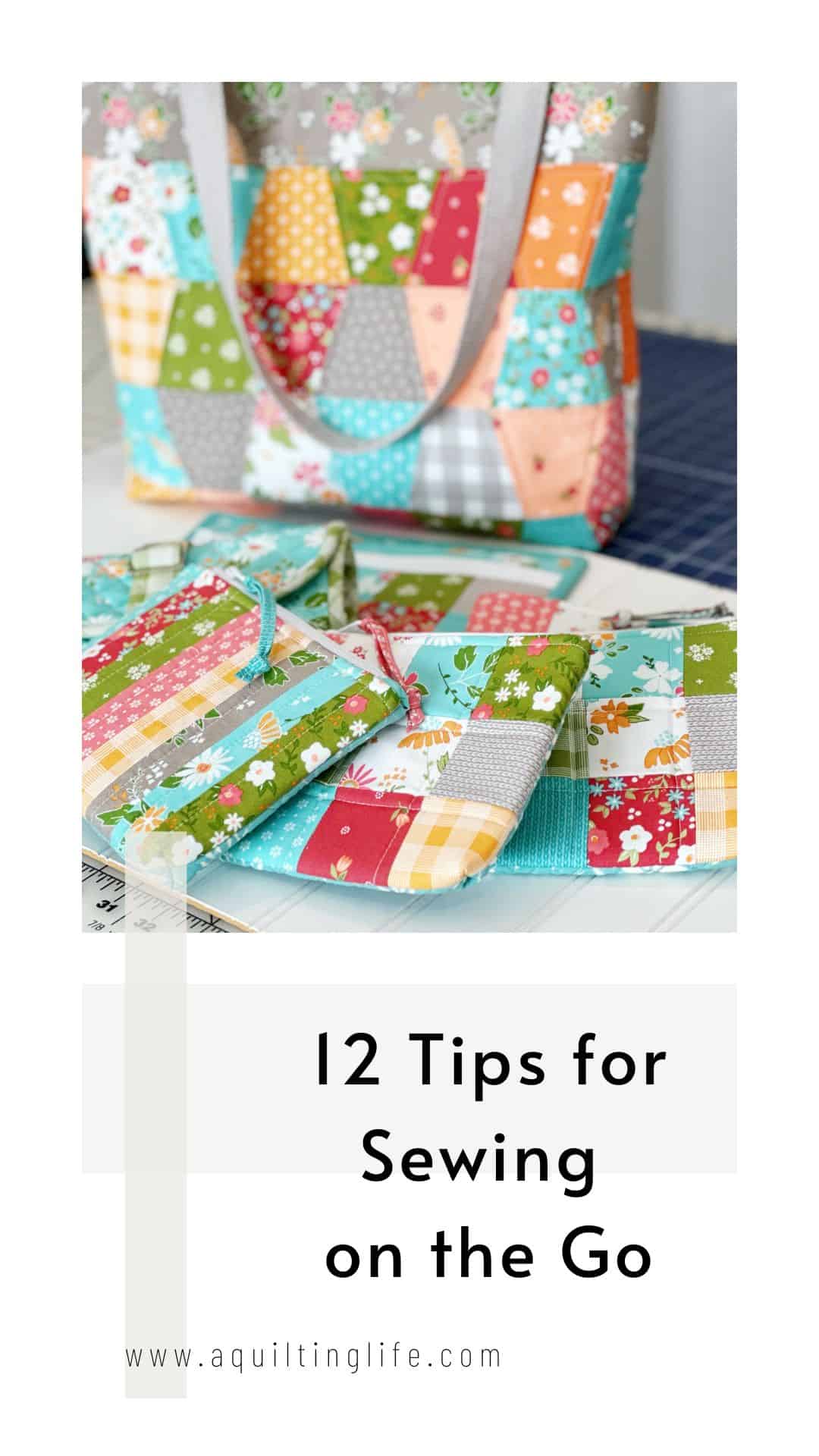 I hope some of the tips in today's 12 Tips for Sewing on the Go post have helped and inspired you to get ready to sew on the go! And if you have any helpful ideas on this subject, please leave them in the comments below.
Thanks so much for stopping by and Happy quilting!