Hello and happy Monday! I hope your weekend was a good one. Today's post is titled: Sew Organized: Best Quilting Bags for Quilters. I'm looking forward to not only sharing some of my favorite quilting bags but also sharing what I keep inside of them and why. And to add a little more fun to today's post, I have a short video to share where I talk about each bag and its contents. Let's get started! (Some of the links below are affiliate links, but all opinions are my own).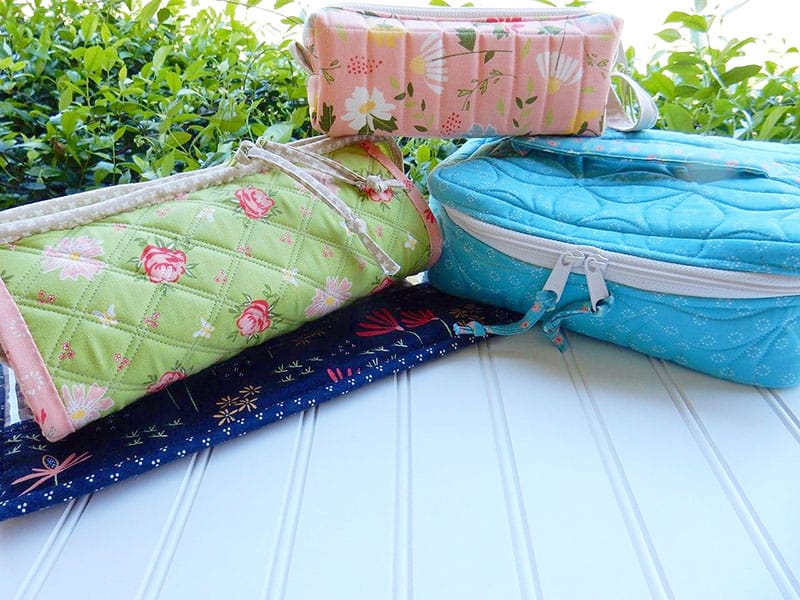 I hope you'll enjoy the video…where I talk about each bag and each item inside…and then read below for more information, thoughts on other bags, and links to products!
Quilting Bags:
Project Storage Bags
Project storage bags are one of my favorite types of bags. I find them more useful than plastic boxes or bins when traveling because they are simple to put in a suitcase. I end up flying to a couple of retreats a year, and it's great not to have to re-pack things. Even when I drive, these types of project storage bags are just the best. Since they are lightweight, they also lighten my load whether driving or flying.
I love this Project Bags pattern and have made the three largest sizes included (the largest size will hold everything you need when making a nice-sized quilt). Be sure not to skip the handle, because the handles provide a terrific method of storing these bags–simply place the handle over a hanger, and store them all in a closet!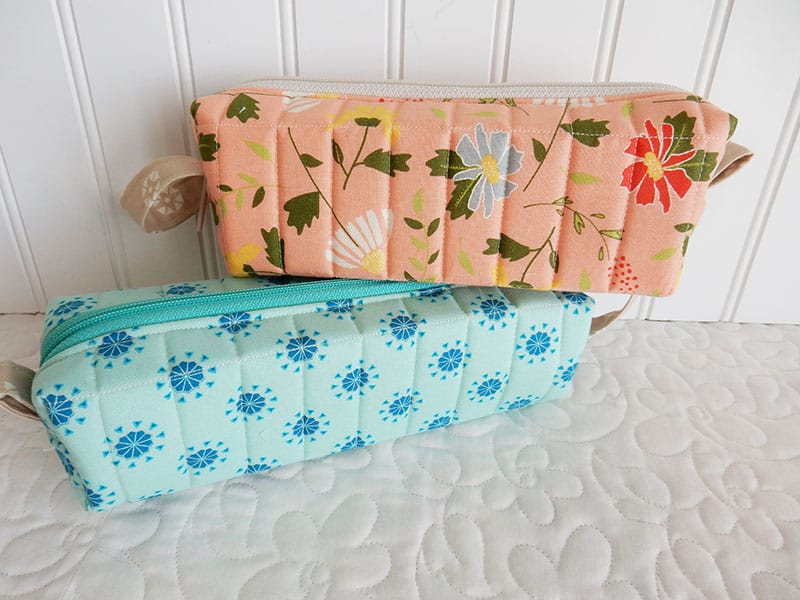 Binding Clips Bag
Another bag I can't live without is my binding clips bag which I made from this pattern. I love having a bag that is always ready to go for when I'm able to sit down and spend some time binding. Here is what I keep inside:
Sew Together Bag
My Sew Together Bag is an absolute necessity. I've made several for gifts over the years and recently just made a new one last week in our Harper's Garden fabric. I do a couple of things differently when I make this bag: First, I use Soft & Stable for the outer bag to give my bag more stability. And second, I use a double slide handbag zipper to make my bag much easier to open. I keep my most needed supplies in this bag and always have it ready to go when I head off to teach or take a class, or to attend a retreat. Here is what I keep inside (I know it's a long list, but this bag truly holds so much!):
Paper Scissors
2 ½″ x 6 ½″ ruler
A few large and small Clover Wonder Clips (linked above)
Clover Stylus
That Purple Thang tool for bag making and turning corners
Small Screw Driver
My favorite marking pencil by Sew Line with extra lead
Tweezers
Pen
Chapstick
I love the fact that all of these items fit in the bag and that I always have them ready to go at a moment's notice.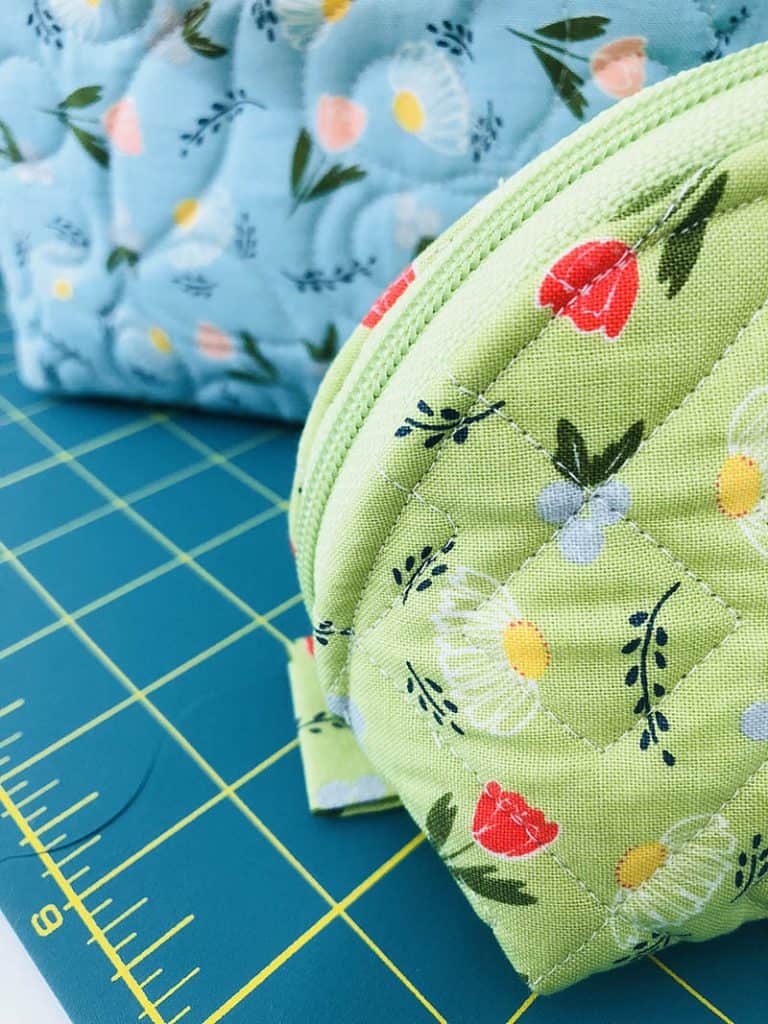 English Paper Piecing Bag
I actually show two bags for this in the video, but they are both made with this great pattern (mine are the two smaller sizes in the pattern). I love the shape of these bags for carrying my English Paper Piecing supplies because of the ease of packing and the ease of seeing everything that is inside. Also, I can keep finished Grandmother's Flower Garden blocks in the bottom of either bag. Here's what's inside:
Rotary Cutter
Kai Scissors to wear around my neck
Mini Charm packs
Thread
Pincushion with my favorite pins (linked above)
Needles
1″ x 6″ ruler
Pre-trimmed hexagon shapes ready to sew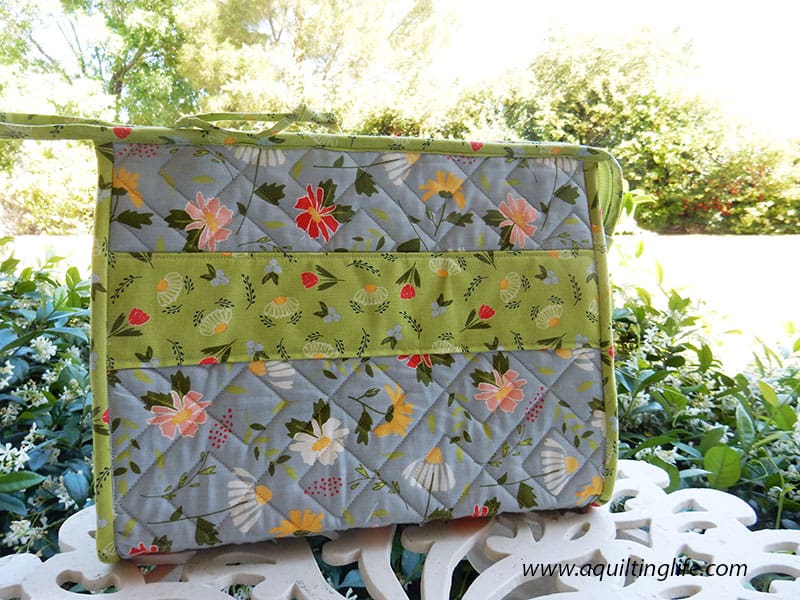 Other Favorite Bags
The Open Wide Bag…small is great for your purse, medium and large are excellent for projects and for use as packing "cubes" when traveling. See my blog posts on these bags here and here.
The Catch All Caddy is a great storage caddy that also works well when traveling.
I use my Stash & Dash bag for my phone, Ipad, and watch charger cords when traveling, but I really should make another one to use for more sewing essentials. See my blog post on this bag along with a few tips here.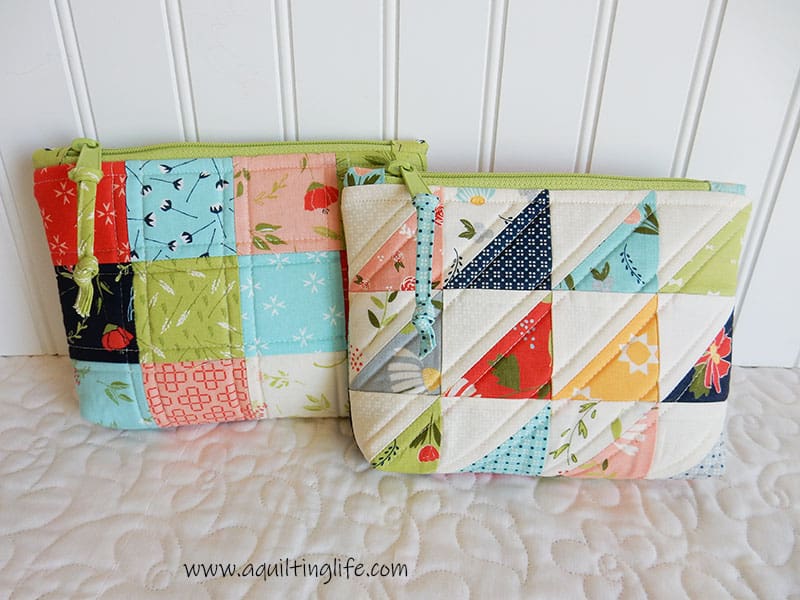 What's in your Bag?
If you have any favorite bag/quilting accessory storage patterns other than the ones I've shown and talked about here, please let me know about them in the comments. And, if there are favorite things you love to carry in your sewing and quilting bags, I'd love to know…also leave those ideas in the comment section below.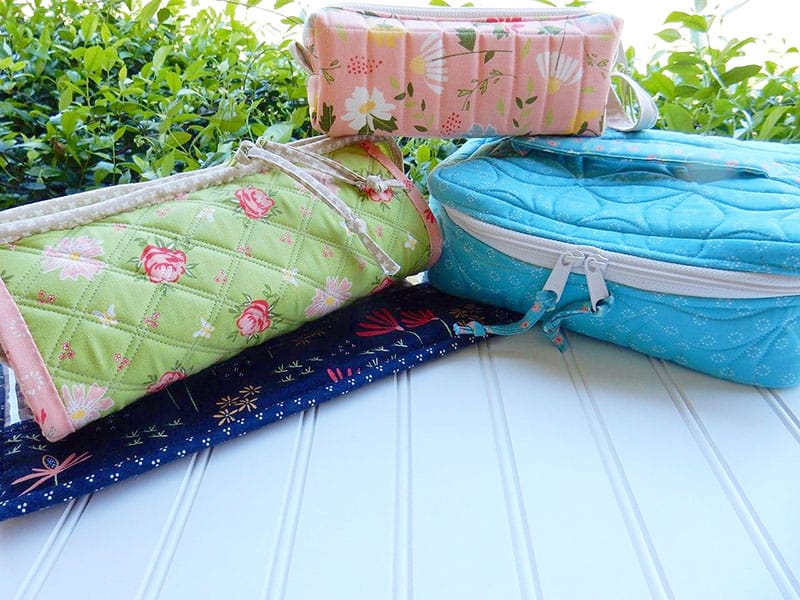 I hope you enjoyed this Sew Organized: Best Bags for Quilters video and post…thanks so much for stopping by!