Hello, friends, and happy Monday! Today I'm super happy to be sharing a Simple Sewing Kit Tutorial + Video for a project I finished recently. My new sewing kit (using Seashore Drive + Summer Sweet fabrics) is actually an updated and larger version of my friend Vanessa Goertzen's Goody Goody Binding Kit from a few years ago. I've been wanting to make myself one of these kits with some fun changes and reached out to Vanessa to ask if I could share my version along with a video tutorial. She (happily) said yes. I think you'll want to make one or more of these projects soon! Plus read to the end for some fun news about our Sincerely Yours fabrics 🙂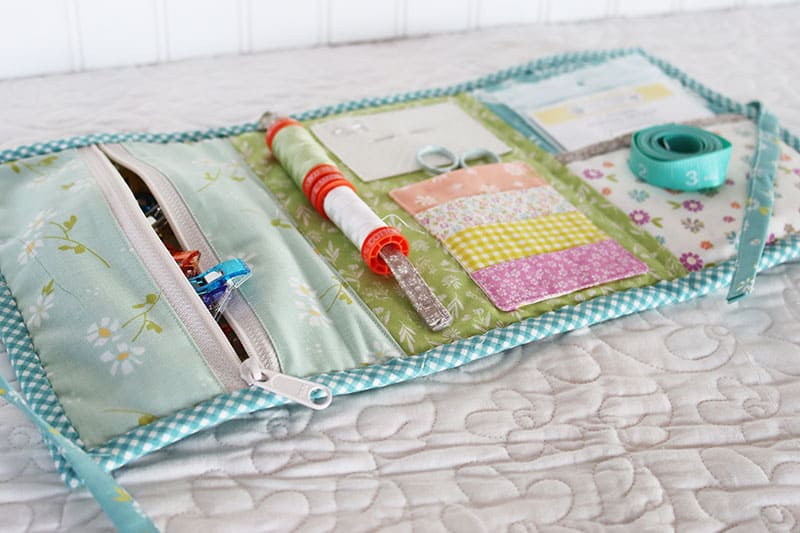 Simple Sewing Kit Tutorial
Vanessa told me her Goody Goody Binding Kit was actually inspired by the Travel Sewing Kit by Amy Dunn of the former blog Lots of Pink Here. (Amy's blog has been removed, and her tutorial is no longer available, although I did find some pictures of the original project by doing some Google searching). Vanessa added the left-side zipper pouch, turned the right side pocket a different way and also updated the scissor holder. My version adds 1 ½″ to the height of the kit and includes a simple strip-pieced scissor pouch. I also used Soft & Stable for my sewing kit which gives the kit more body.
Simple Sewing Kit Tutorial Video
Today's video is a bit longer than my regular tutorials, so I'm not able to upload it here on the blog. Please go here to watch it on my YouTube channel. I'll walk you step by step through the process of sewing this fun project. Be sure to keep reading for pattern information and details.
Simple Sewing Kit Pattern Information
First, Vanessa has a picture tutorial for her Goody Goody Binding Kit along with a PDF download of the fabric requirements you can find here. If you're looking for a smaller case, her tutorial is perfect.
One of the reasons I created a slightly larger version was so that I could store bigger things in the right pocket as well as to give me more room for binding clips in the left pocket. I use my kit for binding when I'm traveling and also to take along English Paper Piecing projects. I've created a simple PDF with my adjusted cutting information along with fabric images so you can match it up with my video and photos. You can download that PDF here (or click the button below).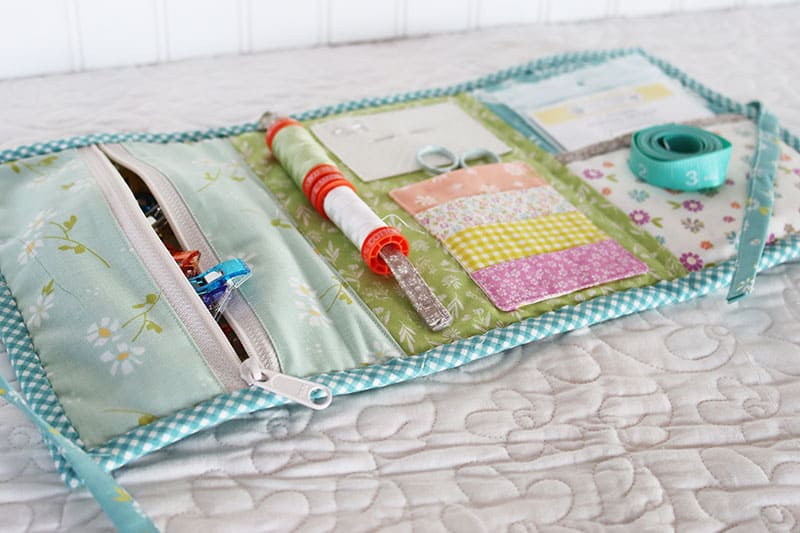 Product Links for the Simple Sewing Kit
Below are links to products and techniques I used for my kit: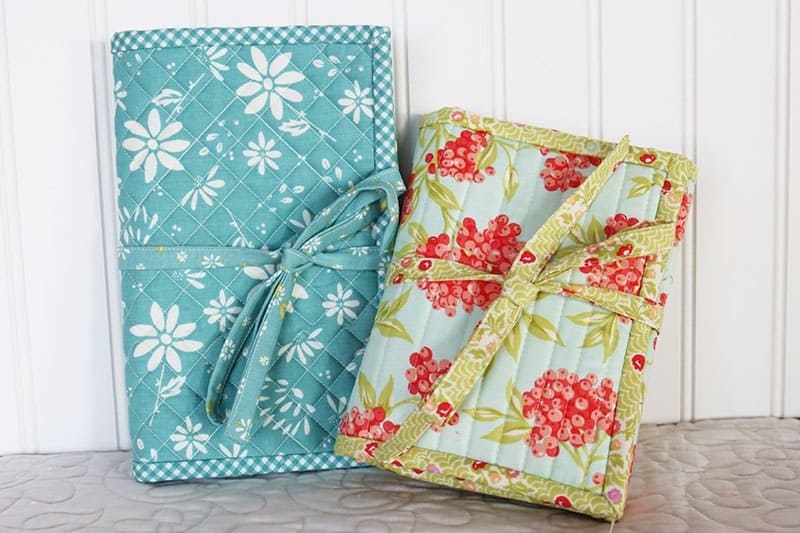 Sincerely Yours Precuts are in the Shop with Yardage Coming Soon
If you pre-ordered Sincerely Yours fabric pre-cuts, they will be on their way to you this week. All of the additional Sincerely Yours Precuts are listed here in the shop. Yardage will be shipping shortly as well–I'll let you know when it has arrived.
I hope you enjoyed today's Simple Sewing Kit Tutorial! Happy quilting, and thanks so much for stopping by!