Note: This post was originally published in October 2018 and revised in January 2020. Hello friends! I've been thinking about what I could post to begin a new year of quilting and decided that so much of what I want to say I've written in this post. I hope you'll enjoy it whether you read it first in 2018 or if you're reading it for the first time now. This post really sums up my thoughts on quilting and how it has blessed my life over the years. Why I quilt? Recently I read a post written by a fellow quilter on the topic of why she quilts.  She wrote beautifully on the subject, and it got me thinking.  Quilting is a topic I think about a lot, of course.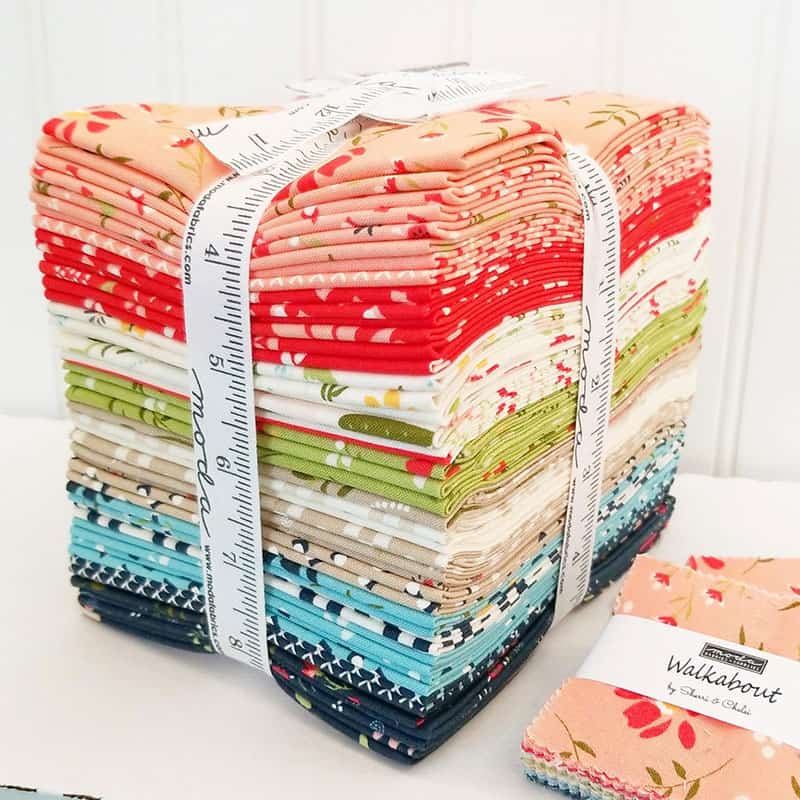 Fabric and Quilts…
In the spring of 2018, we attended International Quilt Market in Portland to share our Clover Hollow collection.  At the time I thought Clover Hollow was my favorite fabric group ever; however, Walkabout quickly became my favorite followed by Harper's Garden and Summer Sweet. I've always loved fabric, though.  I remember as a young girl that it was such a treat to be able to pick fabric for curtains or for bedspreads in my room.  My Mom always made my curtains and hemmed pre-quilted fabric for bedspreads for me. (My grandmother hadn't really started to quilt until I was a little older).  As I've shared before, my first job was working in a fabric store…Cloth World!  Needless to say, I spent a lot of my paychecks purchasing fabric for clothing, not quilts!  (I sewed most of my own dresses during that time).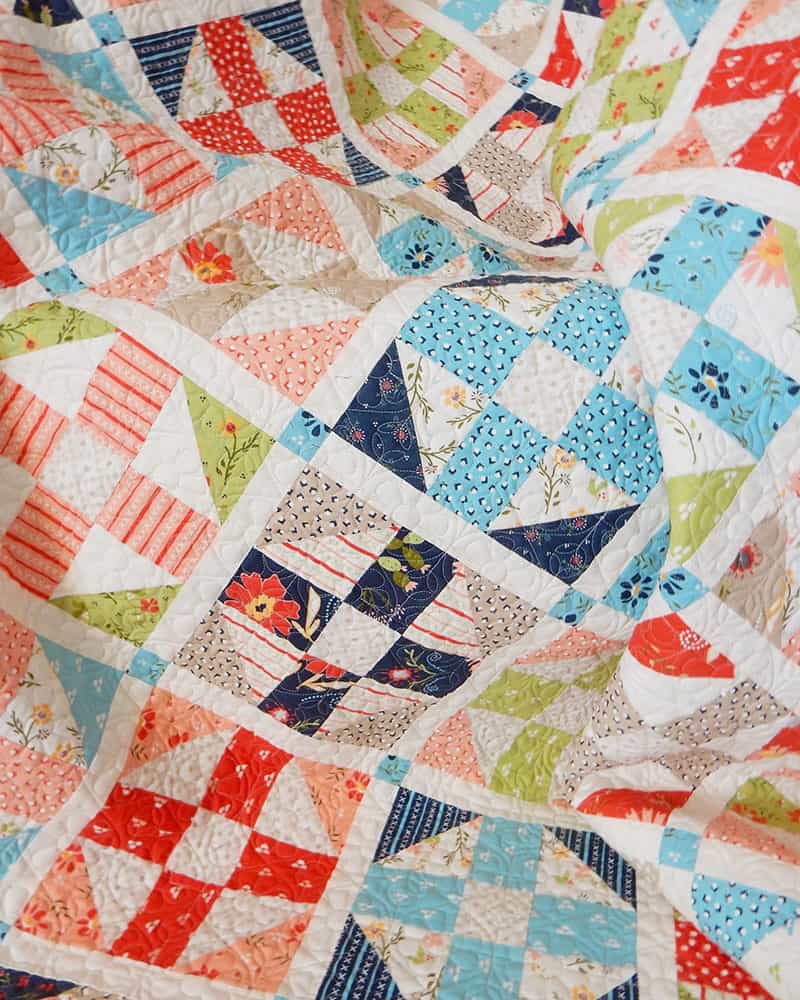 Pathways Quilt
The Inspiration for this Why Quilt Post
In her post (also titled "Why I Quilt"), Alison of Cluck, Cluck, Sew mentions that quilting "nurtures creativity" and helps her to "quiet my busy mind."  Both of these thoughts really resonated with me as well.  I think as quilters we all love to create beautiful things to nurture our own creativity and the creativity of those we gift our quilts to.  And I also believe that quilting really is the best remedy to quiet a busy mind.  I'm grateful for all of the years I've been able to quietly quilt and sew and relax from the cares of life.  At one quilting retreat I attended, one of my friends at the table presented us with wonderful conversation starters.  One of her questions was, "What is the nicest thing anyone has ever done for you?"  As the women in our group one by one shared wonderful experiences with giving and service, I remember thinking what a gift that experience was.  To be able to have such inspirational conversation while sewing was a great blessing I received that evening.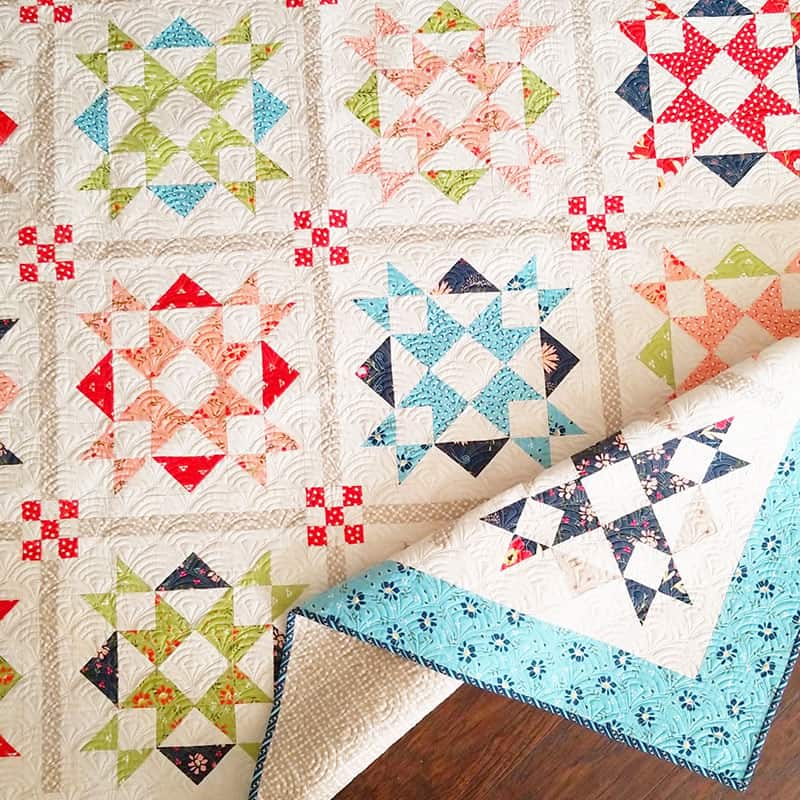 Waterfront Quilt
Quilting is a Blessing
Like Alison, I make a lot of quilts.  I make quilts designed specifically for each new collection of fabric we design.  I make quilts for publication in magazines and books.  And I make quilts to gift to family and friends.  Often those published are quilts that have been on my "bucket list" for a while (and with the addition of a deadline I finally get them completed).  A friend mentioned in an email the other day how lucky we are to be able to have a business that revolves around our love of quilting.  And I've thought of her words each day since I've read them.  I hope I never take for granted being able to work in this incredible community of women and men who share a passion for quilts and quilting!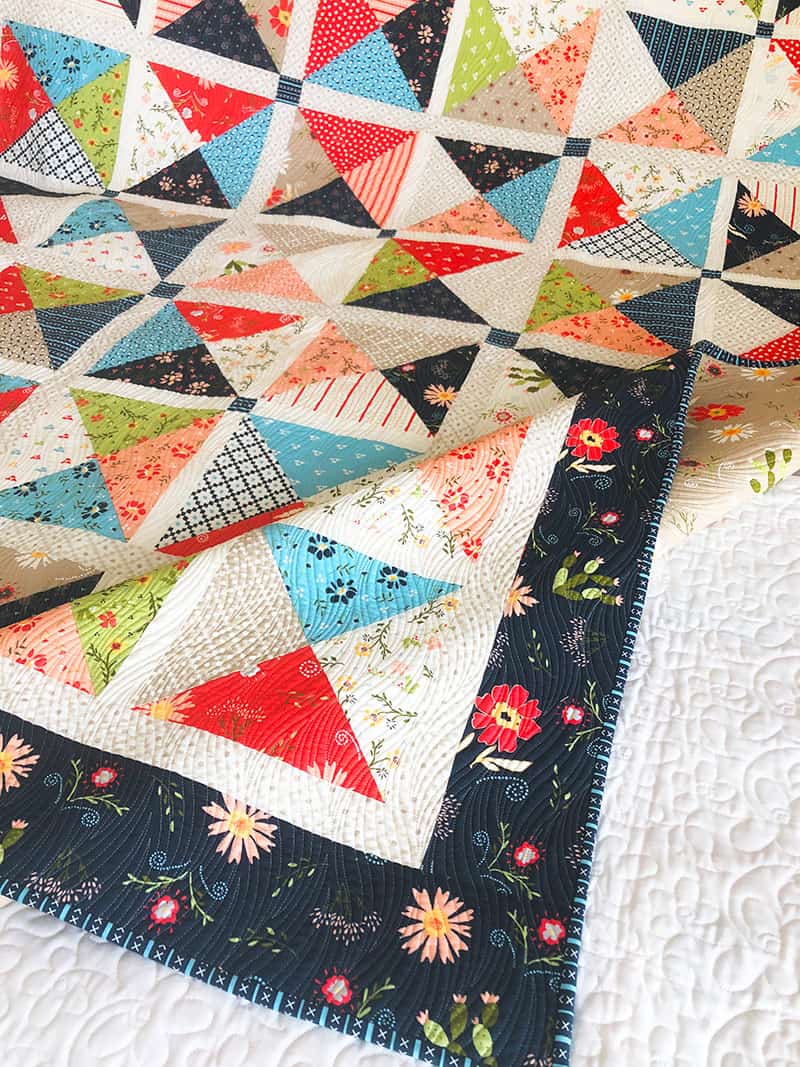 Sea Glass Quilt
More on Quilting…
Along with the things I've already mentioned, I made a list in my notebook the other day of reasons why I quilt…
I've always loved quilts and quilting (even when I thought my grandmother was a little crazy for cutting up fabric just to sew it back together)!
I appreciate my family heritage of quilting (my maternal grandmother's maternal and paternal grandmothers were both avid quilters).
I love creating an art form that is also so very useful to family and friends.
Quilting truly has soothed my soul through some trying times.  I'll never forget sewing a baby quilt for my youngest son.  There were problems with the pregnancy, and at one time the doctor tried to prepare me for a possible loss of the baby when I was about three months along.  Making that quilt gave me a lot of hope!
I love to give handmade items.  I believe this stems from the fact that my grandmother gave so many handmade gifts to her family and friends.  And my Mom and my Aunt also loved to make things–setting a wonderful example for me of making and giving.
I love to help others feel this same joy that comes from creating and making.  And it's such a wonderful blessing to associate with others who feel the same way!
Quilting is a wonderful way to give back to the world.  In times of need and crisis, handmade is always appreciated.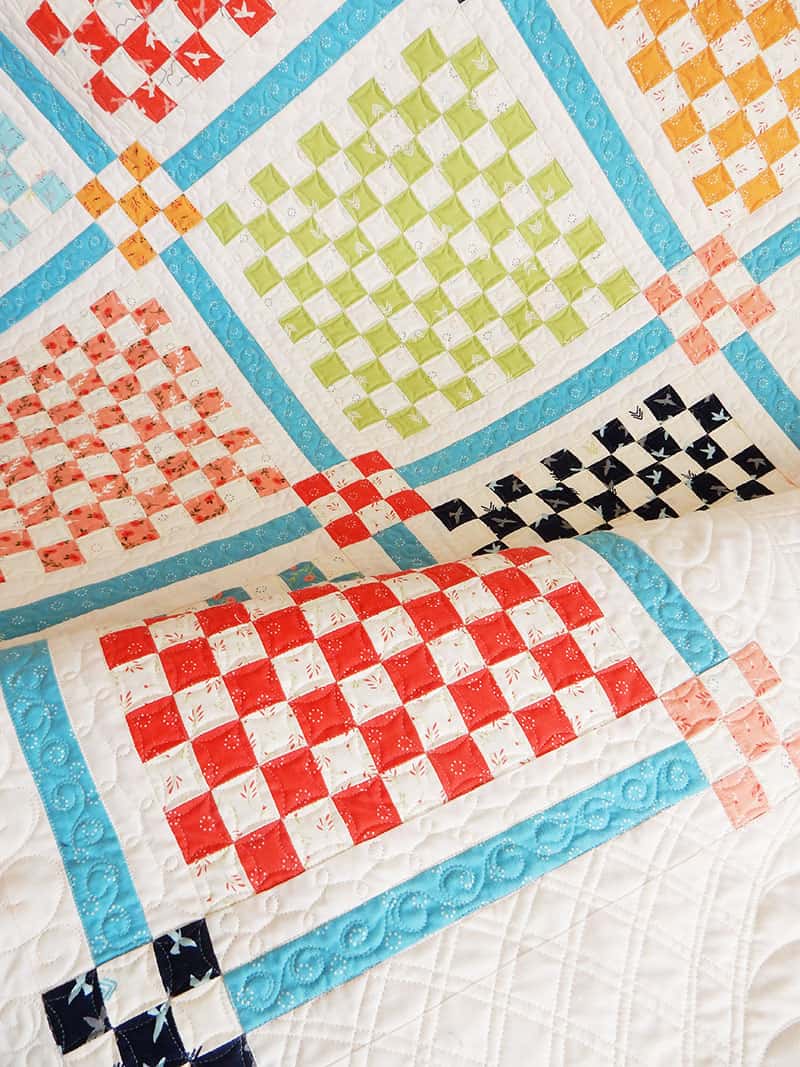 Patchwork Garden Quilt
More Thoughts…
And while thinking about the subject of why I quilt, I've also been thinking of how to do more, give more…perhaps not in the sense that I'm going to make more quilts next year than I did this year, but rather in the sense that I would like to donate more quilts.  There are so many good charity causes one can donate to.  And I'd also like to make more baby quilts for friends and the children of friends who are now at that stage of life. I'm quite sure that I will never run out of ideas for quilts to make.  Or quilts to make for fun.  Or quilts to make for no reason at all.  And I will continue to make them because I love to quilt!
Thanks so much for reading, for sharing your love of quilting, and for being a part of such a wonderful quilt community! And I would love to hear your thoughts on this subject as well…just leave a comment to join the conversation already started below!