Hello and happy Tuesday! I'm excited today to share the Quilting Life Block of the Month 2020 first block! I believe this is my fourth year doing a free block of the month program for my blog readers, and I absolutely love doing it! This year I'll be offering blocks in two different sizes and will be sewing along with both options so I have two quilts at the end of the year. I'll also share two different setting options for the blocks later in 2020.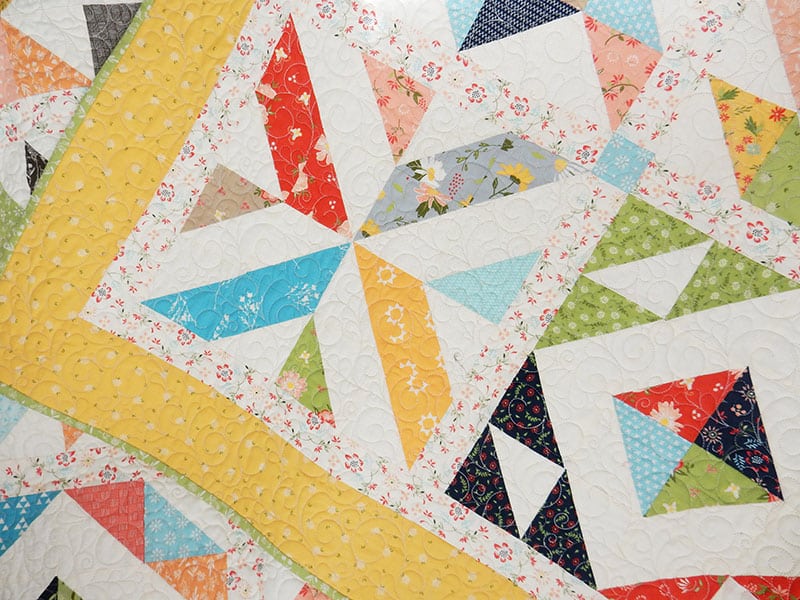 A Quilting Life Block of the Month 2020 | January
This year's blocks will be shared in two different sizes: 12″ finished and 18″ finished blocks. I'll be making my 12″ finished blocks using a scrappy combination of my fabric collections. And I'll be making my 18″ blocks using blues and creams from a variety of Minick & Simpson collections mixed with this tone on tone background fabric from our Summer Sweet collection. Blocks will all be pieced and will be from a variety of classic patterns. You should be able to make this quilt if you are a confident beginner.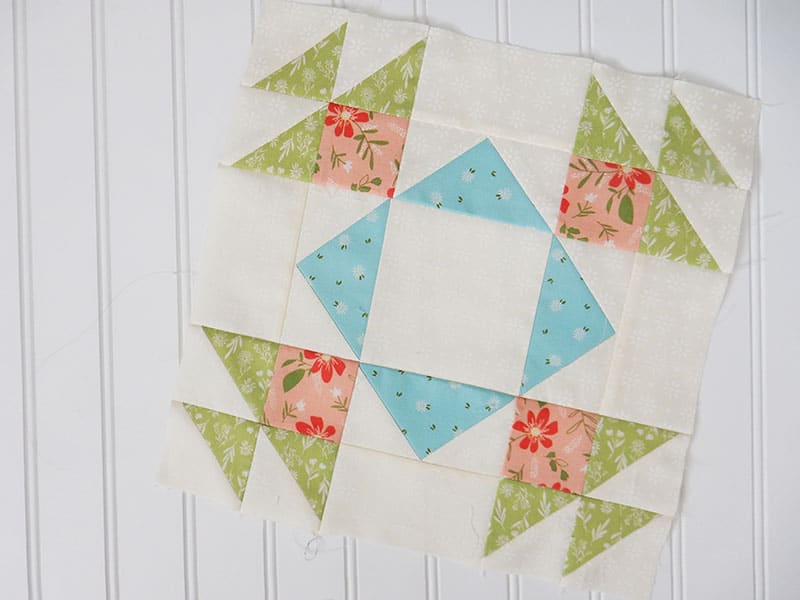 January 2020 Block 12″ Finished
I finished my 12″ finished block the other day and used three different fabrics from our Summer Sweet collection along with the tone on tone background fabric from that group. You can find the fabrics I used below: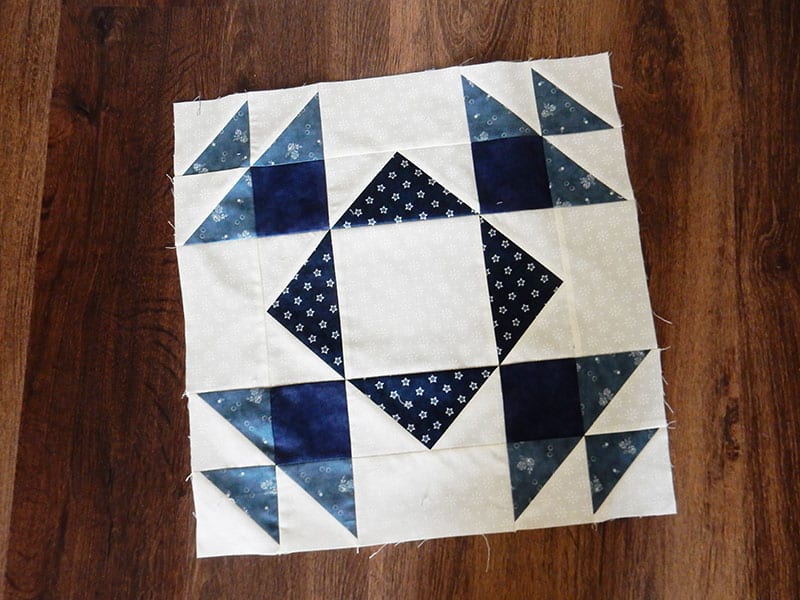 January 2020 Block 18″ Finished
My blue and cream block doesn't look bigger in the photo, but it is indeed an 18″ finished block. I really love how it turned out. I'm using scrappy blues from my stash, but I'm also using the same background fabric I'm using for my 12″ blocks. I think this will help out a lot and save me time cutting since I can cut the background fabrics for both blocks at the same time. If you are thinking of making both versions, this is a timesaver that just might be a game-changer for you.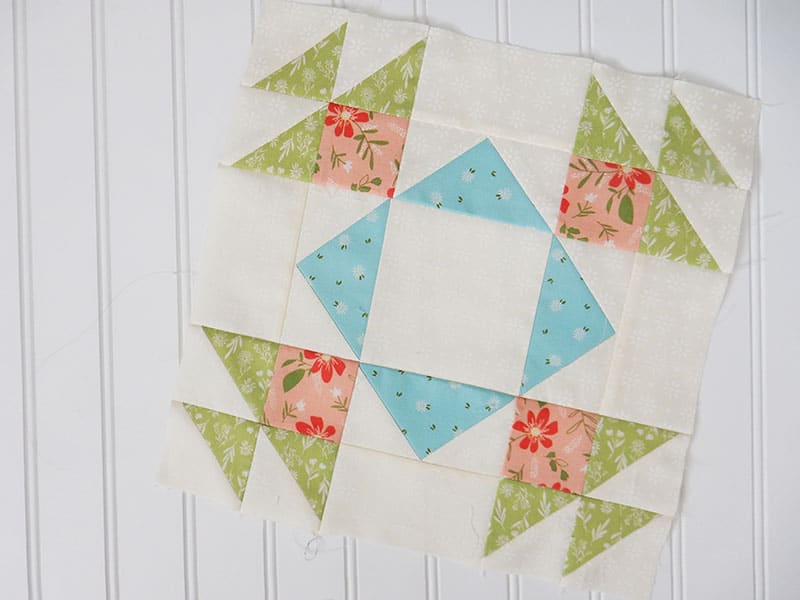 How to Join In
There isn't anything you need to do to join in. The block PDF's are free and will be posted during the first week of each month here on the blog. Be sure to drop by each month for the PDF. Later this month I'll set up a landing page for the block information and will share that page in the February post. Click here for this month's block, or click the button below.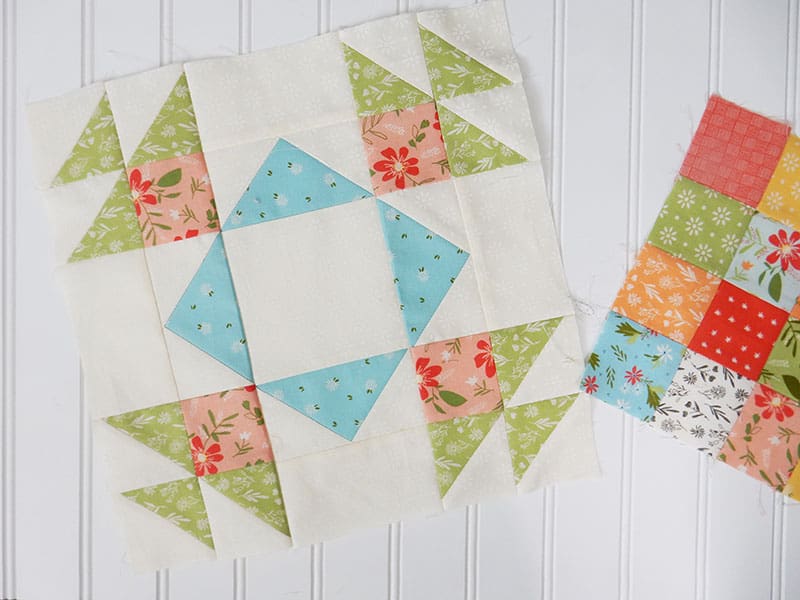 Tips for the January Blocks
I'll have more detailed information on fabric requirements soon. But you'll need at least 12 fat quarter for the 12″ finished blocks and 18 fat quarters for the 18″ finished blocks. You'll also need 2 ½-3 yards of background fabric for the smaller blocks and 3 ½-4 yards of background if you're making the 18″ finished blocks. Start thinking about sashing and borders, too. Again…I'll have more information on this next month.
Make Half-Square Triangles in groups. I like to have an assortment of ready-made half-square triangles to use for scrappy projects. The half-square triangles in this block could easily be made from a scrappy variety of fabrics. If you like using triangle paper for half-square triangles, you can use this size for the hst's in the 12″ block and this size for the hst's in the 18″ block.
Use the Bloc Loc Flying Geese rulers to make the flying geese units a bit bigger and then trim down to the perfect size. (Use this size for the 12″ blocks and this size for the 18″ blocks).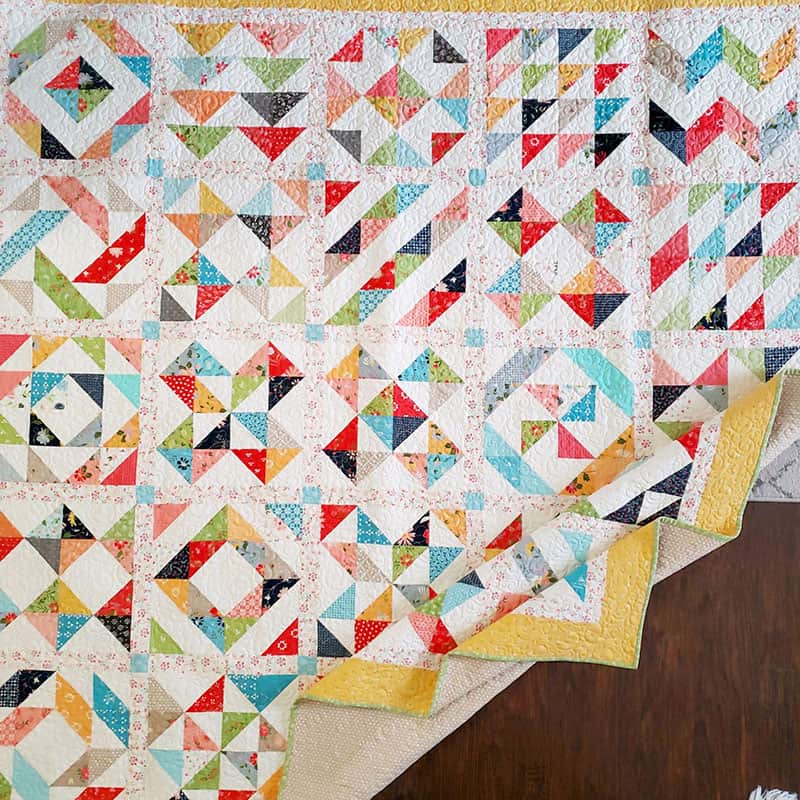 Final Reminder for the 2019 Block/Quilt Information
If you haven't yet downloaded all of the information from the 2019 Half Square Triangle blocks, be sure to download them before the end of this month. I will be taking them down by February first in order to set up the new landing page for this year's blocks.
I look forward to sewing along with you! Happy quilting, and thanks so much for stopping by!