Happy Friday! Welcome to the first week of my Mini Patchwork Sampler quilt! Today I'm sharing directions for the Sawtooth Star Block. I'll be sharing one 6″ block tutorial every other week on Fridays. Make one or two of each block: I'll be sharing a 6-block setting and a 12-block setting when the block tutorials are all finished. This is designed to be a scrappy project…use your favorite left-overs from another project.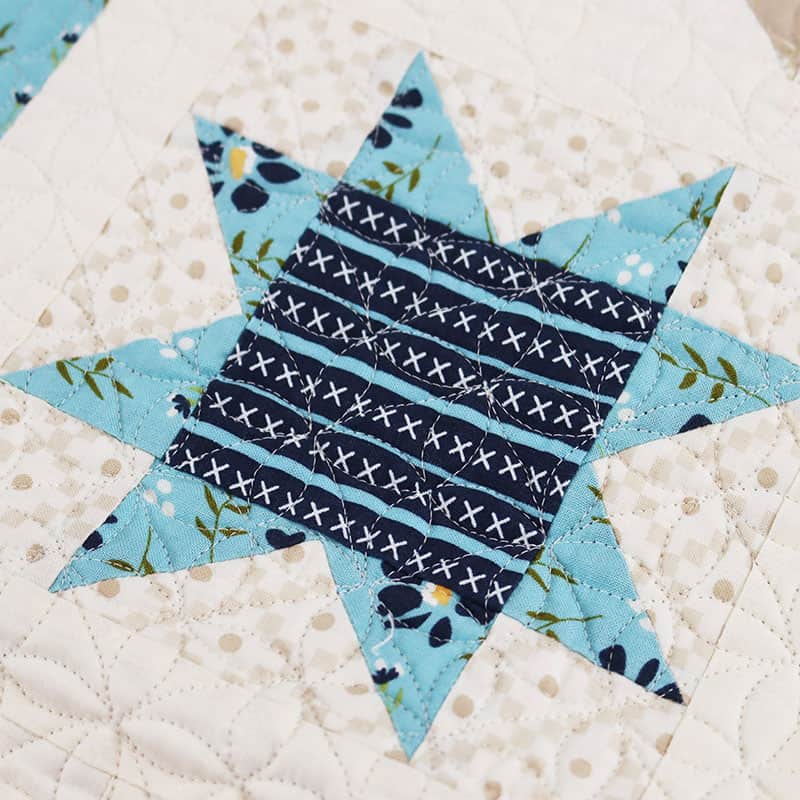 This week's block is a sawtooth star block with a fast and easy method for making the flying geese units. These blocks are a lot of fun, and they are perfect for using up scraps in your stash!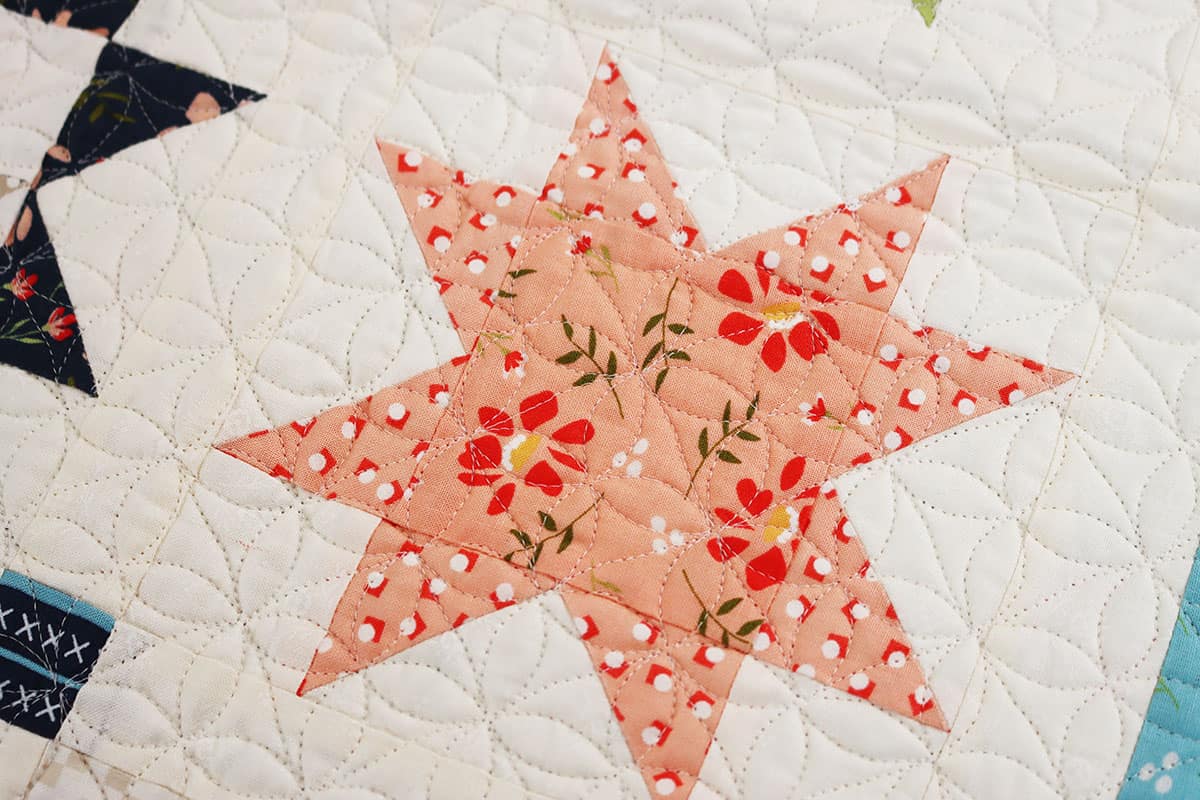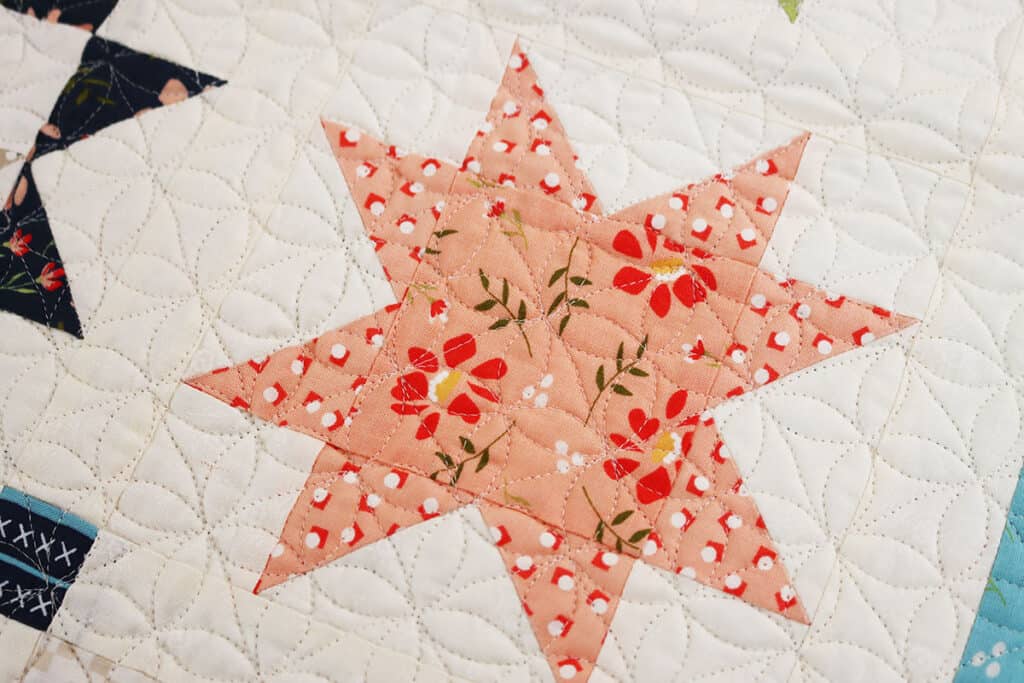 Sawtooth Star Fabric Requirements
1 square 4 ¼″ x 4 ¼″ of background fabric for flying geese units

4 squares 2″ x 2″ of background fabric for corner squares

1 square 3 ½″ x 3 ½″ of print fabric #1 for star center

4 squares 2 ⅜″ x 2 ⅜″ of print fabric #2 for flying geese units
Quick Flying Geese Unit Method
My most favorite methods for making flying geese are using the Bloc Loc and/or the Ultimate Flying Geese Tool.
For a simple no-ruler method you can begin by drawing a diagonal line on the wrong side of all four squares 2 ⅜″ x 2 ⅜″ . You'll be sewing ¼″ on either side of these drawn lines, so I've drawn in my sewing lines as well.


Line up two of the squares on opposite corners of the large background square as shown above. Match up the drawn lines. Sew on the two outer lines.
Next, cut on the center line–making two units.
Press toward the print fabric squares. Your units will now look like this.
Take the remaining two print squares with drawn lines and place them on the units as shown. You will again stitch on the two outer lines of each unit.
Cut the units on the center drawn line.
Press toward the print fabrics. You now have four flying geese units (2″ x 3 ½″ unfinished) for your star block. I trimmed off the "dog-ear" corners and extra threads.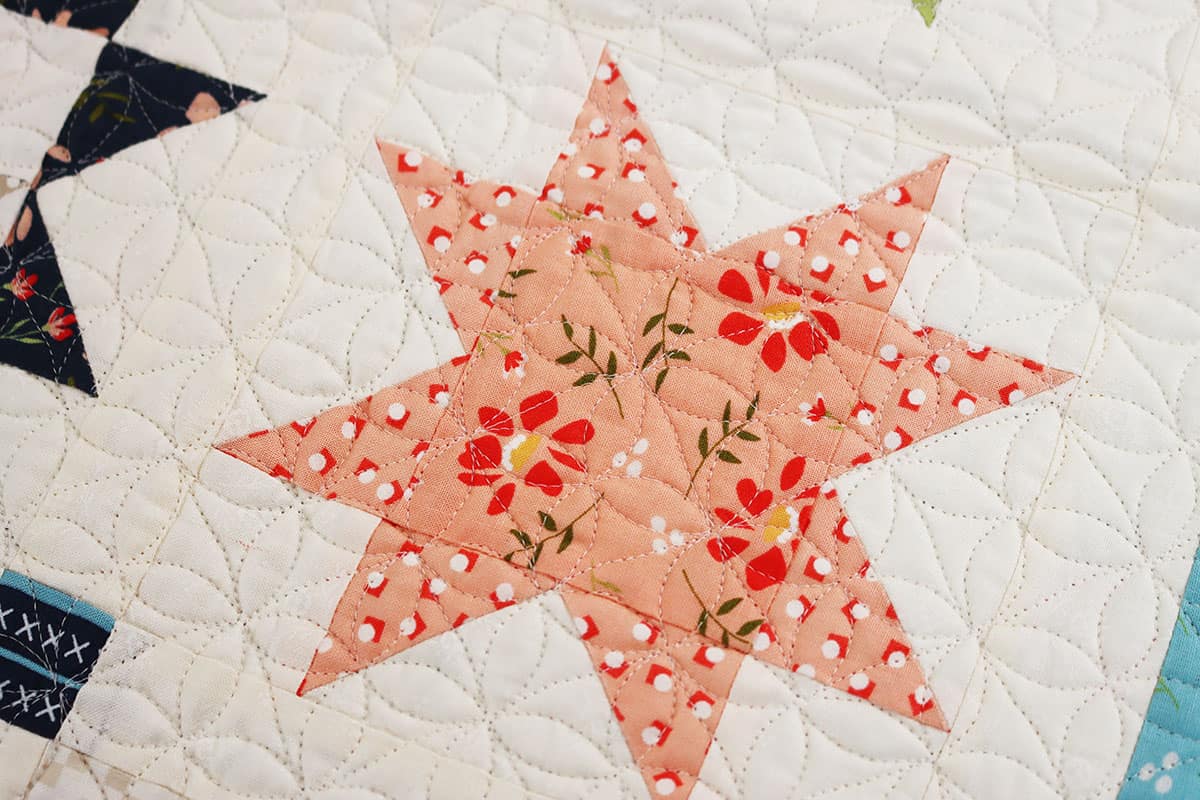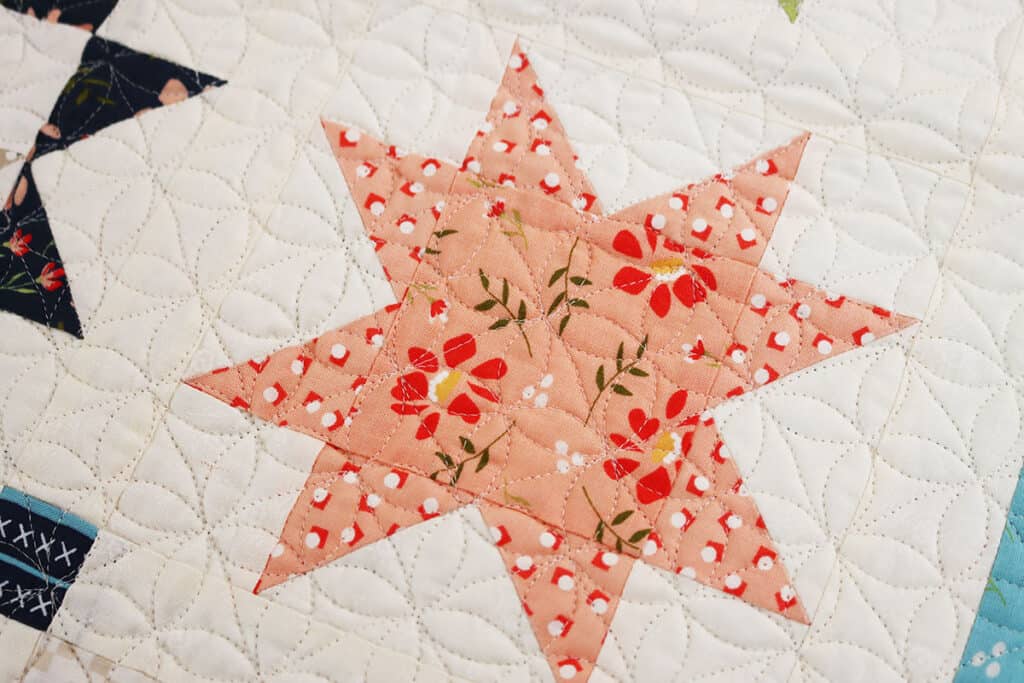 Arrange Block Pieces and Sew
 Lay out the block pieces to form your star
Then stitch the pieces in each row together. Press toward the solid squares in each row.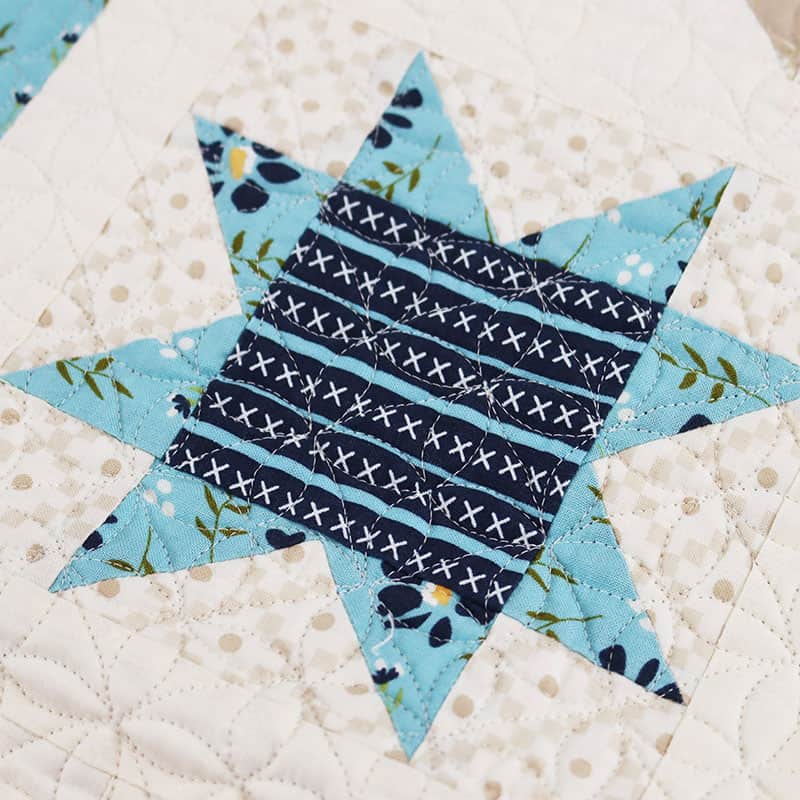 Sew the rows together and give your block a final pressing. If you are making the 12-block sampler, make another scrappy sawtooth star now!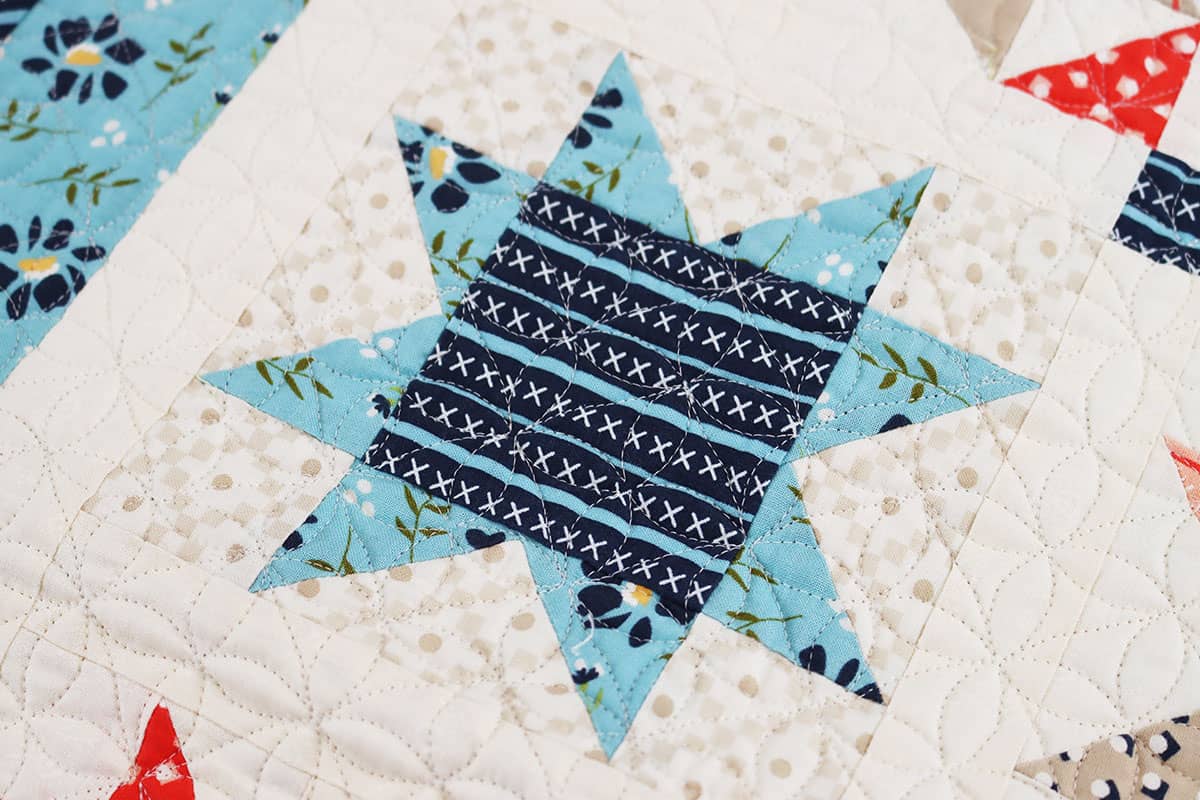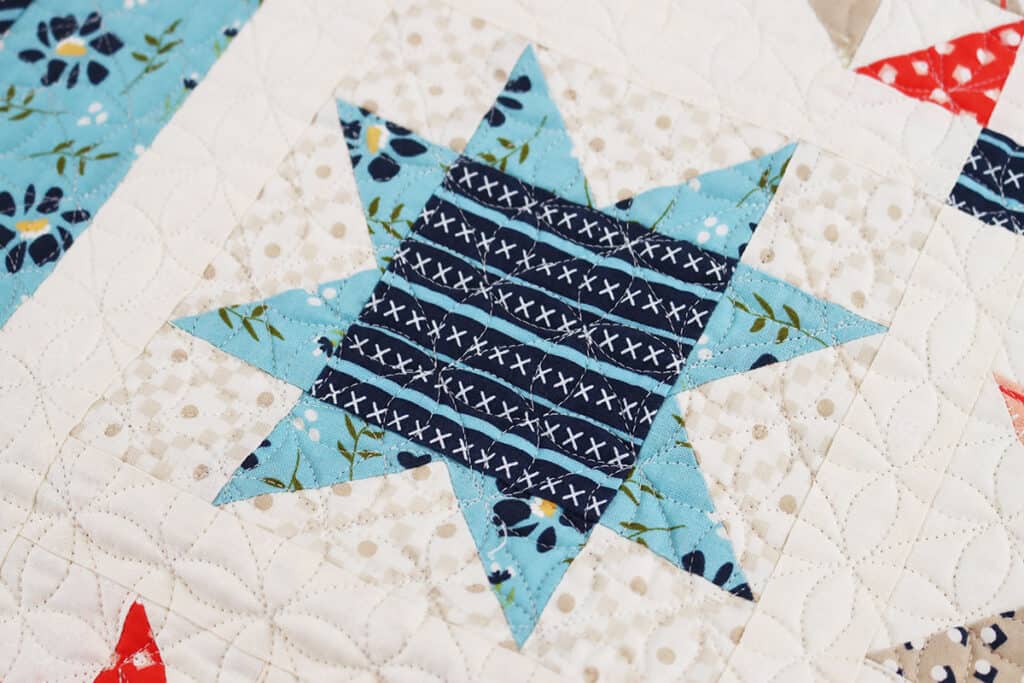 I hope you'll sew along–choose one block or two every other week, and by the end of the summer you'll have a completed mini sampler. In two weeks (along with the block 2 tutorial) I'll have all of the information for fabric requirements for each setting layout.
Thanks so much for stopping by!