Hello, friends! Today I'm sharing Sewing Room Ideas and Organization helps including some of my favorite simple storage tips. I spent several days over the past week purging and cleaning and re-organizing my space and am so pleased with the results. It's the perfect time of year for a sewing room refresh, so let's get started!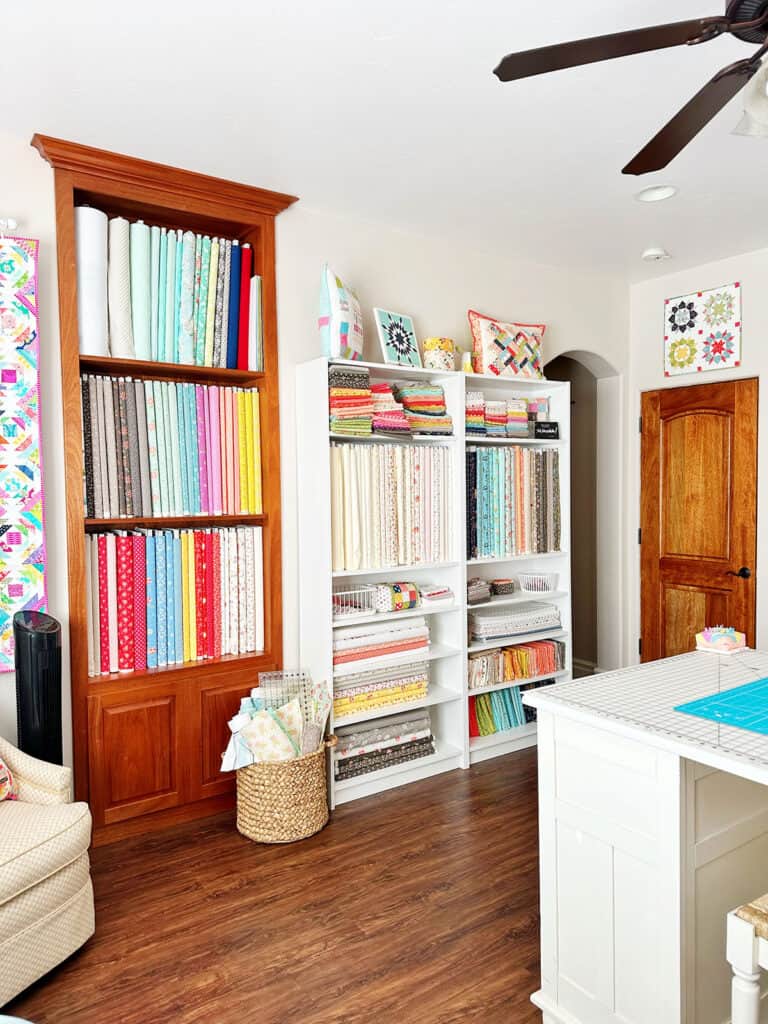 Sewing Room Ideas and Organization
If you're ready to start, first gather three containers: one for trash, one for donations, and one for items you will keep but relocate. (Some people might also want to get a fourth container for things they might be able to sell). I use bags for trash but boxes for donations and things I'm going to keep making it easier to see the contents. Ready to begin? Get started following the steps below.
1. Go Through Your Sewing Room
The first step in getting your sewing room organized is to go through your space and remove anything that isn't frequently used or that you don't love in the space it currently occupies. Make sure all of your flat surfaces are clear when working through this step. I took everything out and put it in our hallway, but you could also use a spare room or even your dining room table to store everything while doing this. Fabric and notion donations went straight into a cardboard box, and there were also some things I was able to just throw away.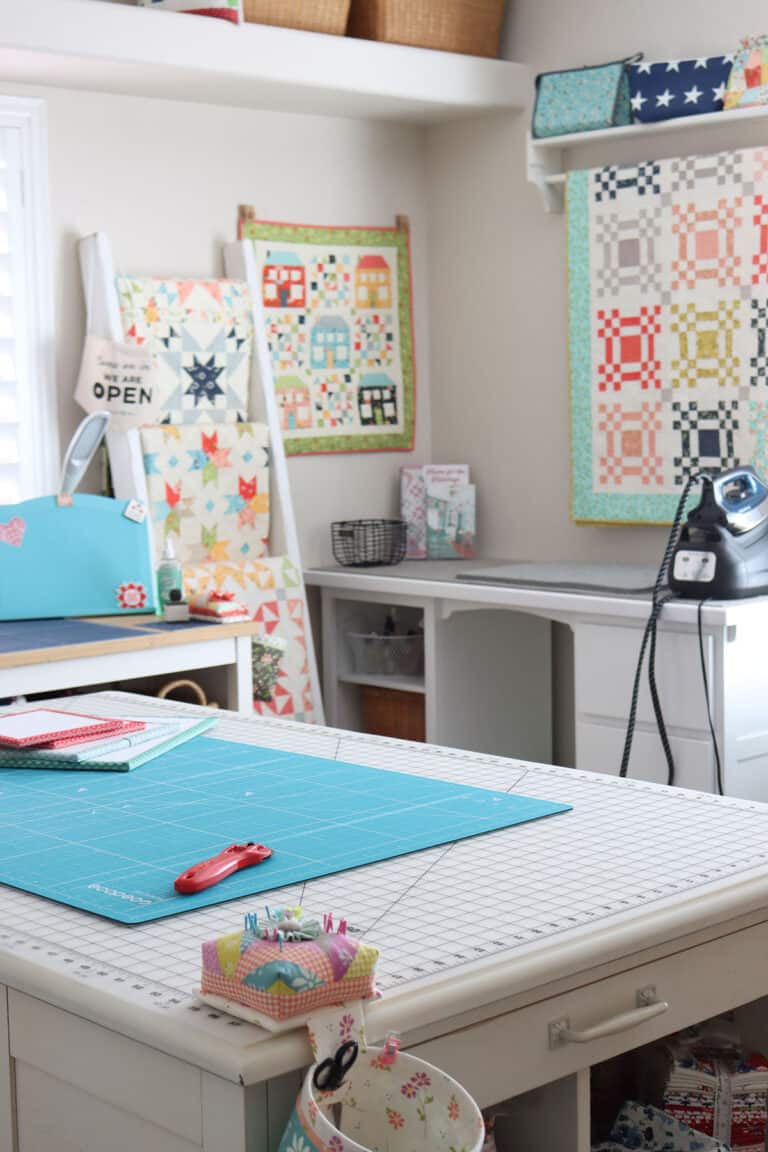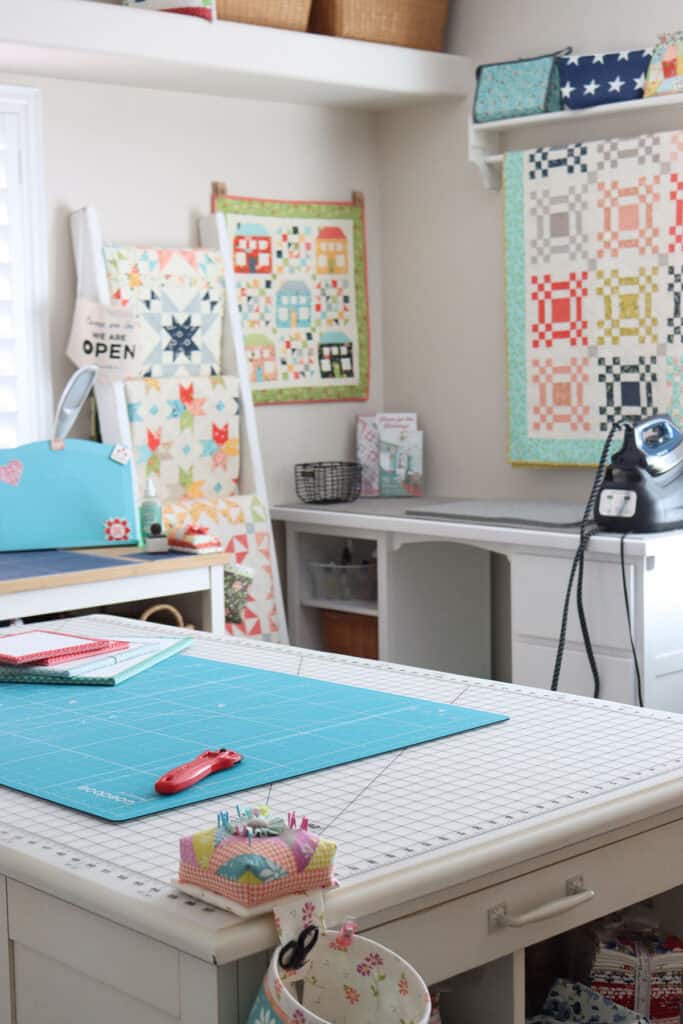 2. Purge Unnecessary Items
Next, you'll want to go through the box of items you decided to keep and really consider how much you use those items. You may be able to purge even more of them and put them into the donate box or even the trash box. Once everything has been purged, you're ready to move on to the next step.
3. Sort Items by Category
Now, take everything you've decided to keep and put them in category groups. You might consider some of the categories below:
Yardage
Pre-cuts
Thread
Patterns
Rulers
Scissors
Miscellaneous notions and tools
Once everything has been moved into the appropriate category, you can start to consider the best way to store the items. You'll also start to get a good idea of what containers you might need to purchase when you put everything back together.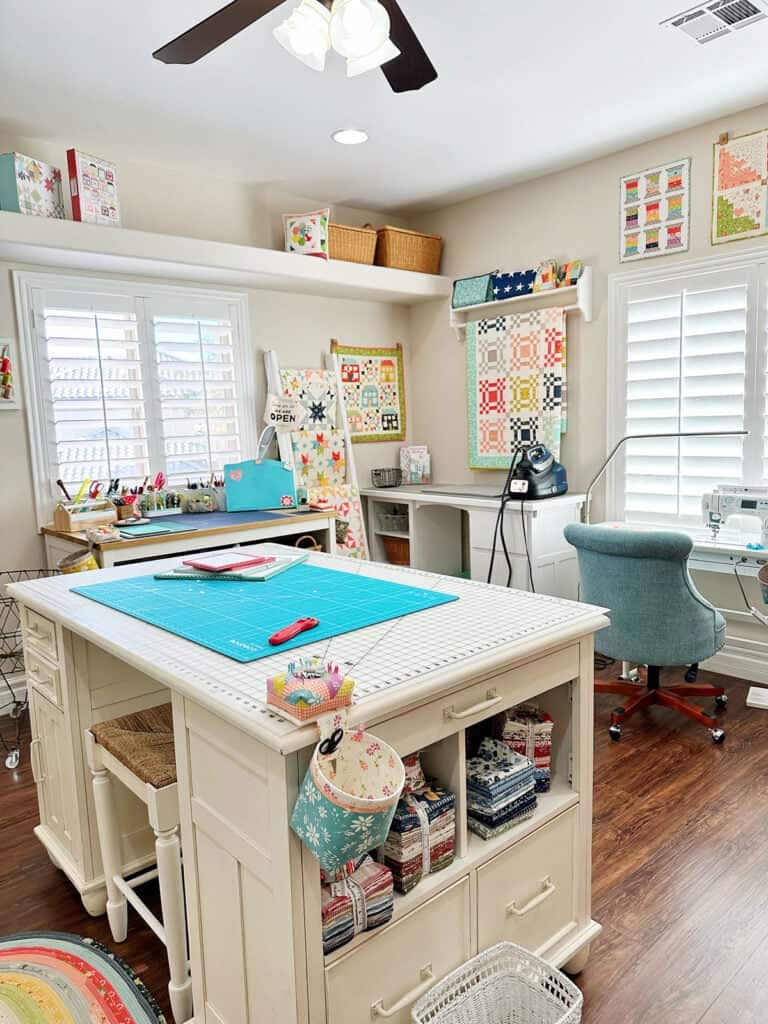 4. Evaluate your Storage Options
Begin by evaluating everything that is left in your space. Make sure you really like where everything currently is, and make changes as needed. It's good to first do any rearranging before you start bringing other things back into the space. Then you'll need to decide on a final space for all of the items you are going to move back into the room. Only at this point should you consider purchasing storage containers.
5. Purchase any Needed Items
There is actually one more step to handle before you make your shopping list. A lot of organizers call this "shopping your home." Basically, you'll want to consider using items you might already have to store the items that now need a container. Sometimes a particular storage item just isn't really working somewhere else, and you can re-purpose it for your sewing room. Kitchen and bathroom organizing products often work really well in the sewing room.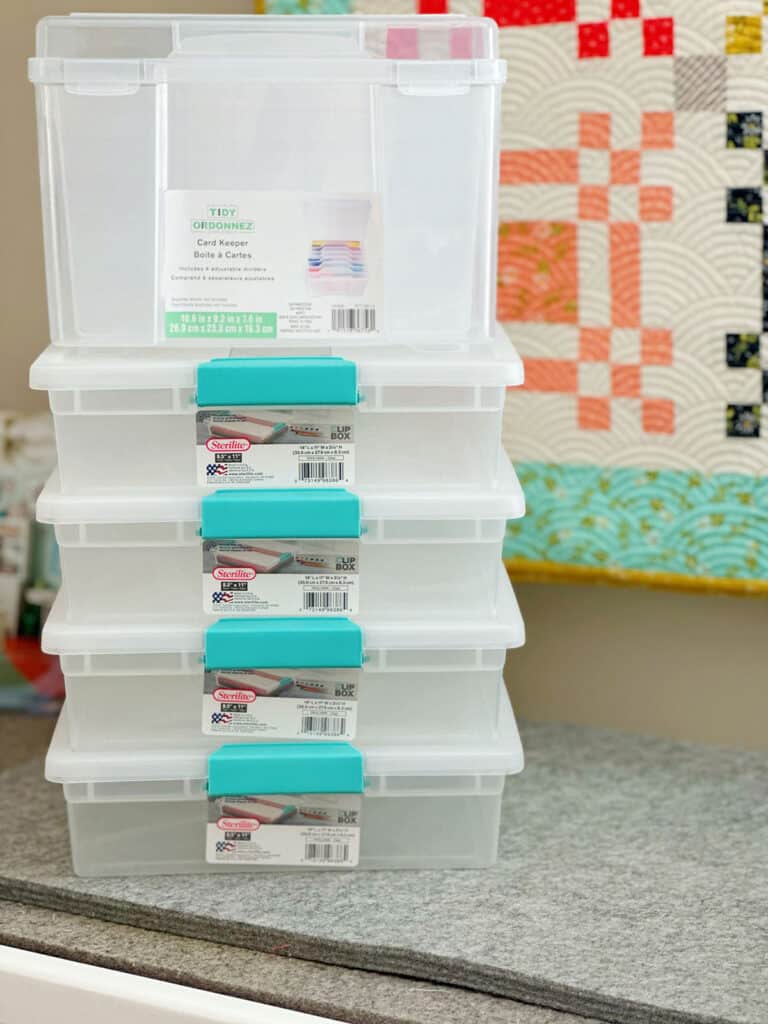 6. Easy Organizing Item Ideas
Here are some of my favorite organizing items for the sewing room:
More Helps for Sewing Room Organization
Here are some of my previous posts on my sewing room and sewing room organization. (You'll even find a free printable for doing your organizing on the 20 Tips post):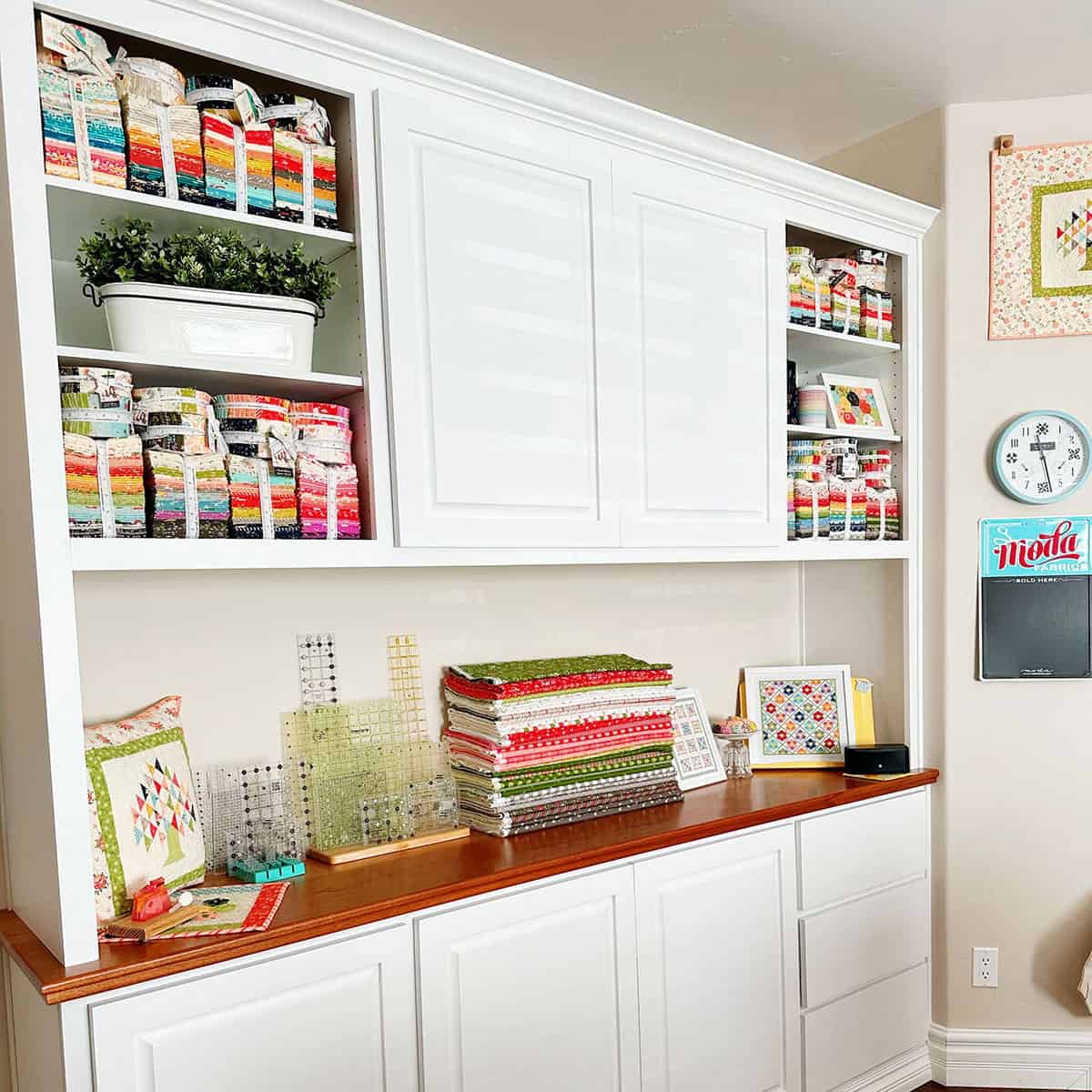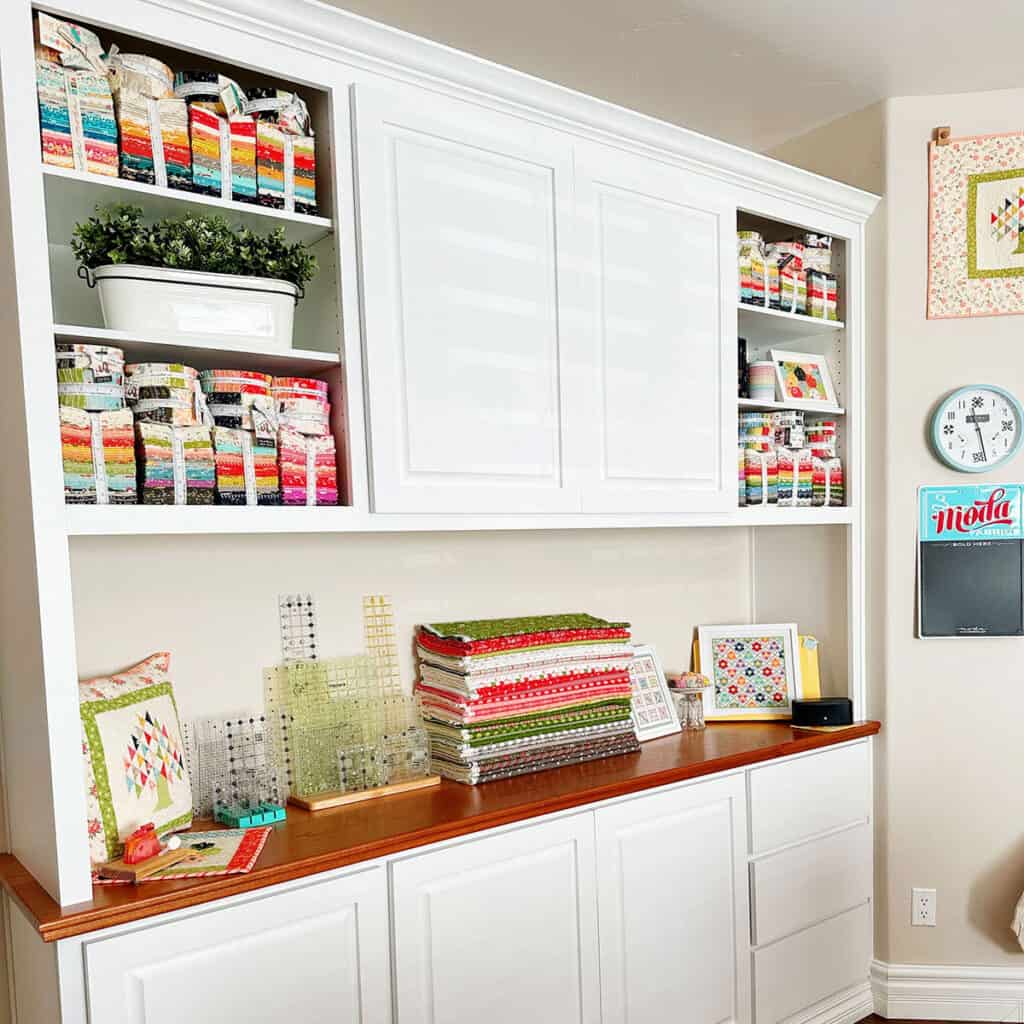 Thanks so much for stopping by for today's Sewing Room and Organization Ideas post. Happy quilting!