Hello and happy Tuesday!  I meant to get this post out earlier today, but I was traveling most of yesterday. And, it took a little while to get going this morning!  I'm home from a wonderful week away where I was able to visit the Moda offices in Dallas, Texas!  It was absolutely inspiring to say the least!  I was also able to pick up my advance yardage of our next fabric collection and sew with some amazing women!  All of the details about our new fabrics, quilts, and more, will be coming very soon, so stay tuned!  Today I thought I'd share some fun new tools called Betsy's Thimbles.  (I was able to sew with these at the retreat).  I also want to give you a little sneak peek of the new fabrics!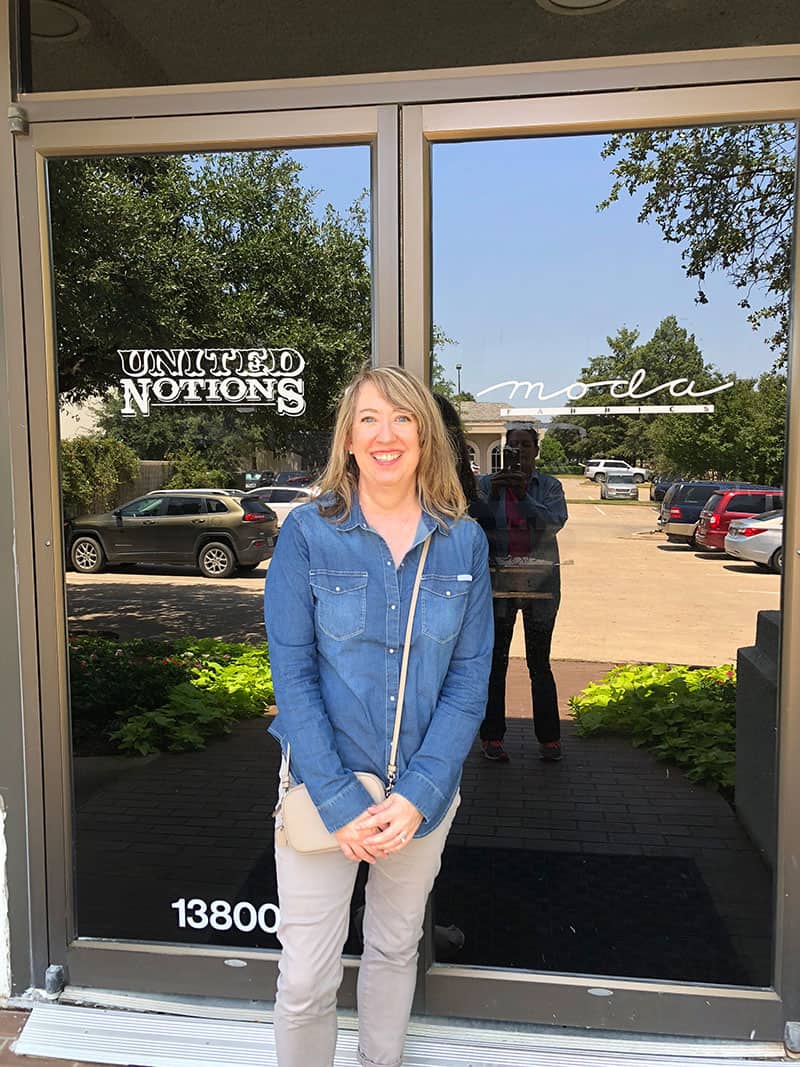 It was an amazing experience to be able to visit Moda Fabrics and United Notions headquarters!  I think my excitement helped cover up the fact that I only had about 4 hours of sleep the night before!  And I'm thankful to my friend Allison who took this photo for me!  After a wonderful tour of the offices, we were off to the retreat center in Sunset, Texas to sew, sew, sew!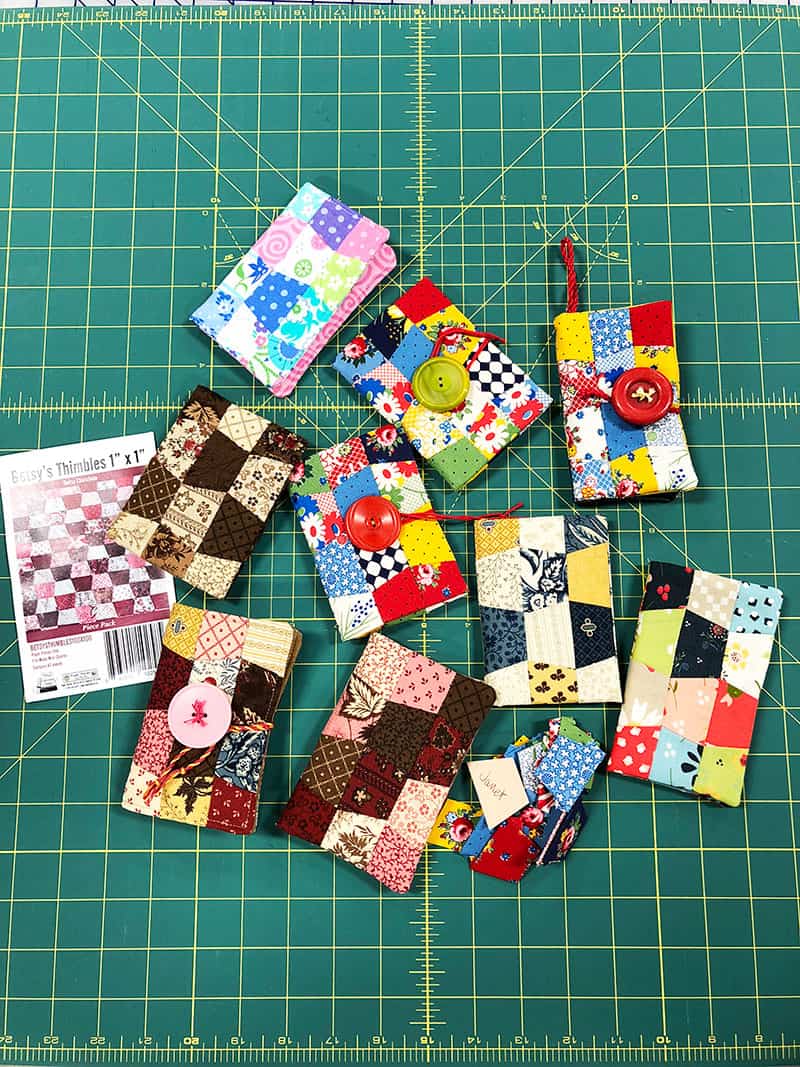 Betsy's Thimbles
One afternoon we were treated to a fun demo by fellow Moda designer Betsy Chutchian.  She was inspired by a beautiful antique doll quilt to create lovely templates which she calls Betsy's Thimbles.  The templates are available as acrylic templates and as paper pieces to use with English paper piecing!  We were all given a set of templates and were able to make our own needle cases.  Above is a sampling of the cases that were finished that day!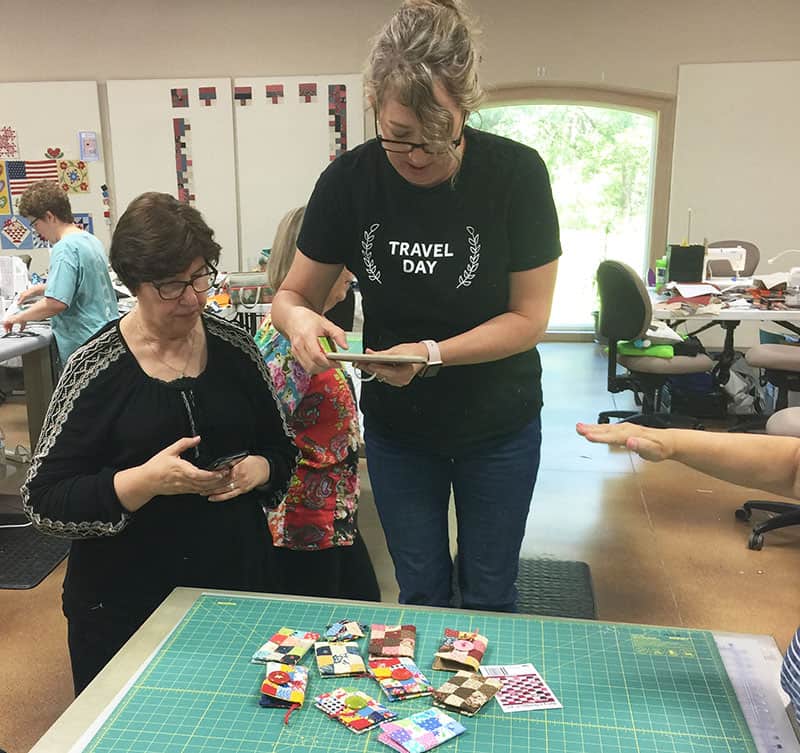 I thought you might want to see a little behind the scenes from our retreat!  Betsy and I took photos of the needle cases, and someone took a candid shot of me up on a step stool taking a picture!  I share this picture mostly so you can see what a great space we had to work in!  Some of these cases were made using the acrylic templates to cut out the shapes and then machine pieced.  Others were made using the paper piecing templates with English Paper Piecing.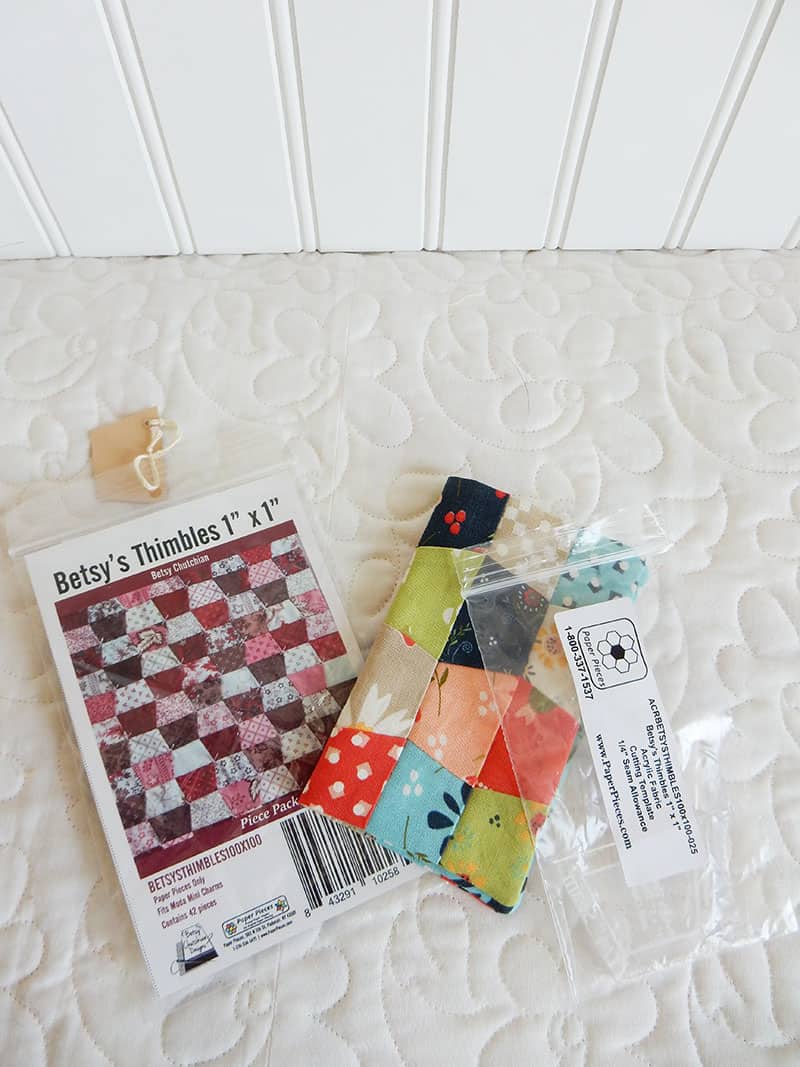 I used the Betsy's Thimbles 1 x 1 to make my little scrappy needle case!  It was so much fun to make and went together very quickly.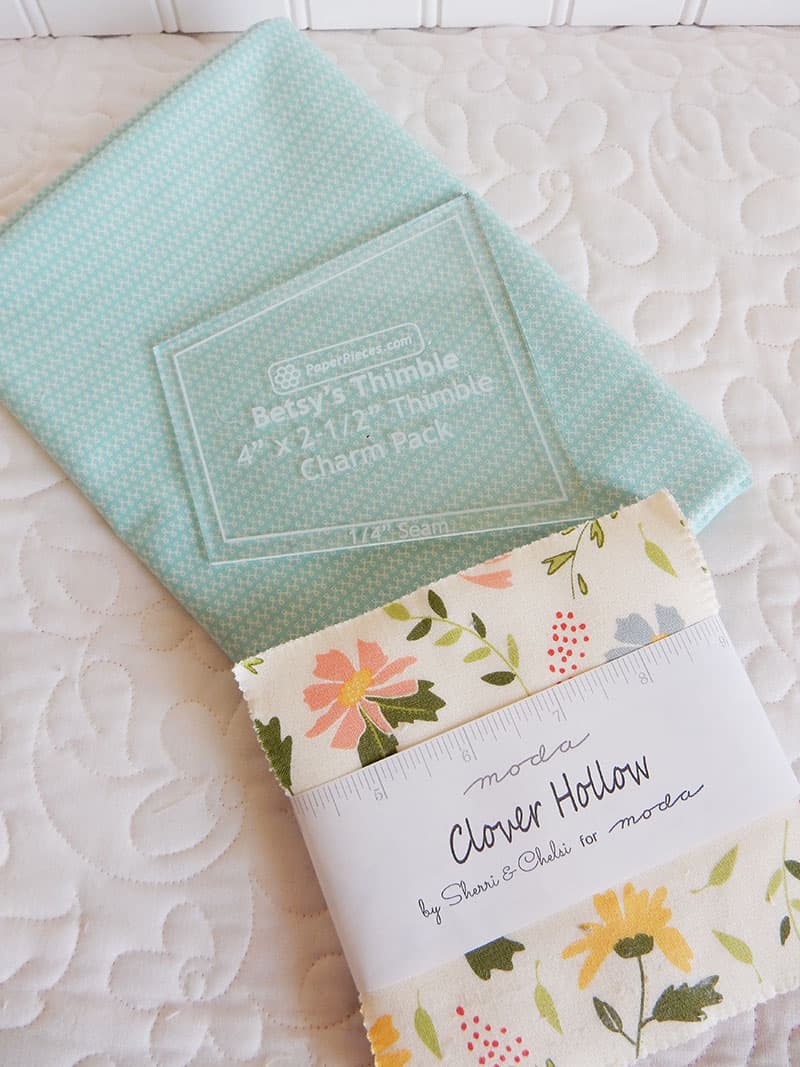 Betsy also has acrylic templates and paper pieces sized to fit charm packs that are also just as cute as can be!  The smallest size will be available soon, and you can find more sizes now here.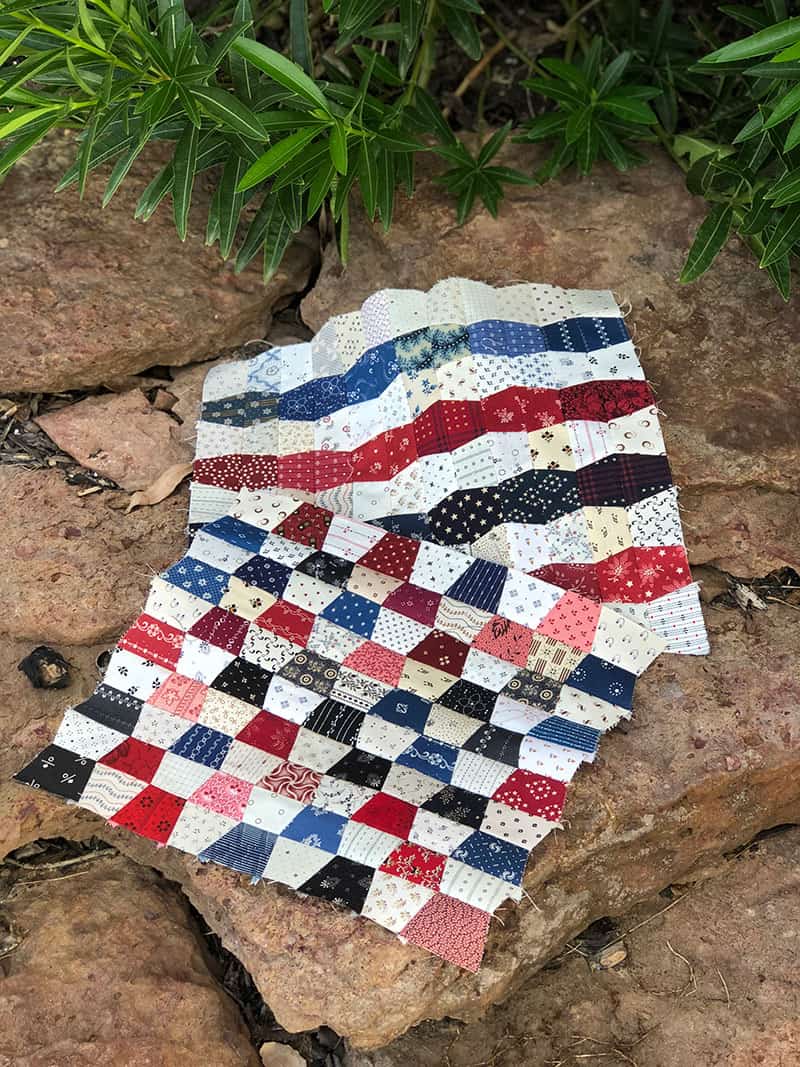 My friend Jody not only made one of the beautiful needle cases, but was also inspired to make two mini projects!  Jody used the acrylic templates and machine pieced her Betsy's Thimbles pieces.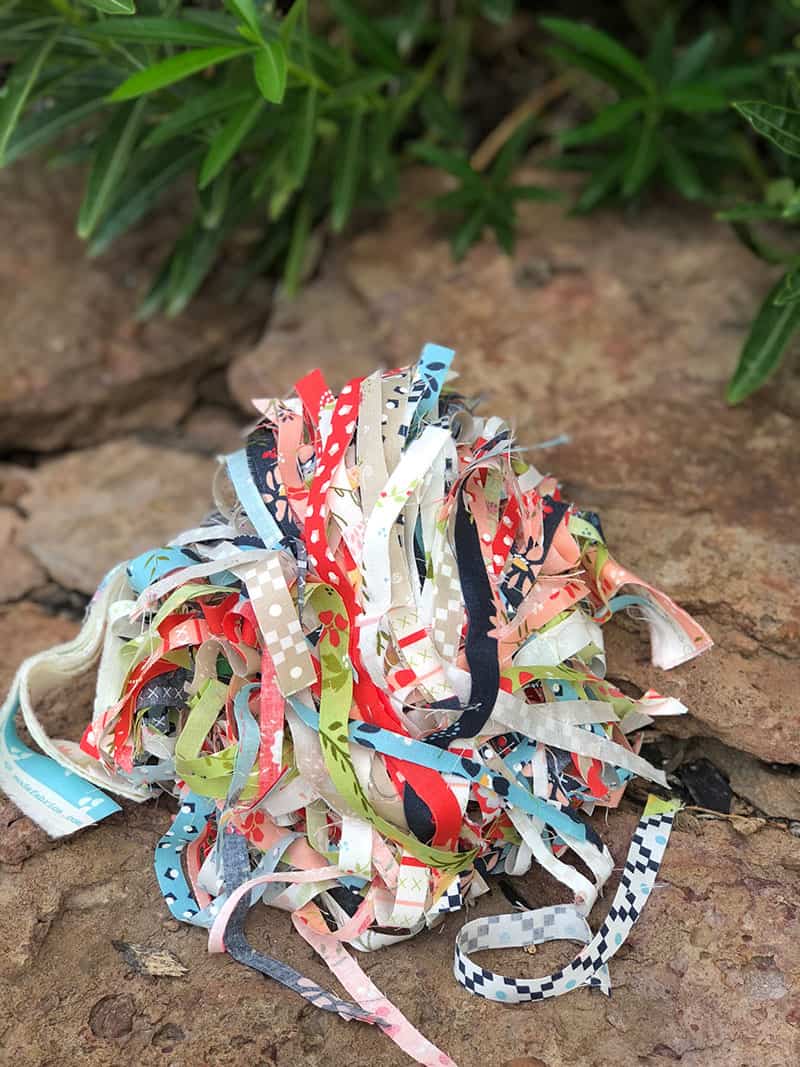 And a sneak peek…
Now for a little sneak peek!  I had thrown these scrappy strings of our new collection into the trash when one of my friends pulled it out of my bucket and suggested I take a photo!  I'm so glad she suggested it!  I went outside the next morning and got this lovely picture!  I think quilters all appreciate the beauty of even the smallest scraps!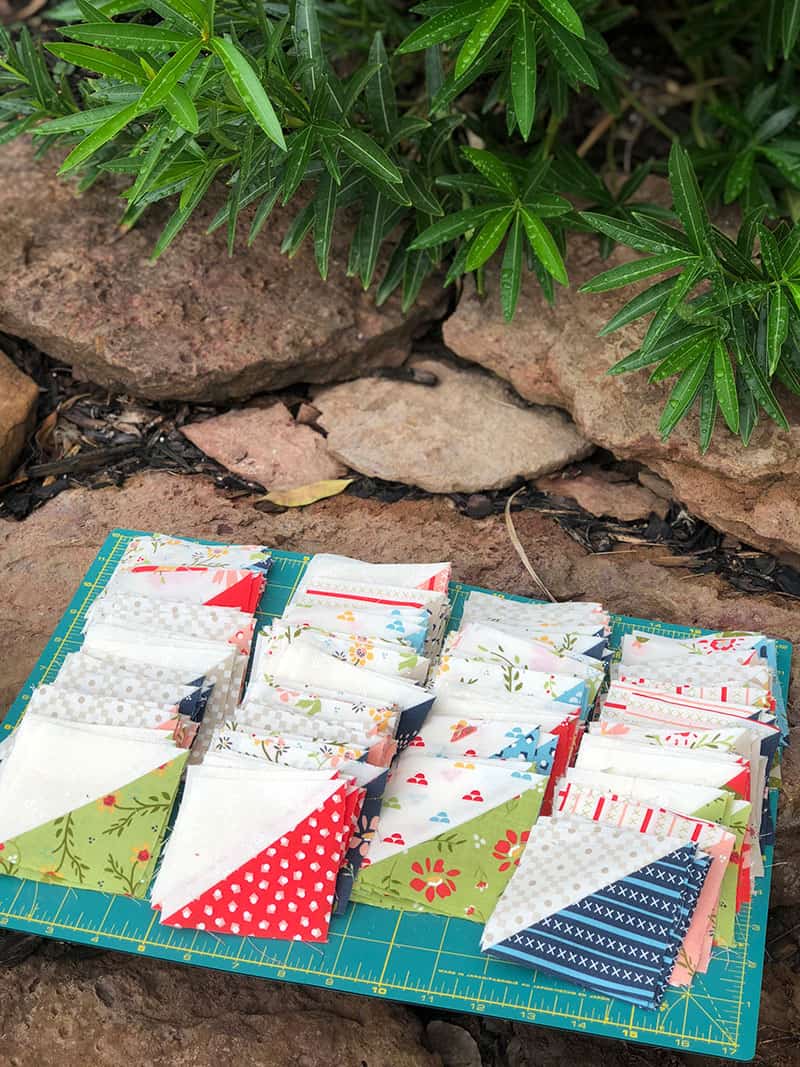 So, a day later I took some finished half-square triangles outside to the same place and got a fun picture of them!  The leaves were so beautiful with water on them remaining from a lovely storm that passed through! Now, I can't even tell you how excited I am to be able to share this new collection with you! It's called Walkabout, and we will be sharing a lot more later this week!  Until then, I'd better get back to binding and sewing!  Tomorrow is Moda Block Heads day…and then check back on Thursday for more fun with Walkabout!  Thanks so much for stopping by!