Hello, friends, and welcome to the All the Trimmings Mystery Quilt. I am so excited to be able to share my blocks and quilt for this super cute mystery Christmas Wall Hanging. My quilt is actually already finished and being quilted, and I can tell you that you are going to want to join in on this one. The project is actually a row quilt, and the rows go together quickly and easily. We'll finish this up next month, and you'll have a darling Christmas wall hanging in time for the holidays to use or gift. Seriously, you could even make two at the same time…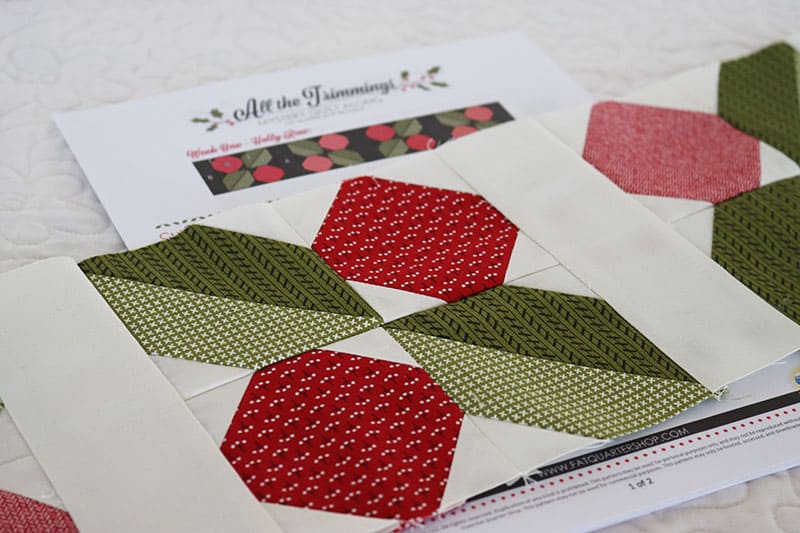 All the Trimmings Mystery Quilt
Each summer for the past few years I've joined with Fat Quarter Shop to sew along and make a fun Christmas project. I can share that this one is my absolute favorite of them all so far, and you won't want to miss sewing along for the next several weeks.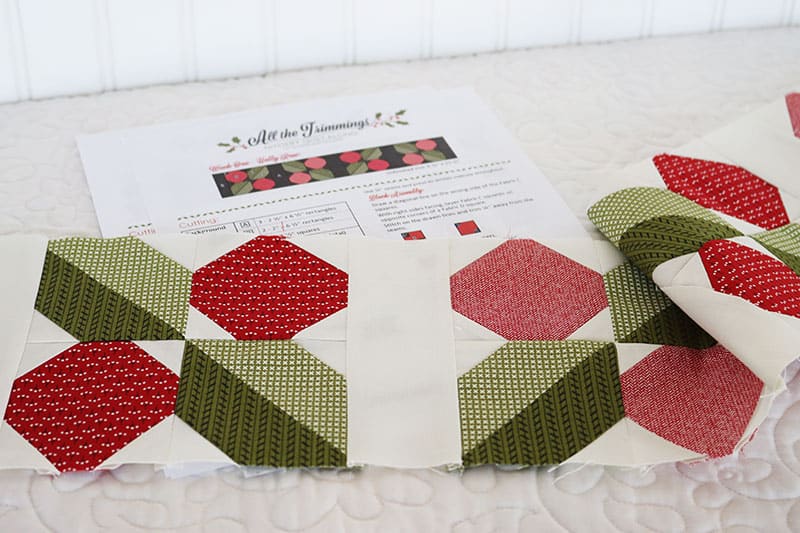 All the Trimmings Fabric Requirements
For this quilt you can start with a Layer Cake and 1-½ yards of background fabric. And you can find a cute printable with the complete fabric requirements here. (You'll also notice there is a cross-stitch version of the same project available as well). Additionally, the quilt finishes at 33 ½″ x 38 ½″ and doesn't have a border. If you want to add an outer print border get an additional ¾ yard of fabric. I'm not adding a border to my quilt but am going to make a scrappy binding to add more color around the edges of my quilt.
I'm sewing along with the Red Barn Christmas collection by Sweetwater with a few older pieces from their earlier Christmas group, Holly's Tree Farm added in. For my solid background I'm using Moda Bella Porcelain which is lighter than Ivory and a nice creamy contrast to my fabrics. The Fat Quarter Shop version is sewn in the Christmas Morning collection by Lella Boutique with a dark background and will also be stunning. But really, any Christmas group would work, and this one sews up terrific with scraps, too! Finally, you'll really want to have the Mini Simple Folded Corners Ruler on hand for this one. It saves a lot of time.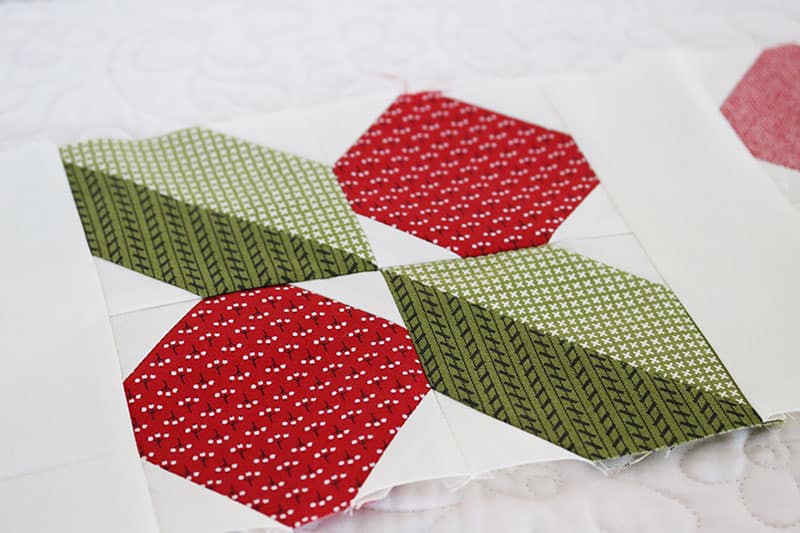 All the Trimmings Week One: Holly Row
This week's row is a darling Holly Berry and Leaves row. I used two different red prints for the berries and two different green prints for the leaves. But you could mix it up even more and use a variety of reds and greens. Find the printable block pattern and links to Kimberly's video tutorial here. And go here to find supplies and more for the quilt and the cross-stitch project.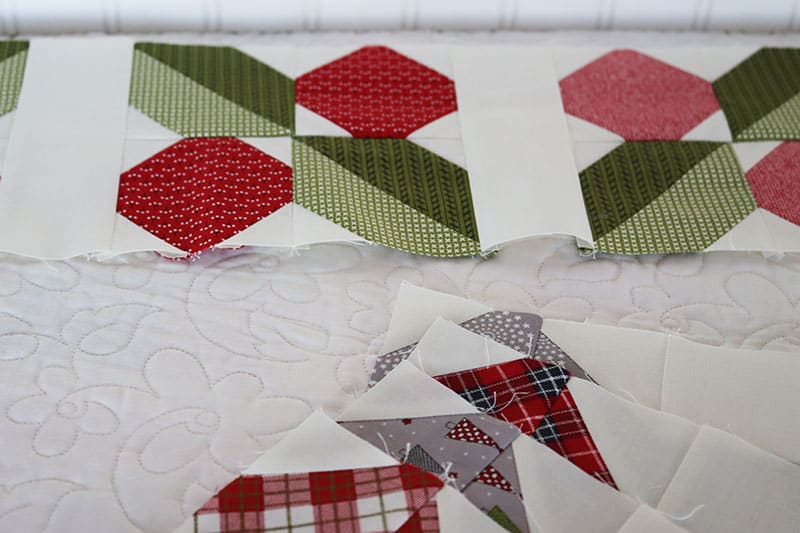 A Few More Things…
As I mentioned above, my quilt for this sew along is already at the quilters. So I'll be able to give you a few sneak peeks here and there. Next week's row is one of my favorites–any guesses as to what it is? Maybe by next week I'll be able to share some quilted sneak peeks along with my scrappy binding 🙂
Thanks so much for stopping by to read the All the Trimmings Mystery Quilt Week 1 post. Happy quilting!