Hello, friends! First, thank you so kindly for all of the lovely comments on our new Emma collection. I'll be sharing close-ups of the prints and color stories soon (along with the new patterns). But I thought I'd stop in today and share what I did after I finished all that sewing. I hope you'll enjoy today's Scrappy Quilt Projects: On My Table post where I'll walk you through my process after finishing up a month of sewing.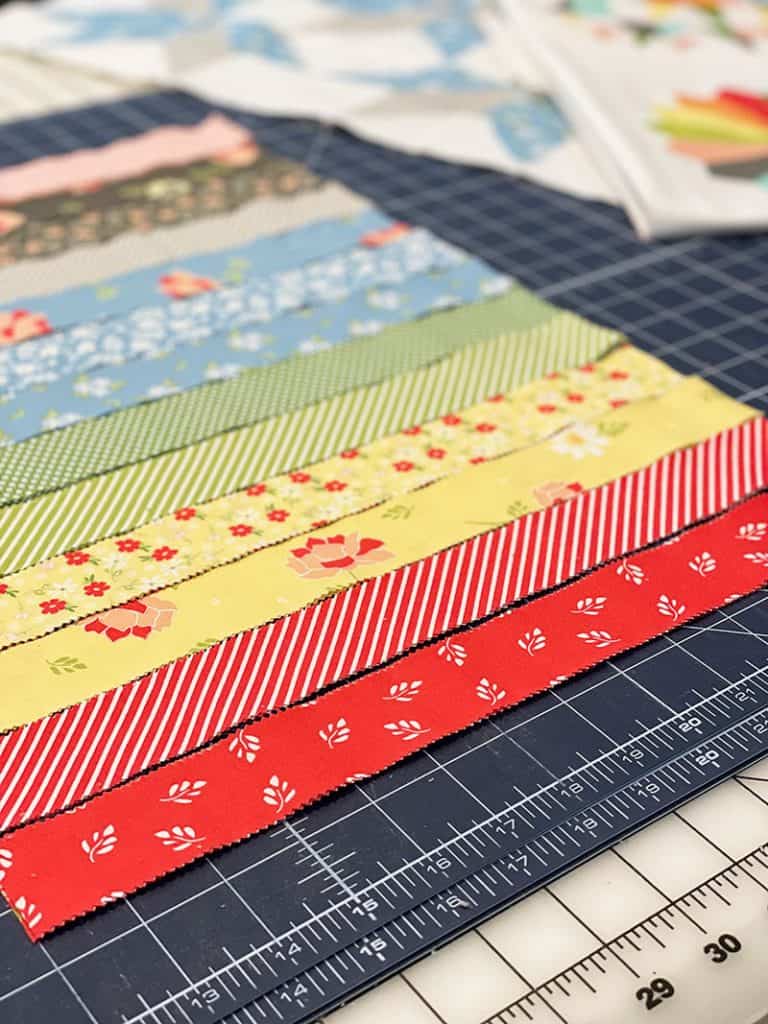 Scrappy Quilt Projects: On My Table
While I was sewing my new Emma quilts and projects, I kept the scraps from each quilt or item in a separate place. This is because I like to double check my patterns in this manner by using only what I require on the pattern back and making sure I haven't cut those requirements too close (it's nice to have a little leeway with fabric, but not too much). After a month of sewing, and finishing 8 quilts and projects, it was time to do a scrap sort.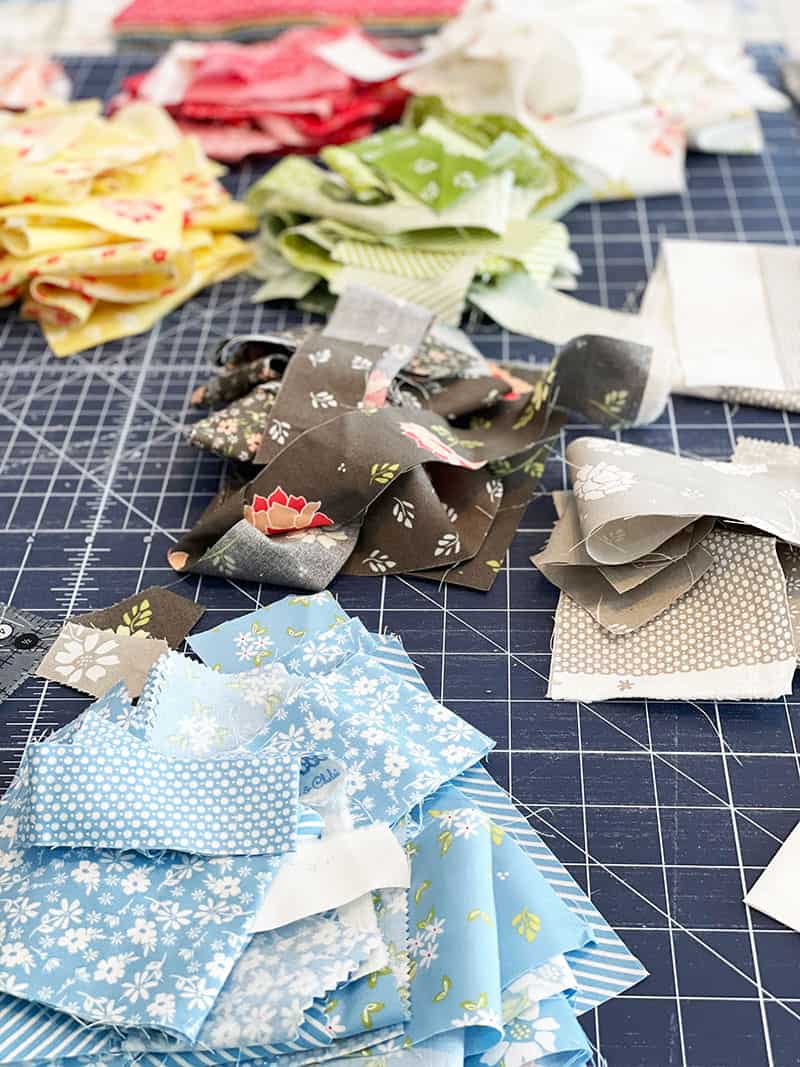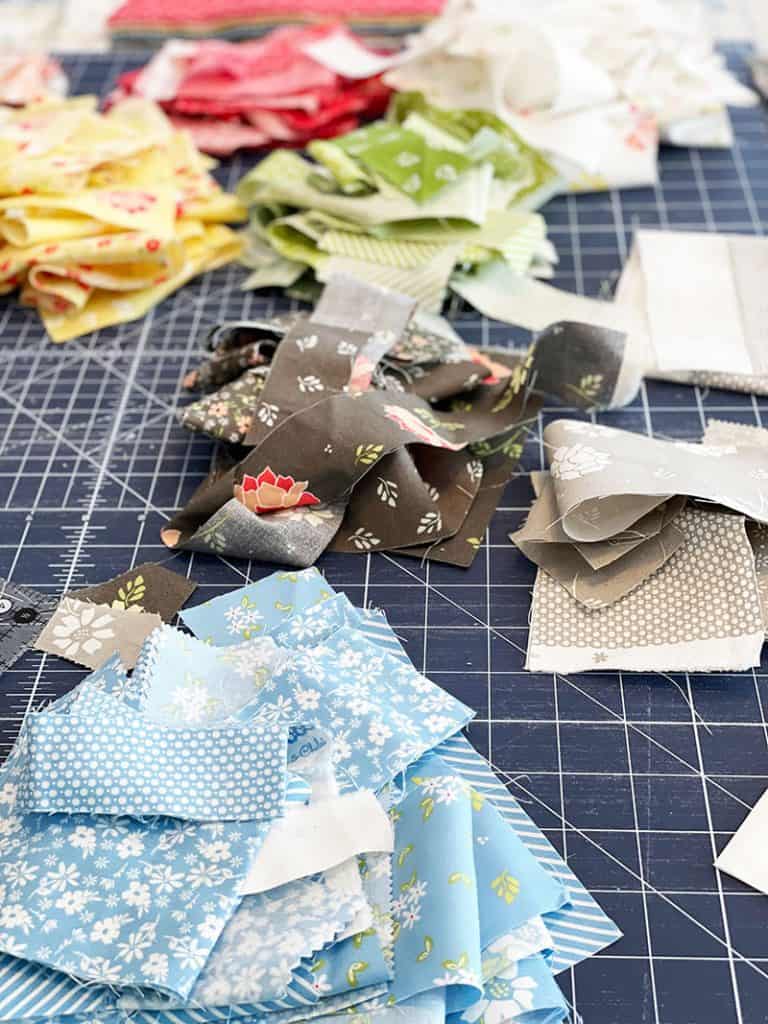 My Scrap Sorting Process
I first cleared off my table and put all of the scraps from all of the projects in the table center. Then I started moving them into piles by color. I didn't stop until I had every single scrap placed in a pile. Then, working on each pile one at a time, I took the largest pieces and cut them into five-inch strips. Next, I looked for pieces to cut into 3 ½″ strips and 2 ½″ strips. I cut the smaller pieces into 3 ½″ squares, 2 ½″ squares, and 1 ½″ strips. For now I'll keep these all together as I continue to make more small project to share this collection. But soon I'll move them into my larger scrap bins that are organized by size.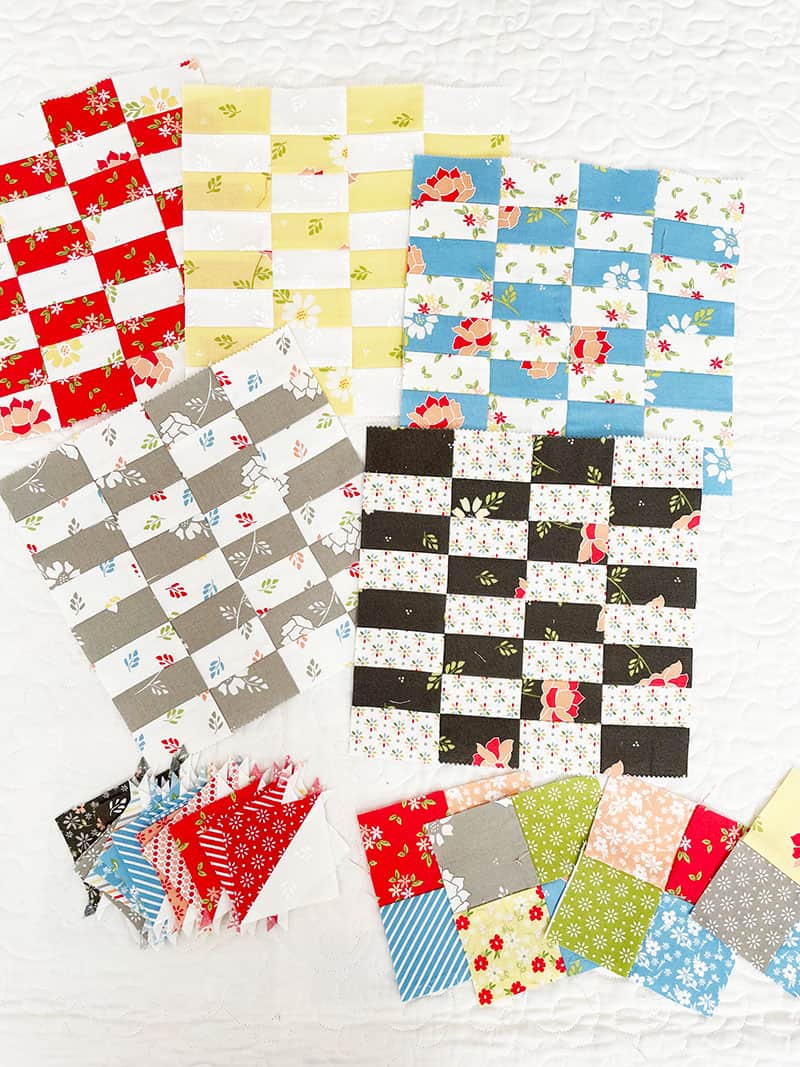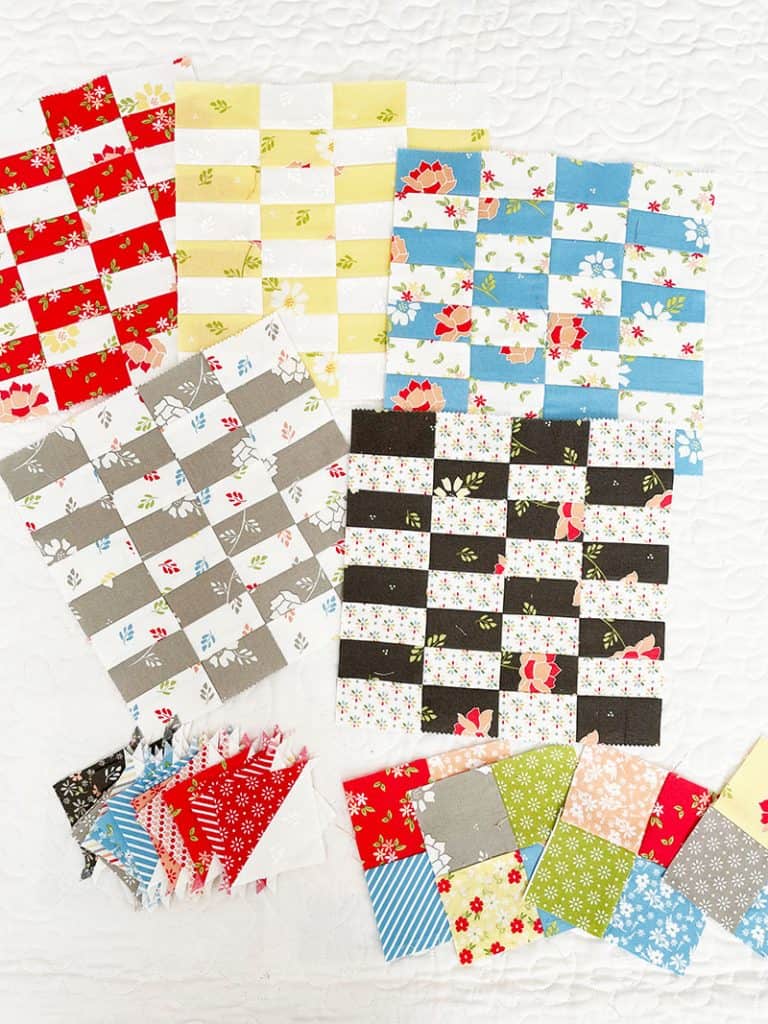 Scrappy Blocks
As I was sorting, I also got some things ready to sew. I used leftover Honeybun strips to sew some Honeybun blocks for a long-term scrap project of mine. I made four-patches for another Emma fabrics quilt I've started, and the triangle squares were pieced with left-overs from larger easy corner triangles. I've already got a project in mind for these, too.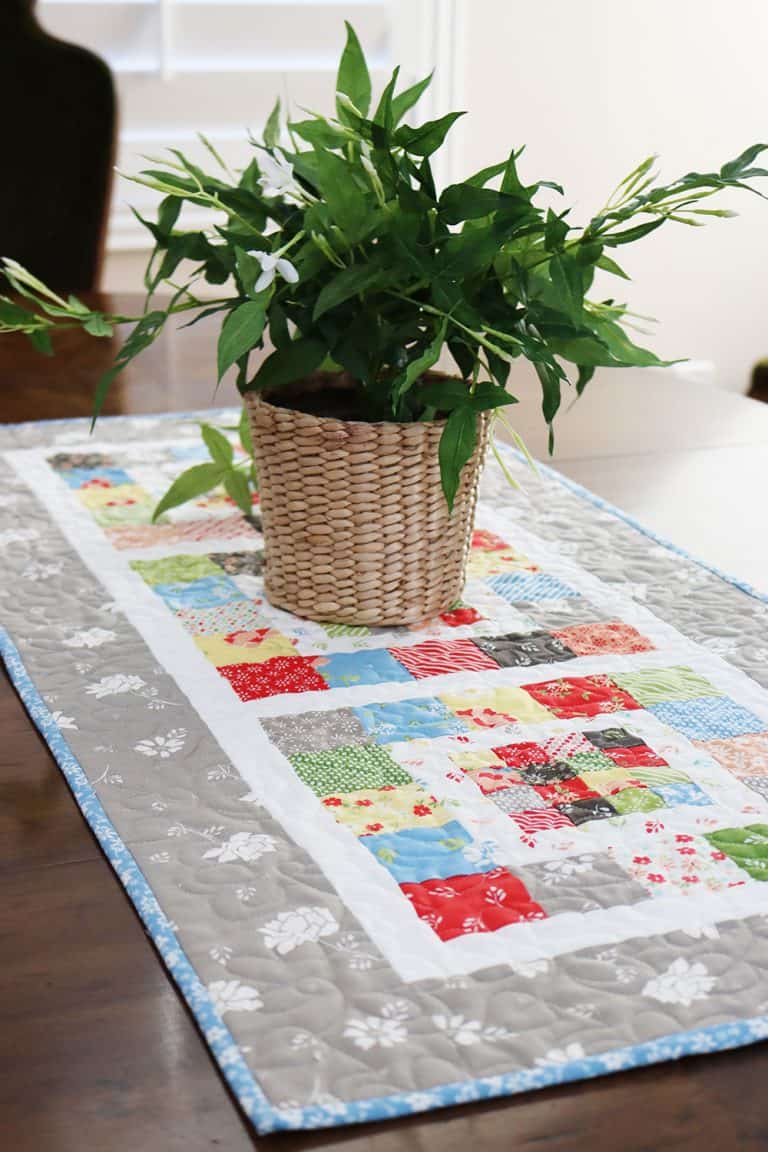 Scrappy Patchwork Table Runner
I also decided to make a fun Scrappy Patchwork Table Runner based on a free tutorial I have here on the blog. I finished it up in a couple of hours and had a friend quilt it up for me the next day. I love having it on the table already brightening up these last few weeks of winter. Here are the details for the runner: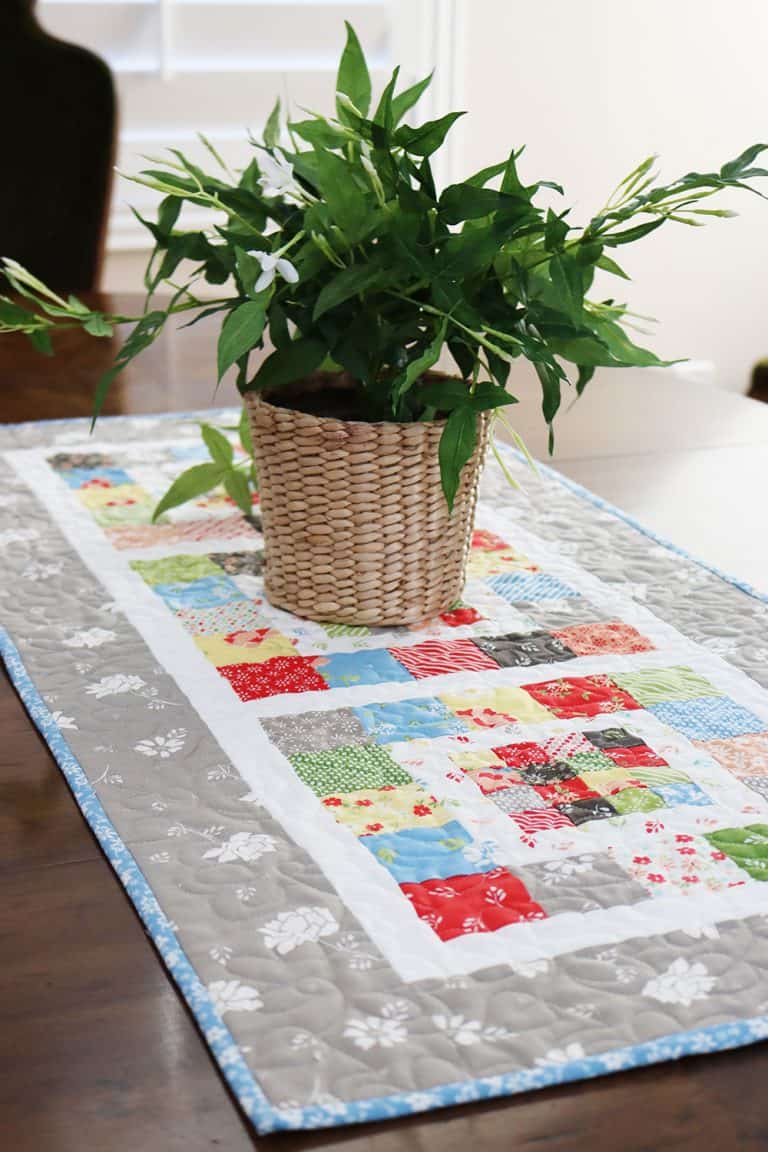 More About the Emma Fabric Collection
I'll be back soon to share even more about our Emma fabric collection. I hope you enjoyed today's Scrappy Quilt Projects post. Happy quilting!