Hello, friends: Happy Wednesday! I'm grateful to be able to sit down and write a quick quilt works in progress update post "just because." The last few weeks have been quite the whirlwind around here, and it doesn't look like it's going to slow down any time soon. Our Happy Days fabrics began shipping just as we were beginning to wrap up the introduction to our Sincerely Yours collection, and now we're busy behind the scenes working on patterns for a fabric collection we'll share at the end of the summer. Toss in a several publication projects and home rennovations that have been going on for a long time, and well, it's been the perfect storm of happy-crazy-busy.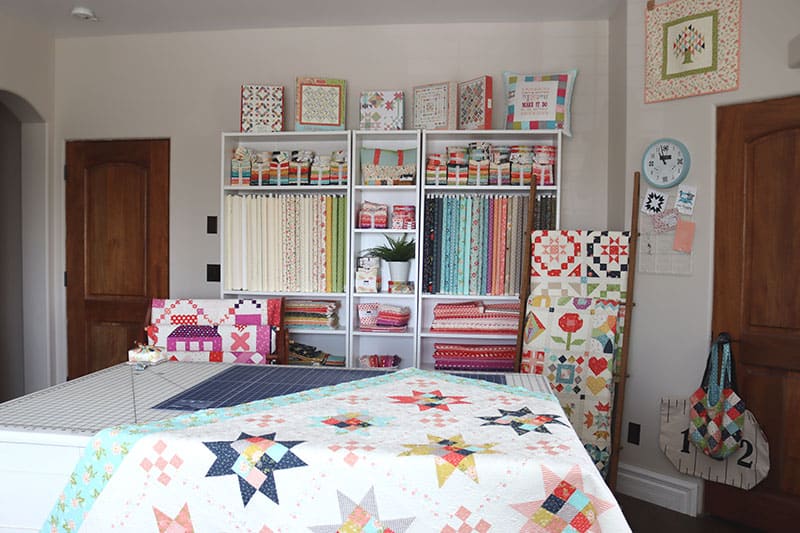 Quilt Works in Progress
Yesterday I was able to pick up my Patchwork Stars quilt from my quilter. I actually got the binding started last night as well, and I'll share a picture of it again when it's finished. I'm so happy with this quilt and have a few close up pictures later in this post. I've been working on several other projects that I'm not able to share yet, too!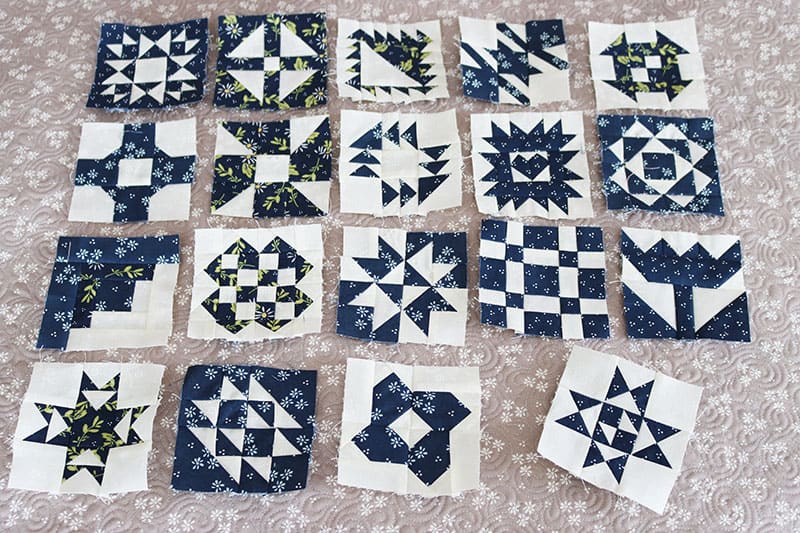 Sewcialites Block 27
Things were hectic last Friday, so I didn't get a chance to post my Sewcialites Block 27 (above, lower right). But it's finished, and I've been grateful to be able to begin getting caught up with these blocks with everything that's been going on. I can't wait to share this week's block, too! (Find all of the free Sewcialites block patterns here).
Home Rennovations
As I've mentioned briefly before we've had two bathrooms undergoing rennovations since February. One was a planned shower and floor makeover that we'd been planning on. I'm so grateful we did it because we found issues with both the shower and the toilet that weren't apparent before we removed the old shower and floor tile. This bathroom is just about finished and actually came together pretty quickly and easily. We sure love our tile guy who made it look beautiful!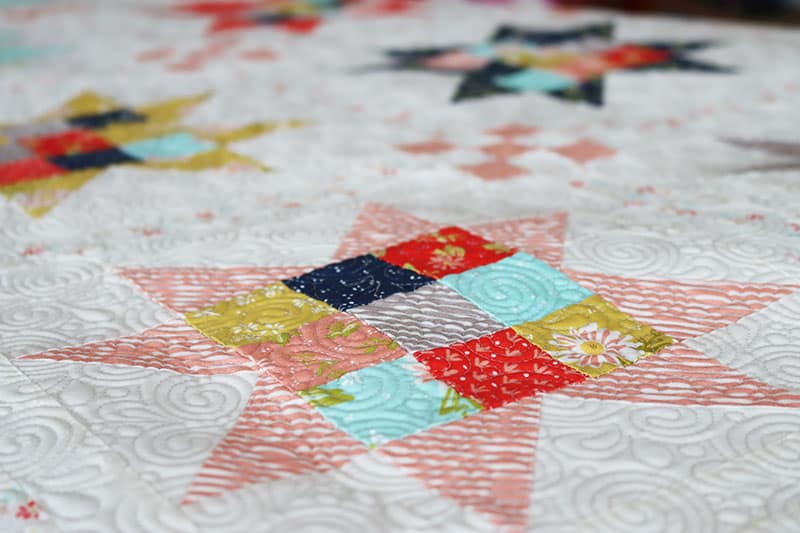 Unfortunately, our master bathroom remodel wasn't planned for now. We had it on the list to re-do in a few years–and found significant problems with it shortly after the holidays. The issues in this bathroom were major. Really major. In the end, the only things we were able to save were the window shutters and the cabinetry. (And we're going to have to have the cabinets painted). It's getting close to being finished, though: Tile should be finished today, and then just a bit of drywall, texture, and painting will need to take place before the finish plumbing. Some new light fixtures will need to be installed, too. I'll share some before, during and after photos with you in a couple of weeks (hopefully)!
I just want to thank everyone for their patience and kindness during this so busy time–it seems I've been slower than normal in replying to emails and questions. I hope to get back on a more regular schedule for that soon. Thanks so much for stopping by to read this Quilt Works in Progress + Life Lately post. Happy quilting!