Hello and happy Tuesday! Today I'm sharing the Quilting Life Mystery Block of the Month September 2018 blocks.  I usually try to post the new patterns earlier in the month, but our new collection started showing to shops at the same time!  Needless to say, things have been busier than normal around here, and I hope to be able to get back into a more regular  routine soon!  When planning out my year of blocks for this quilt along, I picked a simple block for this month…to make it just a little easier on me!  It's really a fun little pattern, and I did a couple of different things with the different blocks to show you a few options you have when putting them together.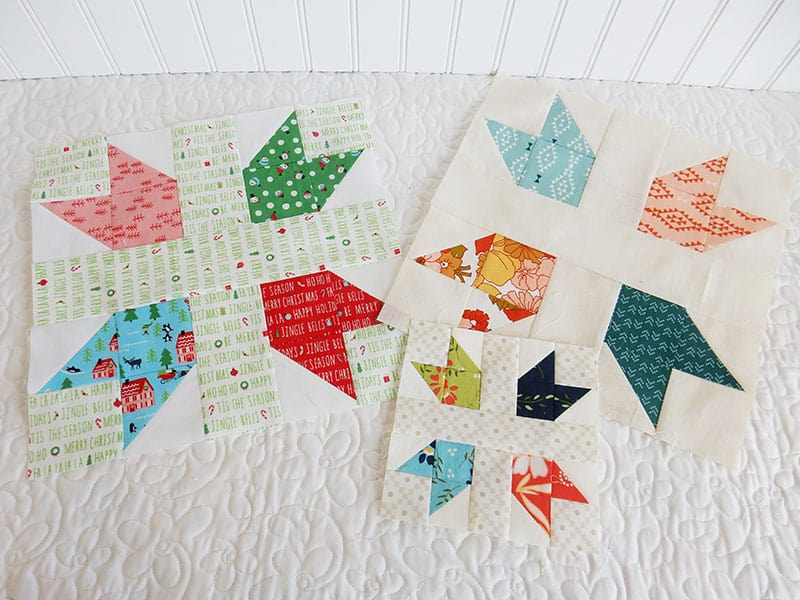 Here are my three versions of this month's pattern.  Now that we are in the 9th month of this quilt along, I'm super happy I chose to make three versions!  It's going to be a lot of fun to get these three finished up before the end of the year! (I'll be providing the December patterns sometime in November in case anyone sewing along wants to use their quilt for a Christmas gift).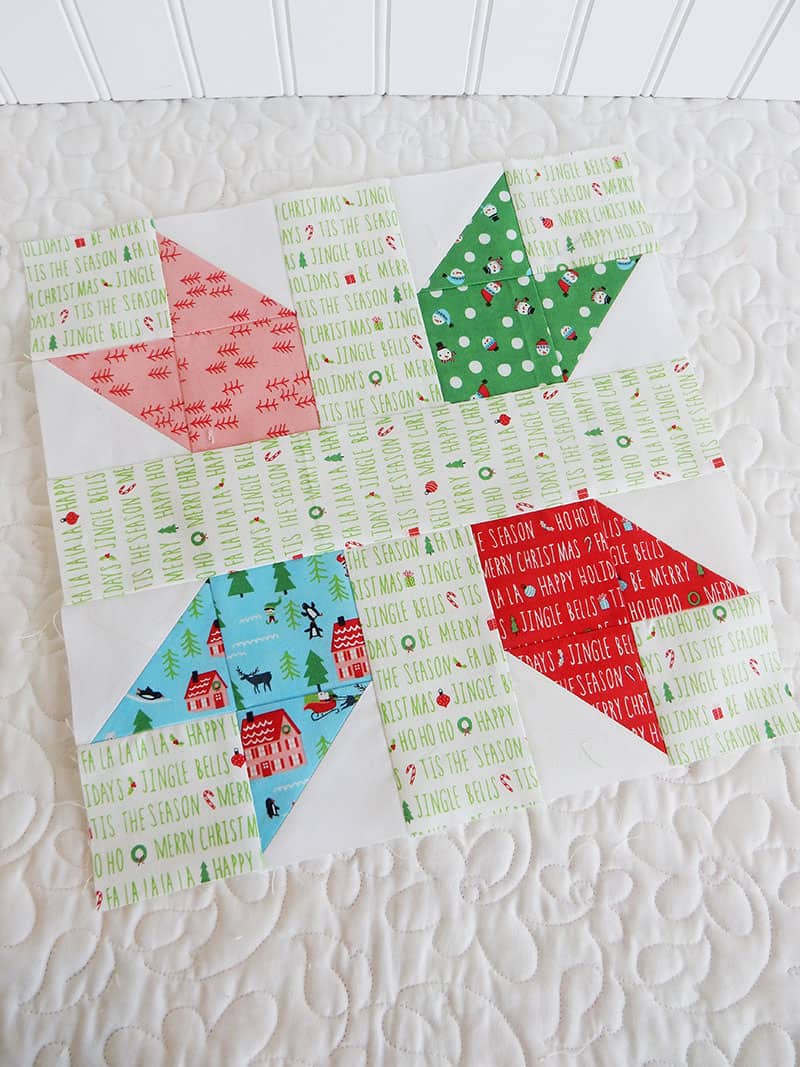 The Christmas Version:
The Christmas blocks are always so happy and cheerful!  And the fabric I'm using for my Christmas version, The North Pole can be found in shops now!  Find a great selection of it here!  I used the text on light for the sashing pieces and the outer corner squares and so used a solid white for the half-square triangles.  I think it might have been a little too "busy" to use the text for those pieces also.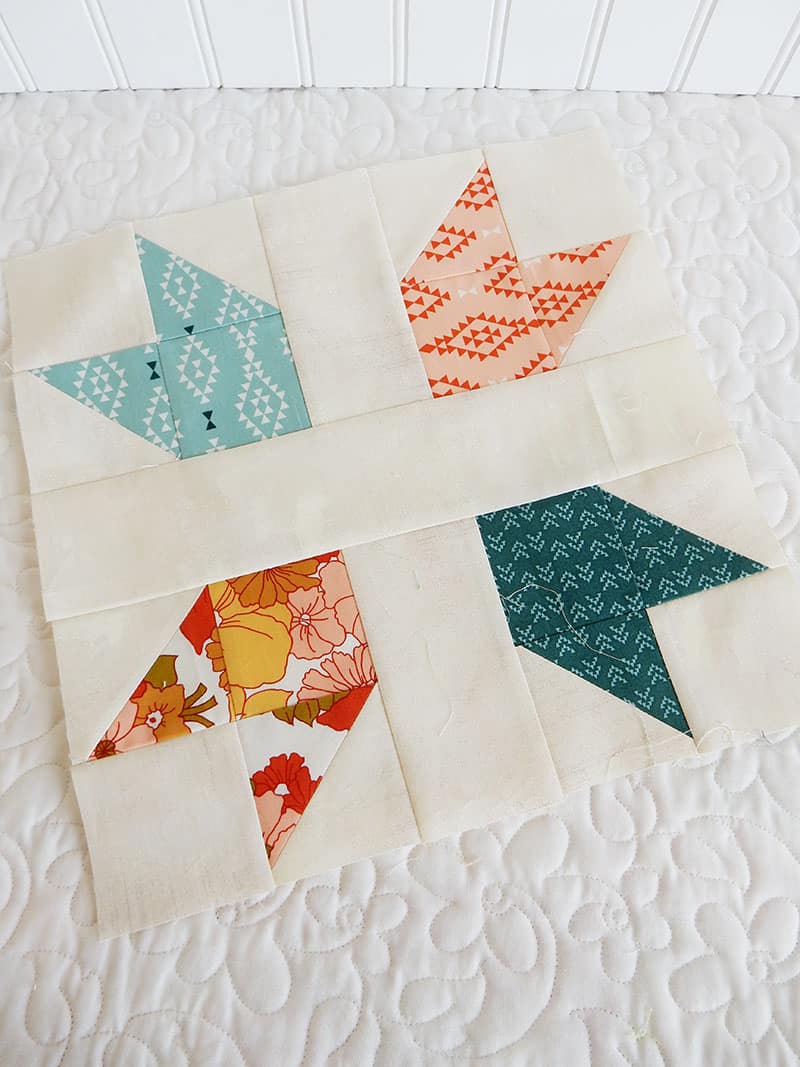 The Modern Version in Blues:
For my blue, coral and gold version I used this Moda Grunge fabric I used with my Waterfront quilt recently.  This particular grunge has been such a good background to use and adds a lot of texture without overwhelming the other fabrics.  You can also see how much more minimalist this block looks because I used just one background that reads as a near solid.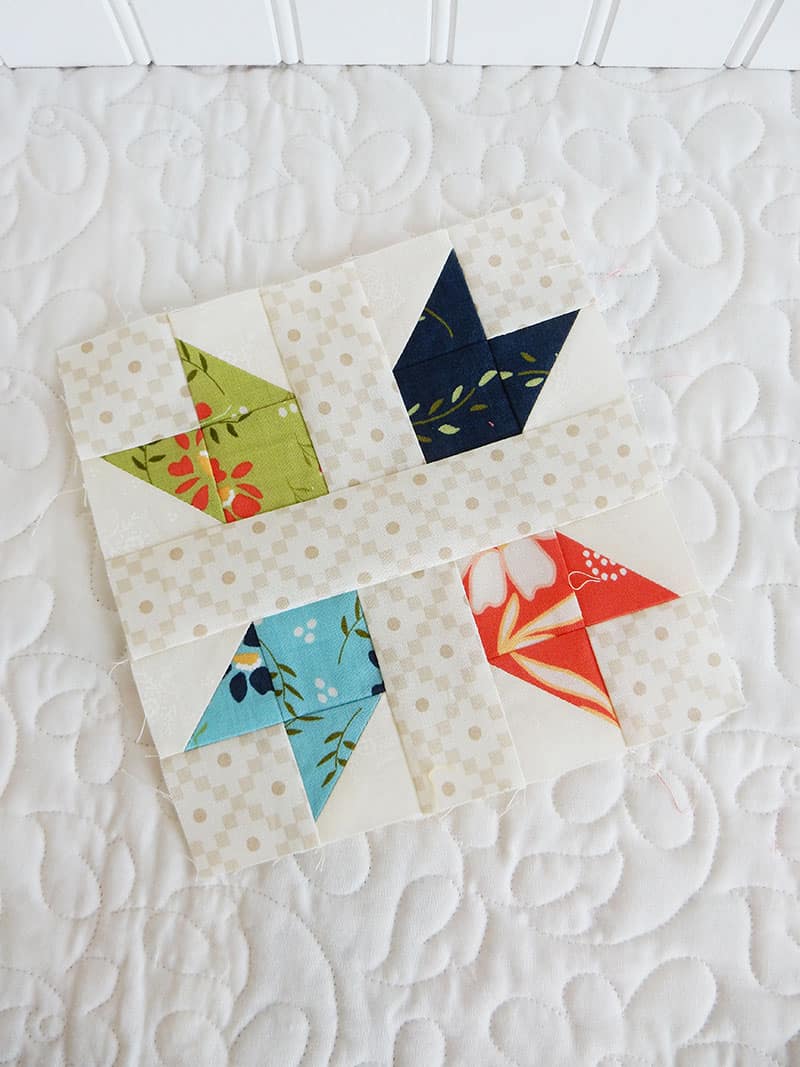 The Mini Version:
And the cute mini is made with fabrics from our upcoming Walkabout collection.  The mini version is definitely one of my favorites!  I again used two different background for this block, using our delicate tone on tone floral for the background of the half-square triangles and our journey nine-patch print for the sashing pieces.  I love this combination!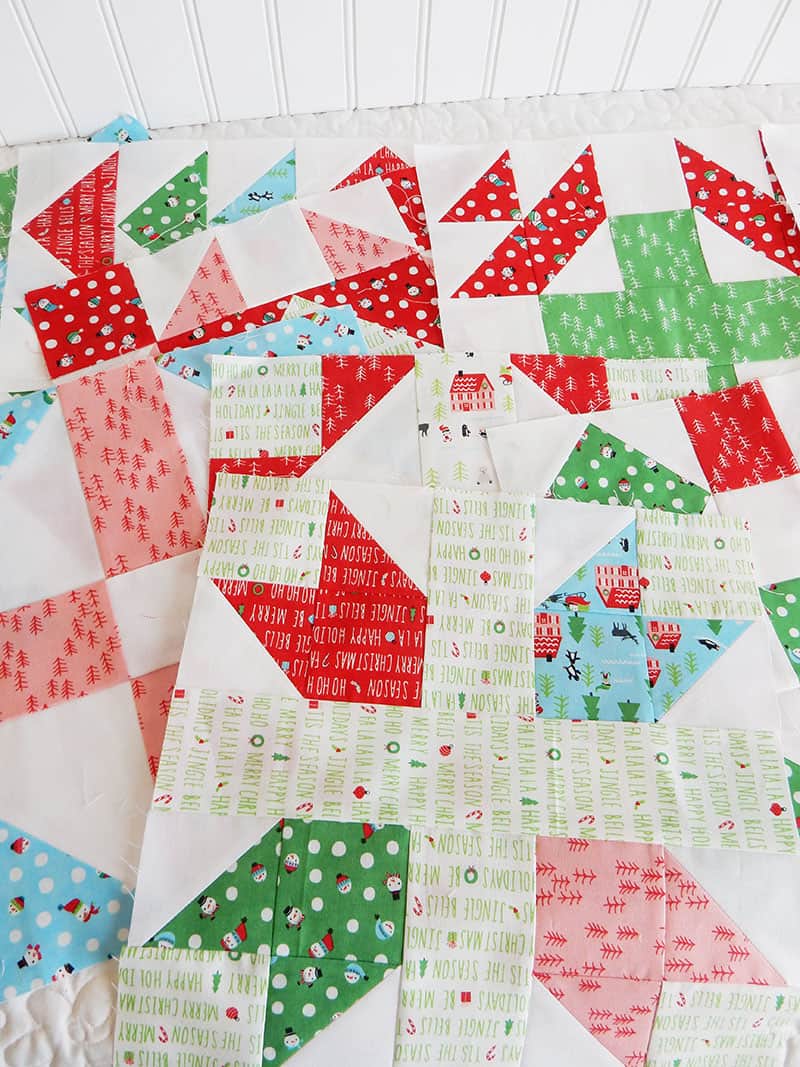 Ahh…these Christmas blocks!  I just love them!  I'm going to pick out border and binding fabrics soon and get them ordered!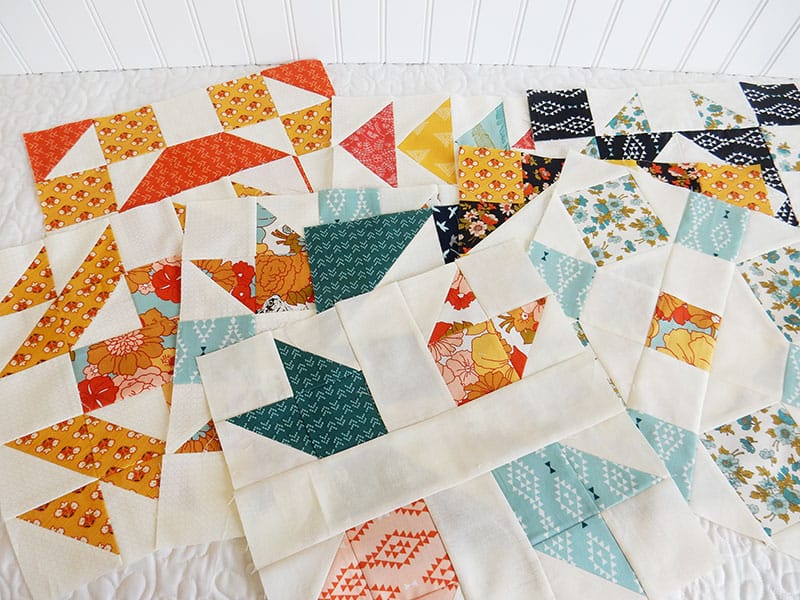 I'm loving this version as well!  Since I'm using scraps and stash fabric for these blocks I'll need to come up with ideas for border fabric soon!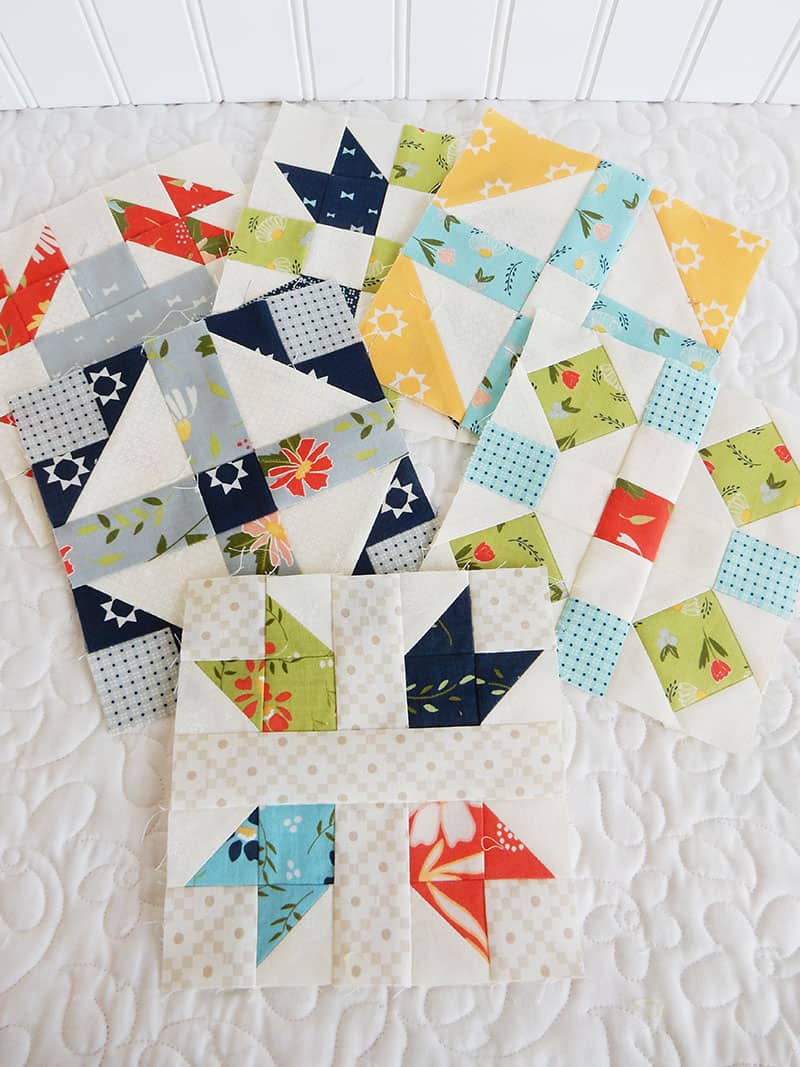 And the mini block versions!  I'm really loving the mix of Clover Hollow and Walkabout fabrics here! I still need to update the January, February, and March patterns with the directions for the mini size.  I will get that finished up soon!
A Quilting Life Mystery Block of the Month September 2018 Notes: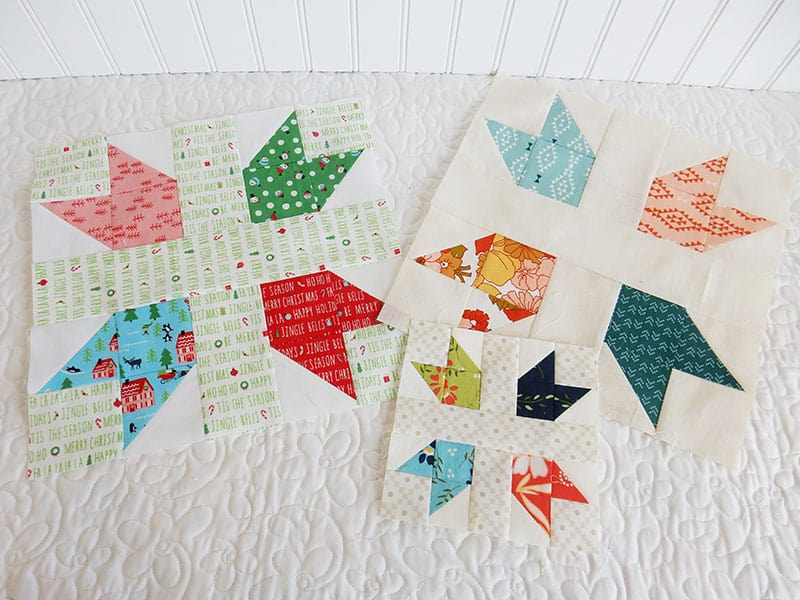 Happy quilting with the Quilting Life Mystery Block of the Month September 2018 patterns!  And thank you so much for your patience since this month's block was a little late!  Thanks so much for stopping by!  I'll be back tomorrow with the three Moda Block Heads blocks releasing this week!