Hello and happy Wednesday!  It's Moda Block Heads 2 Block 7 release day!  Are you sewing along?  I've been seeing a lot of fun blocks in different fabric combinations on social media.  We're definitely moving right along with this quilt along! I feel like one block a week is definitely doable–especially once fabric choices have been made!  I'm excited to share my block with you today and also to share my thoughts on constructing the units that make up this cute block!
This week's block is called Spin Cycle and was designed by Moda designer Stacy Iest Hsu.  I decided to use all Clover Hollow fabrics to make my block.  I actually made this block a couple of weeks ago (right around the 4th of July).  The holiday definitely influenced my fabric choices, lol!  This block is made of four identical units.  Rather than following the pattern directions, I pieced each of those units just a bit differently.  I made them slightly over-sized then trimmed to the perfect size.  I'll list cutting information for using this method below.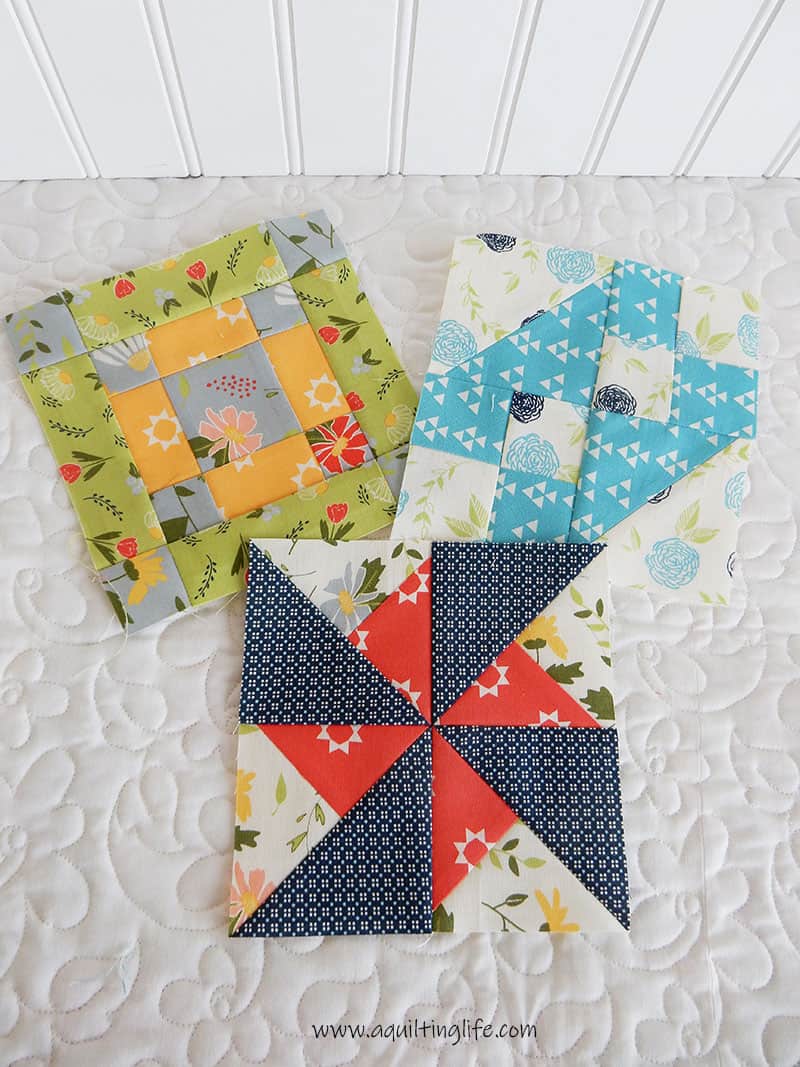 Last week I shared a picture of our three 12″ x 12″ finished blocks, so I thought a picture of the first three 6″ x 6″ finished blocks was in order.  I just love these little blocks!
And of course I had to get a picture of all seven of the blocks so far! I think I need to add a bit more yellow…so I will definitely be using yellow for my next block!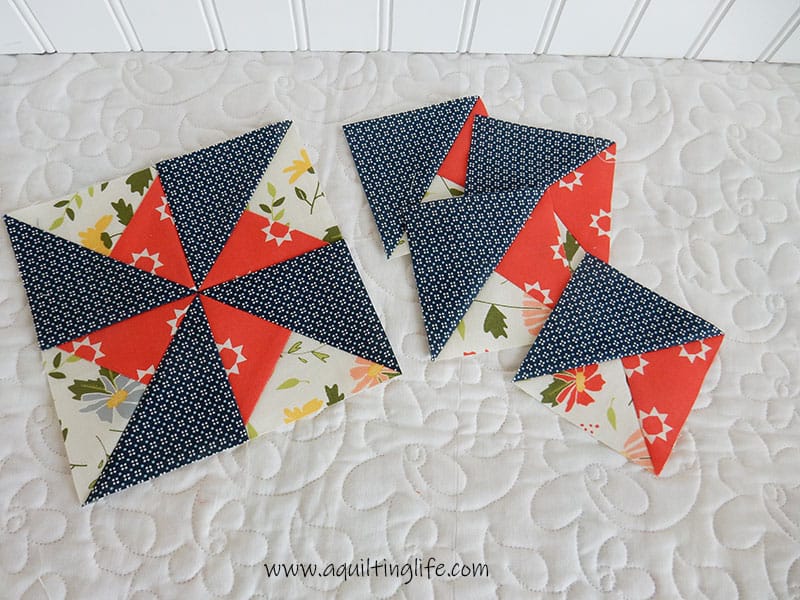 Here is my finished block again–and you'll notice I also have four additional units that are mirror images of the ones I used in my block.  The method I used to  piece the smaller units yields the additional units.  So I'm saving them and hopefully will be able to use them in a later block.
Directions for Making over-sized units to trim:
Cut two squares 4 ½″ x 4 ½″ each of both A fabrics (4 squares total)
Cut four squares 4 ⅛″ x 4 ⅛″ of the B fabric
Don't cut any of the squares as directed in the pattern PDF.
Make half-square triangles using one of each of the two A fabrics.  Press towards the darker fabric.  Repeat with the other two A squares.  Make 4 half-square triangles.
Place each of the half-square triangle units right sides together with a fabric B square.  Draw a diagonal line corner to corner perpendicular to the seam between the two A fabrics.  Stitch ¼″ away from either side of the drawn line and then cut on the drawn line to make 8 units.
Separate the 8 units into 2 piles of four identical units.  Trim the units to measure the same size as directed in the Block Heads Spin Cycle PDF (measurement given at the end of step 1).
Assemble as shown in step 2.
For a video tutorial of this method you can go to this post (I'm making quarter-square triangle units in the video, but the method is the same).

Moda Block Heads 2 Block 7 Links:
And Find the other Moda Block Heads here:
Happy quilting with the Moda Block Heads 2 Block 7!  Thanks so much for stopping by!