Hello and happy Wednesday!  Right now I'm working on several things I won't be able to share just yet, but I also finished up a work in progress this week!  My red, blue, and cream quilt is now bound and ready to use!  If you've been following for a little while you might recognize this quilt. It was pieced all from my stash, and uses the Fat Quarter Shop 2017 Patchwork Quilt Along pattern.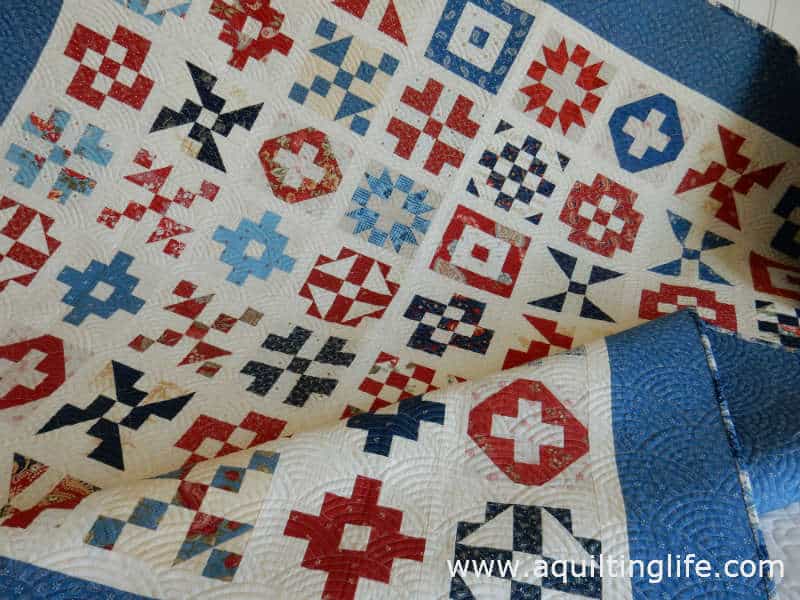 While I was piecing this quilt throughout 2017 I posted monthly, sharing my blocks and sewing process.  I stayed caught up throughout the year, making  six small blocks each month.  I used different backgrounds each month so that my finished quilt would have a variety of background fabrics. The finished quilt is a really fun mix of backgrounds and prints with all fabrics by Minick & Simpson.  Luckily, I had fabric on hand for my border and backing as well.  Early in January of this year I shared my finished quilt top.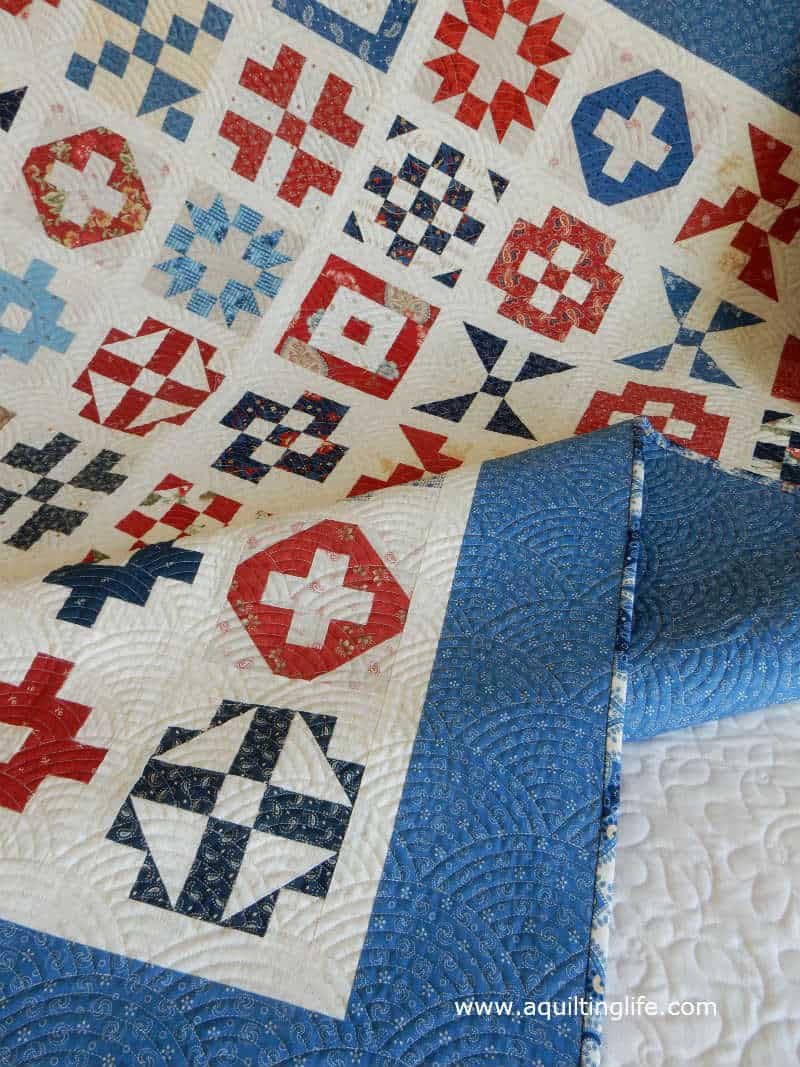 This was quilted not too long after I finished it.  But I  still couldn't decide on binding.  I kept thinking I would bind it in red, scrappy red prints, or dark blue.  Since I usually bind my quilts in a dark fabric to act as a frame, I wasn't even thinking of the print I eventually used.  With so much indecision on the binding, I set it aside when my market sewing began.  The other day I was looking for fabric for another project and found this Polka Dots and Paisley print. I decided it would make a perfect binding.  It adds a little bit of contrast, blends with the blue, but also acts as a nice frame for the finished quilt!  I couldn't be more happy with this binding.
It's really nice to have this one finally finished…and just in time for my summer decorating!  I usually put away my spring quilts in May and switch them out for my red, blue, and cream quilt décor.  I generally keep these quilts out at least through the 4th of July and sometimes through Labor Day.  This quilt makes a great addition to my little red, blue, and cream quilt collection (you can see some of my favorite red, cream, and blue quilts on this post).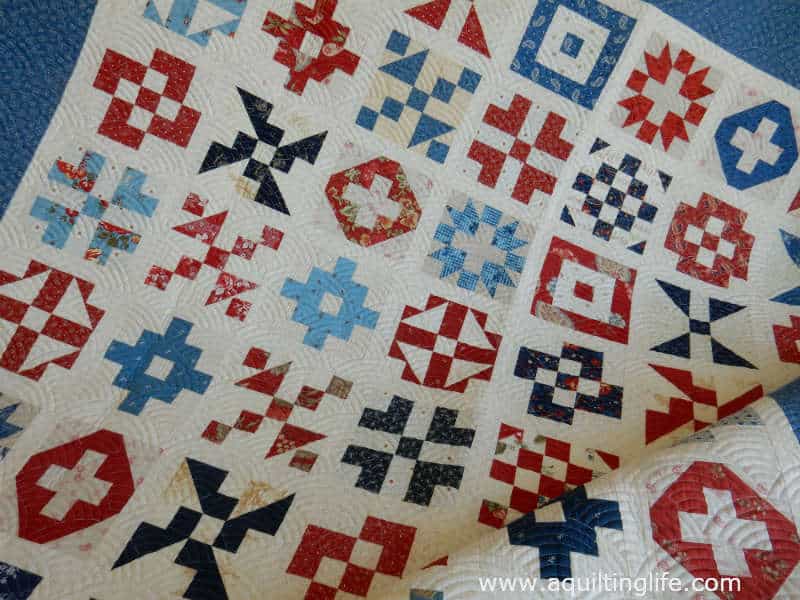 The Baptist Clams quilting design my friend Marion used to quilt this one suits this quilt perfectly.  This is actually one of my favorite all-over quilting designs because it looks good with so many different patterns!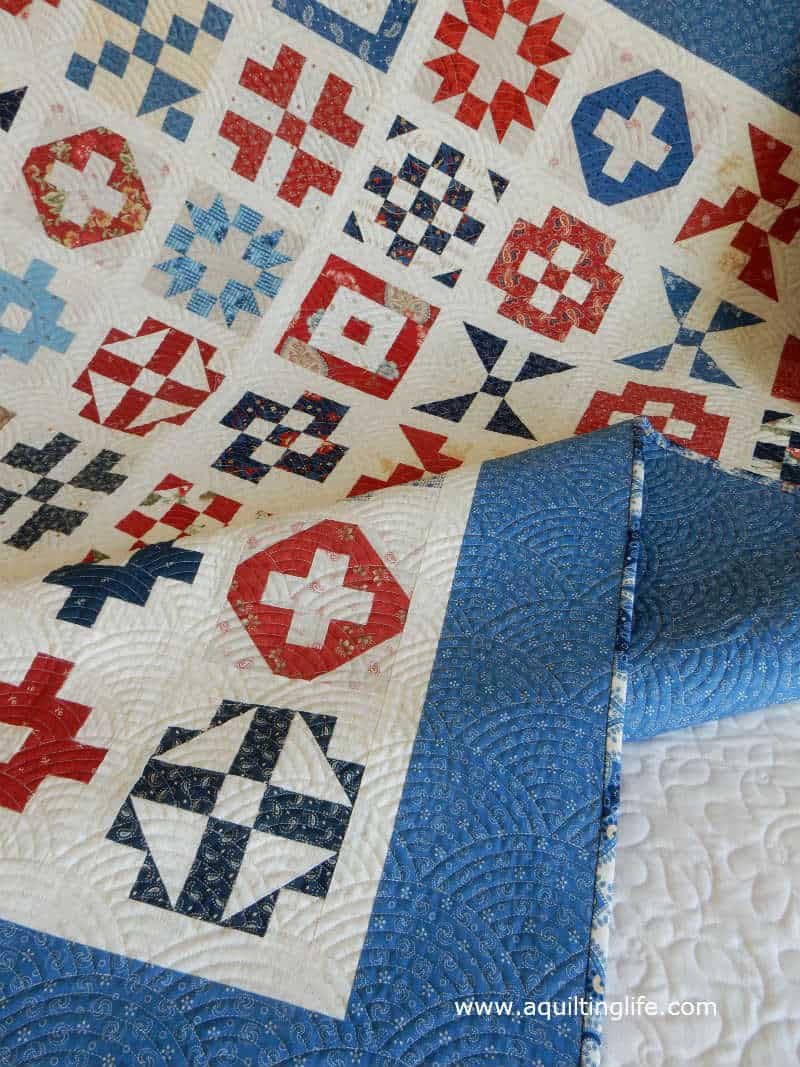 If you love red, blue, and cream quilts, you might also like the following Pinterest boards:
My favorite red, blue, and cream quilts
I hope you have a wonderful day!  Thanks so much for stopping by!