Hello, friends, and happy Friday! I hope you had a wonderful week and are looking forward to a terrific weekend. Over the past few days I finally decorated with my fall quilts and décor. (I do still have one more quilt to add to the mix when it arrives home next week). So I hope you'll enjoy today's post on How to Decorate Your Home with Fall Quilts.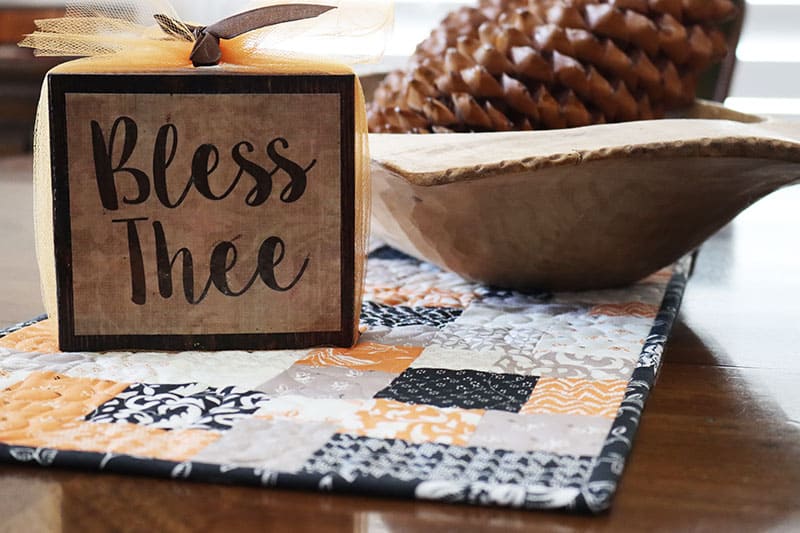 How to Decorate Your Home with Fall Quilts
We are spending our first fall in our new (to us) home this year, and it's been fun figuring out the best ways to decorate. We lived in our previous home for 14 years, so I had everything figured out and didn't have to think much about it each year. So, it was fun to write this post after I did this year's decorating.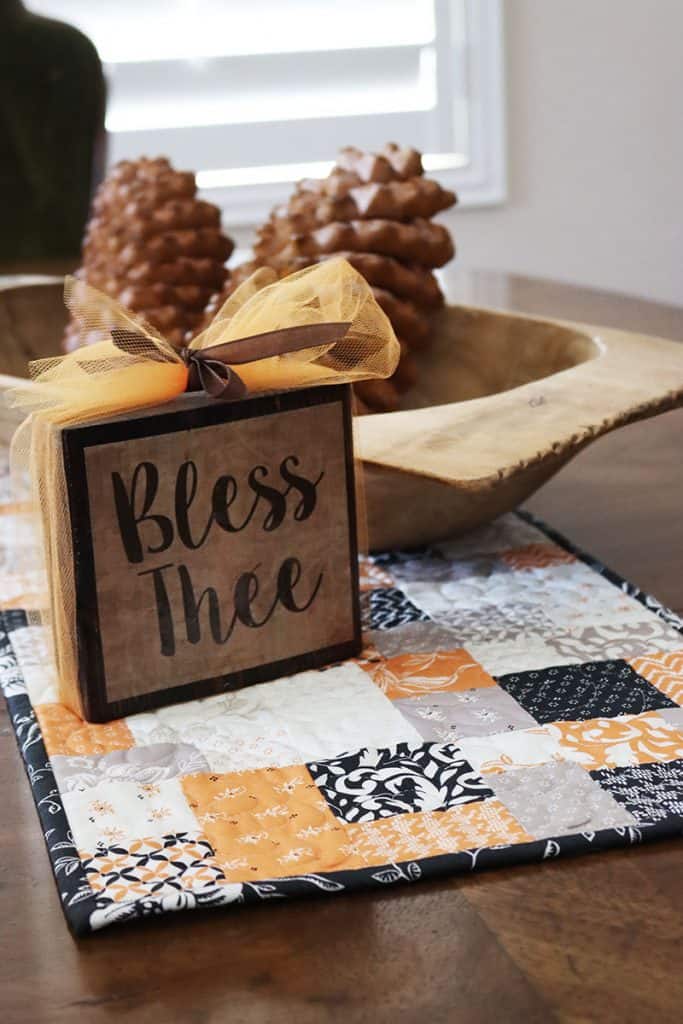 Use Quilted Table Runners and Toppers to Add a Touch of Fall to Your Décor
I have a few different table runners and toppers I like to use for fall. Some are pieced with decidedly fall-themed fabric collections; however, some of them are made with fabrics in autumn tones. The Mini Brick Road runner is pieced from the fall-themed All Hallow's Eve collection, while the Maple Sky Mini topper on the right uses a variety of Fig Tree fabrics in fall tones.
Use a Ladder to Display Fall Quilts
My daughter Chelsi displays her Pick of the Patch fall quilt from the October 2020 issue of American Patchwork & Quilting on a ladder in her family room (pattern now available in her shop from the link under the photo). This quilt uses fabrics from our Summer Sweet collection in greys, oranges, and lights. I have a fun fall quilt I'll be hanging in my family room next week as well that uses these same fabrics!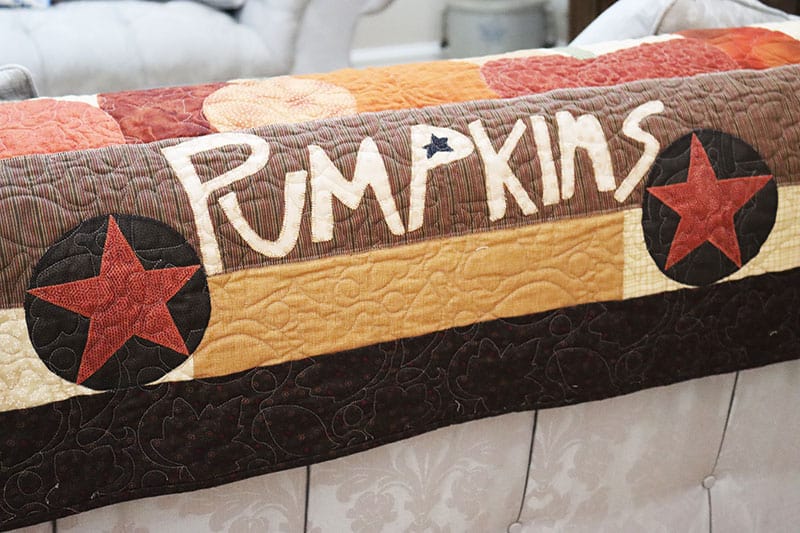 Drape Small Quilts over Sofas and Chairs for a Fall Feeling
The Pumpkins quilt above is one I made several years ago. I believe it was a Country Threads pattern but don't have a source for it now. I love it draped over the edge of a sofa in our front entryway. Runners, toppers, and even lap-sized quilts all look good draped on chairs and sofas.
Use a Fall Pillow Display to Decorate a Table Top
And, I don't just use pillows on couches! They also make a fun addition to tables and other accent pieces. I change the décor on the top of this little cupboard with the seasons. Right now I'm loving that it's home to my two newest pillows, my Maple Sky Mini, and my Fig Tree fabric pumpkin!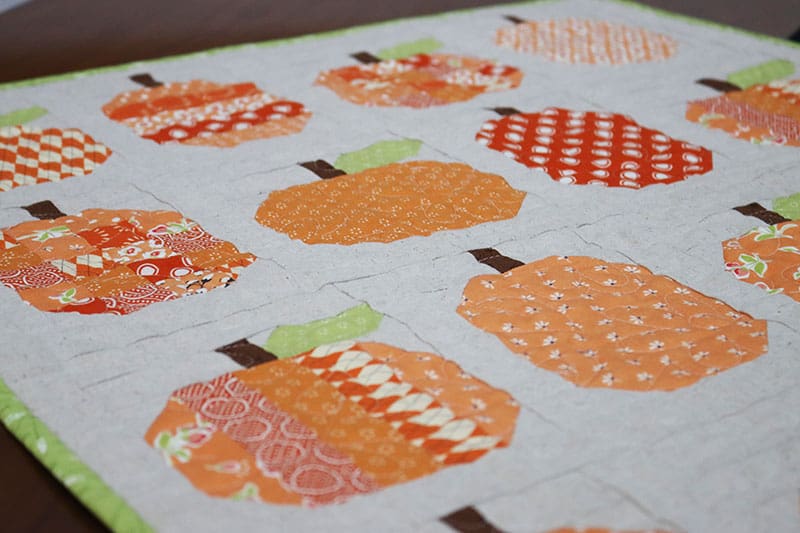 Hang Fall Quilts on the Wall
I have both my Mini Pumpkins quilt and my Fall Dash hanging on walls right now to add more "fall" to our home for the season. Even though we are still dealing with 100+ temperatures, these fall colors and designs are bringing a cheerful tone around the house.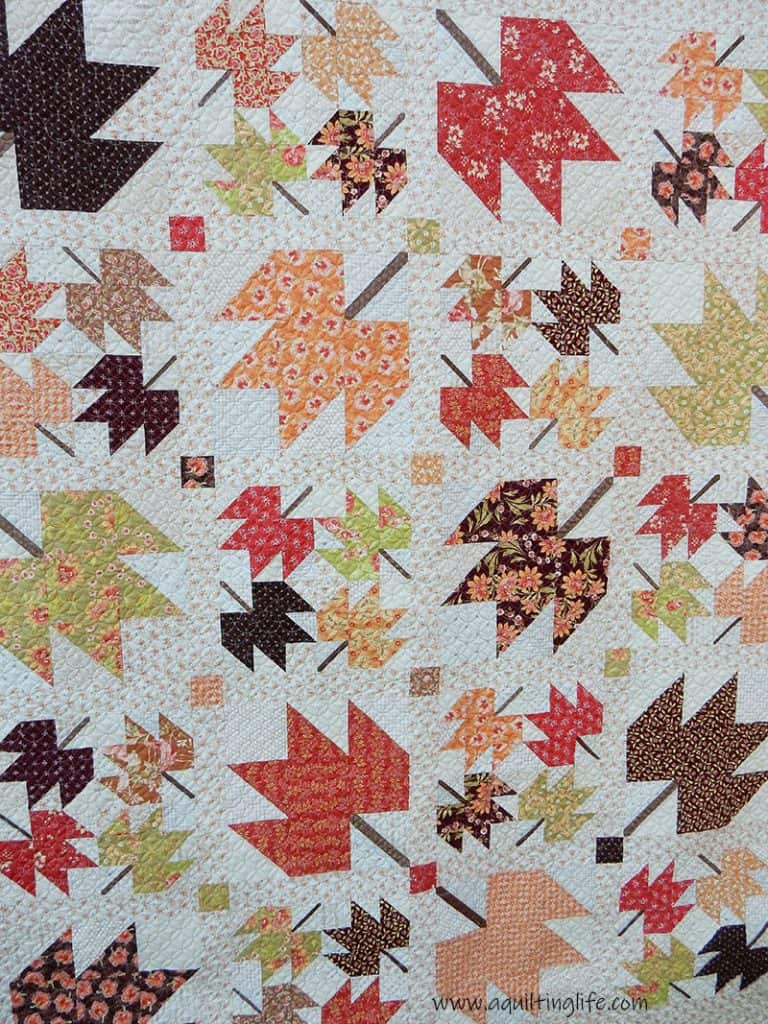 Use Fall Quilts as Tablecloths and…as Quilts!
Medium-sized fall quilts make great table cloths. And, I generally keep one or two of my bigger fall quilts in a basket or draped over the arm of a couch so that people can have a seasonal themed quilt available for chilly evenings. Right now my larger quilts aren't getting much use, but I'm hopeful that in a few weeks the evenings will really cool down! In the future I'd like to piece a fall quilt for all three beds we have in our home.
More Ideas with Fall Quilts and Décor
Here are a few of my previous posts sharing my fall quilts and décor for more inspiration: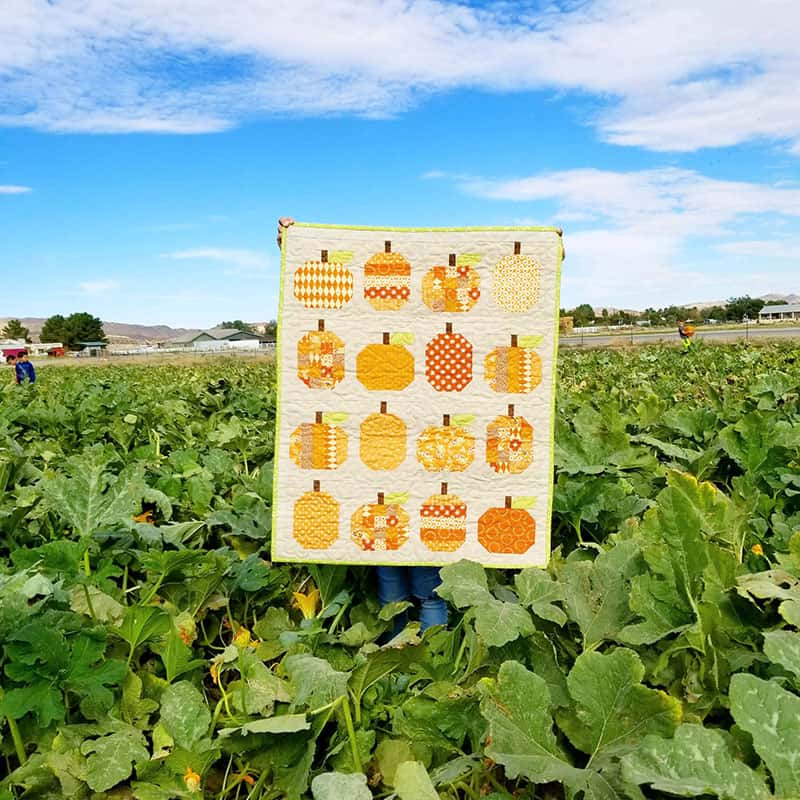 Projects & Quilt Pattern Links
And, find links to most of the fall quilts and projects I have displayed in our home:
Favorite Fall Projects Video
Finally, I have a video to share! Watch my Favorite Fall Quilts & Projects Video above, or go here to watch it on my YouTube channel.
I hope you enjoyed this post on How to Decorate Your Home with Fall Quilts. Happy quilting, and thanks so much for stopping by!