Hello, friends! Today I'm sharing my Houston Quilt Market 2023 Part 2 post. Today I'll share the booths from the Shops at Moda section. I'm always a bit partial to the Moda section and feel like they are always THE place to be (of course I am a little bit biased). But when you see these amazing booth photos, I'm sure you'll agree.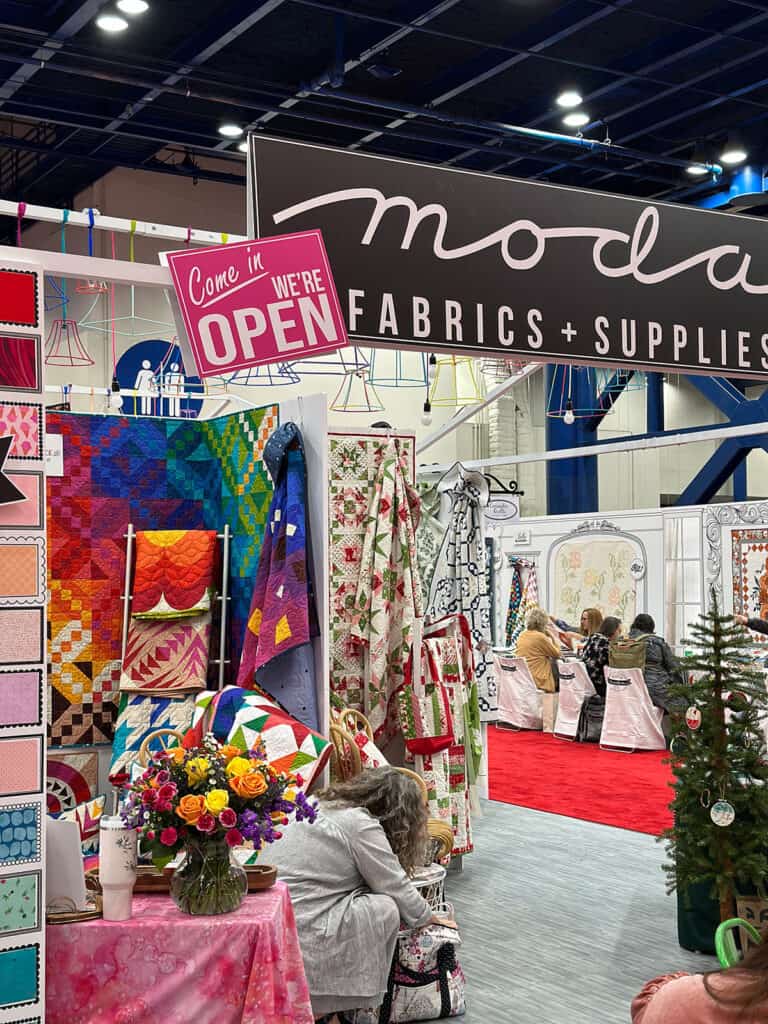 Houston Quilt Market 2023 Part 2
Moda Designer Booths
The Moda Designer Booth section contained a delightful arrangement of the most recent catalog collection groups with a few other collections included from the July catalog. Since there were a lot of holiday groups shown at market, I've combined them together.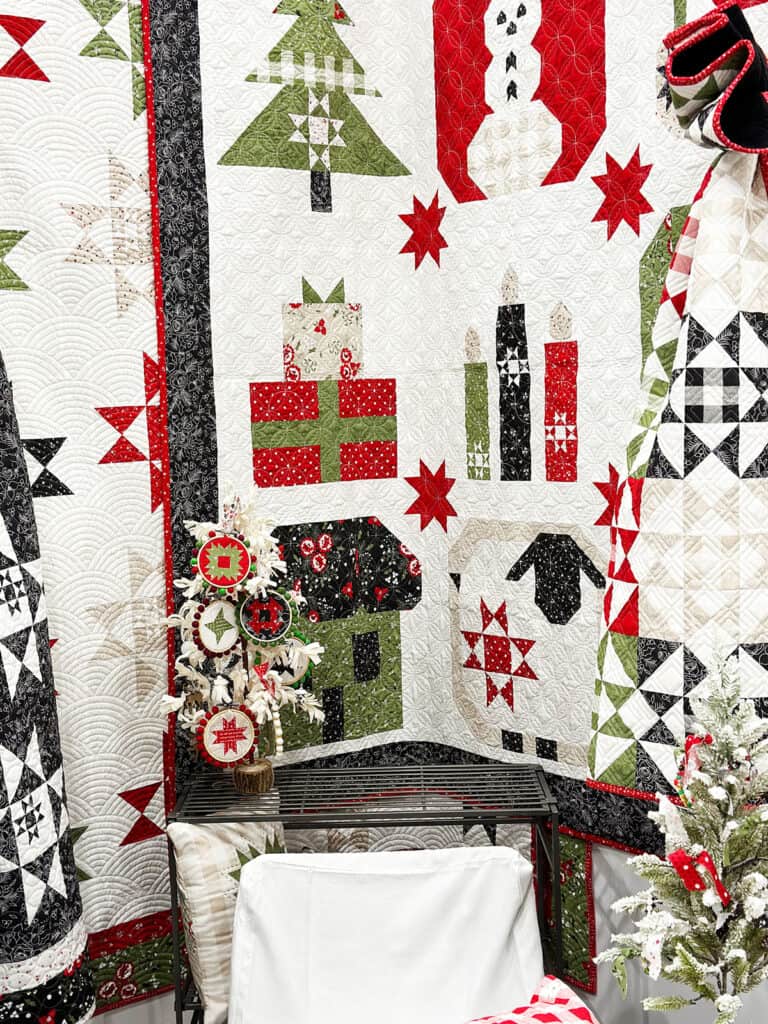 Christmas Collections
Now that I've compiled all of my photos, I know why I just want to sew for Christmas now that I'm home. There was a lot of Christmas inspiration to be found in the Moda section. This first group of booths are probably the ones I saw the most since they were right across the aisle from us. Some days we didn't get too far from our booth, but we always had a glimpse of these three lovely booths:
Corey Yoder's Starberry is oh so beautiful!
Jackie from Sweetfire Road shared Once Upon a Christmas.
And Stephanie from Fancy that Design House shared Cozy Wonderland.
More Christmas Collections
Jenelle Kent shared her beautiful Panache Wovens, Slub, and Toweling fabrics and had lots of fun Christmas projects displayed, too! Top left and center above are both Jenelle's displays.
And Lisa Bongean shared her delightful red work inspired Dear Santa group.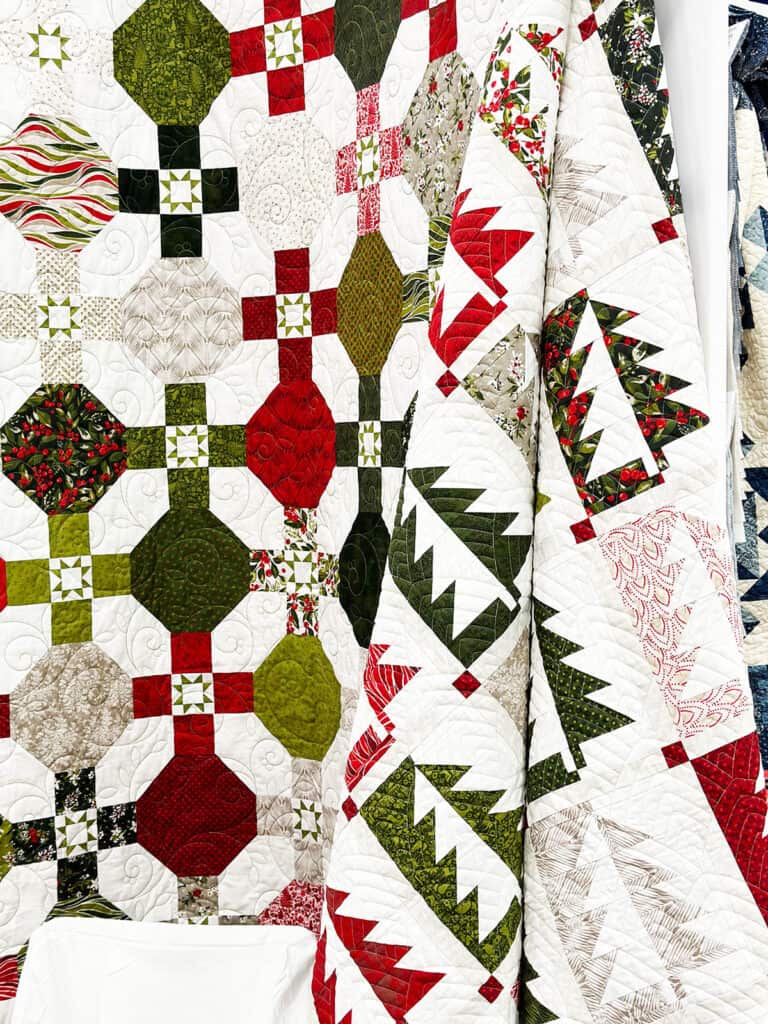 Some More Holiday Groups
Winter collections were also well-represented and included the following:
Basic Grey's Pine Valley
Deb Strain's Woodland Winter, and
Robin Pickens's Winterly (above right)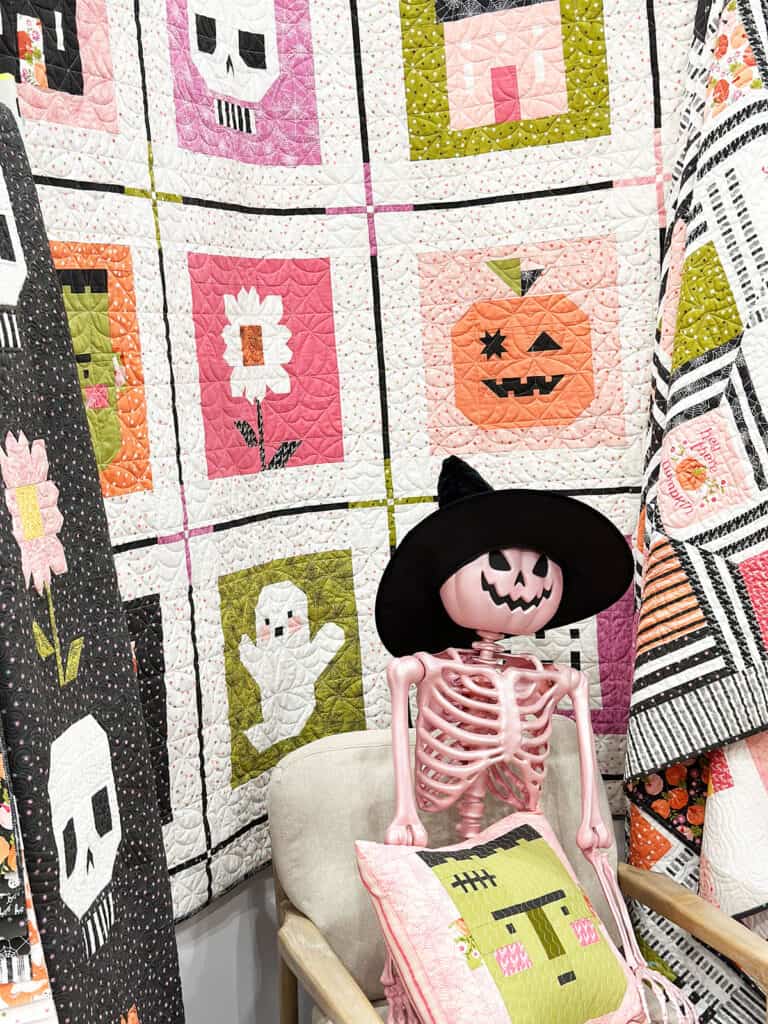 Halloween and the Great Outdoors
There really was something for everyone at this market, and I loved both of the above collections:
Vanessa Goertzen of Lella Boutique shared her delightful Hey Boo collection. I came home with a few mini charm packs of it for a little project I'm working on for next year.
And Stacey Iest Hsu shared her The Great Outdoors group along with some really beautiful Classic Retro Toweling with some fun holiday options.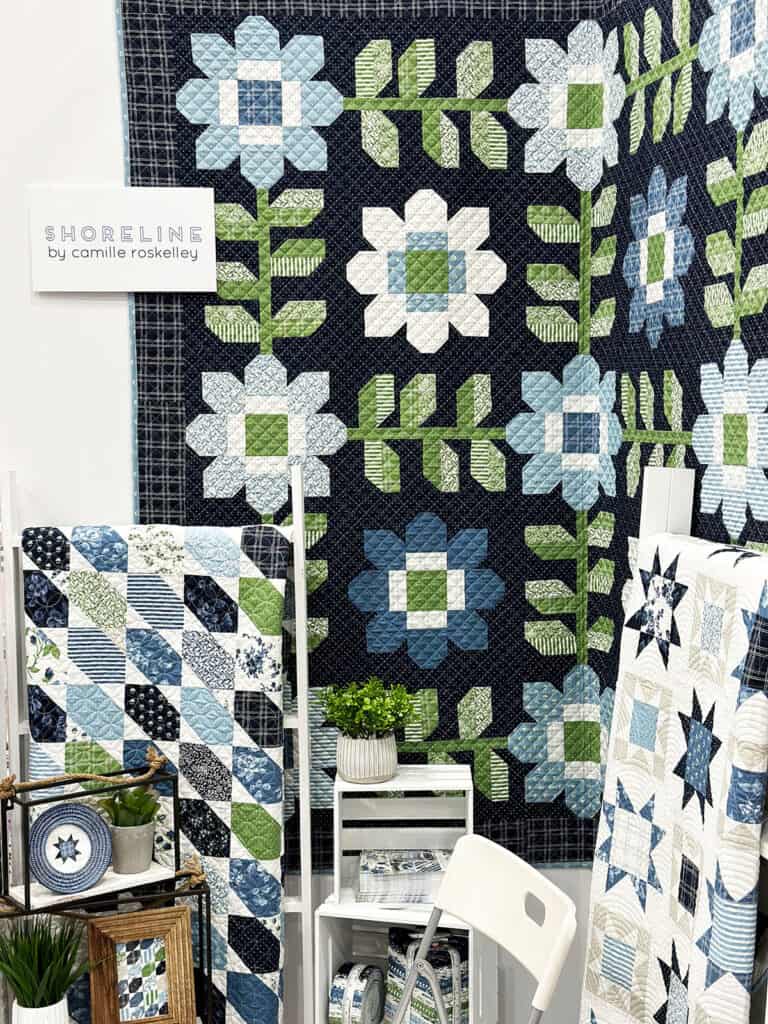 More Designer Booths
Here are a few more booths (including ours):
Camille Roskelley shared her gorgeous new Shoreline group and had such fun mini projects in her booth that I can't wait to work on some minis.
Vanessa Christenson of V & Co shared her Best of Ombre Confetti Metallic group and also had a lot of great project ideas.
And above right is our booth featuring Strawberry Lemonade which you can see more of in this post.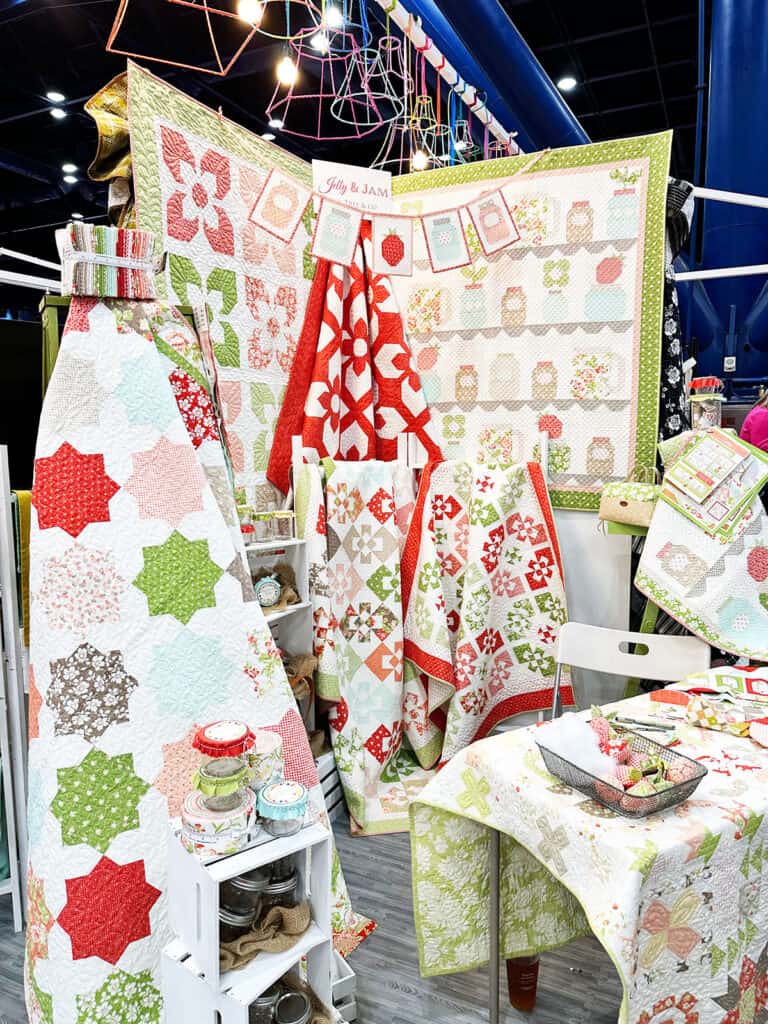 More Booths
Perhaps my favorite new pattern in the market group was Joanna Figueroa's Jelly Jars pattern–it's just so cute! Details on the above booths can be found below:
Joanna Figueroa (above left) shared her beautiful Jelly & Jam collection.
Jen Kingwell shared many of her beloved quilts and fabrics,
And Linzee McCray shared her new 30's Playtime group.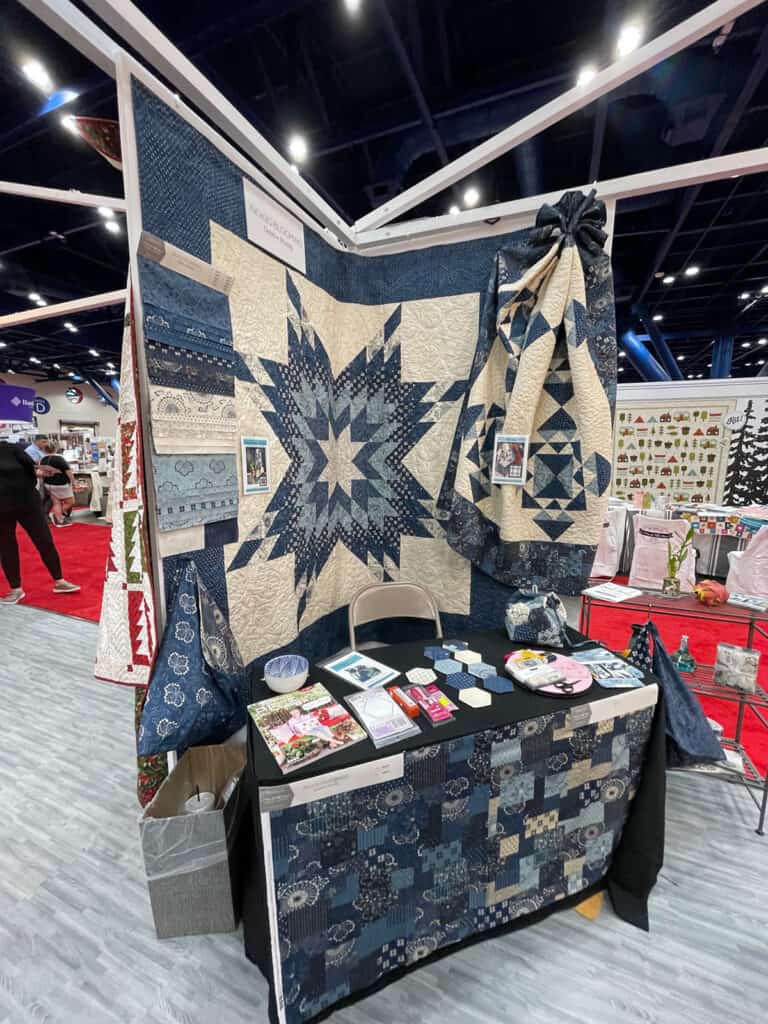 And Even More Booths
More Moda market booth inspiration included the following:
Debbie Maddy shared her Indigo Blooming group.
Betsy Chutchian presented her Lydia's Lace collection (above center).
And Cathe Holden shared Curated in Color (above right).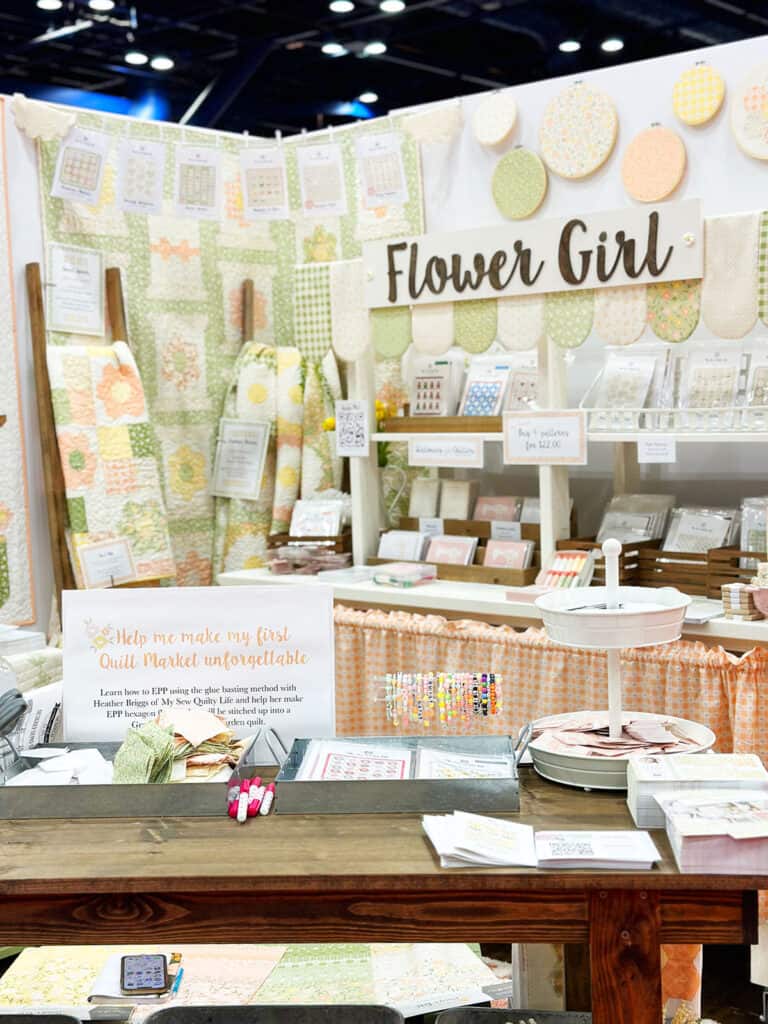 But Wait…There's More!
Heather Briggs joined the Moda family and did such an amazing knock-out job in preparing her first booth. What you see in the photo is just a sampling of all of the inspiration found in her booth.
Top left is Flower Girl by Heather Briggs.
Above center is Blooming Lovely by Janet Clare,
And above right are some fabrics from the Ruby Star Society display.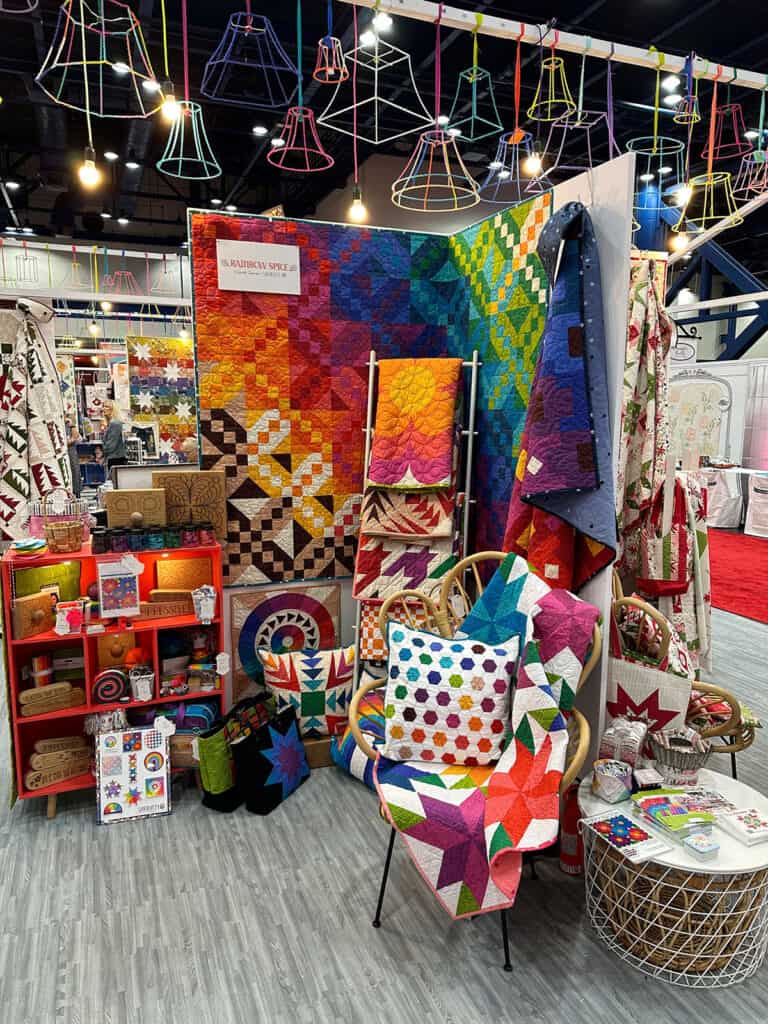 One More and Not Pictured
I've got one more photo to share. And while I did my best to get photos of everything, I missed snapping pictures of a few booths.
Pictured above is the Rainbow Spice booth presented by Sarah Thomas of Sariditty. As you can see there was a ton of inspiration in just this one booth–her quilts and colors are gorgeous!
Not sure how I missed Laurie Simpson's booth because you know I always love sewing with her red, white, and blue collections–but her latest, Ridgewood, is beautiful as always.
Also not pictured is Laura Muir of Create Joy shared a beautiful new group called Coming Up Roses.
And finally, Zen Chic's (not pictured) booth shared her new Flirtation collection (sadly Brigitte was under the weather an unable to attend market).
That's it for the show and tell of the beautiful Moda booth area. Do you have a favorite collection you're looking forward to sewing with in 2024? I know I've got some little projects in mind for several of these collections.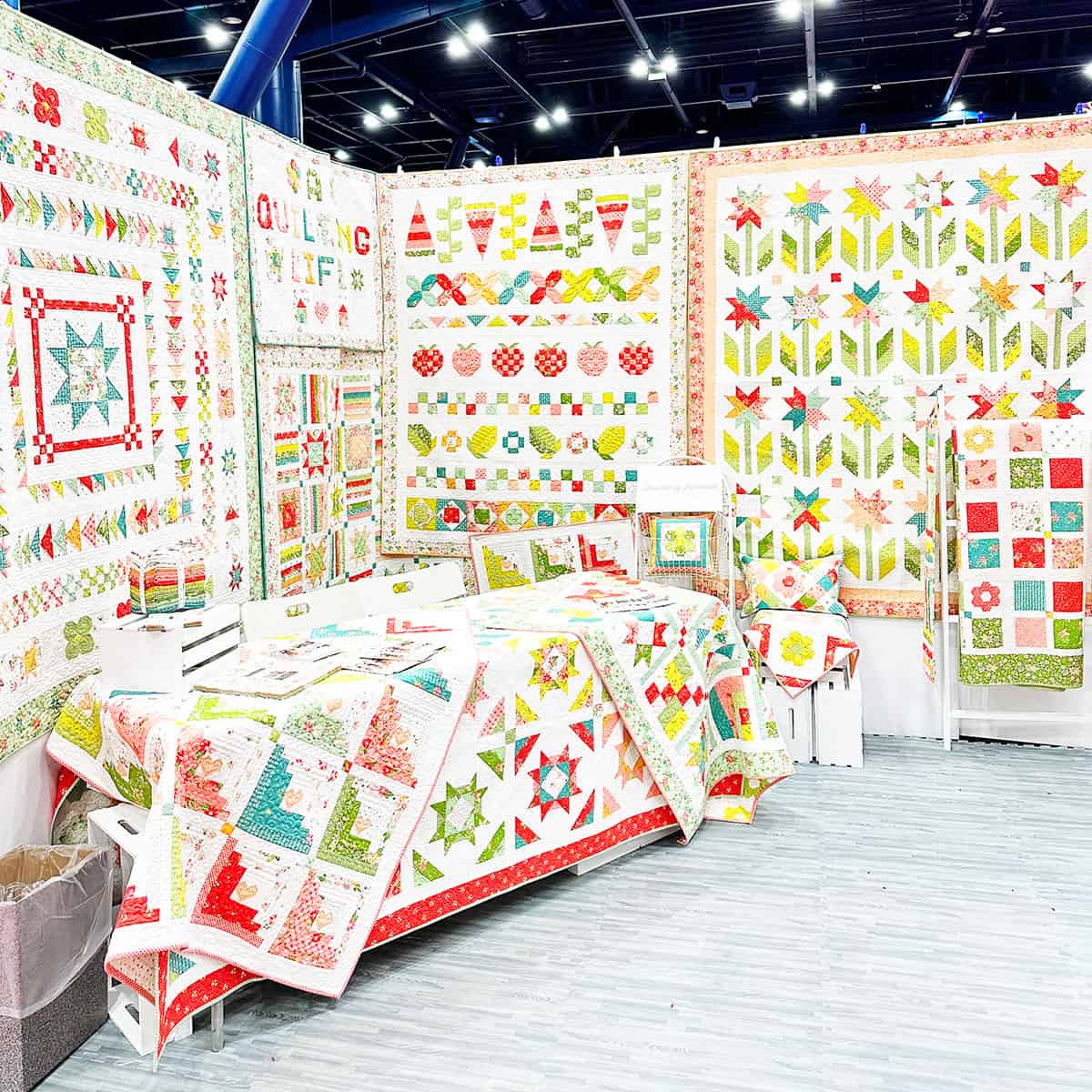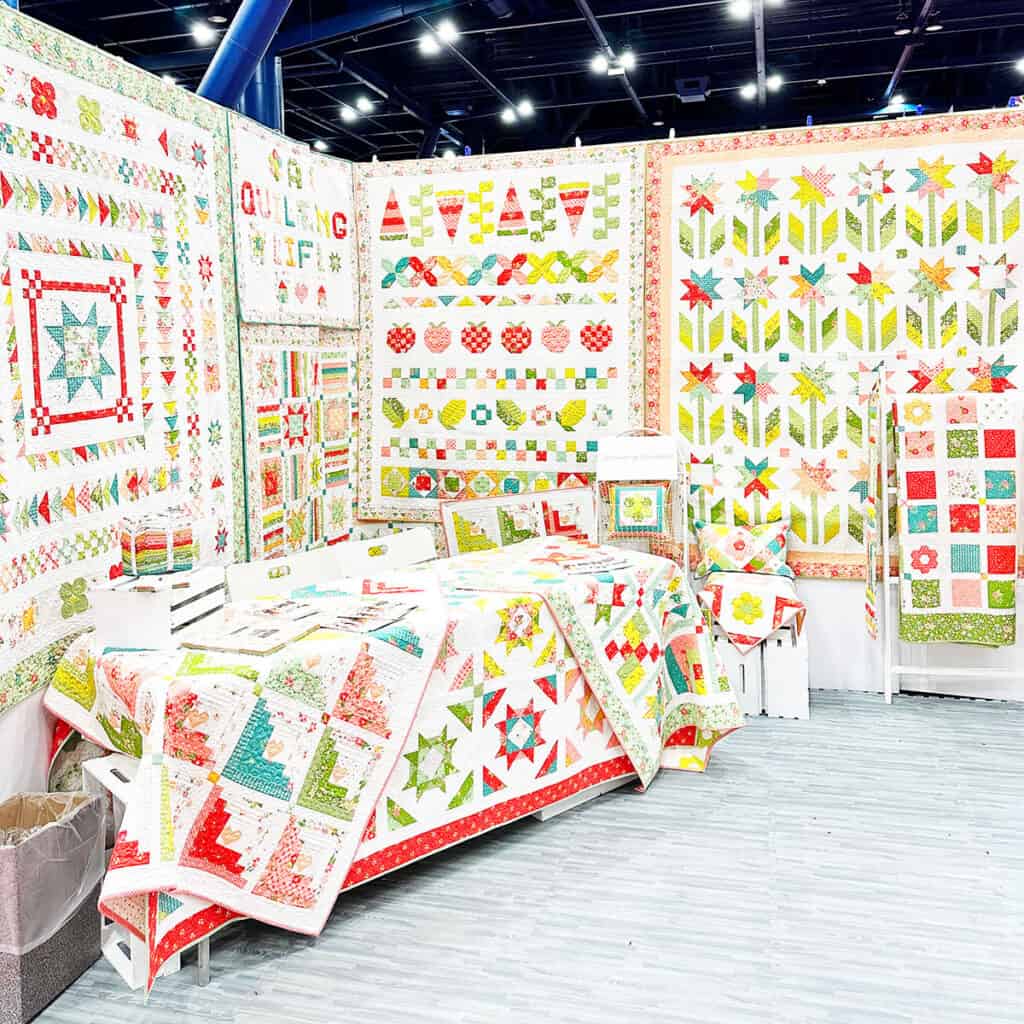 Happy quilting!