Hello, friends! I'm home from Houston Quilt Market 2023, and while I haven't completely recovered from all of the fun, I am ready to get to work on all of the things! As I started getting photos ready for this post, I realized that there will definitely be a part 2 and perhaps even a part 3. There is really so much to share. And we also have a super fun video for you today with a variety of designer interviews we did from the market booths!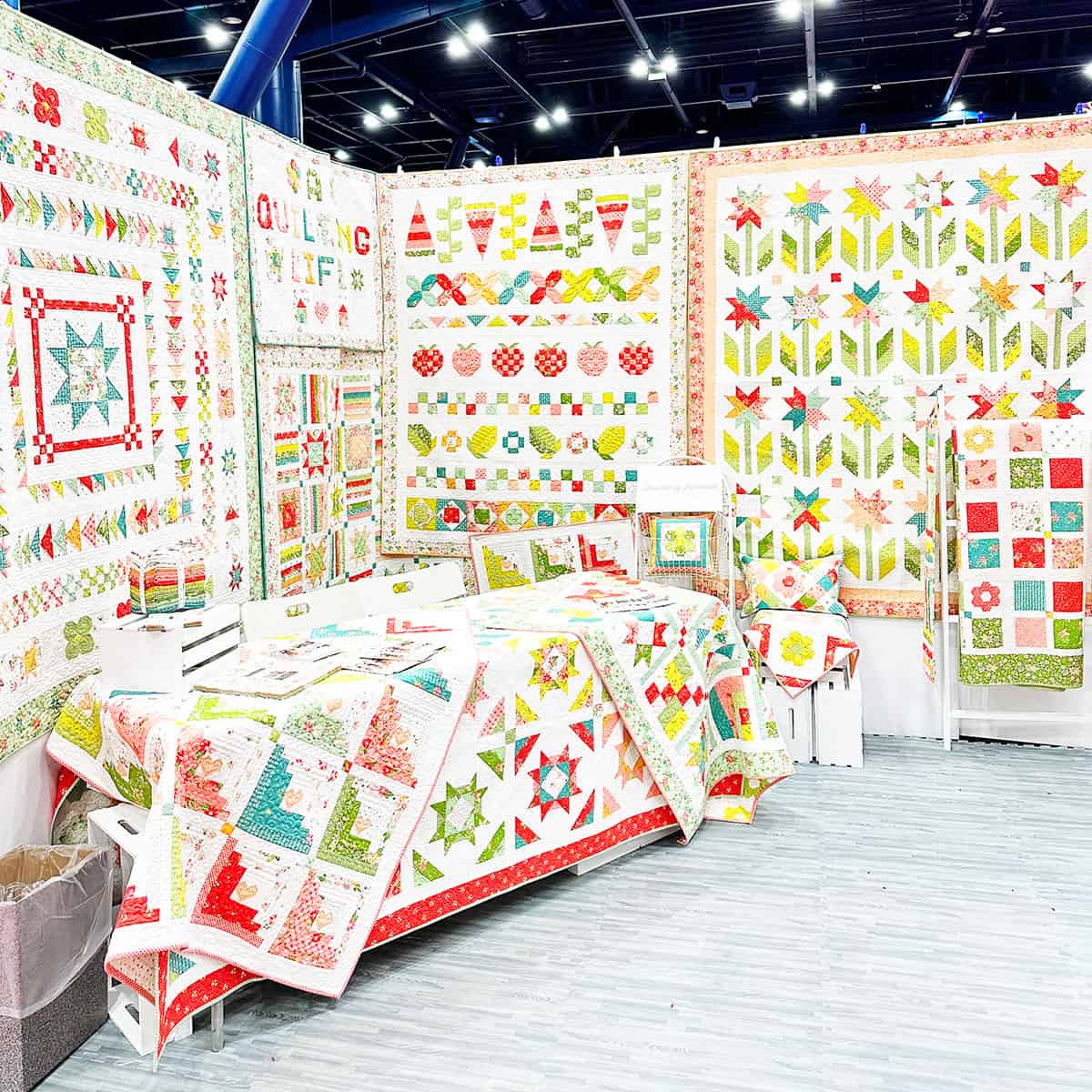 Houston Quilt Market 2023 Part 1
Travel and Set Up
First, thank you so much for all of the lovely comments and questions about market from my Quilt Market preview post. We will use those questions on our market podcast recap coming on Monday, November 13th.
It a whirlwind getting ready to go to market. I've been to so many markets before, but with the four-year break I felt like I was starting all over again. I had all of my work finished up by noon on the day before we left (Thursday). Then I spent about 6 hours packing trying to make sure I could fit everything into two checked bags and one carry-on. I also had to worry about preventing anything being overweight. Next was insomnia (which I rarely deal with). I seemed to be checking my watch on an hourly basis until it was 3:30 a.m. and time to get ready. Thankfully my husband was driving us to the airport and had gotten some sleep!
I also wasn't able to sleep much on the plane–maybe an hour at the most. Next year I will definitely fly in the afternoon before. Early morning flights are not my favorite. The picture below was taken just as we arrived to start setting up our booth. No one dresses up for set-up day!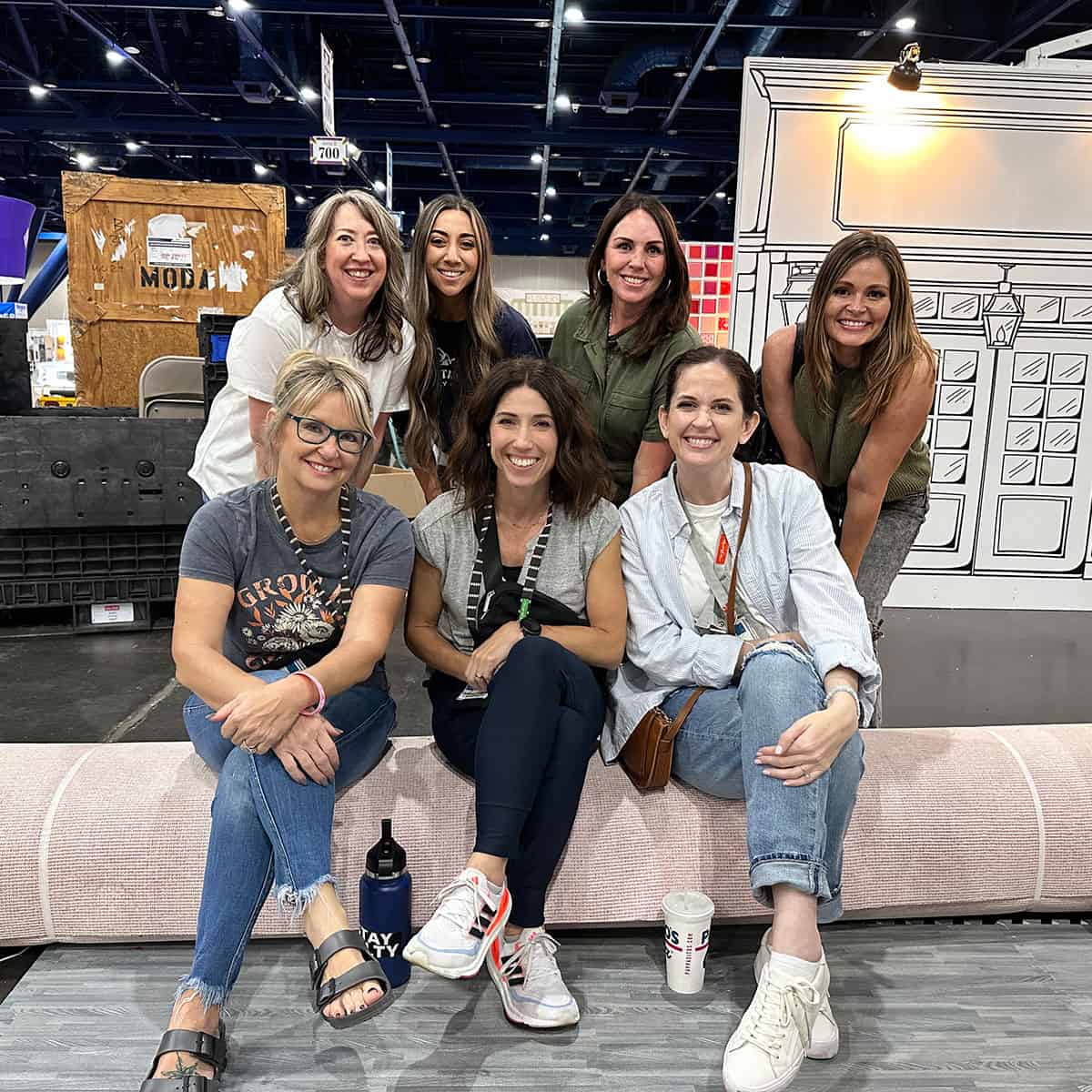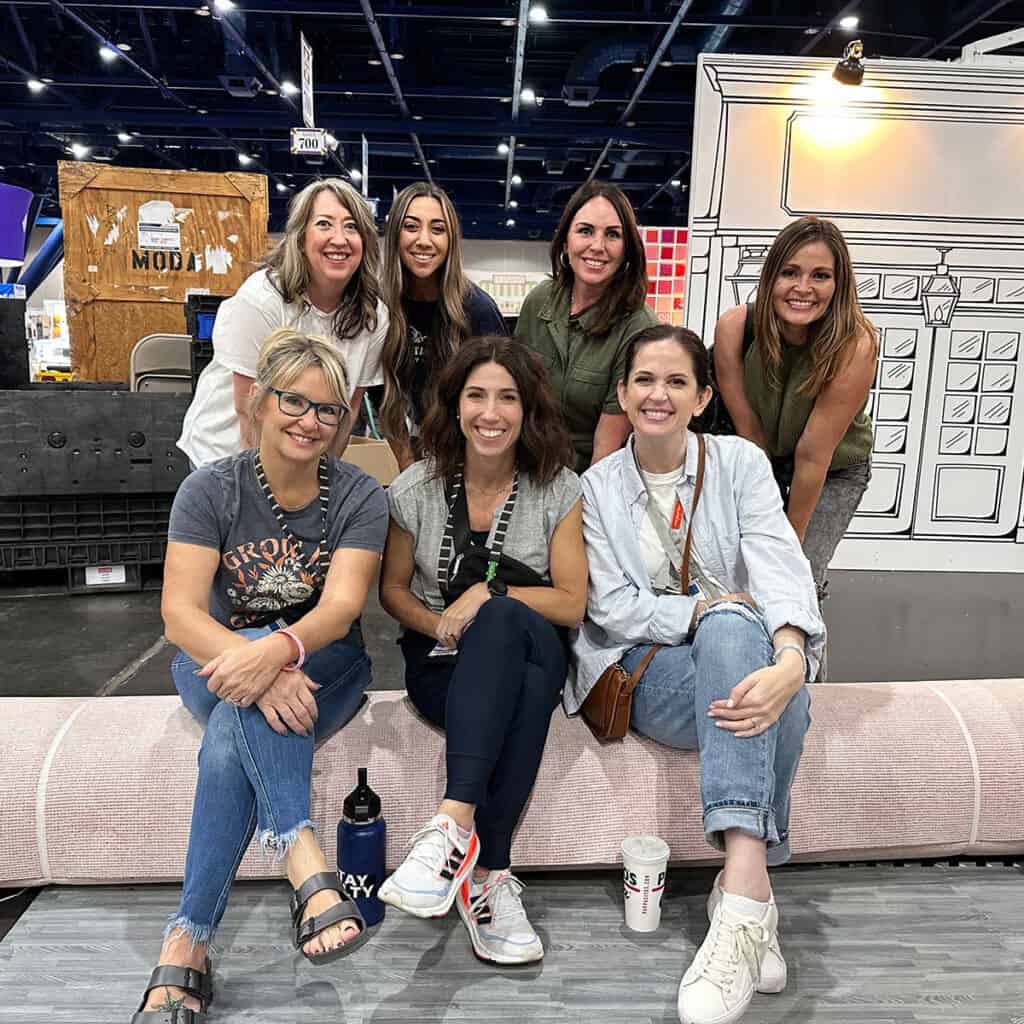 First Day
Thank goodness we were able to get some good sleep before arriving at the convention center for day 1. We arrived early in the morning at a beautiful hall filled with all of the booths from industry companies and groups from all around the world. I might be a little biased, but the Moda area was absolutely the most fabulous part of the entire show.
We were grateful to meet and visit with so many shop owners and professionals who have been reading the blog for years and also watching/listening to the podcast from its early days. Additionally, we also met many who were new to us and just stopped by to compliment our quilts, fabric, and Marion and Val's quilting. We truly appreciate all the kindness and goodness!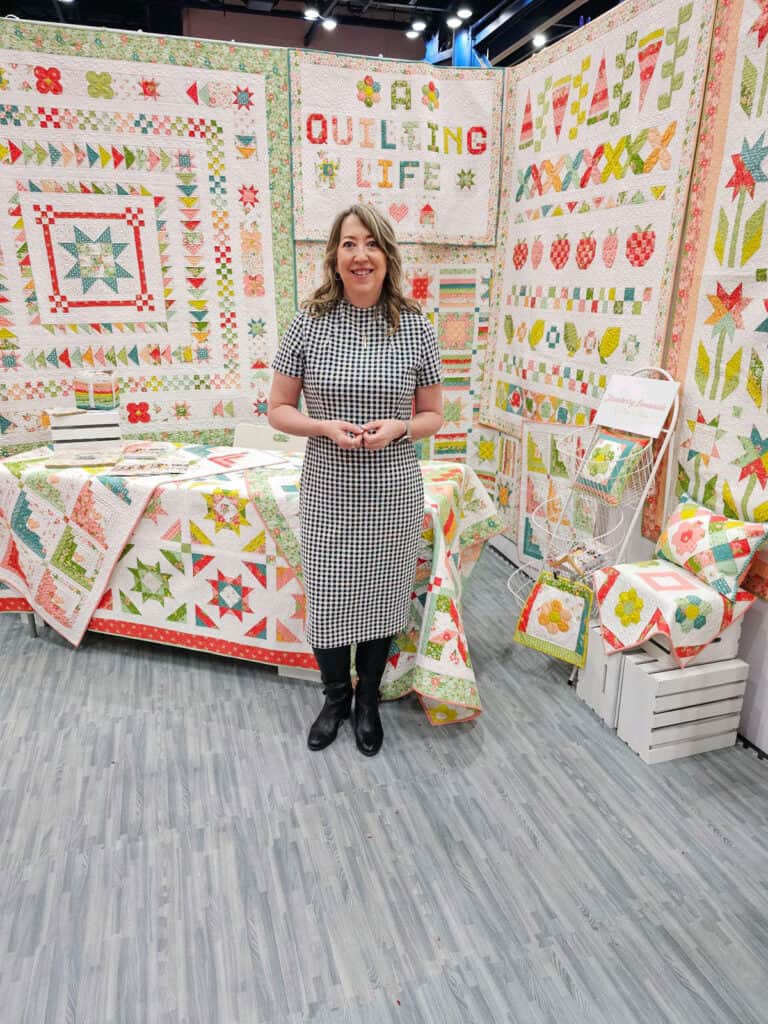 Close of Day 1
At the close of market on day 1 we took our designer company photo (I'll share that when I get it) and then attended a lovely dinner presented by our friends at Moda fabrics. All of the designers, design team, marketing team, and of course the Dunn family and other company members were in attendance.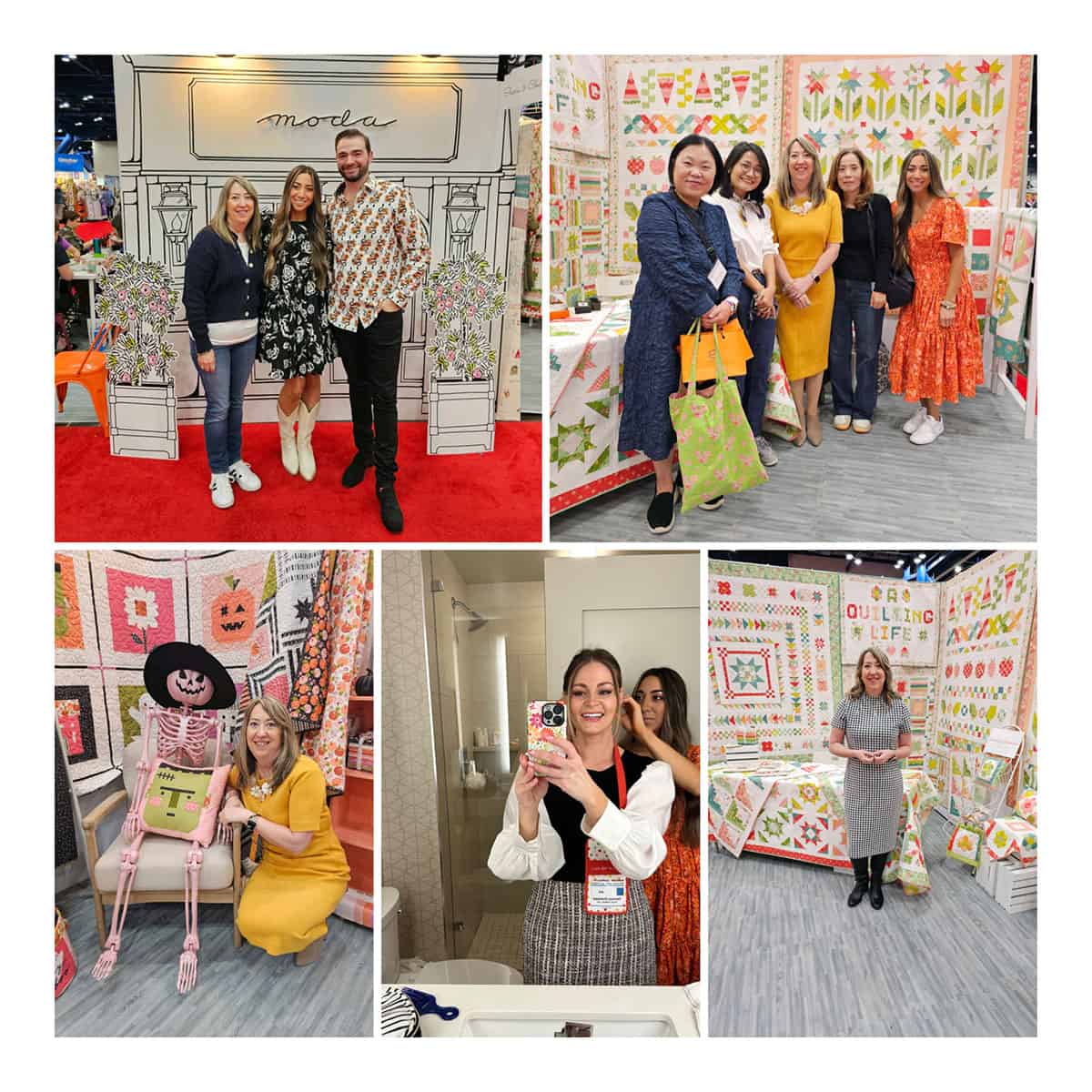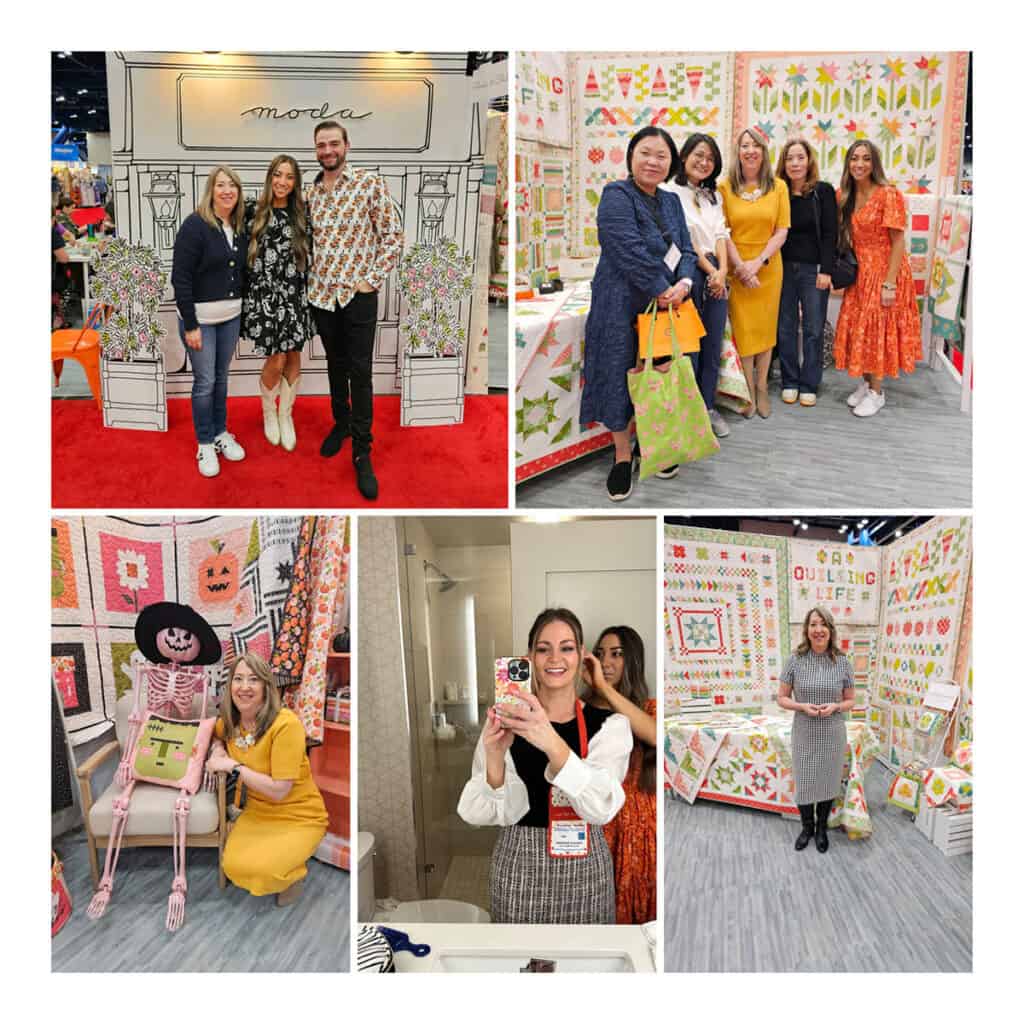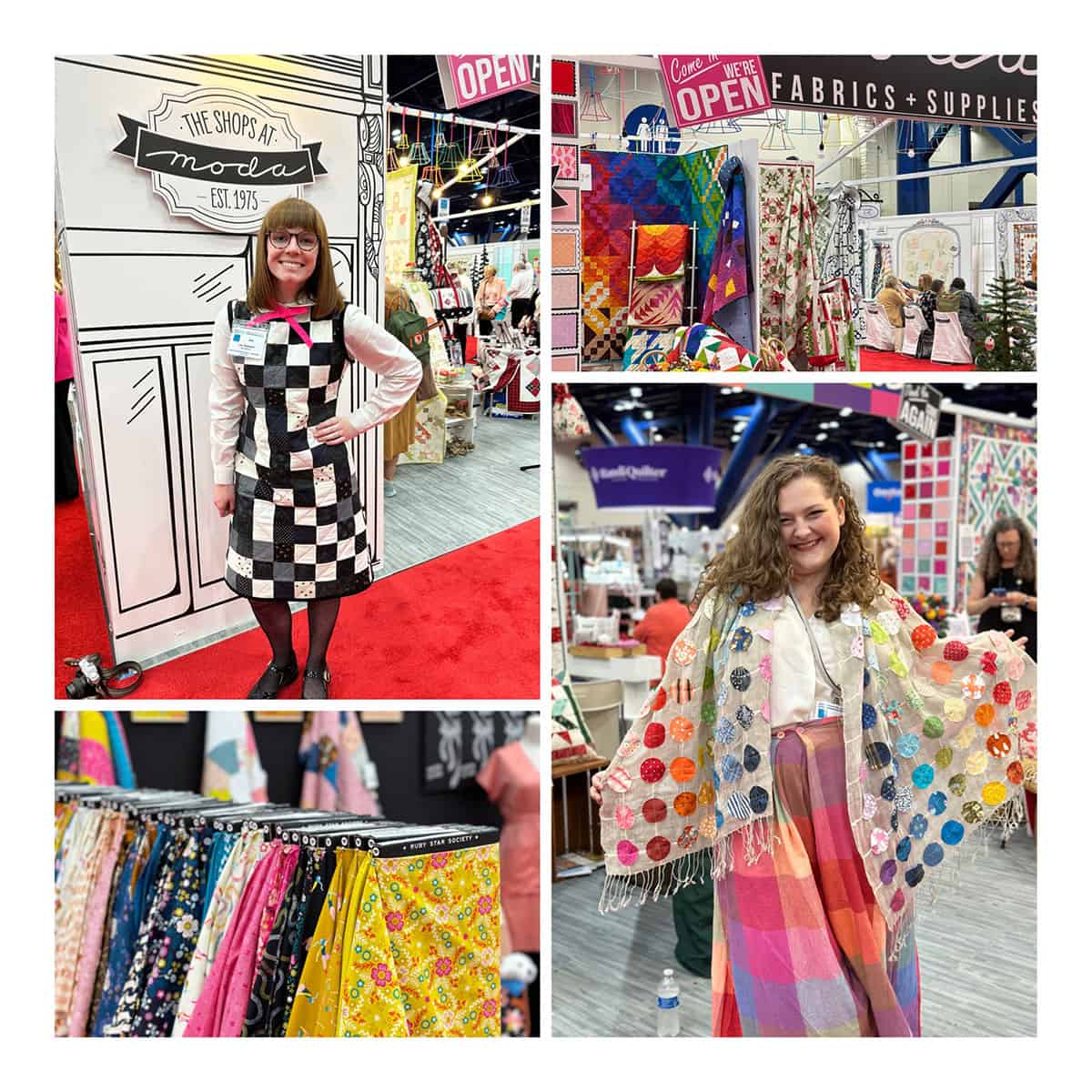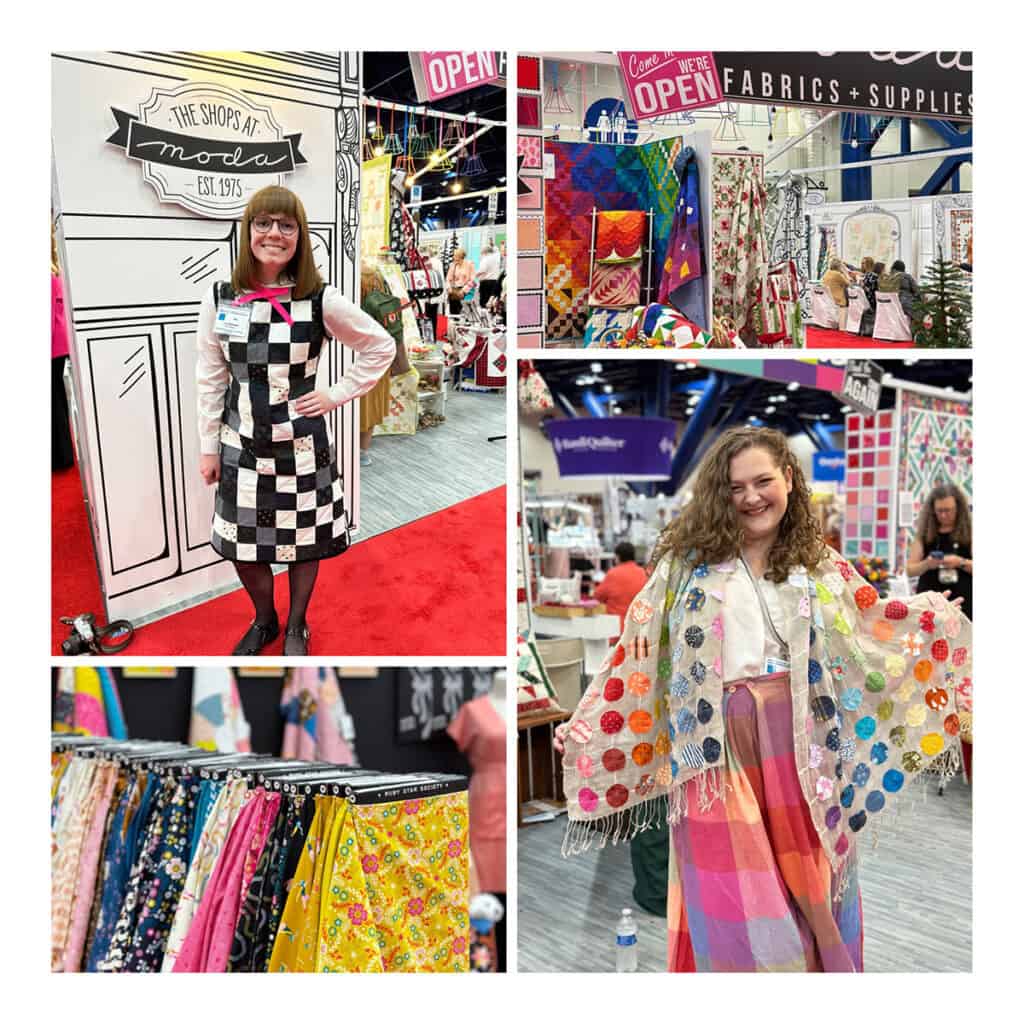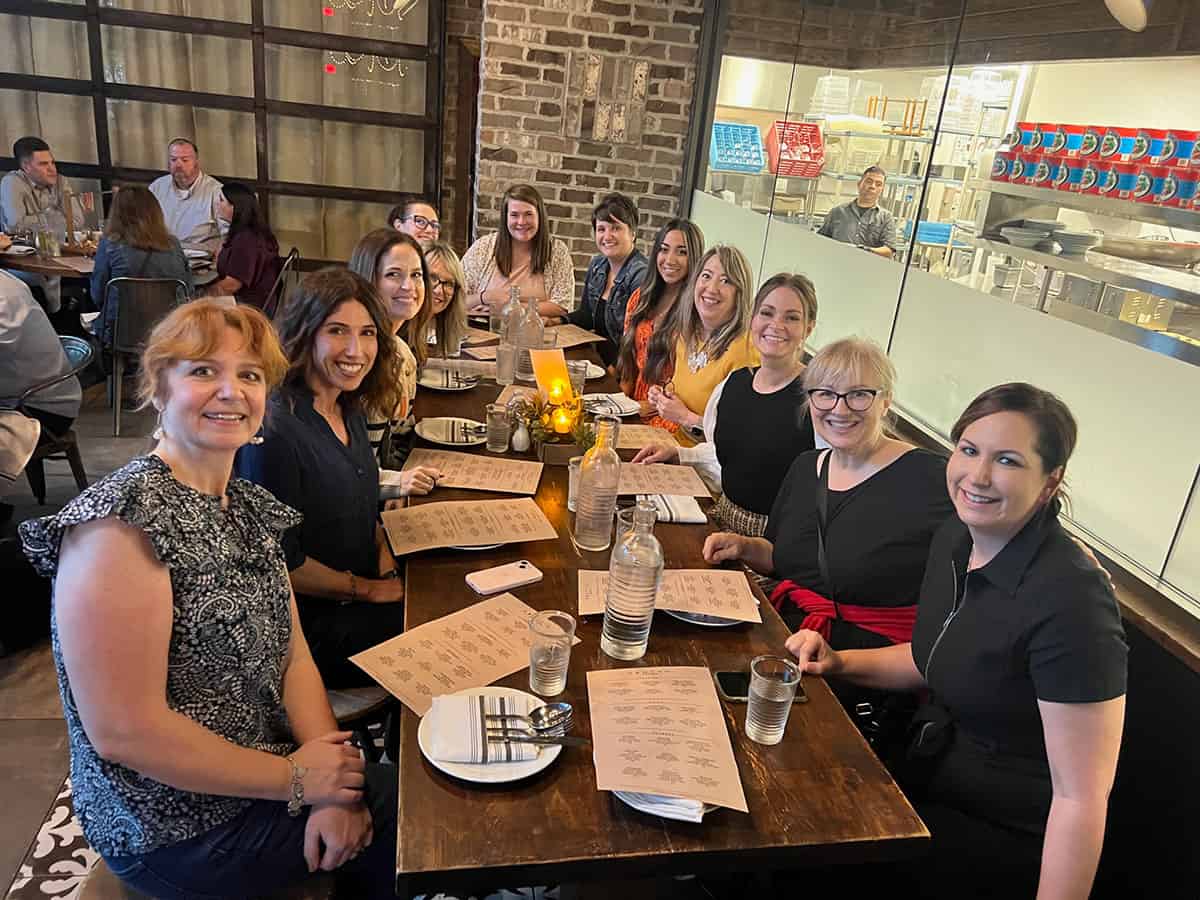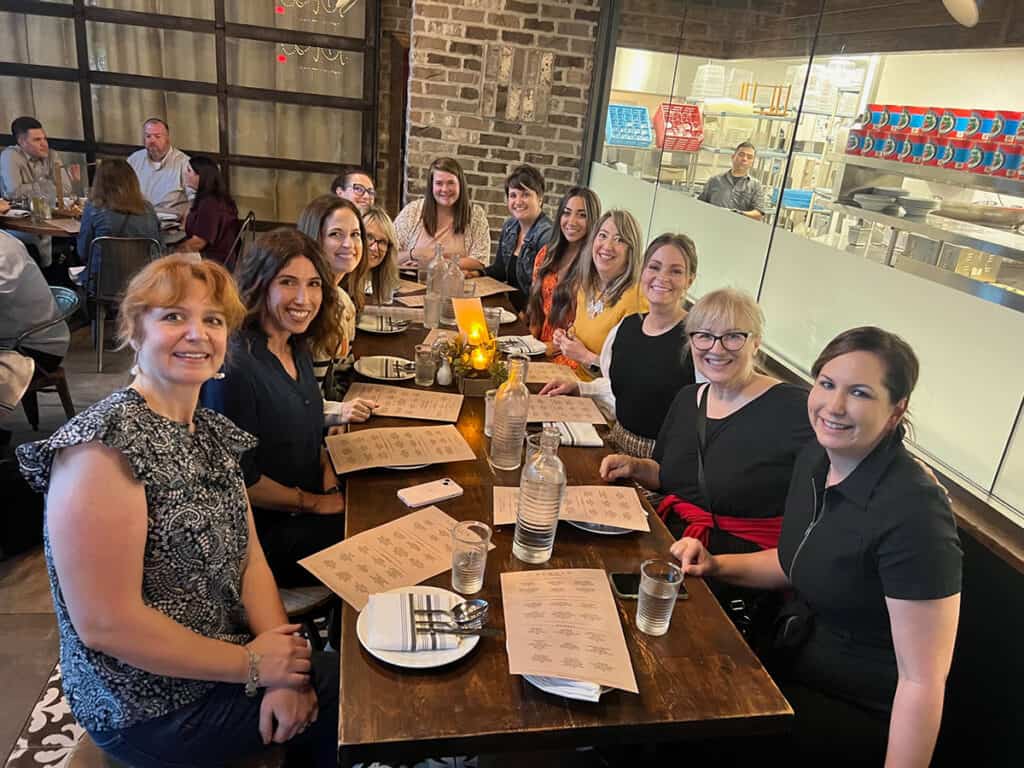 Second Day
Day two was really very much a repeat of day one (and that was a very good thing). We loved being busy nearly every single moment of the day. Again, we were able to visit with and talk to many, many people from all over the industry and the world. In the afternoon we were able to have a fun and inspiring meeting with our design director and her team–lots of good things coming in the future! We had dinner that night with a smaller group of designers and were really able to finally feel relaxed and share thoughts and ideas.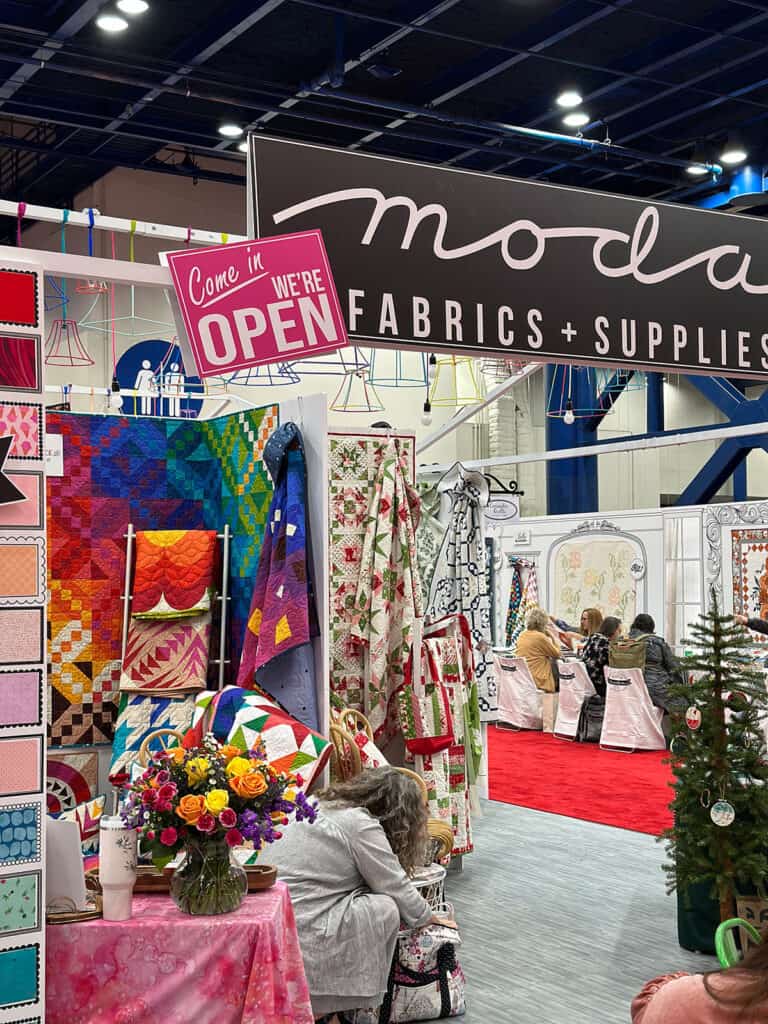 Third Day
Day three is often quite a bit slower for the fall market (especially when market falls near Halloween). A lot of people leave late Sunday evening or first thing Monday morning, so the show is noticeably quieter on day three. This, though, gives us a chance to do a little more visiting with our friends in the industry. And Chelsi and I were able to film some really fun interviews that we are sharing today on our YouTube channel here.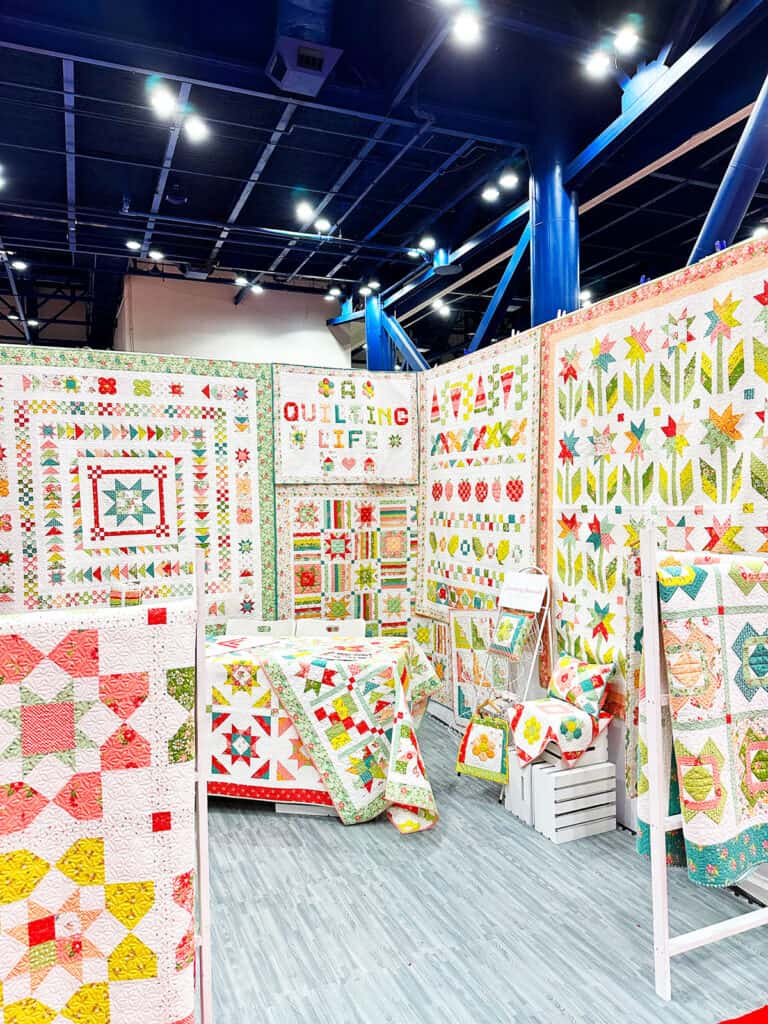 Thank you so much for stopping by for today's Houston Quilt Market 2023 Part 1 post. I have lots more to share in part 2 including photos of all of the Moda designer booths (I think)!
Happy quilting!