Hello and happy Tuesday!  I returned late last night after attending the Fall 2018 International Quilt Market Houston.  There are so many wonderful things to share, and I'll begin with some photos from our booth.  Later this week I'll be sharing the rest of the Moda Designer Studio booths, booths from around the show, and gorgeous quilts from the quilt exhibit.  I walked the show before it opened on two mornings to get my photos and am pretty happy with how much I have to share!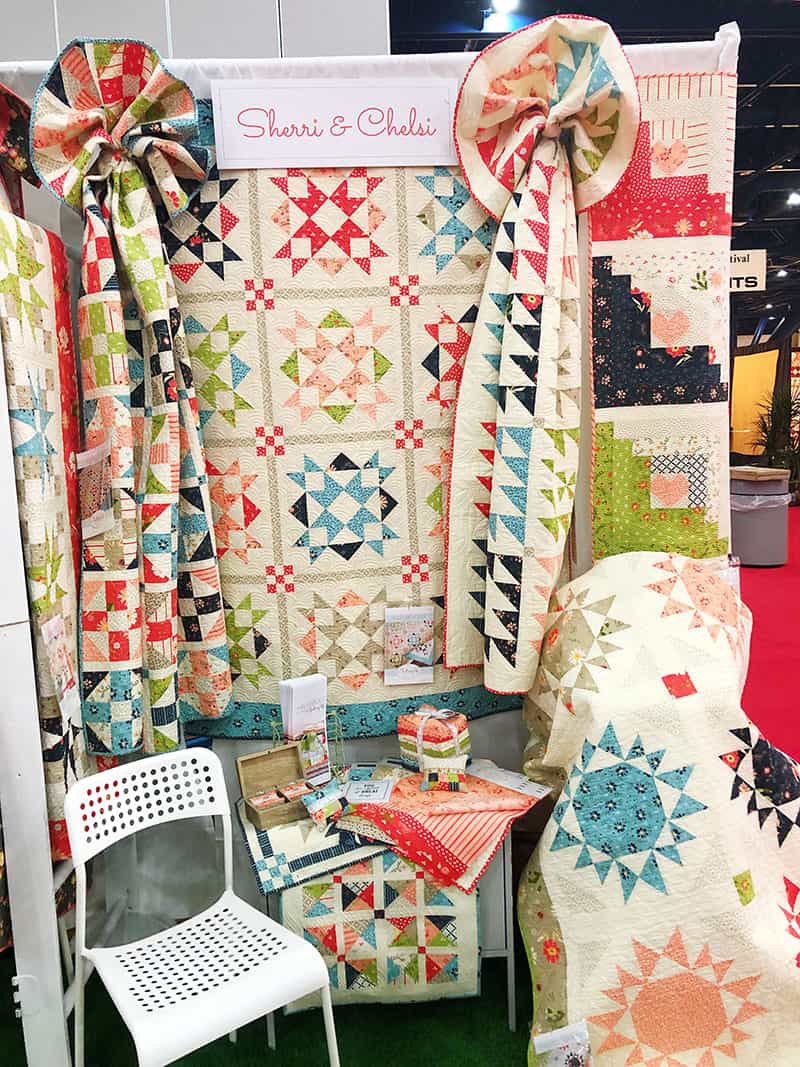 Fall 2018 International Quilt Market Houston
The show was a beautiful one!  However, the lighting actually wasn't very good this year, so I've had to brighten up my photos a bit to try and share the true colors of everything.  We also had beautiful weather with low humidity (until the last day when the humidity spiked).  Downtown Houston is a beautiful area now with lots of great venues and restaurants, so we had plenty to do after the show closed each day.  Additionally, the quilts for the Fall 2018 Quilt Festival were on display in an adjoining area.  If you ever get a chance to attend Festival in Houston you can see those exhibits as well as shop from a variety of vendors.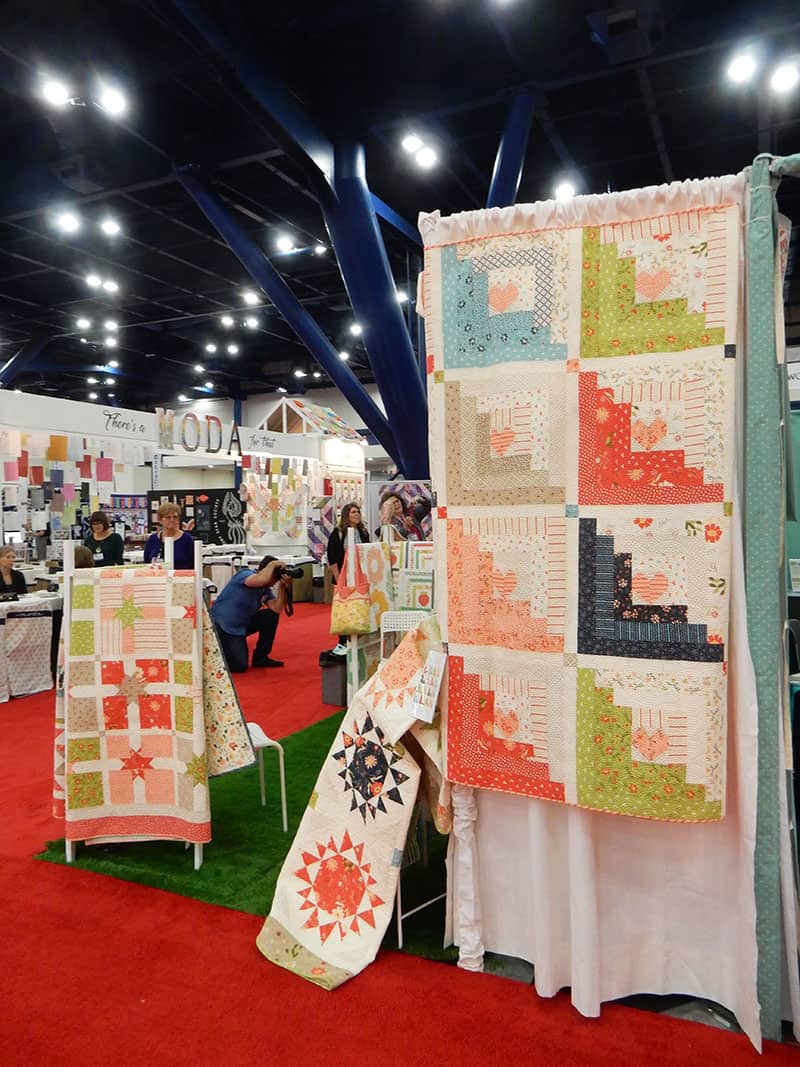 A Quilting Life Booth at Fall 2018 International Quilt Market
Our booth was actually at the end of the Moda Designer row on an aisle that led to the beautiful Quilt Festival display.  This was the view of our booth from the aisle…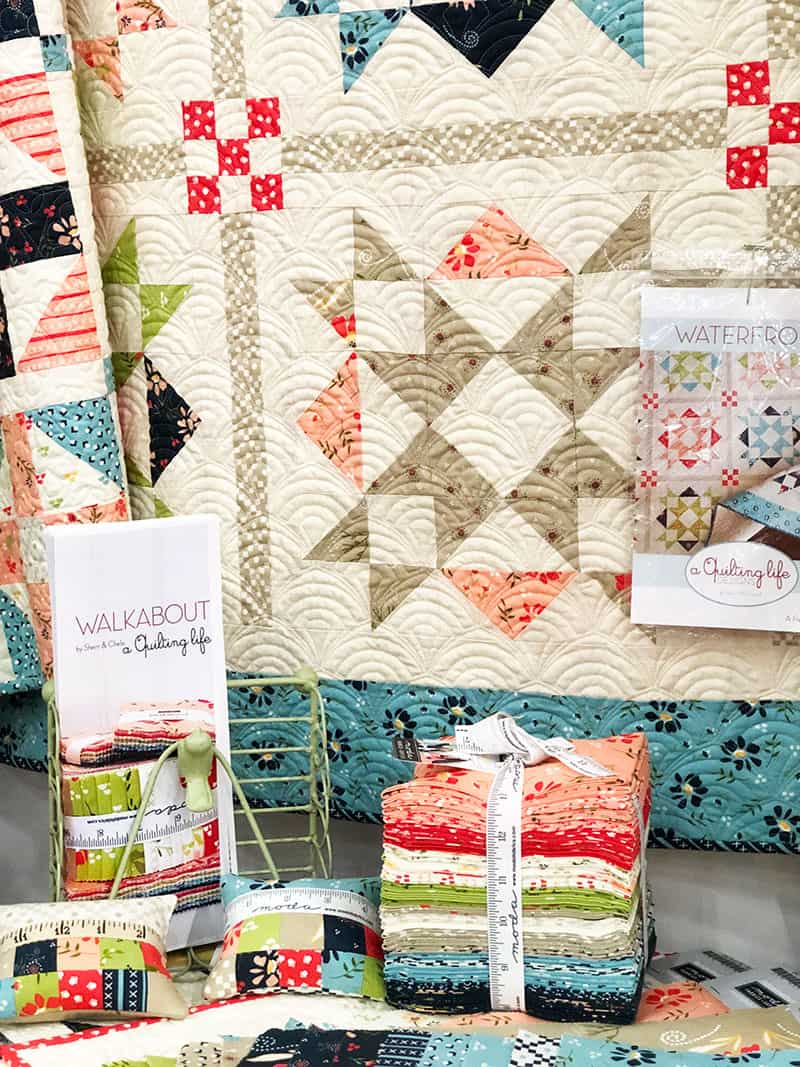 And here is a close up.  The show was really fantastic this year, and we really were very busy the first two days.  We were able to visit with shop owners, pattern designers, and quilters from all over the world!  I just love being able to mingle with so many amazingly creative individuals and talk about fabric, quilts, and design.  There are long days and a lot of work involved, but it's truly rejuvenating to feel the energy.  And of course, now that I'm home I have a long list of projects once again!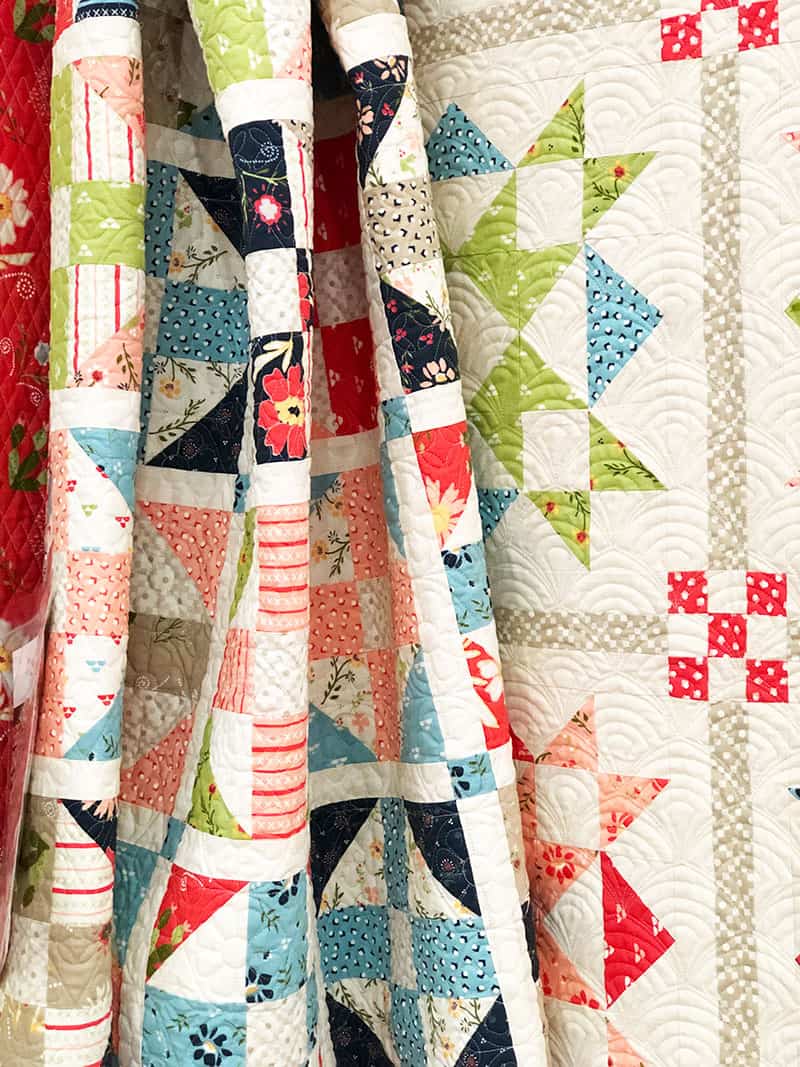 These close up photos are often some of my favorites.  My friend Marion who did all of my quilting this time around was able to be at the show, so that was really fun!  I wish we had thought to get a quilter.  And another of my quilting friends who does a lot of my custom quilting work was there also.  Additionally, my friend who quilted my very first quilt was there as well.  The four of us really should have taken a photo!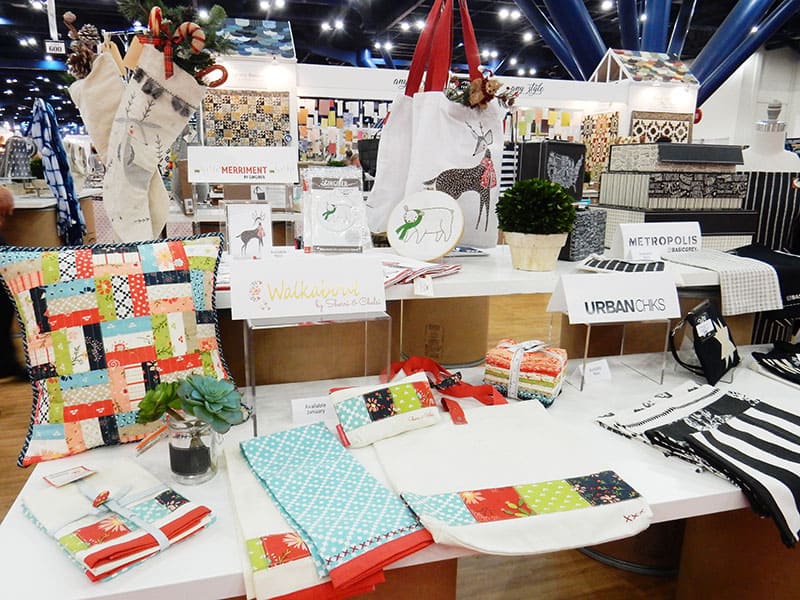 Notions and More
Our A Quilting Life gift items were on display in the United Notions section of the Moda booth area (they ship in January and are available for order here).  It was so fun to see them displayed at market!  And the Walkabout pillow you see pictured will have a free tutorial soon…I'll be sharing more about that later.  I also learned of some fun new notion and product items I'll be sharing soon!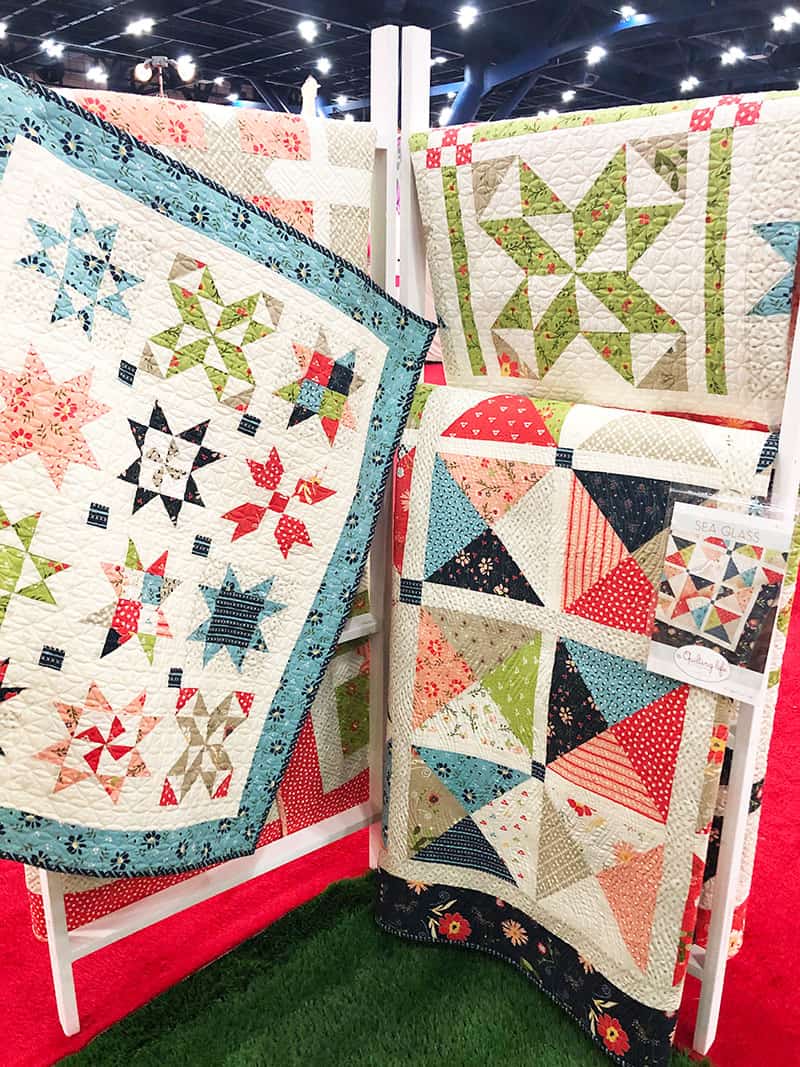 Chelsi and I shared a lot of quilts at this market (she brought three, and I brought six big quilts, one wall hanging, and three minis).  It was hard to make them all really visible, so we were grateful Moda was able to bring along some quilt ladders where we could layer some of the quilts.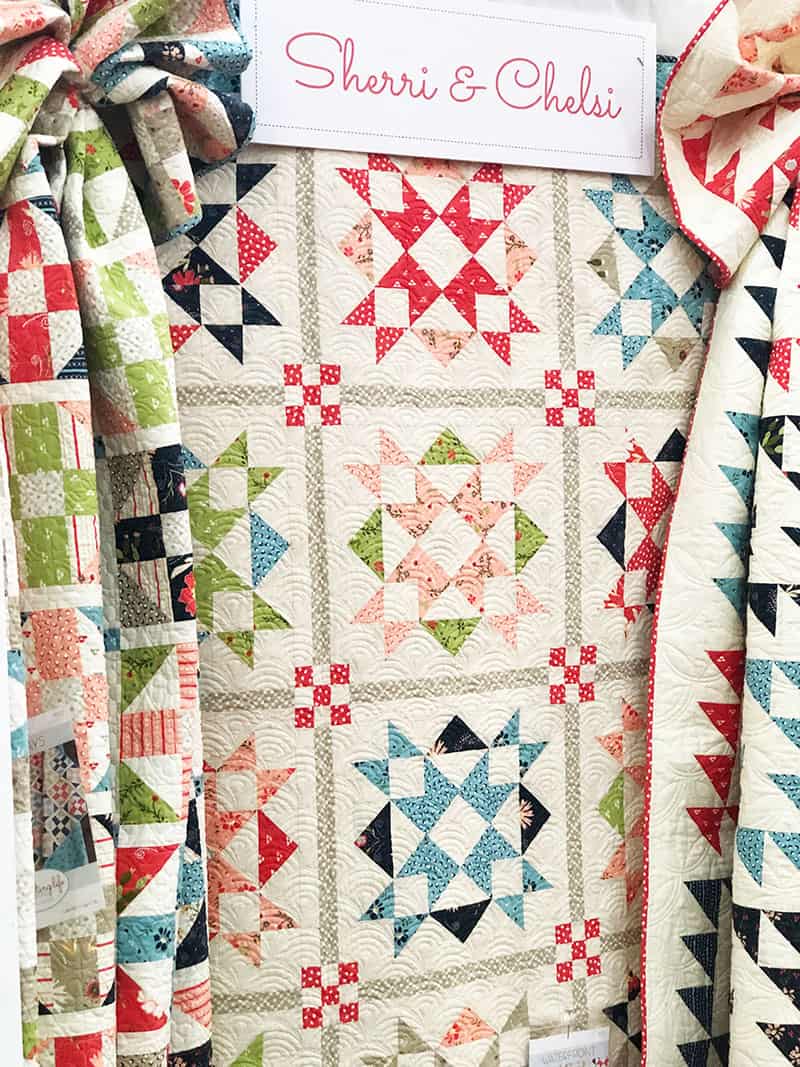 Coming Soon
I'll be back to share the other Moda booths, other gorgeous quilts and booths from around market, and some stunning exhibit quilts later this week.  Tomorrow I'll be sharing this week's Moda Block Heads 2 post, and I'll also be posting my Save the Bees block and my Quilting Life Mystery Block of the Month posts as soon as possible!  Thanks so much for stopping by!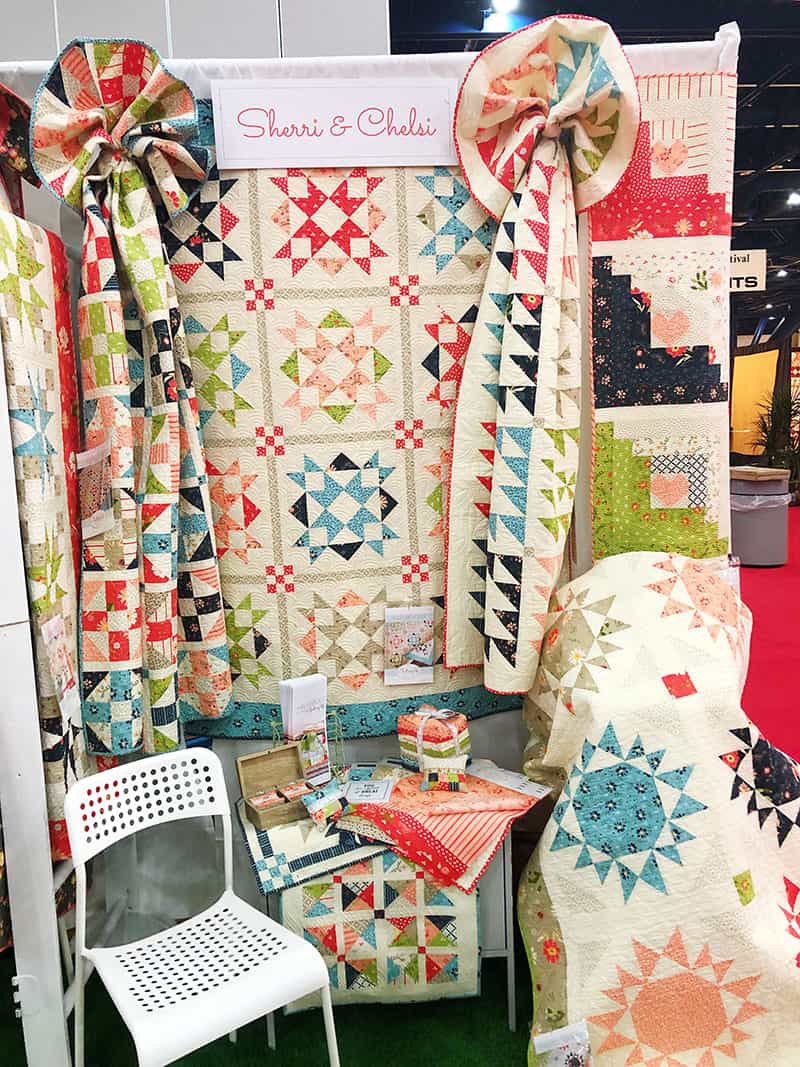 Happy quilting!