Hello and happy Friday! Today's post came about as I've been pondering topics and ideas for the blog next year.  While a lot of my posts relate to projects I'm working on throughout the year, I also try to plan some things for each month of the year in order to share tips and ideas.  I usually do my January-February-March planning late in November/early in December after the Thanksgiving rush and before the Christmas blur of busyness begins.  And so today I'm sharing a few thoughts: a Christmas quilt favorite & quick survey with you.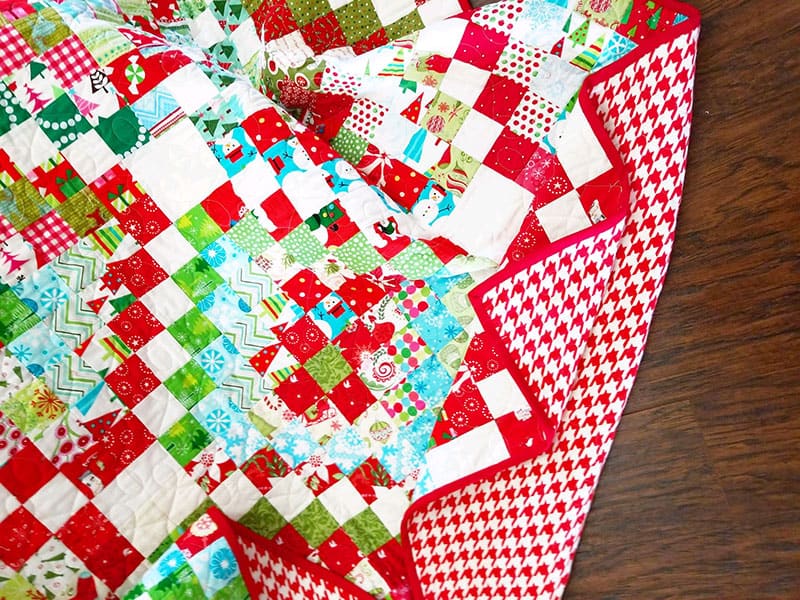 My Favorite Scrappy Christmas Quilt…More Details Below
Grandmothers…
Last night I started setting out Christmas decorations (the Christmas-themed quilts have been out since the Thanksgiving dishes were finished).  I was home alone and had the sweetest thoughts and memories of my maternal grandmother and my husband's paternal grandmother as I did a bit of decorating.  Both of our grandmother's were strong, accomplished women who loved Christmas.  In fact, our grandmothers gifted to us many of our Christmas décor items.  I especially thought of my own grandmother who was a widow for many years and also thought of how she lovingly decorated each of those years that she lived alone in order to help bring joy to her friends and family.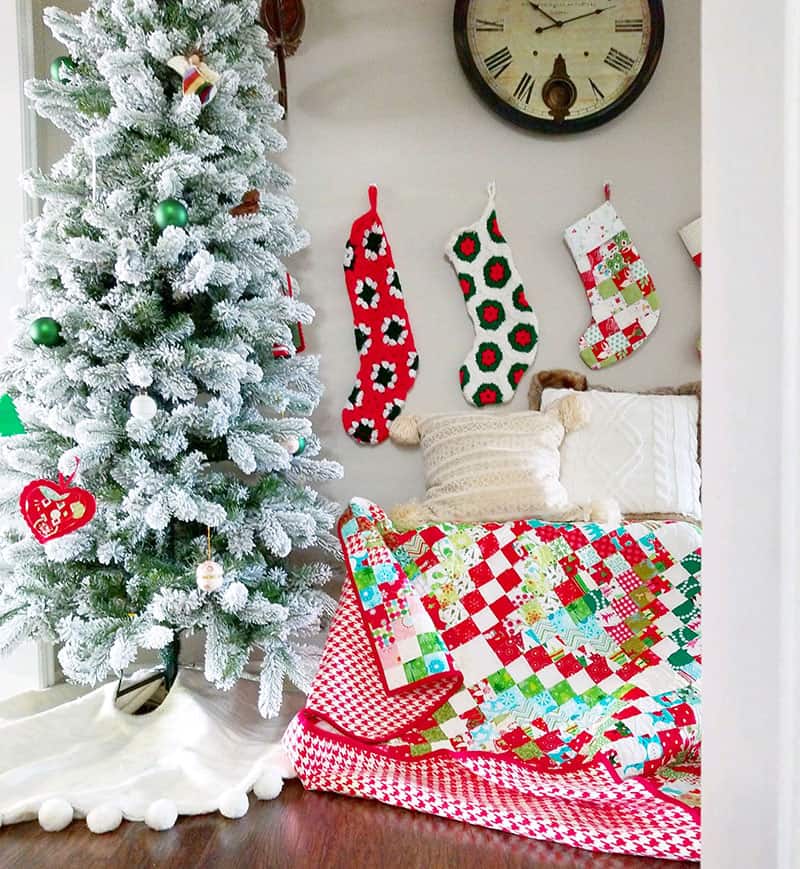 The Scrappy Christmas Trip Around the World Quilt
My grandmother made Christmas quilts and decorations all the years I was growing up and beyond.  I most definitely owe my love of Christmas home décor to her!  One of my favorite Christmas quilts is my Scrappy Christmas Trip Around the World quilt that I made a few years ago.  It's got such a fun mix of just about every brightly colored Christmas fabric in my stash at the time.  I backed it with a beautiful red houndstooth flannel from an early collection by Bonnie & Camille. If you haven't tried Moda flannels, they are just wonderful and soft.
My daughter Chelsi borrowed this quilt the other day to take some photos of it for me over at her house.  I think it's so fun that some of the photos include the crocheted stockings my grandmother made for her when she was a baby and for her husband after they were married.  The patchwork stockings are ones I made for her kids as they each joined the family!  You can find the free tutorial by Bonnie Hunter for my Christmas Scrappy Trip Around the World Quilt Here (so fun to make)! I think I'm going to start another one of these quilts because I sure have accumulated more Christmas fabrics since making this one!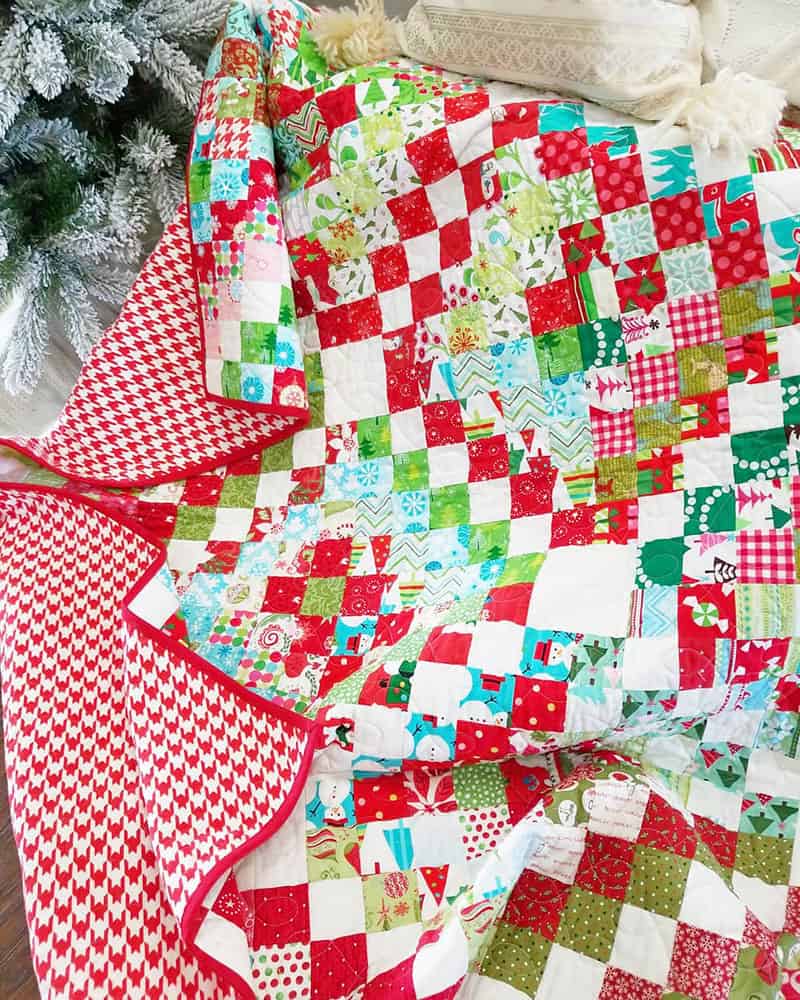 Christmas Decorating
Soon I'll share photos of the Christmas decorating I've been doing here and there this week.  This year's décor is a simplified version of what I've done some years, but I'm happy with the way our home feels with these seasonal touches.  It's funny, but I did a little Christmas home tour post one year ago today sharing some of our décor.  There are some things I forgot to photograph that I'll definitely share this year.  And I have some things this year that weren't around last year.  Last year's post is a good one. though, with tips and ideas for decorating with quilts and quilted items.  You can visit last year's Christmas Quilt Home Tour post here.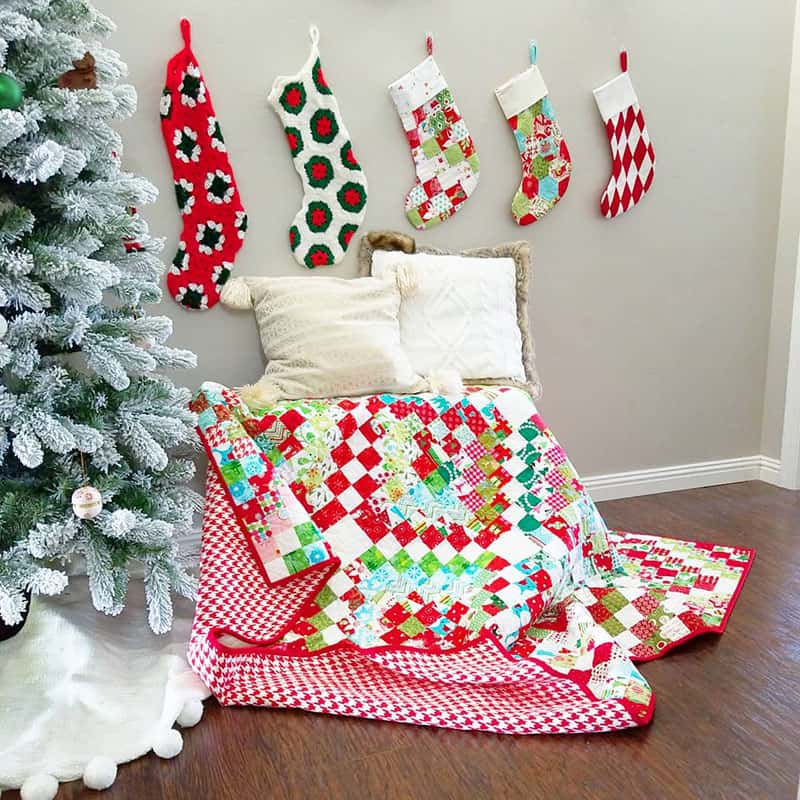 Quick Survey
I'm hoping you might also be able to take just a quick minute and fill out a very short survey I have.  It just asks a few quick questions about things I'm thinking about for the blog next year.  I would really appreciate your input on a couple of ideas I'm thinking about.  There will definitely be a new Block of the Month project for next year that I'm really excited about.  And I have some other fun things planned as well!  Go here to take the quick survey.  Thank you!
Just a Few More Thoughts…
I've got some really fun sewing planned for today and tomorrow and can't wait to share some of it with you next week! I have a couple of top-secret sewing projects to finish up before Christmas. But I also have some fun things to sew that I can share right away!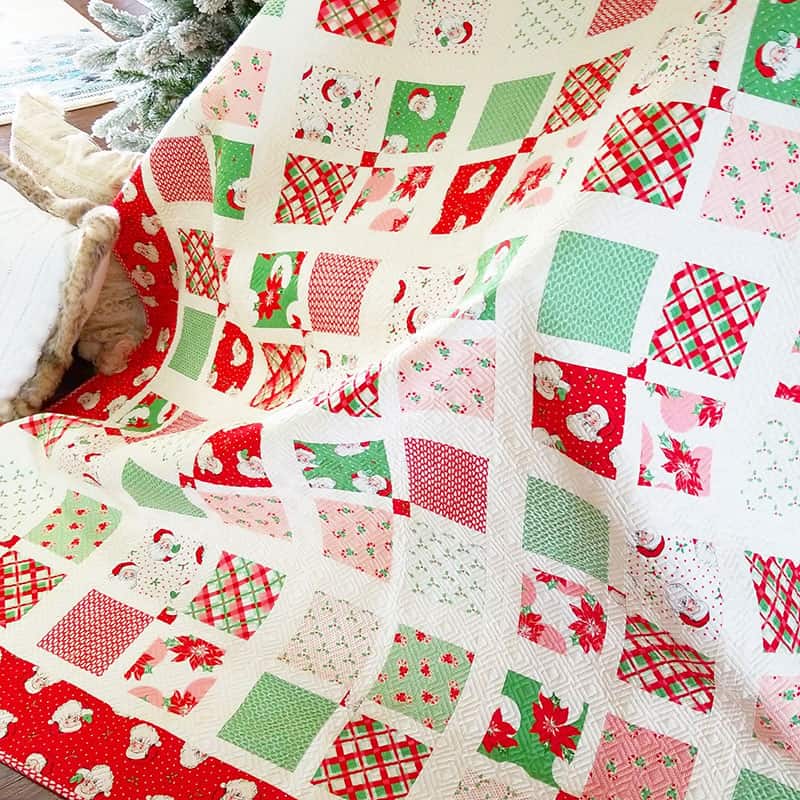 Four-Square Quilt Pattern in paper and PDF
(I'm also tempted to start another Four-Square quilt with a scrappy mix as well…the quilt goes together so fast).  But first I'd better tackle the projects on my list…  Happy quilting, and thanks so much for stopping by!