Hello, friends, and happy Monday! Today I'm super excited to share a bit more about my upcoming quilt book, A Quilting Life Home & Hearth: Quilts and More to Cozy Up Your Décor. I've shared the cover and pre-order information already, but today I'm going to be sharing details about the quilts and projects you'll find included. Shipping for this book is just around the corner–September! I also filmed a video when my advance copy of the book arrived where I share even more information about each of the projects.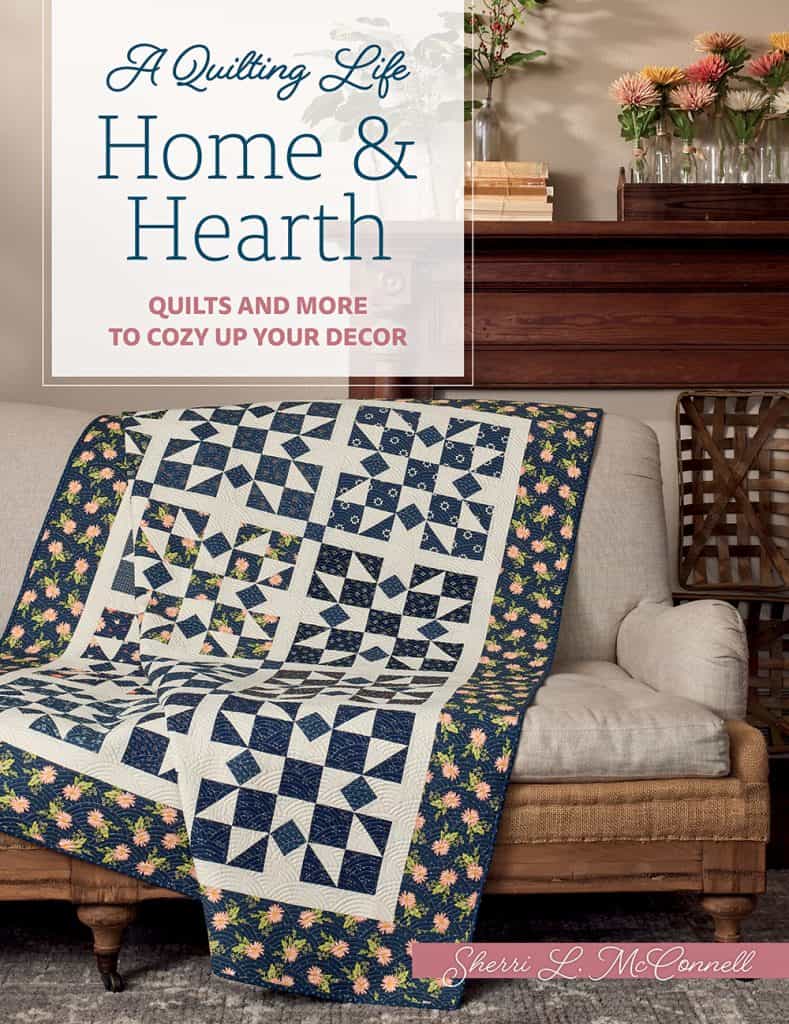 A Quilting Life Home & Hearth
I'm super excited to finally have this book begin making its way in the world. The book and all of the projects were created during the beginning days of all of the 2020 craziness. And truly, working on these projects did so much for keeping my mind busy with good things and happy sewing. I hope you'll enjoy all of the quilts and projects as much as I did creating them.
Quilts
The Home & Hearth book contains patterns for five different large quilts pieced in a variety of fabrics and with levels of varying difficulty. Dance Party (upper left) was pieced using the fun and 70's-inspired Blooming Bunch collection by Maureen McCormick of Brady Bunch fame. Eclairs (center top) is pieced with our Balboa collection for Moda Fabrics. Side Door uses a variety of navy prints from several of our collections. (I got to include the Happy Days navy prints as the yardage arrived just in time–this was the final quilt I pieced for the book). Backyard Blooms (lower left) is pieced in the Folktale collection by Vanessa Goertzen of Lella Boutique, and the final quilt, Dream, uses our Happy Days collection.
Pillows
There is nothing I love more than accessorizing my home (and my quilts) with fun quilted décor pillows. So of course I had to include a few classic pillows. From left are my Mini Log Cabins Pillow, the Blooming Pillow, and the Garden Blooms Pillow which is sized to work as a sham for standard pillows.
Wall Hanging + Table Runners
Wall Hangings and Table Runners are also favorites to make. I love keeping them fairly simple so they are easy to use for gift giving. From top left are: first, the Al Fresco Table Runner (because we all need a runner for meals outside). Then the Hearts at Home Wall Quilt (which I can't wait to re-make in our Sincerely Yours Fabrics). And next is the Hearts at Home Table Runner (ditto for re-making this one in Sincerely Yours). Finally, the Simple Patchwork Runner is perfect for your table and for scraps. I had fun combining Bonnie & Camille + Lella Boutique fabrics for the blocks. Additionally, I chose prints from our Happy Days collection for the outer border and binding. I know I'll be making this runner again and again!
Sewing Gifts + Small Projects
And finally, I'm super excited to share the three bonus projects located at the end of the book. I love making sewing accessories and gifts for friends and family. These final three projects are perfect to make for yourself or your favorite quilting friends. I love the curved bottom Patchwork Project Bag pictured on the left. This design has been on my list of projects for awhile. And then I had a lot of fun piecing the Hexagon Needle Keeper along with the Rotary-Cutter Case. The case will really come in handing for transporting your rotary cutter, or even keeping it cute at home!
Home & Hearth Video
You can watch my Home & Hearth book projects video above, or go here to watch it on our YouTube channel. Also find information on pre-ordering below:
Happy quilting, and thanks so much for stopping by!