Hello and happy Friday and welcome to our Sunday Best Quilts Sampler Block 5. Corey and I have been having a blast seeing all of the gorgeous blocks being made for this sampler quilt. We're so glad you're sewing along with us! Keep reading for details, tips, and the PDF for this week's block.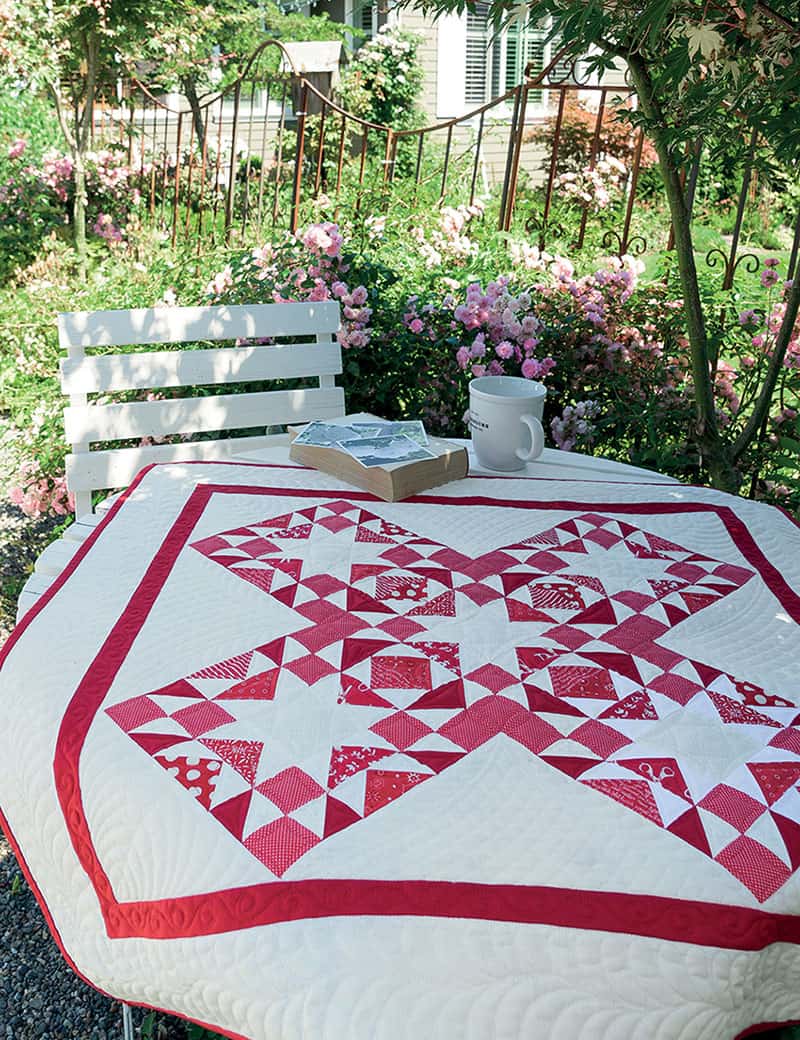 This week's block is from my Remembrance quilt in the book which from our Bucket List category of Red & White quilts. As I mention in the book, I was pretty excited to make my red & white quilt for the book because I made it in a size where I can use it and display it frequently. It's the perfect size for a wall hanging or table topper, and I can use it year round or save to display at Christmas.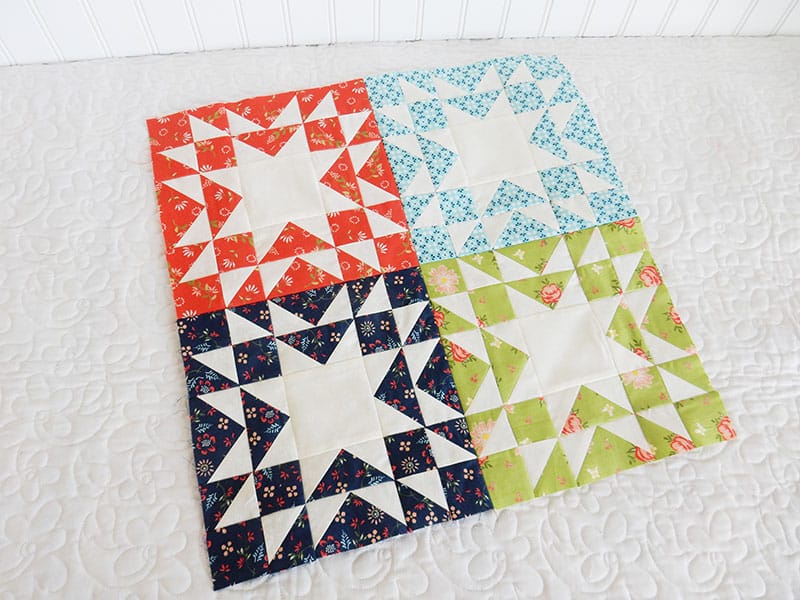 Sunday Best Quilts Sampler Block 5
While the Remembrance blocks in my quilt in the book are made up of scrappy red and white fabrics, I decided to change it up a bit for my sampler quilt. I made each of the four star blocks for the sampler block in a different fabric. I love the scrappy mix along with the cohesiveness of using just one fabric for each star. Feel free to mix and match your block any way you'd like!
Block 5 Fabrics
I'm going to continue listing the exact fabrics I've used for my blocks each week…hopefully it is helping out with fabric and color selection if you're using Sherri & Chelsi fabrics for your quilt. This week I used the following four fabrics clockwise from top left:
Sunday Best Quilts Sampler Block 5 PDF
I placed my Remembrance block in the lower right hand corner of my quilt where I felt like it balanced the placement of my other star block, On a Whim in the upper left hand corner. Of course, block placement will be up to you when you begin putting your quilts together. Click here to get this week's PDF download, or click the button below.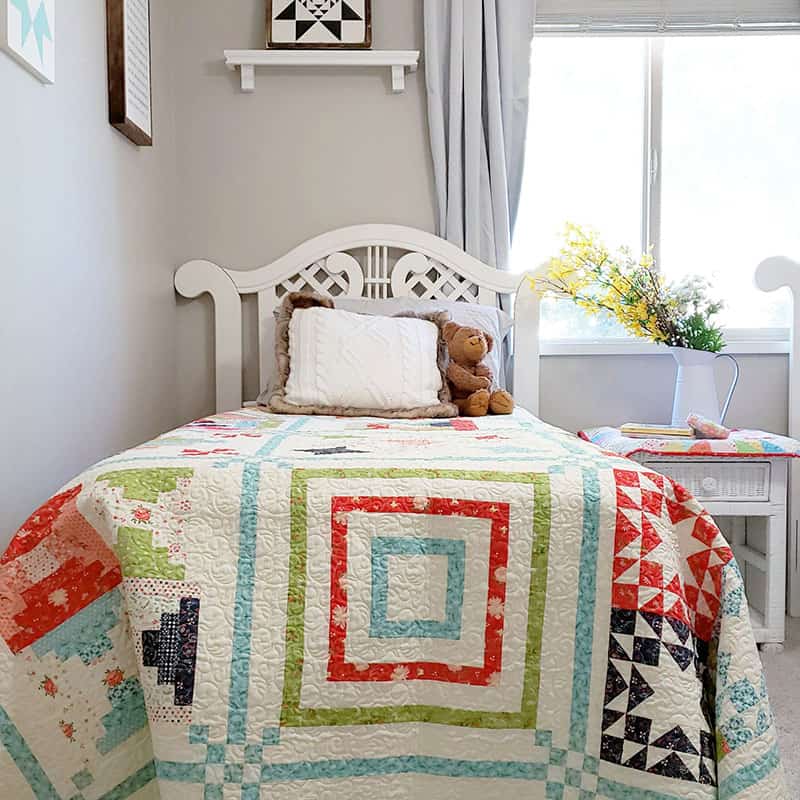 Tips for Constructing Block 5
There are a lot of pieces in this block, so accuracy will be important. I recommend careful trimming of the finished half-square triangles so the corner units are exact.
You may also want to consider using a Bloc Loc Flying Geese Ruler for the flying geese units. Check the finished size in the book and order the ruler accordingly. Remember you'll have to cut fabrics using the ruler instructions rather than the book instructions if you are using this method.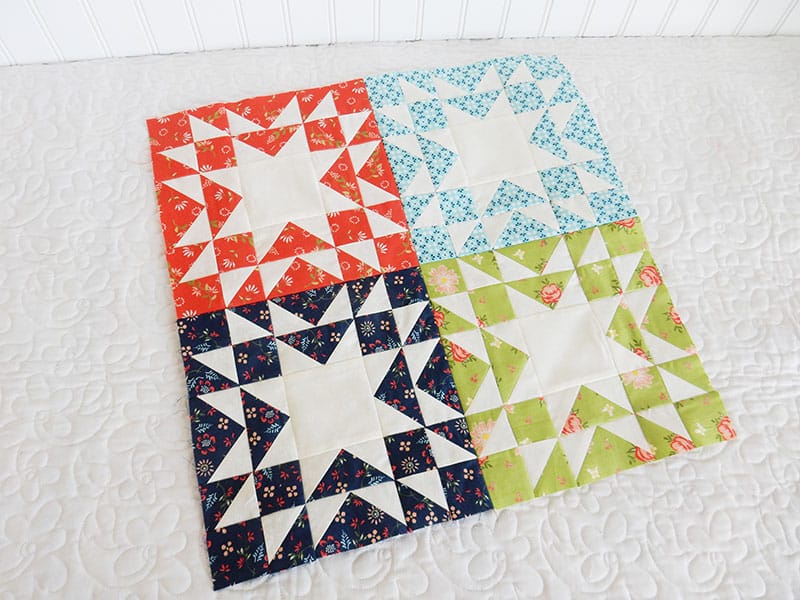 Sunday Best Sampler Links
Here are some links to help if you're just joining in or if you need a refresher on some of the posts: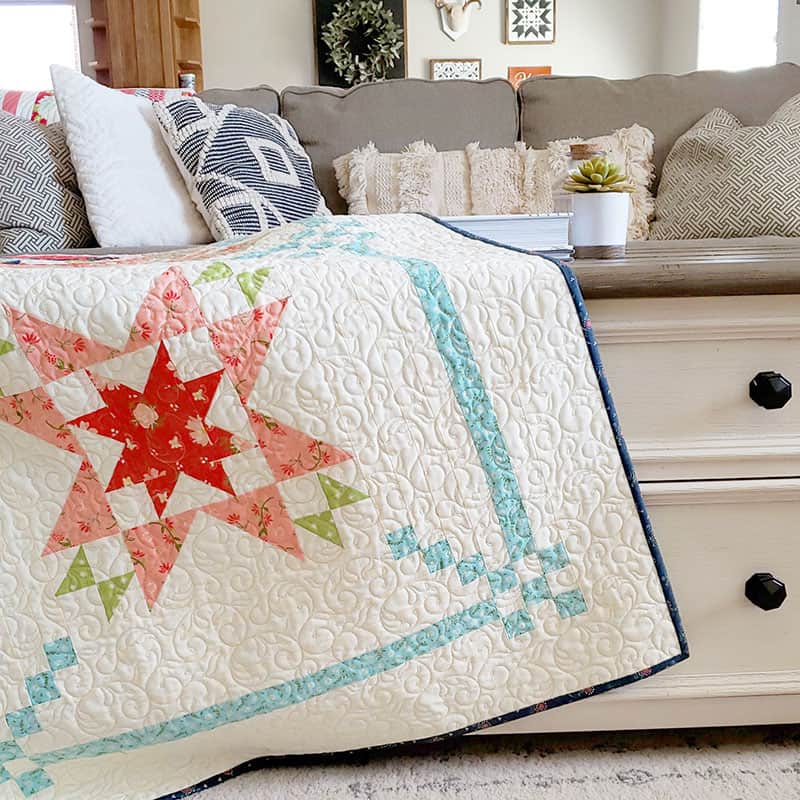 Just a Bit More on our Sew Along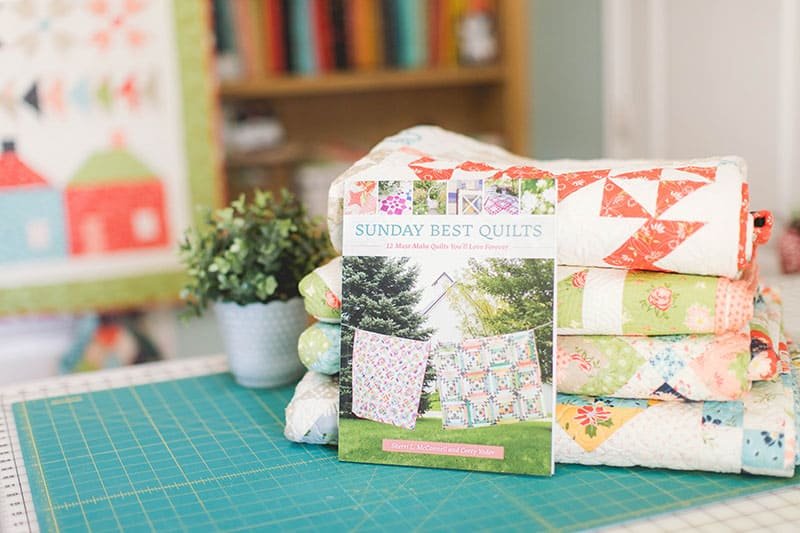 Happy quilting, and thanks so much for stopping by!
What do you think of this Sunday Best Quilts Sampler Block? Share in a comment below!