Hello, friends! Happy Friday to you! Today I'm sharing 7 Tips for Fabulous Scrap Quilts along with a fun video I filmed recently. As I share some of my favorite scrap quilts I share my best tips on creating beautiful scrap quilts you love from your stash of fabrics.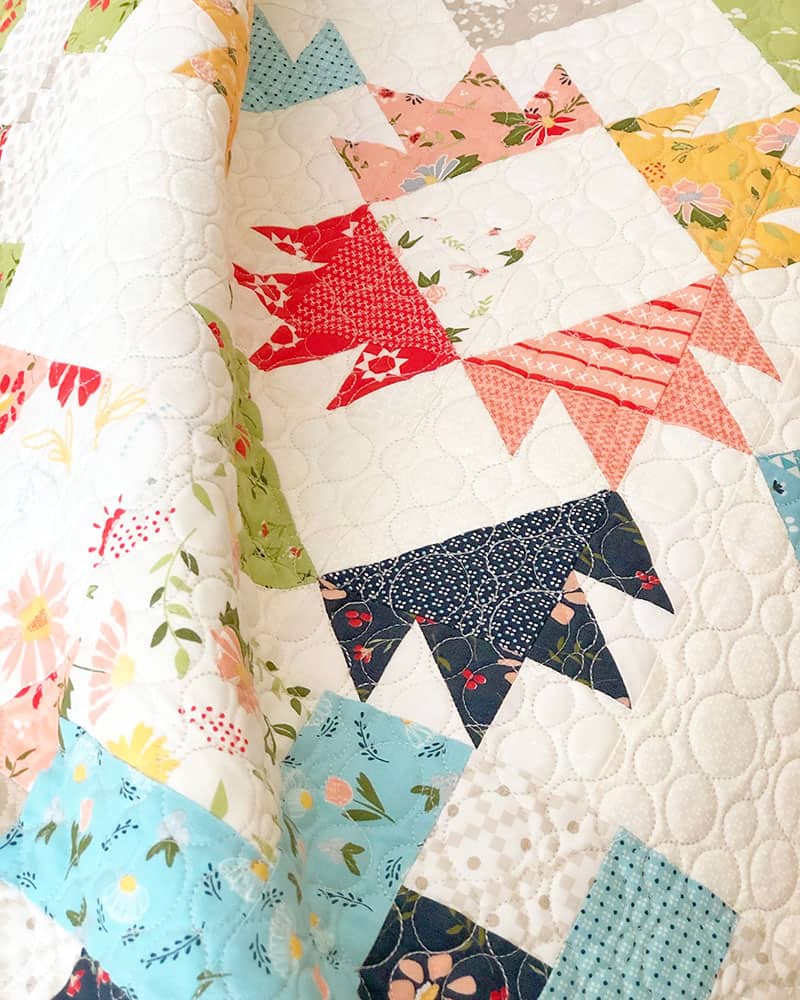 7 Tips for Fabulous Scrap Quilts
Personally, I love scrap quilts with a bit of open space; however, that open space doesn't have to be a solid white fabric. There are several ways to provide continuity in your scrap quilts while at the same time giving the eyes a resting place and allowing enjoyment of a wide variety of prints and patterns.
Scrap Tips Video
I had a lot of fun sharing some of my favorite scrap quilts and discussing what I feel like are the elements in each of the quilts that make them "work." There were a few quilts I wasn't able to share because they're either still with my publisher or on loan to a couple of quilt shops. I'll share them in a photo gallery at the end of the post. You can watch the video above or watch it here on my YouTube channel.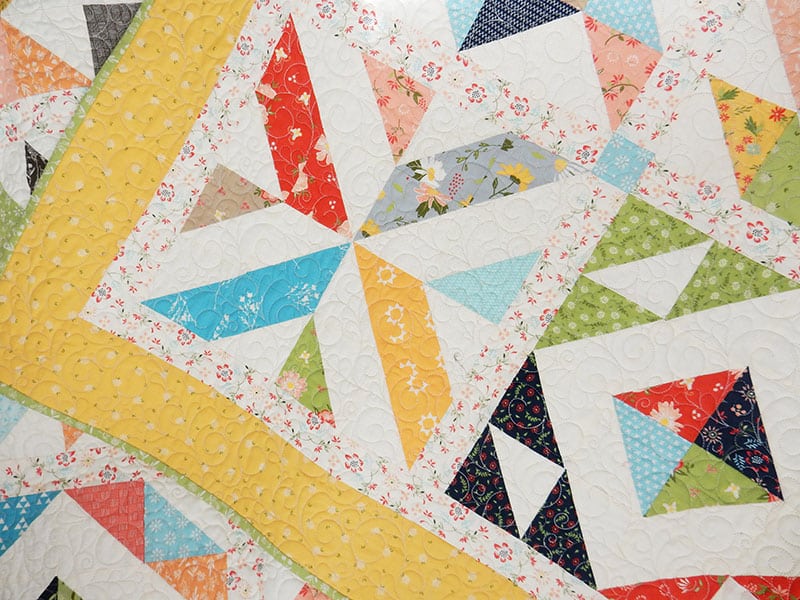 1. Use Neutral Backgrounds to Combine a Variety of Scraps.
In my scrappy half-square triangle quilt pictured above I used a wide variety of fabrics from nearly all of our fabric collections to date. I used a neutral cream solid or tone on tone for the background of nearly all of the half-square triangles in order to create a sense of unity in the quilt.
2. Use a Single Sashing Fabric and Single Contrast Post Fabric to Unify your Quilt.
Another method I used to unify the scrappy half-square triangle quilt above was to use the same sashing throughout and also use a contrast post fabric throughout. The light floral sashing and blue daisy print posts help bring the quilt together.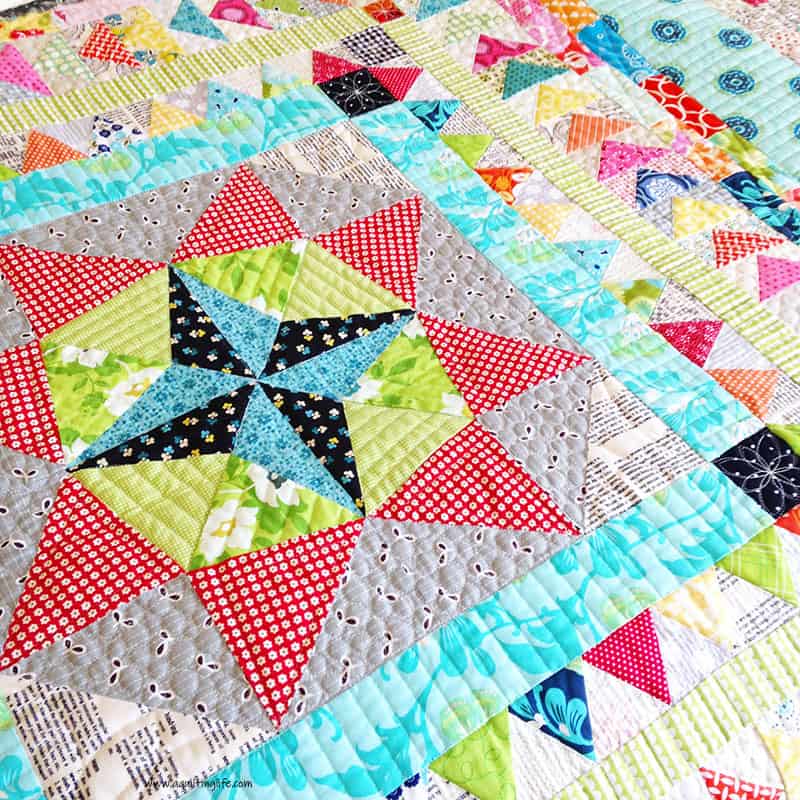 3. Try a Medallion Style Scrap Quilt.
Making a medallion quilt can be a great way for beginner scrap quilters to achieve a look they love. Because each section of the quilt is completed from the inside out, you can make sure you are happy with the mix of fabrics each step of the way. If a border doesn't work, it can be easily changed before the next "layer" is added.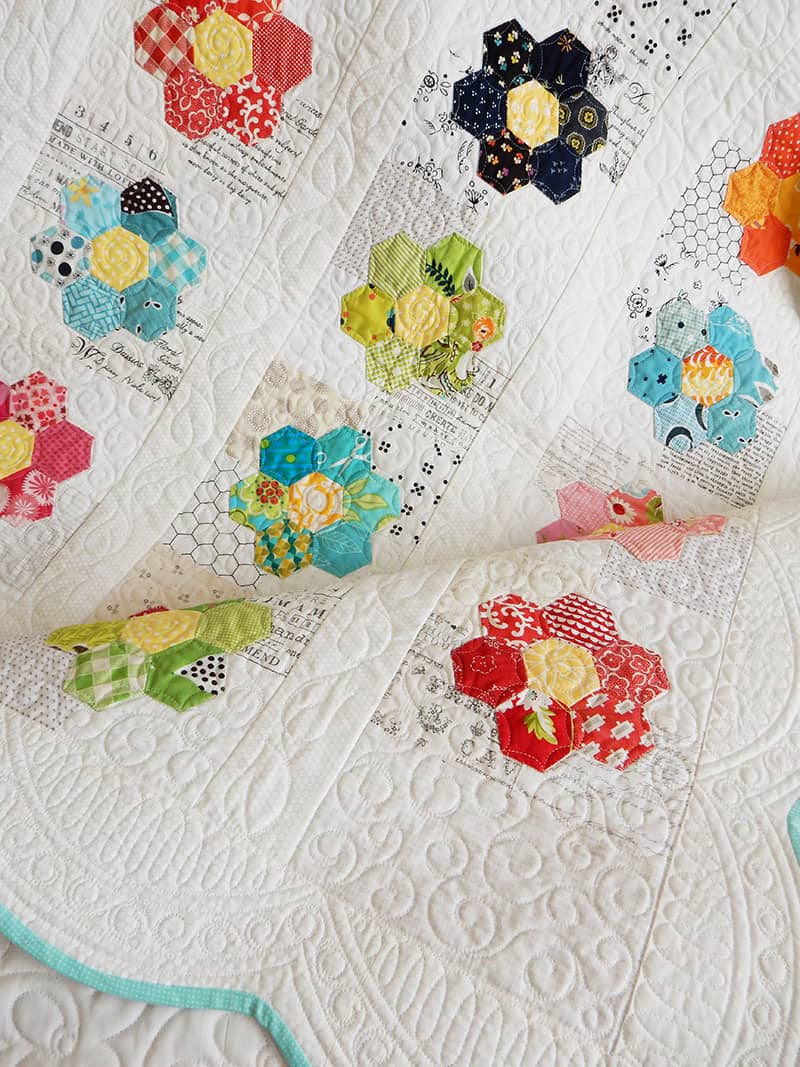 4. Unify by Including One Color in Each Block.
In my Flowers for Emma Grandmother's Flower Garden quilt pictured above, I unified the quilt by using a yellow center for each flower. While the shades of yellow varied, this continuity helped to unite the various blocks in the quilt.
5. Unify with a Small Scale Medium or Dark Background.
I used a medium grey small scale polka dot as a background in order to unify my scrappy Richmond quilt pictured above. I also used a bit of white in each of the blocks to make the blocks stand out. While the sashing posts are scrappy, the background print does a great job of unifying the quilt as a whole.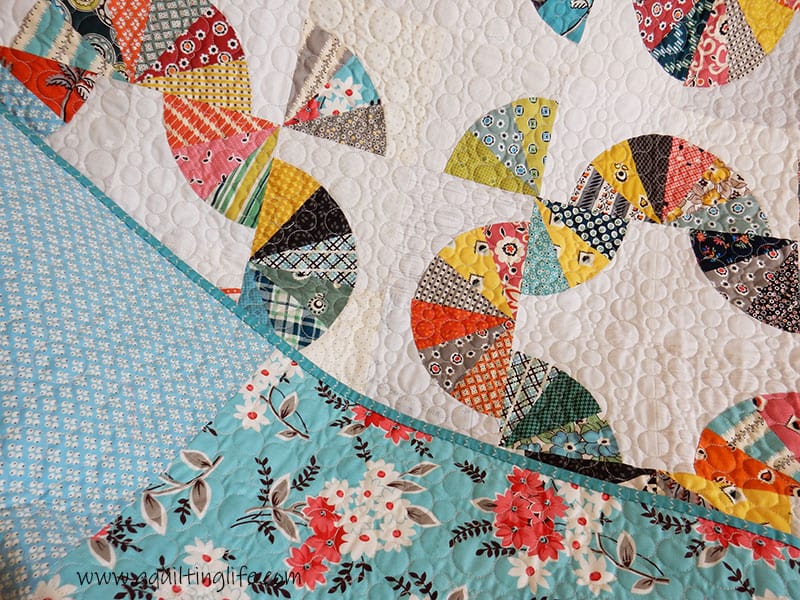 6. Use Open Space to Unify Your Quilt.
In my scrappy Mahalo quilt pictured above and pieced with a variety of fabrics by designer Denyse Schmidt, I depended on the open space in order to unify the quilt. In this quilt, the string of pearls all-over quilting pattern also kept the quilting from distracting the eyes too much and led to a more cohesive finish.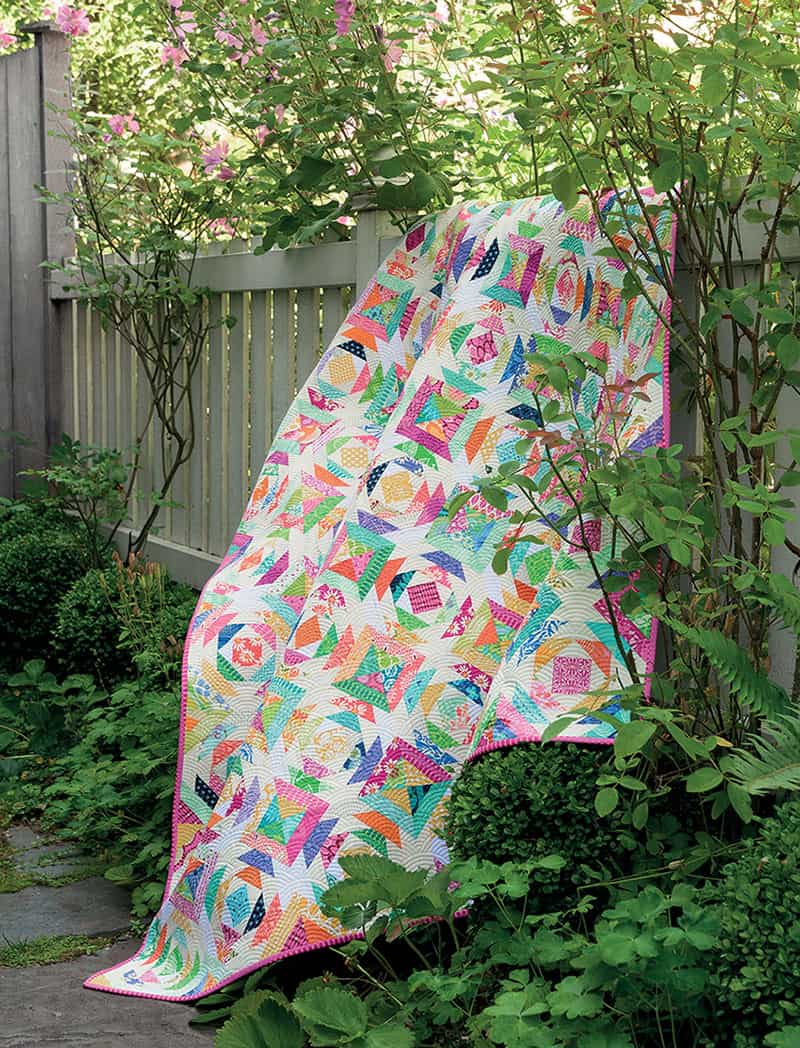 7. Use a Bold Binding to Help Unify the Scrap Quilt.
In my Pier 44 scrappy pineapple quilt above, and in a scrappy patriotic quilt in the video, I used a bold binding to bring the quilts together. The bright pink binding for this quilt really makes the variety of scrappy pink fabrics included stand out. And a bold stripe binding on my red, white and blue quilt in the video also helped unify the quilt.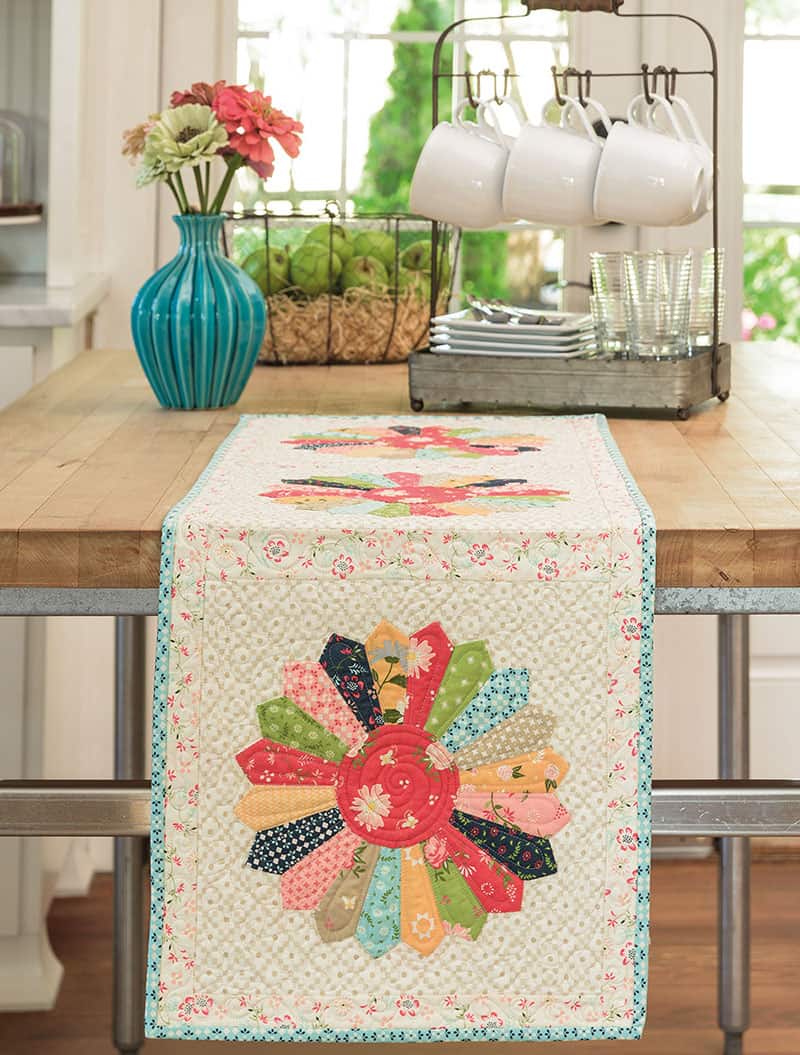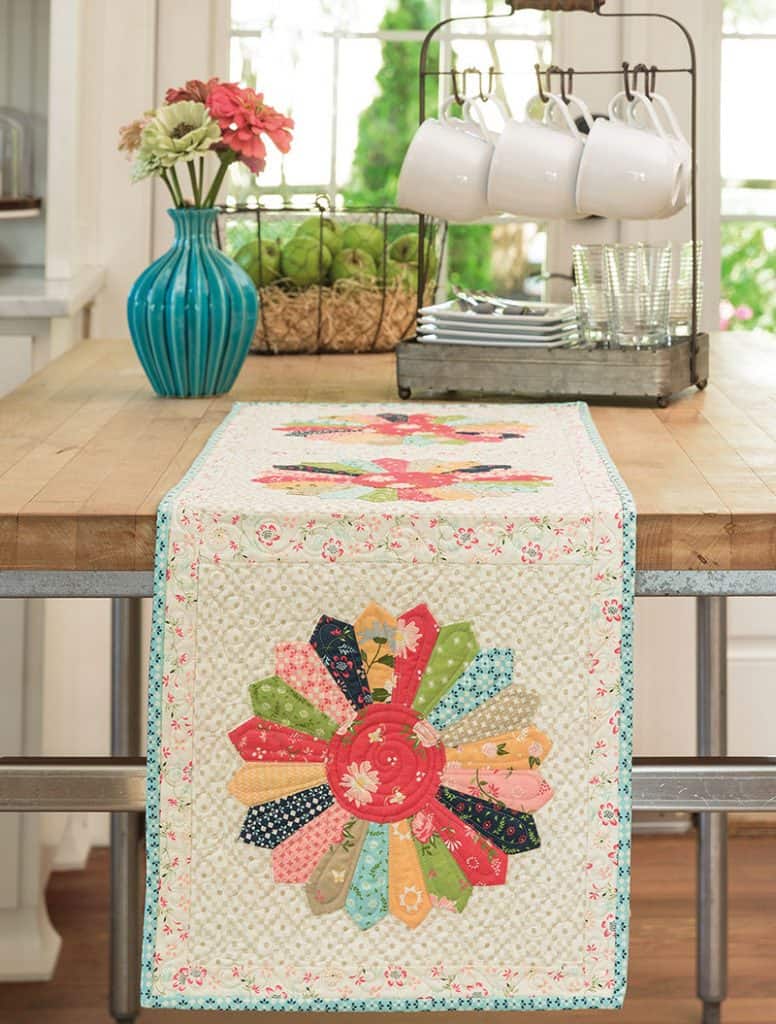 More Scrappy Favorites
Pictured above are some more of my favorite scrappy quilts…still at the publisher for now. But you can see that I utilized the principles I discussed in this post in each of these projects. Scrappy quilts are always my favorites!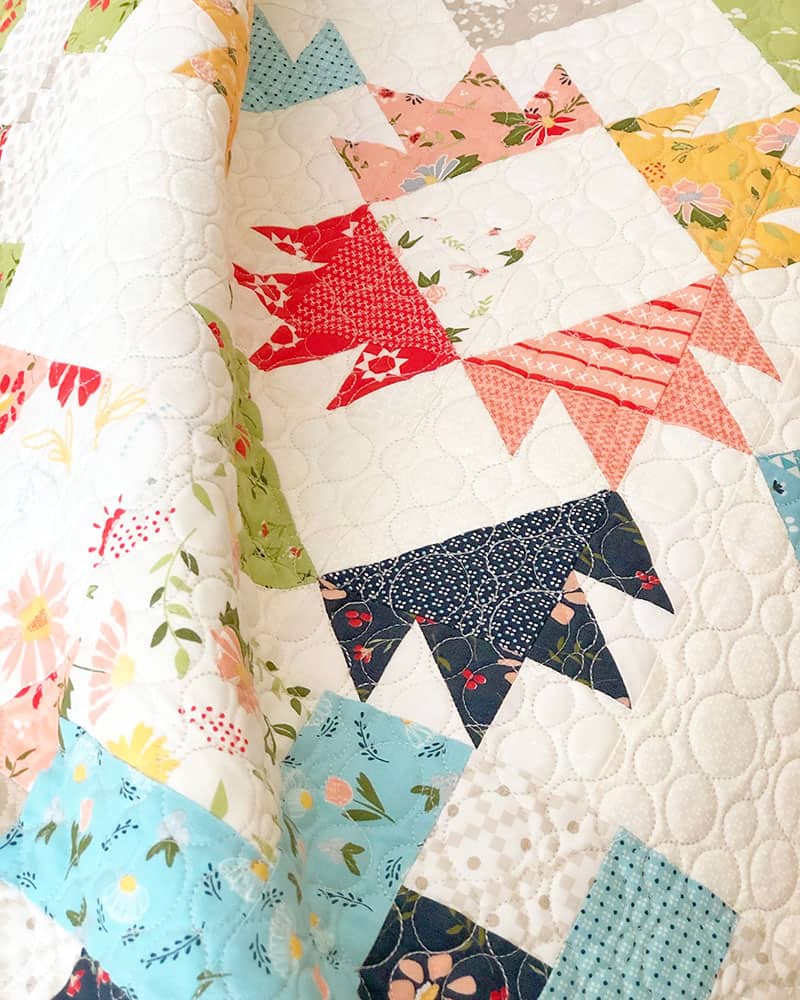 I hope you enjoyed today's visit with 7 Tips for Fabulous Scrap Quilts. Happy quilting, and thanks so much for stopping by!