This post was originally published in December 2018 and updated in December 2019. Hello and happy Tuesday! Today I'm sharing 11 Favorite Christmas Quilts to Make & Love. This is a collection of quilts either made by me or by my daughter. In fact, three of them are being quilted right now! I have links to each pattern or book, and three of them can be made with free tutorials. Enjoy!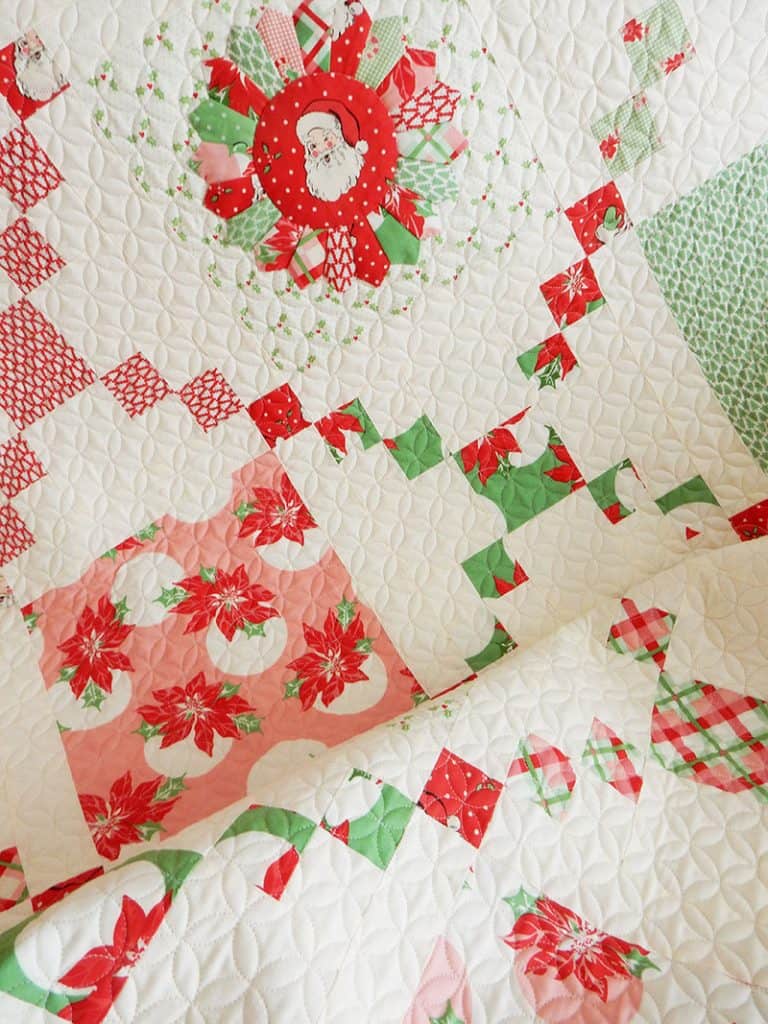 Pot Luck
First up is my Pot Luck quilt pieced with Swell Christmas. I've shared this one a lot since I made it about a year ago, and it's a favorite! Find the pattern here.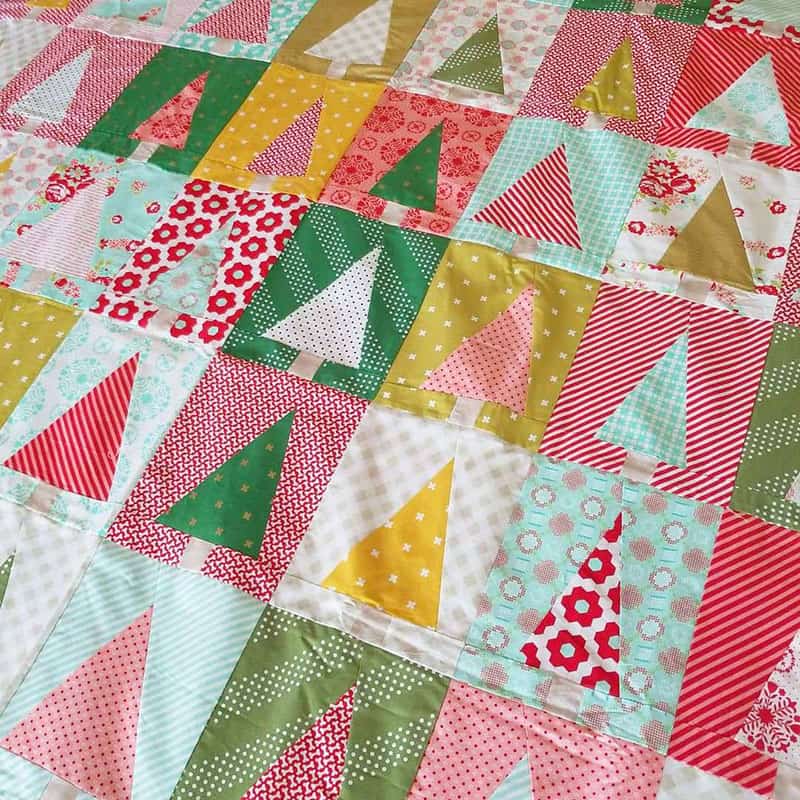 Modern Trees
This modern scrappy Christmas Trees quilt is one that's on my list to make! My daughter made it last year, and it's being quilted now! This quilt has a wonderful free tutorial for the blocks by Amy Smart. Find her tutorial here.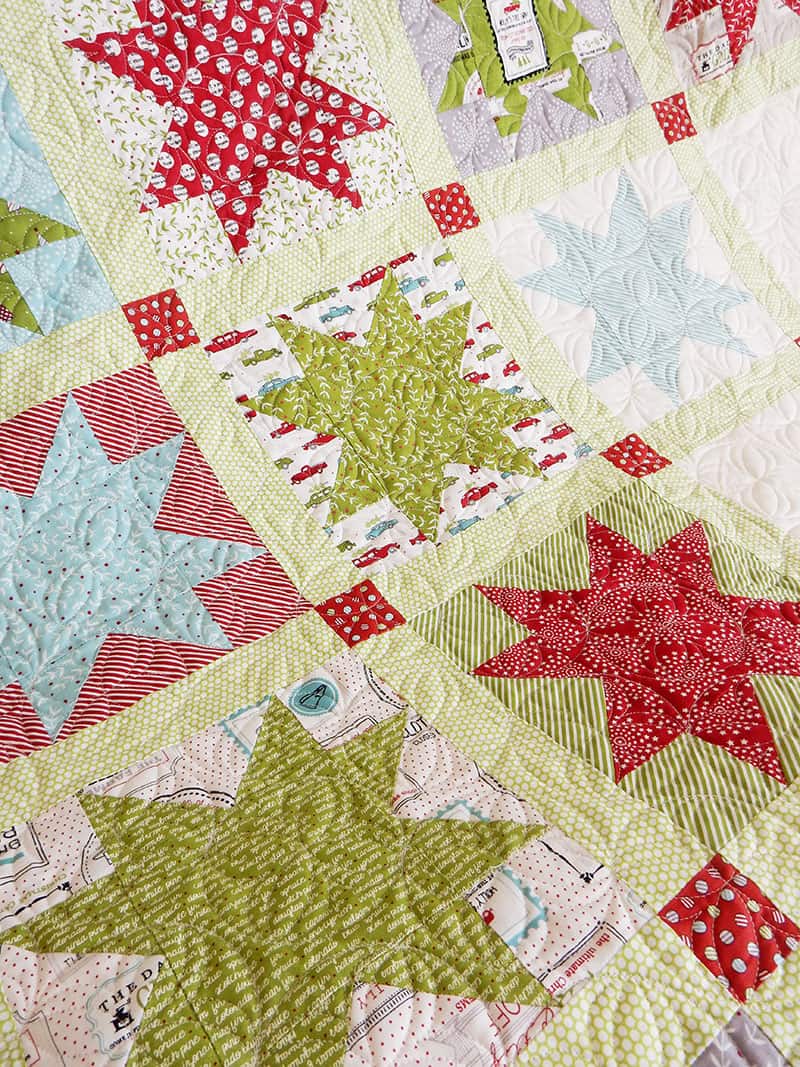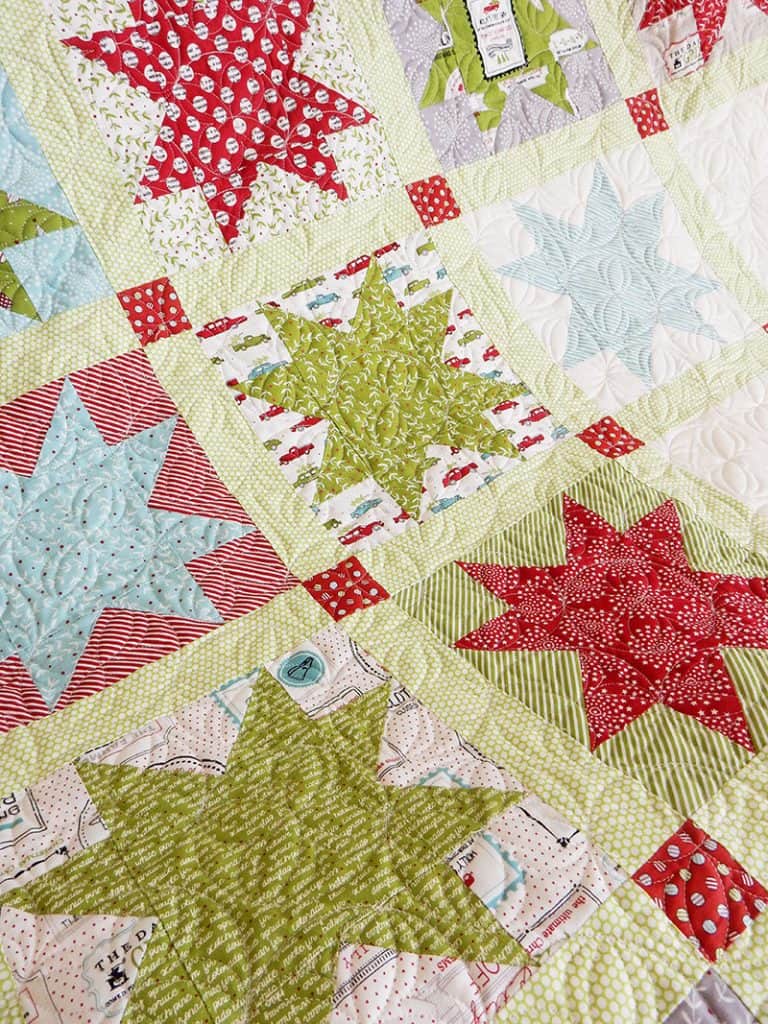 Hometown
Last year I made my Hometown Layer Cake quilt in a fun Christmas collection by Sweetwater with a Bonnie & Camille sashing. This one is another one of my favorite Christmas quilts! Find the pattern here.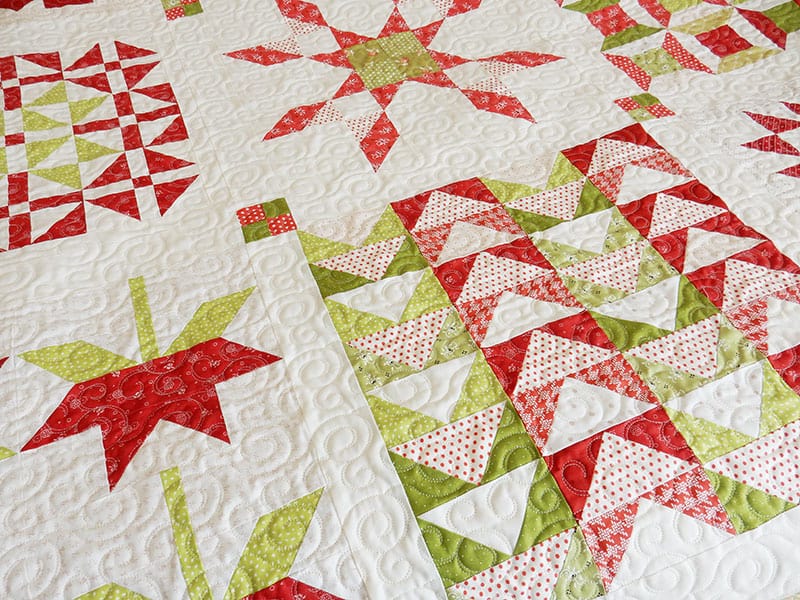 Christmas Figs Block of the Month
A couple of years ago I made the Christmas Figs Block of the Month quilt with scrappy fabrics from a variety of collections (mostly Fig Tree). Just this year, the pattern was published in a book along with several other fun Christmas projects. Find the Christmas Figs Block of the Month book here.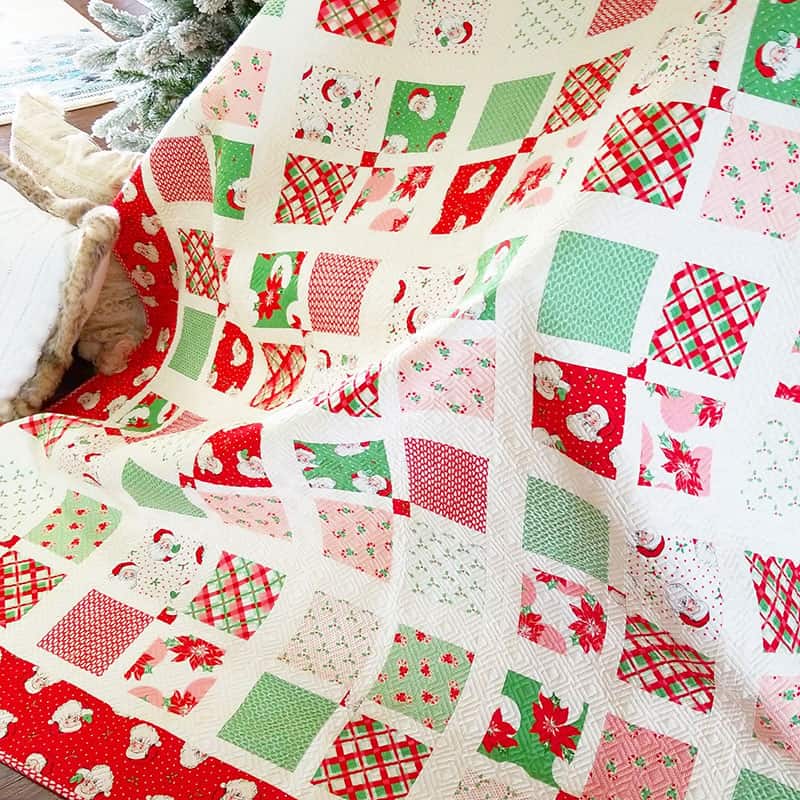 Four-Square
This Four-Square quilt in Swell Christmas is my most recent Christmas quilt finish (although I have one ready to be picked up from being quilted)! While this is one of my most favorite Christmas quilts, I'm also excited to make it in an everyday fabric soon, too! Find the pattern here.
Under the Tree
My daughter Chelsi just made this Under the Tree quilt using the reds, corals, greens, creams, and taupes from our Walkabout fabric collection. This is a fast and fun quilt! Find the pattern here.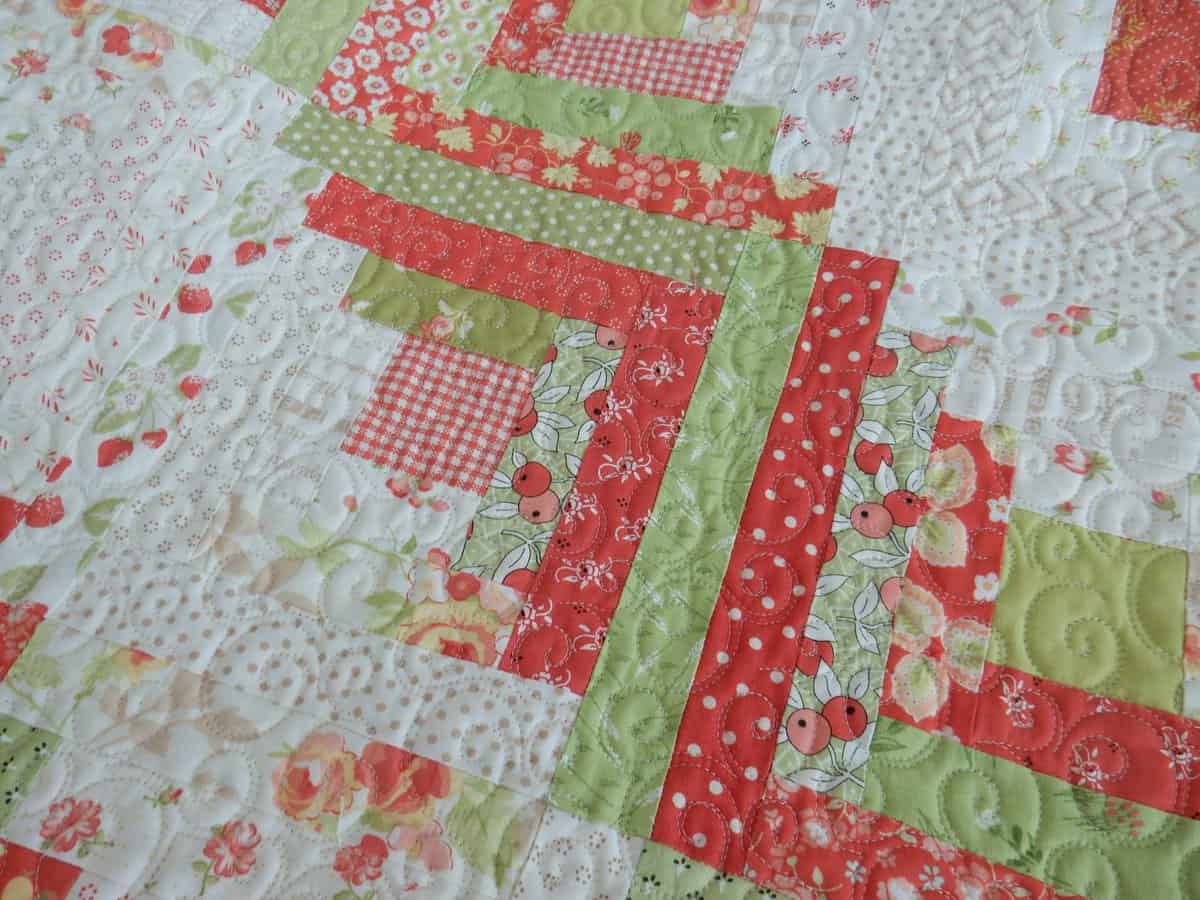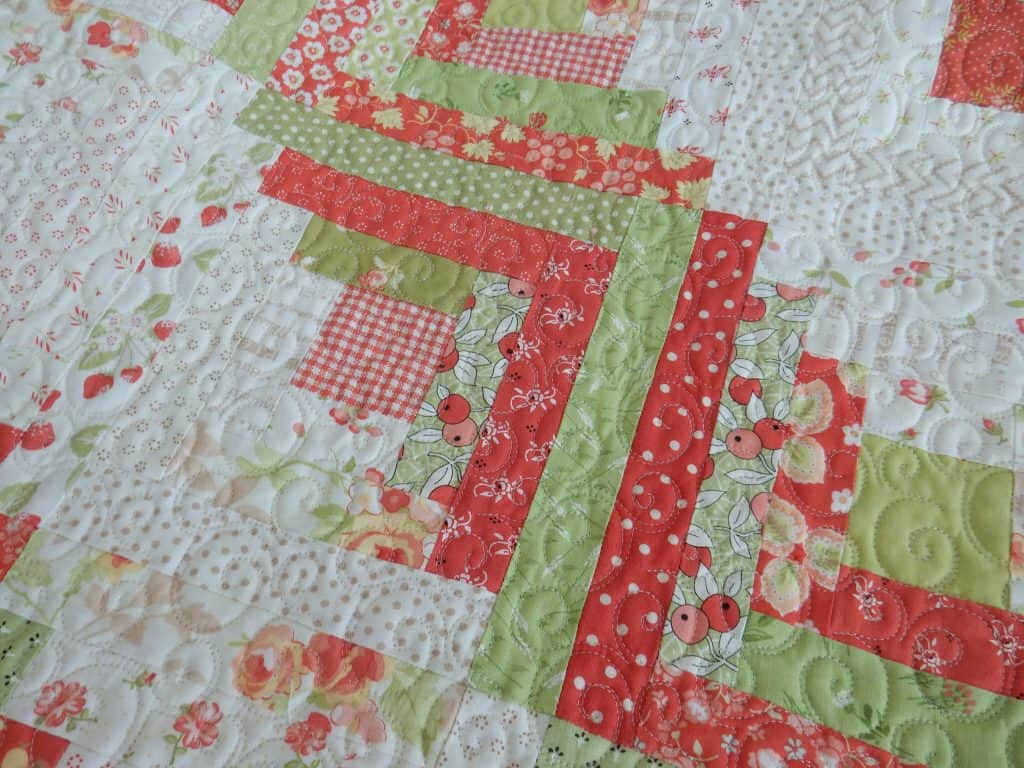 Scrappy Christmas Log Cabins
Last year I made a scrappy Christmas Log Cabin quilt in the two months before Christmas.  It's king-sized and is on our bed now.  I used scraps from Fig Tree collections and was even able to mix in some of our own fabrics along the way.  Find the tutorial information here.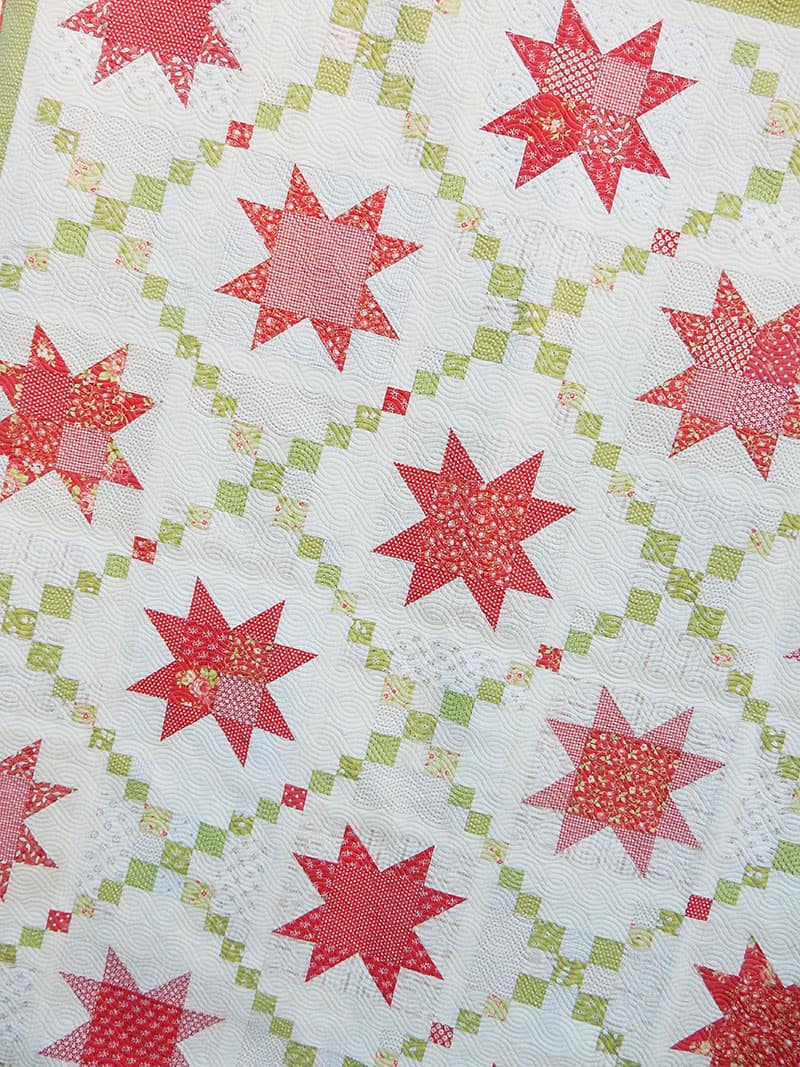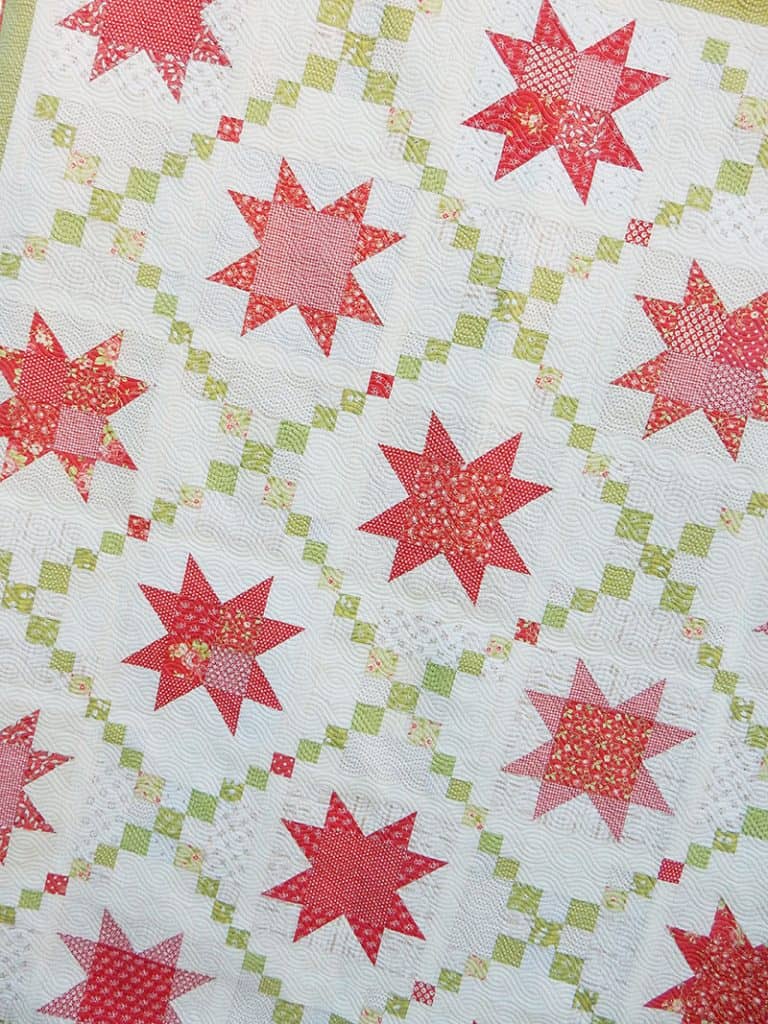 Sugar Pine Stars
My Sugar Pine Stars quilt is another scrappy one! I made this one a couple of years ago and have it in our room since it coordinates so well with my Log Cabin quilt. The pattern contains two different sizes of the quilt–a larger one and a nice lap-sized quilt. Find the pattern here.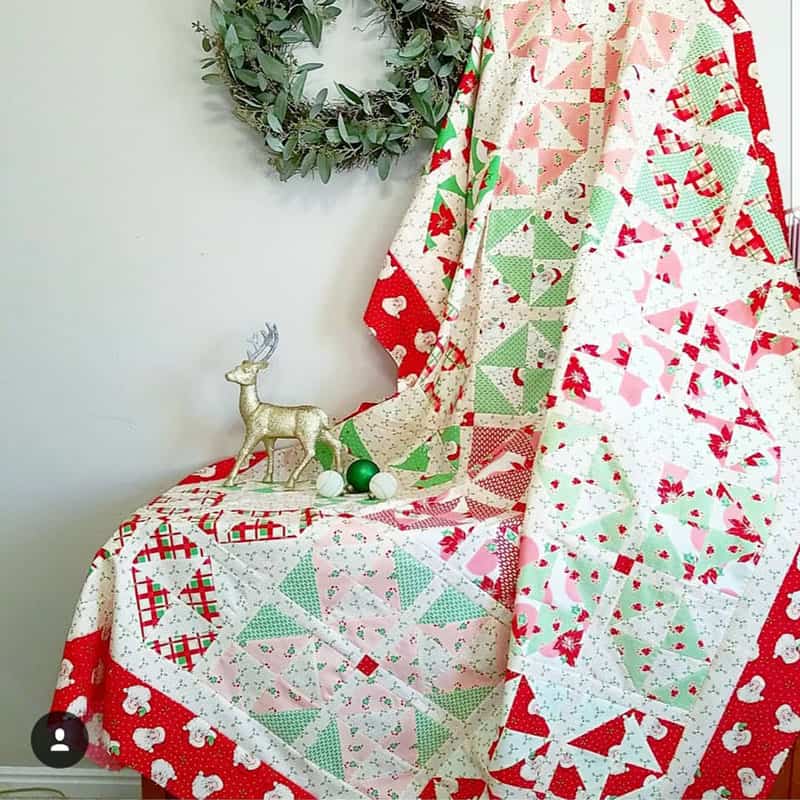 Hope Chest
Earlier this year Chelsi and I did a quilt along on the blog and on Instagram using my Hope Chest quilt pattern. While I used our The Front Porch collection for my quilt, Chelsi made hers with Swell Christmas. This one is at the quilter's right now. Find the pattern here.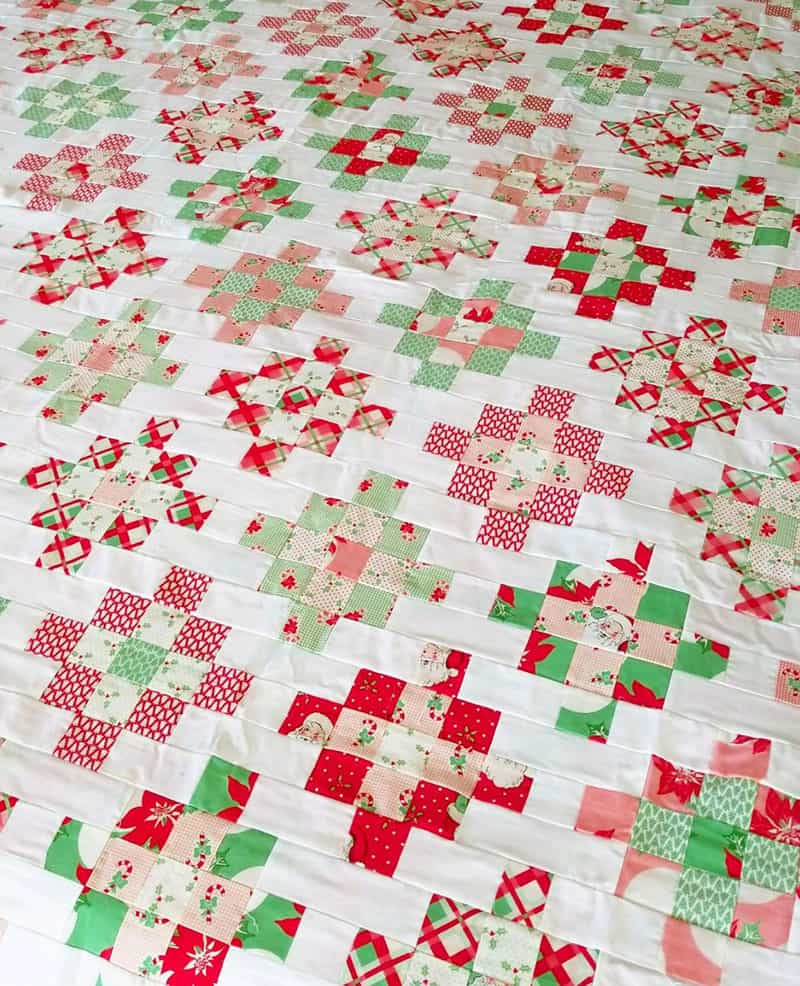 Takes the Cake
This "Takes the Cake" quilt is another one Chelsi pieced earlier this year. (I guess we both really love the Swell Christmas collection)! This is also at the quilter's right now! Find the pattern by Camille Roskelley here.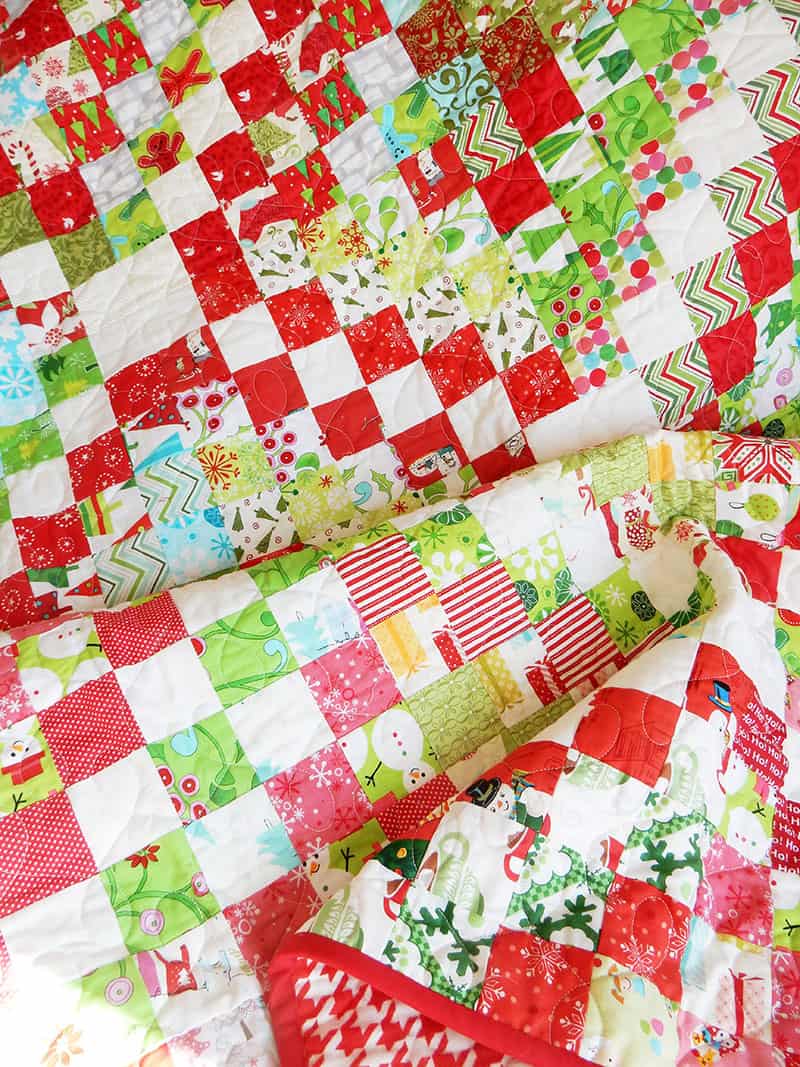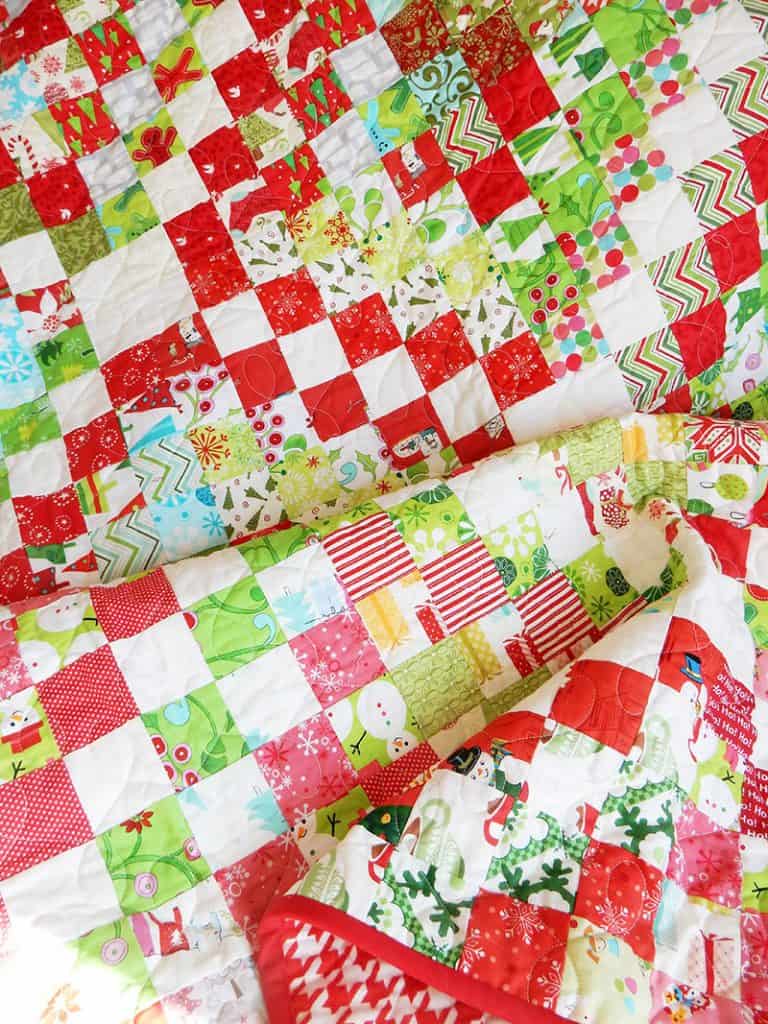 Scrappy Trip Around the World
And finally, but definitely not last…is my Scrappy Trip Around the World in Christmas fabrics from my stash.  This one is from a few years ago, but I recently posted about it here (there is a link to the free tutorial in the post).  And…just last Saturday I linked to a great printable to help you figure out how many strips you need for making a variety of sizes of this quilt.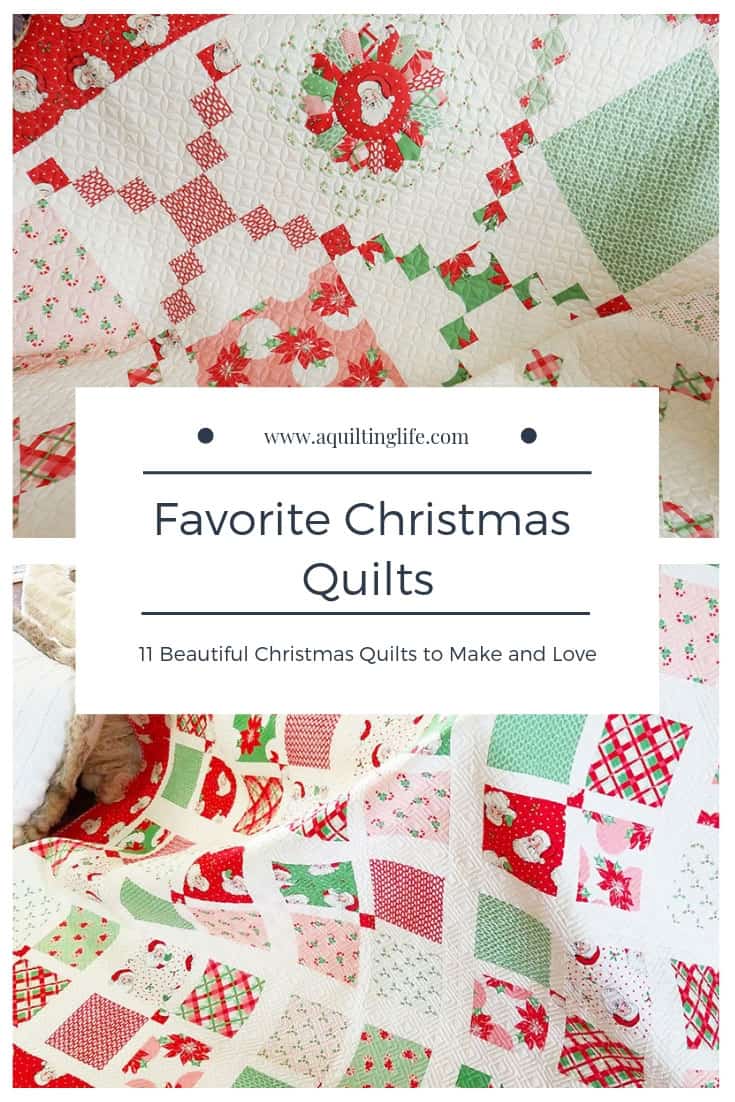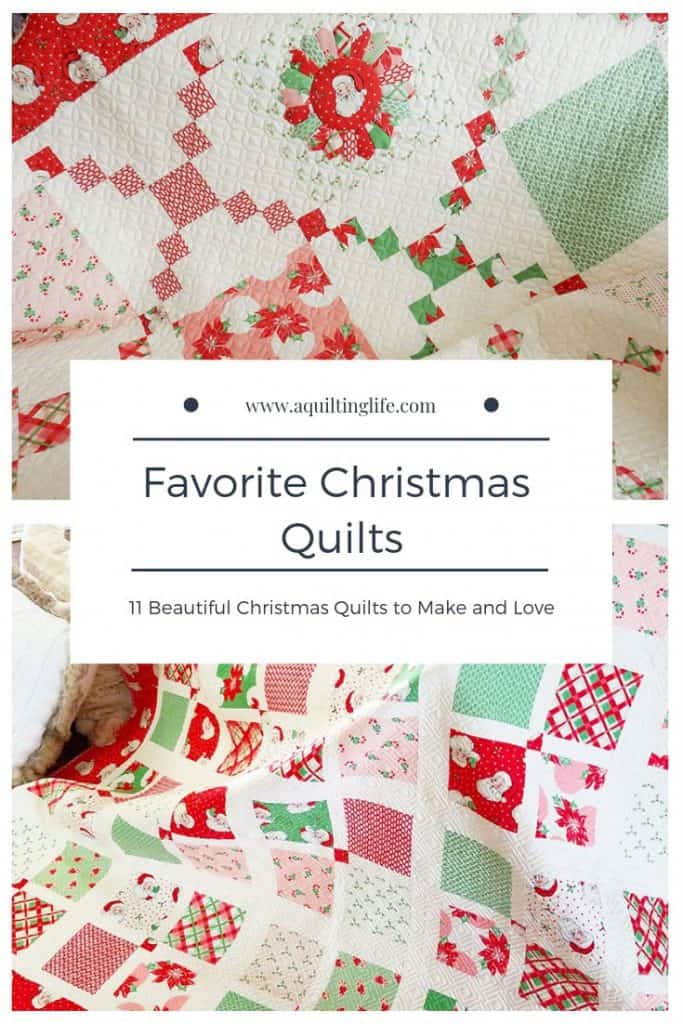 I hope you've enjoyed my 11 favorite Christmas quilts. You can pin the image above in order to easily come back to this post. And, I have a feeling I'll be either adding to this post or writing an additional one on this topic before too long! Thanks so much for stopping by! Happy quilting!