Hello, friends! Today I'm sharing my best ideas and tips for Using Fabric Precuts including tips for beginners and quilters of all skill levels. I've been using fabric precuts in my quilting for over 15 years and am still amazed at how much time they save, how much I enjoy using them, and how much I continue to learn about them. In today's post you'll learn everything you need to know to start using fabric precuts or to more effectively use them, even if you've been sewing with them for years. Also, I have some Emma precuts in the shop along with a new quilt video to share at the end of today's post.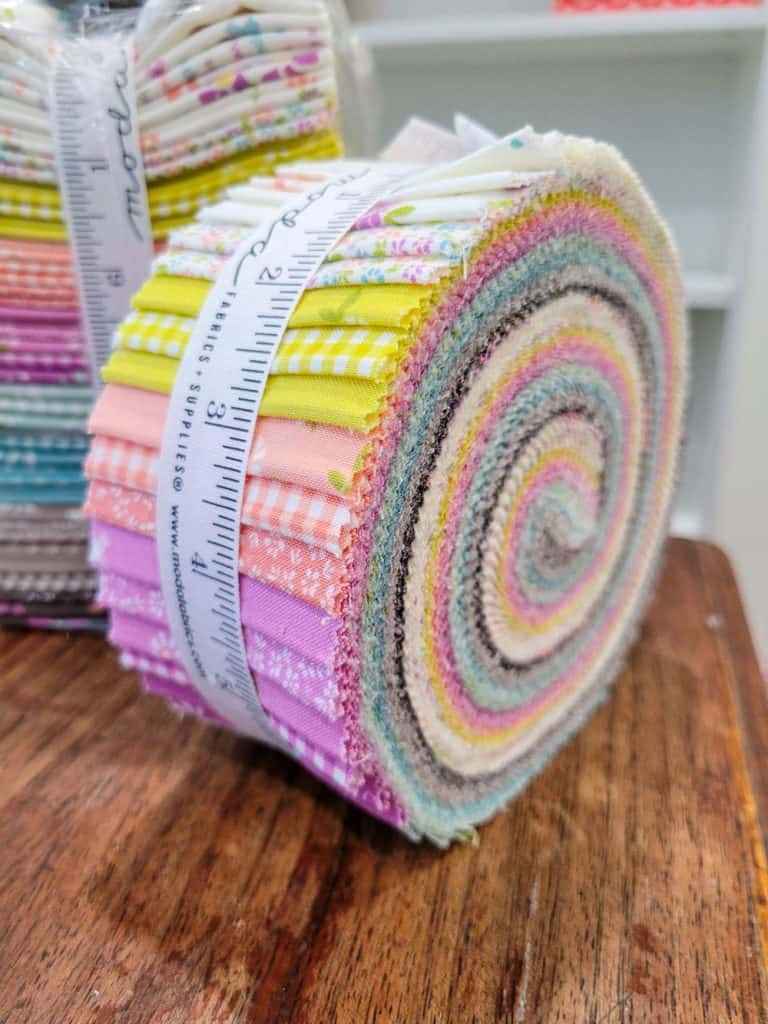 Using Fabric Precuts: Tips for Beginners
1. Fabric Precuts Defined
First, I'll define each of the commonly used precuts for your reference. Additional information is given for Moda precuts which are very standardized:
Mini Charms are 2.5″ x 2.5″ squares. Moda Mini Charms contain 42 of these squares.
Charm Pack Squares are 5″ x 5″ squares. Moda Charm Packs contain 42 squares.
Honey Buns contain 1.5″ x 42″ strips. Moda Honey Buns contain 40 strips.
Jelly Rolls contain 2.5″ x 42″ strips. Moda Jelly Rolls contain 40 strips.
Layer Cakes are 10″ x 10″ squares. Moda Layer Cakes contain 42 squares.
Fat Eighths are 9″ x 21″ rectangles. The number of fat eighths in a collection will vary.
Fat Quarters are 18″ x 21″ rectangles. The number of fat quarters in a collection will vary.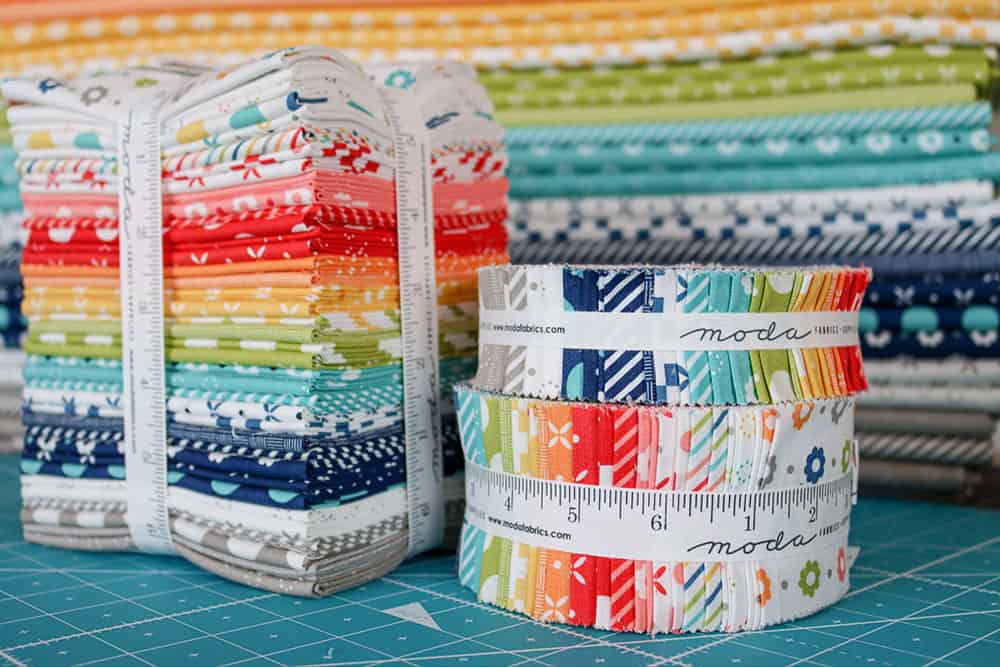 2. Benefits of Using Fabric Precuts
There are many different benefits to using precuts in your quilting. Just a few are listed below:
Precuts contain at least one of each print in a collection allowing you to really get a good idea of the fabrics.
Precuts save time! Less time pressing and cutting means quicker sewing.
Precuts can easily be combined with other precuts and scraps for even more variety.
3. To Prewash or Not to Prewash
I never pre-wash the smaller precuts: Mini Charms, Charms, HoneyBuns, Layer Cakes, and Jelly Rolls. On a very few occasions (mostly because I needed to mix with other fabrics that had been pre-washed) I have washed fat eighths and fat quarters. Be prepared for some raveling and shrinkage if you wash. Some quilters like to use starch on all of their pre-cuts before sewing. When starching: spray with starch and allow to air dry, ironing before sewing.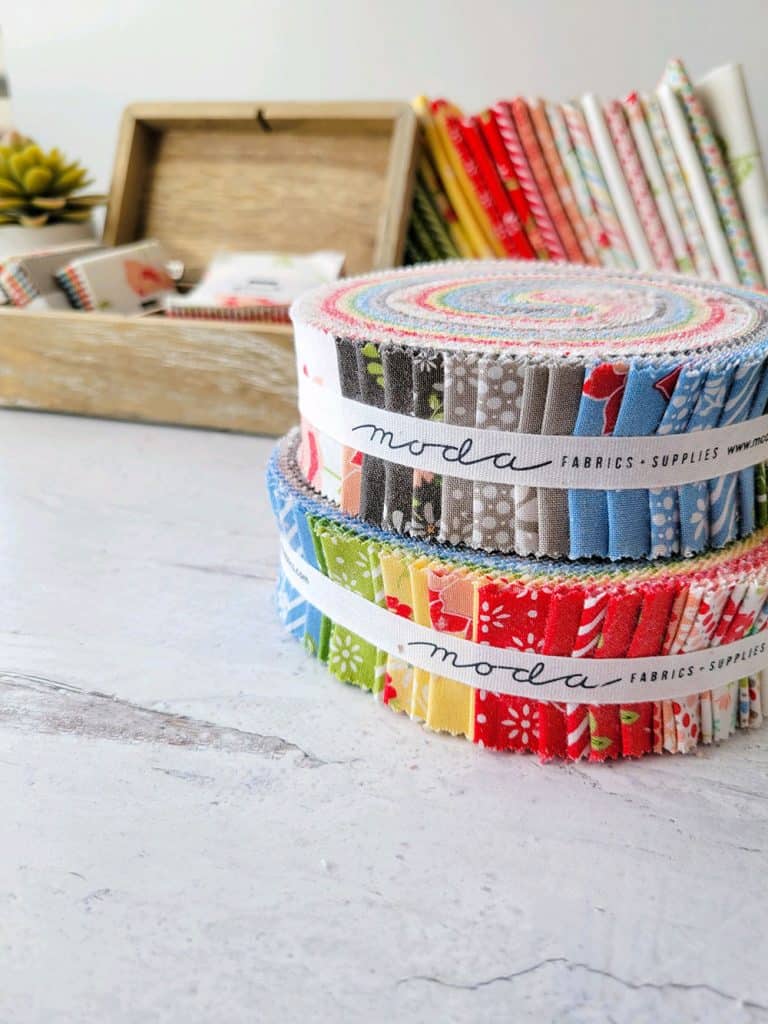 4. Pinked Edges
Often quilters have questions about the pinked edges on Mini Charms, Charms, HoneyBuns, Layer Cakes, and Jelly Rolls. Measure and sew from the outer edge of the pinking on these precuts.
5. Keep an Inventory of Precuts on Hand
It's helpful to keep an inventory of pre-cuts in your stash. This helps you remember what you have so that you don't forget about any precious fabrics. My A Quilting Life Planner & Workbook contains pages just for keeping track of pre-cuts.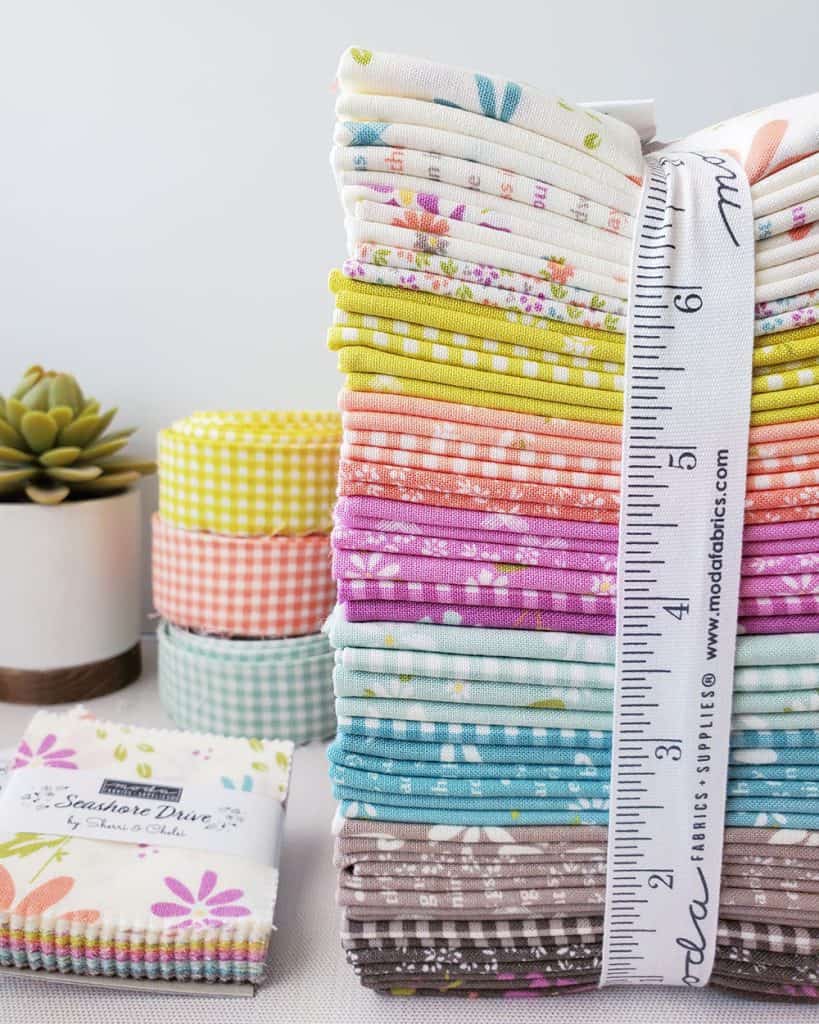 6. Measure Precuts before Sewing
Do measure your pre-cut pieces before beginning to sew. Usually, the measurements are quite accurate, but occasionally you may have to trim your pre-cuts just a bit to begin with the correct size piece.
7. Store Precut Fabric Leftovers by Shape + Color
I add leftover pre-cut pieces into bins according to their size. Occasionally I will sort by color or type of collection (Christmas, red, white and blue). Storing left-over pre-cut fabrics with your scraps helps to make sure you'll get them used up.
8. Purchase Patterns Designed for Precuts
Patterns designed to use with specific pre-cuts will save you a lot of time. Look for pre-cut specific patterns to make the most of the pre-cuts you already have.
9. Some Pre-cut Pattern Ideas
Browse my pre-cut pattern archives for ideas for your favorite pre-cut fabrics: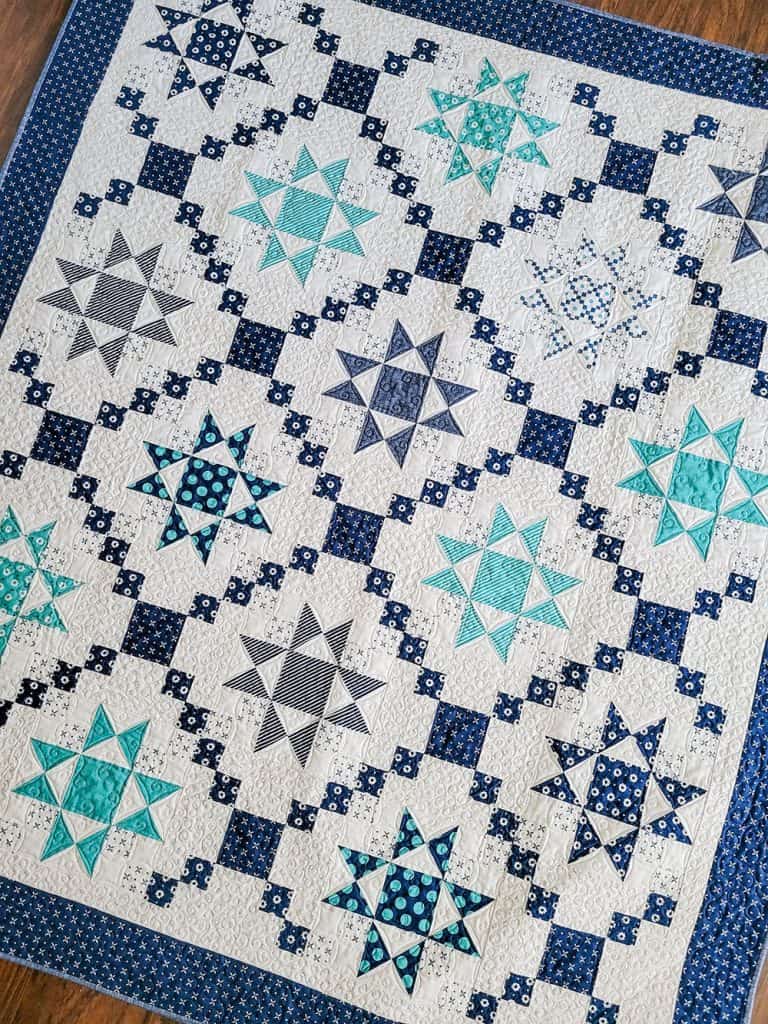 Brightly Fat Eighth and Fat Quarter Quilt
Today I also have a new video sharing my recent pattern, Brightly. This quilt pattern works terrific with fat eighths or fat quarters and has two different color options shown on the pattern. You can also find the video on our YouTube channel here.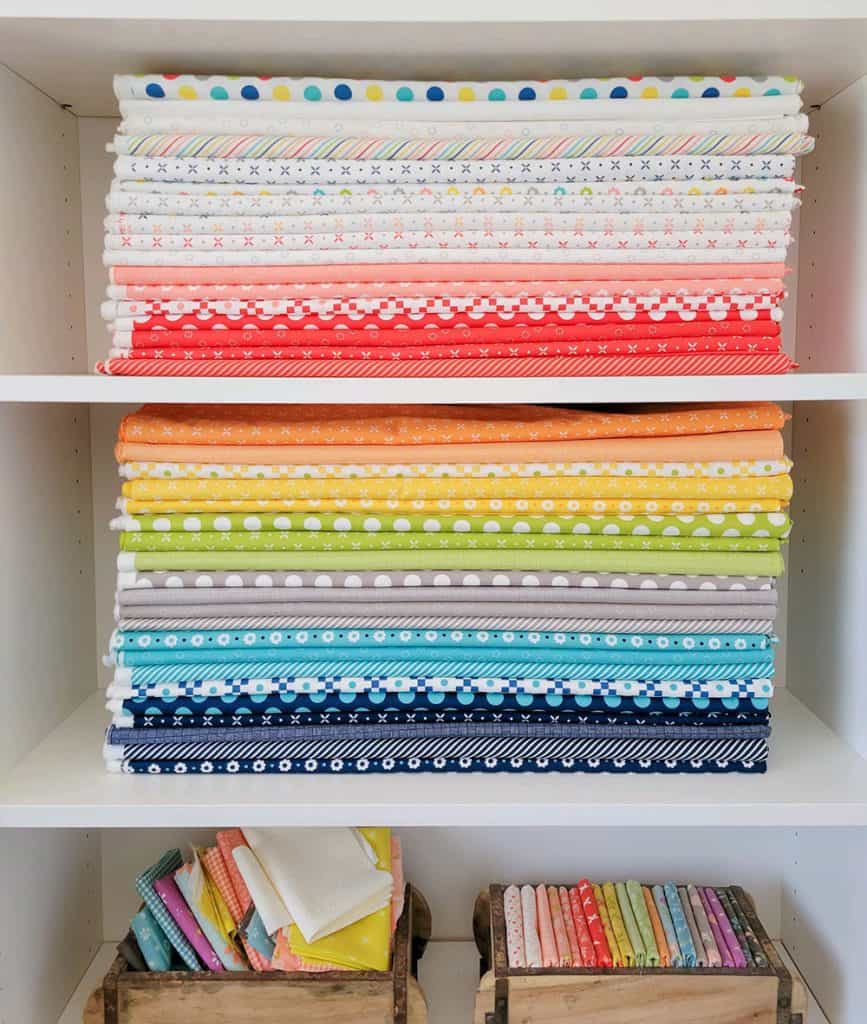 Emma Precuts
I am so excited to let you know that Emma collection pre-cuts have shipped and are in my shop here. I'm hopeful that fabric yardage will be making its way soon also.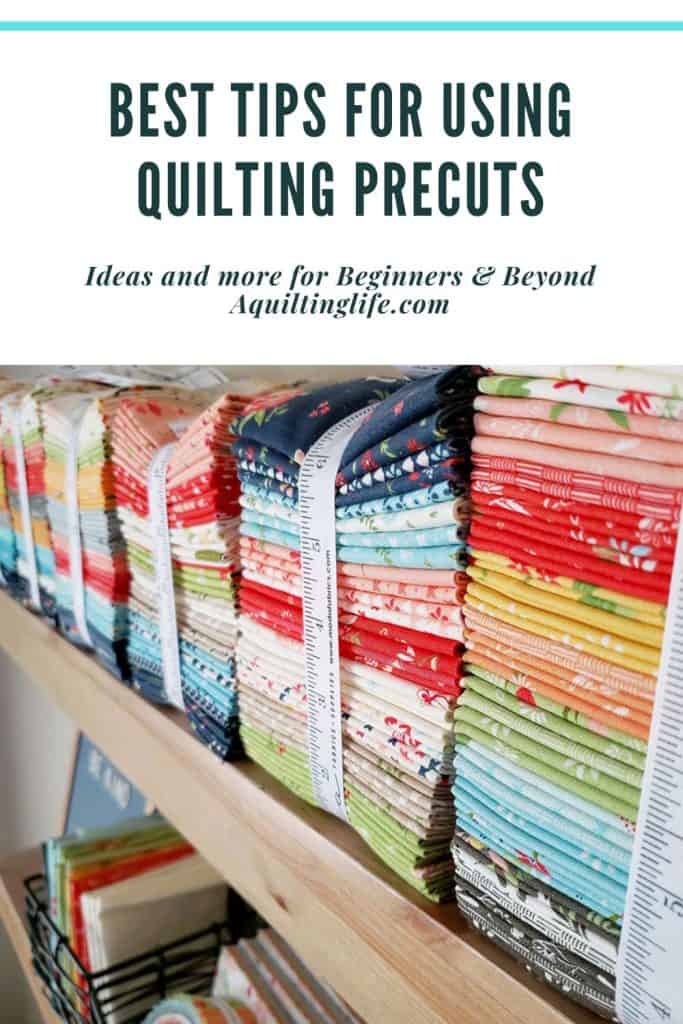 Thanks so much for stopping by to read all of the tips and ideas for Using Fabric Precuts. Happy quilting!