Hello, friends! Today I'm sharing my final new Simply Delightful quilt pattern, the Brightly Fat Eighth/Fat Quarter Quilt. I designed this quilt using lots of different prints from Simply Delightful and also knew it would be a great pattern for a two- or three-color quilt. So, I made a blue and teal version first and absolutely love it. Keep reading for all of the details on this versatile quilt and pattern.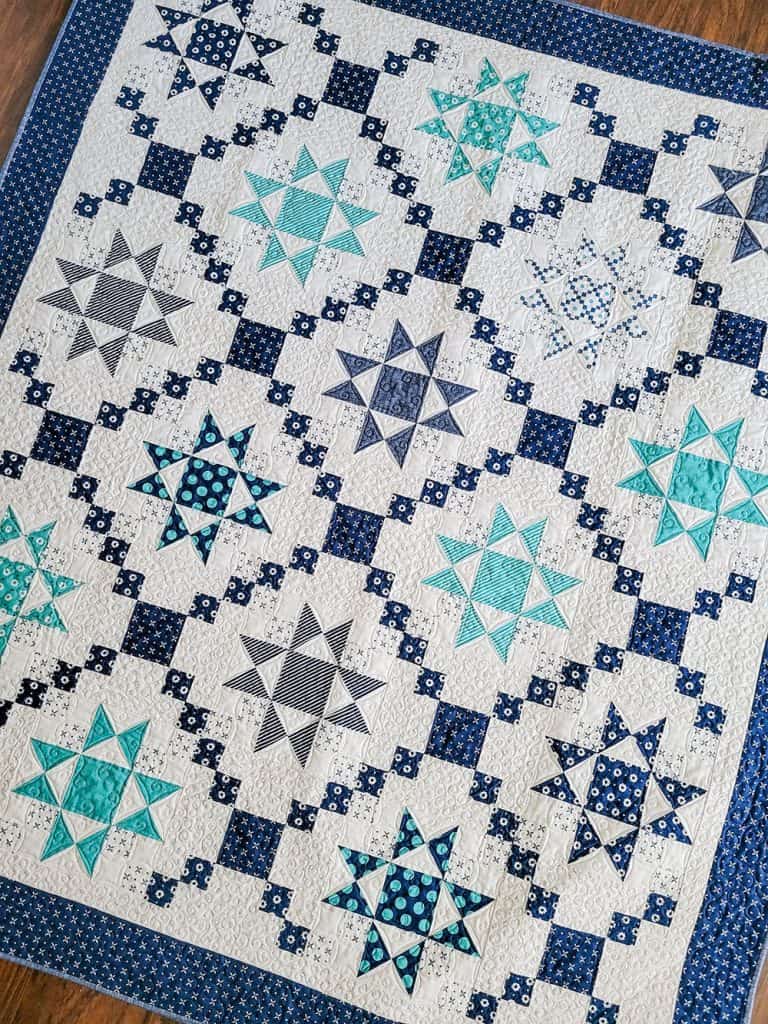 Brightly Fat Eighth/Fat Quarter Quilt
Brightly Quilt Details
The Brightly quilt finishes at 55″ x 64″ and is the perfect lap-sized quilt. It would also be really easy to make this one smaller for a baby quilt or larger by adding blocks and borders. There are definitely lots of possibilities with this pattern. Here are the materials required for the Brightly quilt:
At least 8 Fat Eighths for Star Blocks, or at least 5 fat quarters (Use more Fat Eighths/fat quarters for a scrappier quilt)
Light Star Block Contrast: ½ yard
Star Block Background: 1 yard
Dark Chain Block Centers: ¼ yard
Dark Chain Block Contrast: ⅝ yard
Light Chain Block Background and Inner Border: 1 ½ yards
Outer Border: 1 yard
Binding: ⅝ yard
Backing: 3 ¾ yards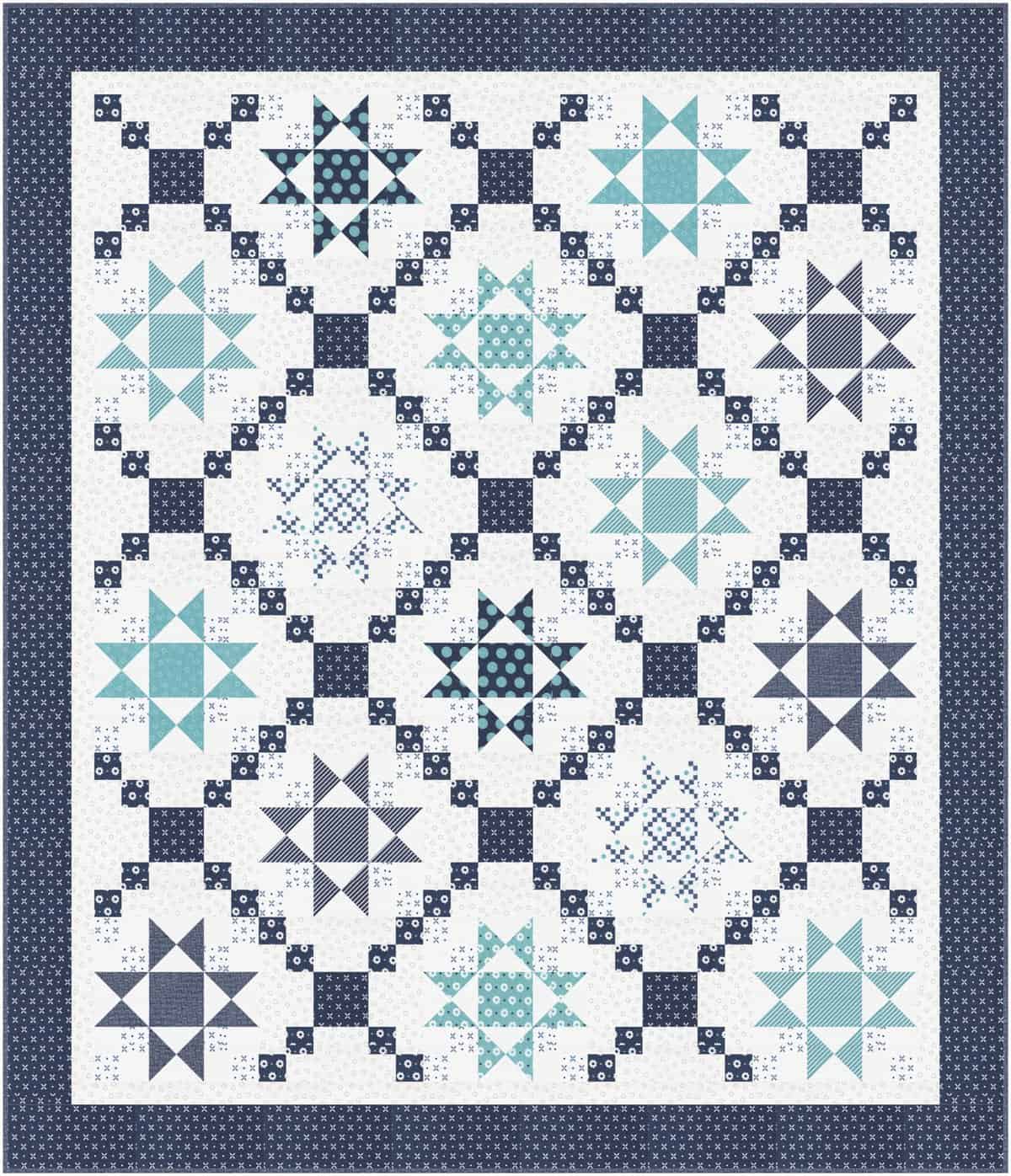 Brightly Patterns
Find the Brightly quilt patterns in paper and PDF here. There is also a paper pattern bundle with the new Simply Delightful quilt patterns at a discounted price with free shipping here.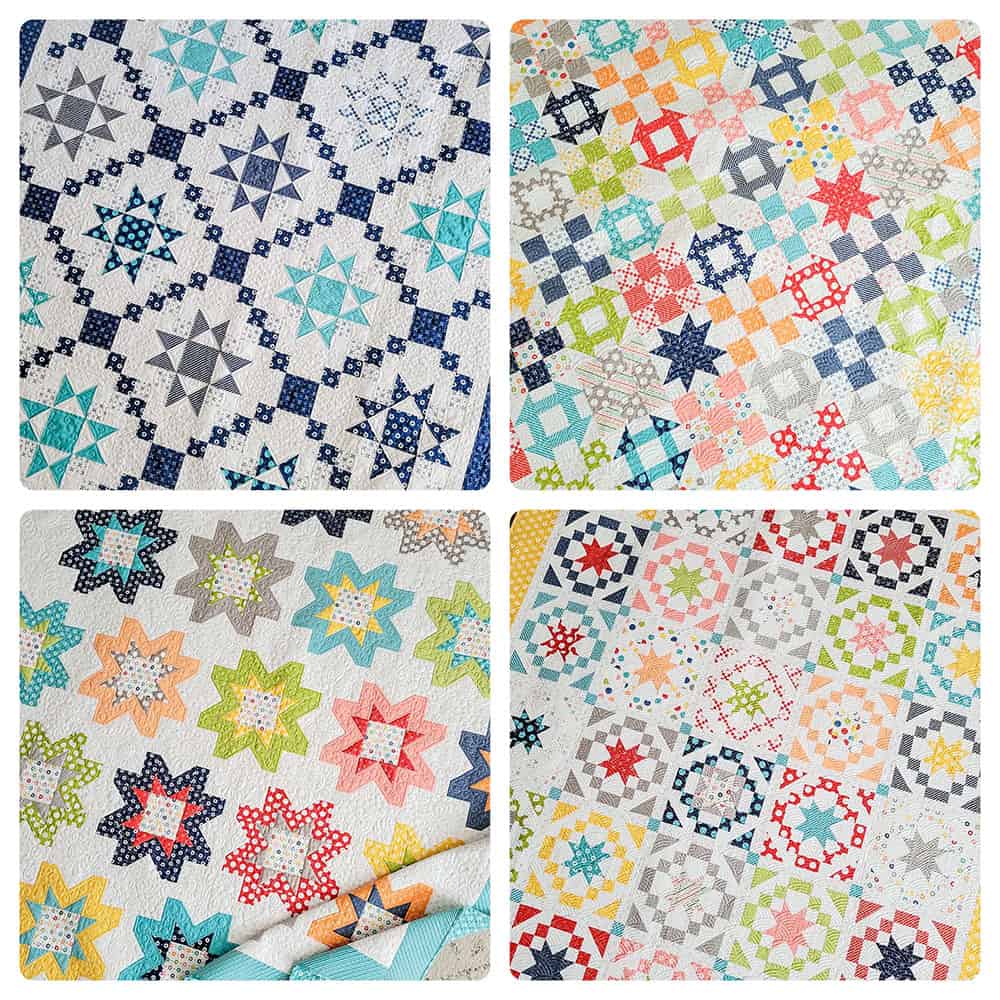 More with Simply Delightful
There are still more things to share with our Simply Delightful fabrics. I want to share some up-close photos of the prints along with some mix and match color combination suggestions. I'll also share details about each of Chelsi's quilts with this collection soon. If you're looking for details on the other quilts pictured above, you can find them here:
Happy quilting, and thanks so much for stopping by!