Hello, friends! I'm stopping in today with a String Block Quilted Potholder Tutorial that is fast enough to make in time to use for gifts for the holidays. I made several and actually delivered quite a few of them to friends and family over the past few weeks. And if you've never made a string block, making one of these potholders might make you want to make an entire quilt with these blocks!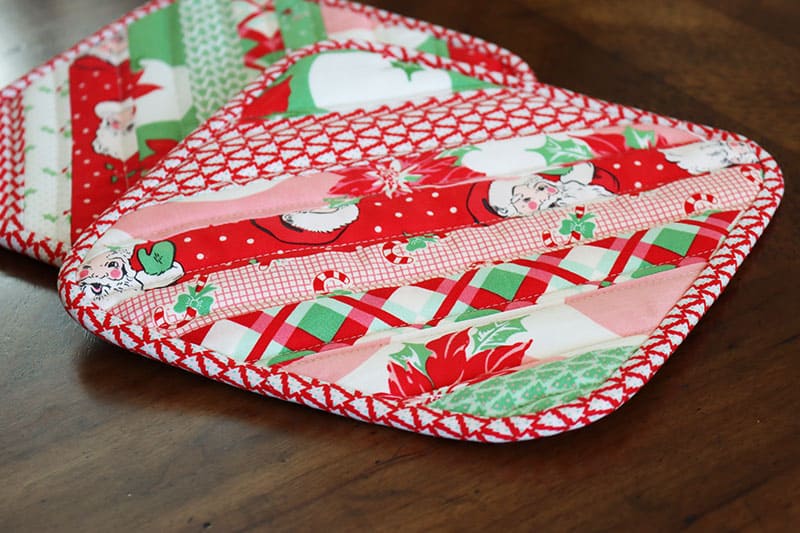 Quilted Potholder Tutorial
I've made lots of potholders over the years, but I believe this one is my favorite. Because I used a foundation piece of muslin for sewing the strings and strips together, this potholder has just a little more body than most. I used two pieces of batting and one piece of InsulBrite to ensure the potholder has plenty of padding and heat resistance. (You can find a complete list of materials below).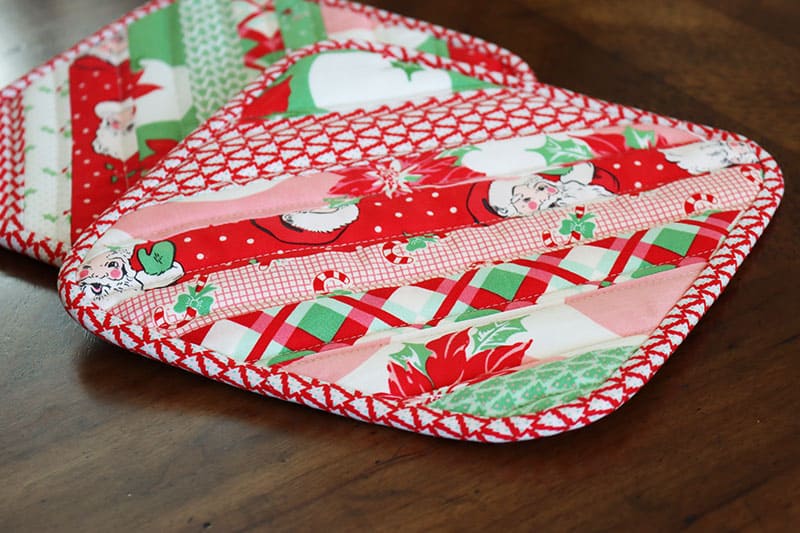 Potholder Tutorial Video
Watch the Potholder Tutorial Video above, or go here to watch it on YouTube. In the video I share each step of the process for making these great potholders. In the video I also share the machine quilting process I use to quilt my potholders.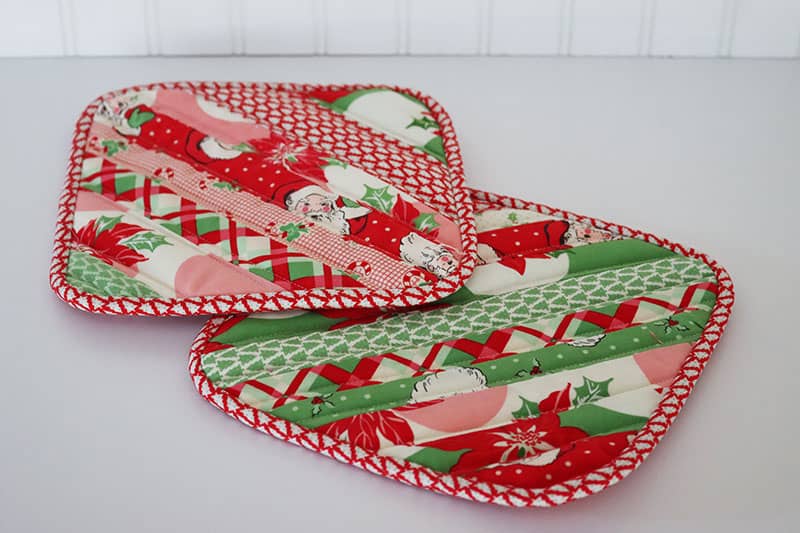 String Block Quilted Potholder Materials List
Here are the materials needed for the String Block Potholders:
10 ½″ x 14 ½″ Backing, Batting (2), and InsulBrite for a large potholder (for smaller square potholders, uses 10 ½″ x 10 ½″ squares of each of these materials) [You can also find InsulBrite here].
8 ½″ x 10 ½″ Foundation (muslin or other fabric) for a large potholder (for smaller square potholders, use a 10 ½″ x 10 ½″ square)
12-15 Strips or "strings" ranging in size from 1″ – 1 ¾″ wide in a variety of lengths
2 ½″ x 5″ fabric for potholder tab (optional)
Bias binding for curved edge potholders (regular binding will work if you keep the edges square) [Find a bias binding tutorial here.]
Creative Grids Circle for Trimming Edges (optional)
These small scissors are my favorites for trimming up close and eliminating bulk from the potholder corners (they are also my favorite scissors for applique).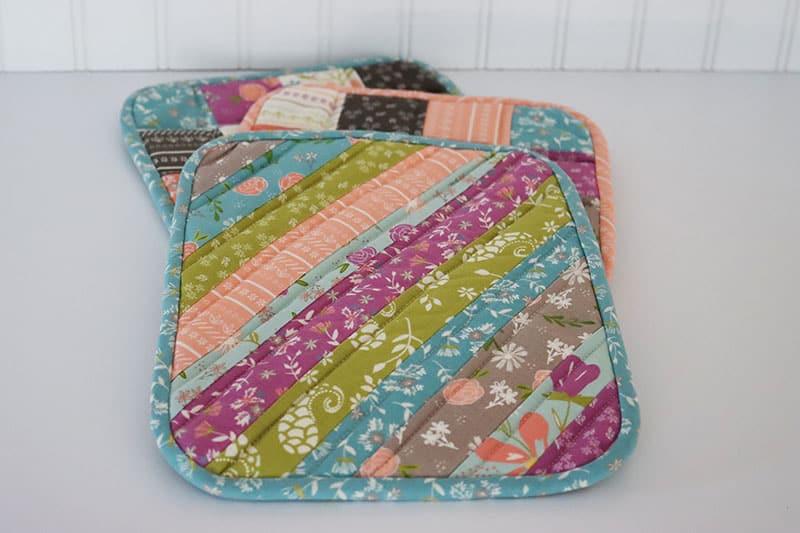 More Potholder Patterns + Tips
If you enjoyed today's tutorial, you might also enjoy my two other potholder patterns.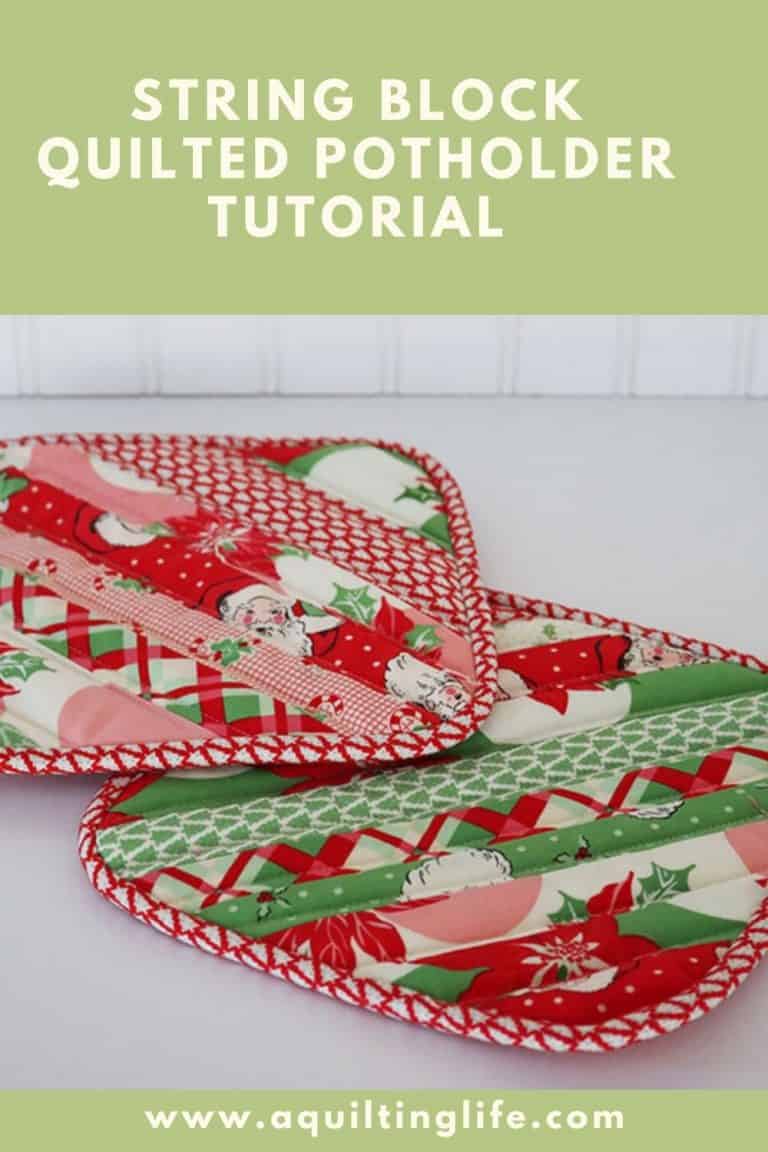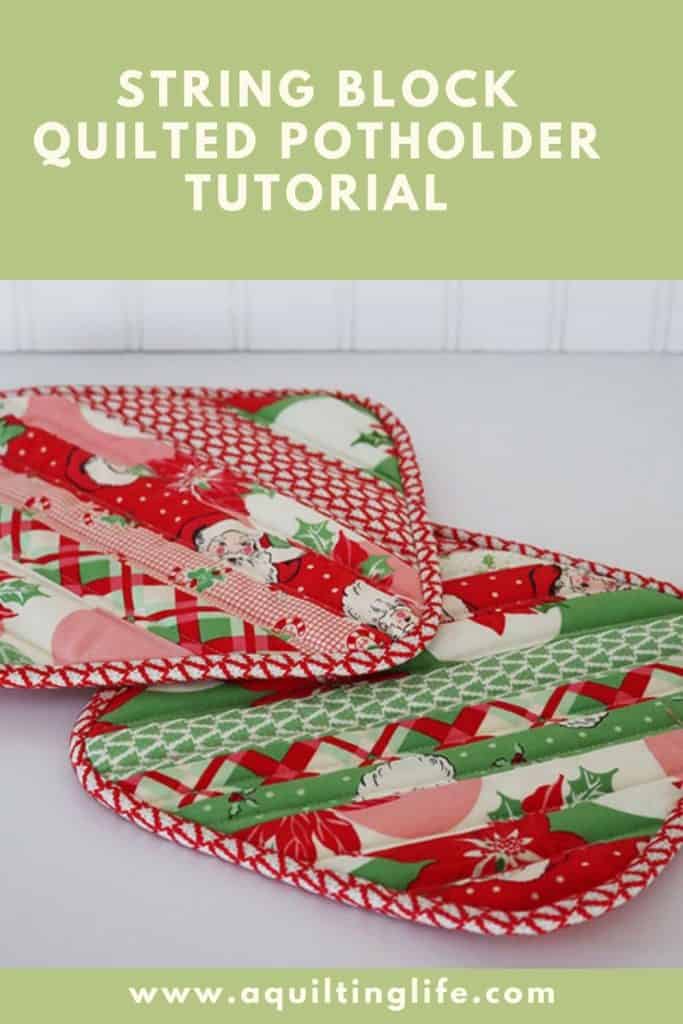 I hope you enjoyed this Quilted Potholder Tutorial. Happy quilting, and thanks so much for stopping by!