Hello, friends! With the Sincerely Yours fabric arrival just around the corner and the Moda Stitch Pink Sew Along set to begin in October, I want to provide you with a Stitch Pink Quilt Along Update. I've also been getting several emails recently about the sew along so decided the best thing to do was to put the information here on the blog. I also want to tell you about the Stitch Pink Wall Hanging option you can see pictured in today's post. I actually just finished filming all of the Stitch Pink Videos for the sew along last week–so good to have that completed. Now there is just some editing on the tech side so that those videos are ready to go, and, of course, the fabric needs to arrive! Keep reading for all of the details.
Stitch Pink Quilt Along Update
Just last week I heard from Moda that the Sincerely Yours fabrics are slightly delayed in shipping. So at this point, the plan is to delay the Stitch Pink Quilt Along two weeks with an October 15th start date. If anything changes in the meantime, I'll be sure to keep you informed here on the blog. We want to wait to begin until the fabrics have arrived and had time to make their way to you.
All of the other details about the quilt along are basically the same. I've broken the quilt construction down into five different weeks worth of projects/progress to make it easy to get your quilt finished up in that time period. Each video will share tips and tricks for the block construction. If you are a confident beginner you'll enjoy making this quilt.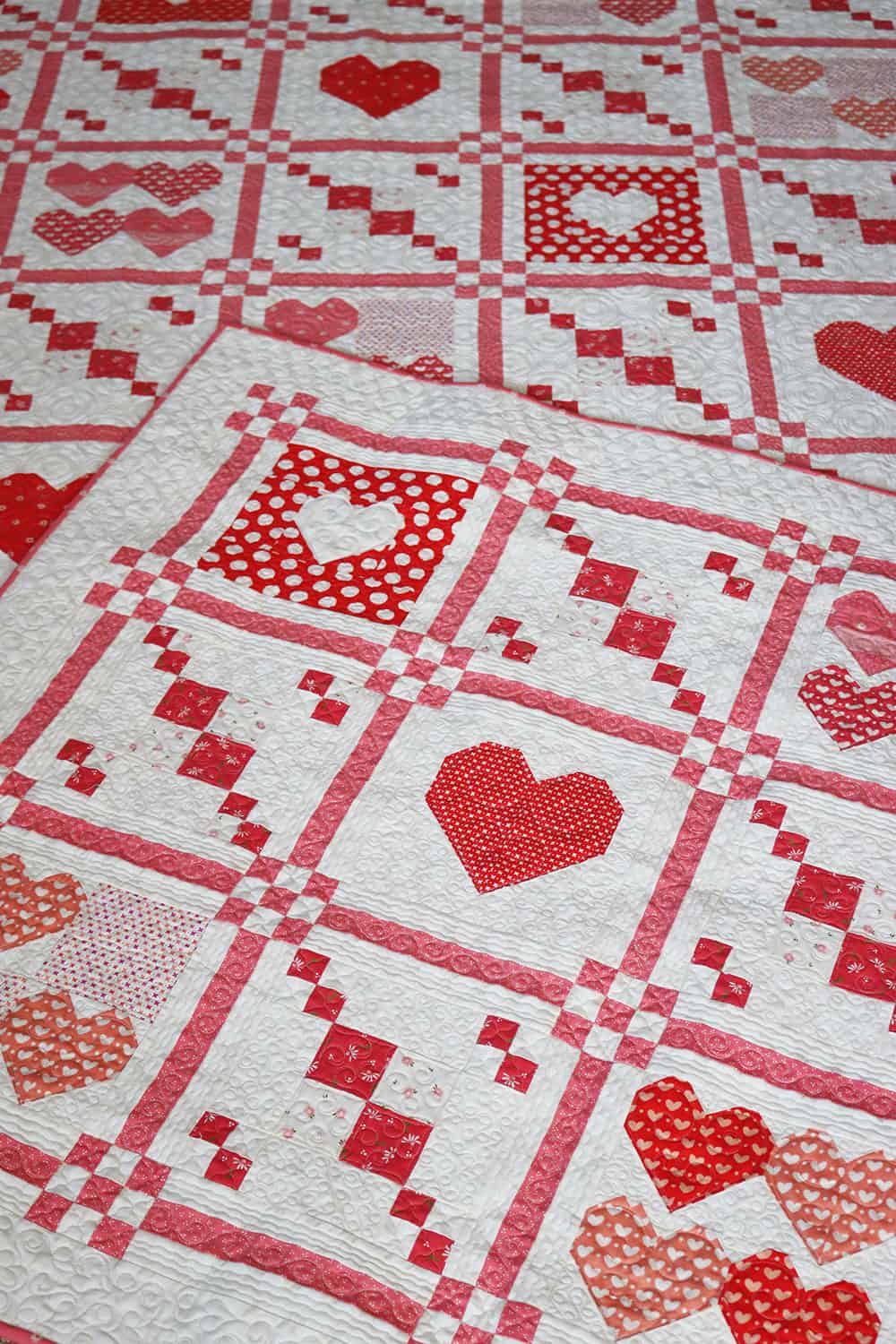 Stitch Pink Wall Hanging
As I was filming the how-to videos I made sample blocks for filming the steps and didn't want them to go to waste. So…I had the idea to make a 9-block wall hanging featuring one of each of the five different block types along with four setting blocks. This created a 42″ x 42″ wall hanging that is perfect to hang on the wall or even use as a table topper. My friend Val Krueger was able to quilt it for me right away so I could share it in the final video. I'll have more details on making this version of the Together quilt once the quilt along is under way.
Stitch Pink Quilt Along Links
Here are the important links for the Stitch Pink Quilt Along:
I can't wait for this quilt along to begin…happy quilting, and thanks so much for stopping by!