Hello, and happy Friday, friends! Today I'm talking about Sewing Room Organization and am sharing 5 Quilt Ruler Storage and Organization Ideas. I have a video to go along with today's post and hope you'll get some great ideas in order to store and organize your rulers to optimize your sewing time and cut down on time looking for things.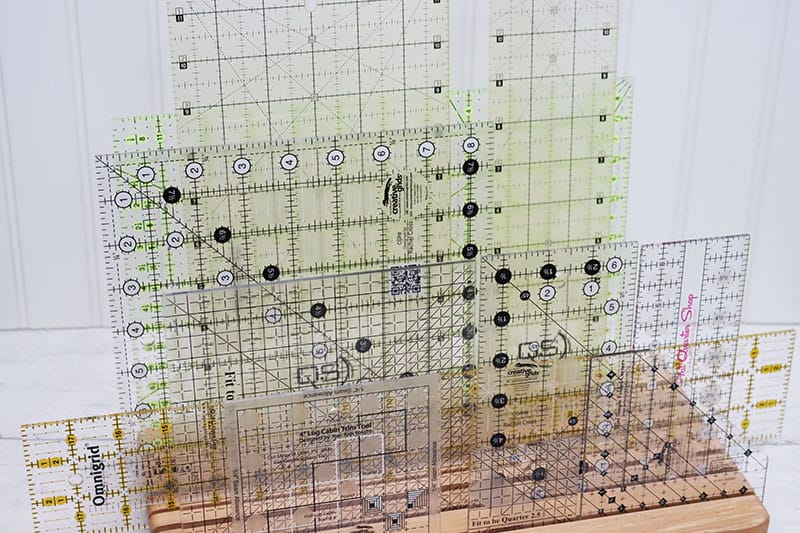 Quilt Ruler Storage Ideas
A couple of years ago I decided to get my rulers better organized. I was constantly looking for rulers and had them in all different places in my sewing room. I was able to get them fairly organized, but then after our move I really set out to come up with some great systems. Here are five ideas that I hope will prove helpful to you as well.
1. Gather all of your rulers into one place.
First, find each and every ruler you have and put them all in one place. I spread all of mine out on the floor in my sewing room and made quite the mess. I kind of wish I would have thought to put them all on a large table–it would have been so much easier.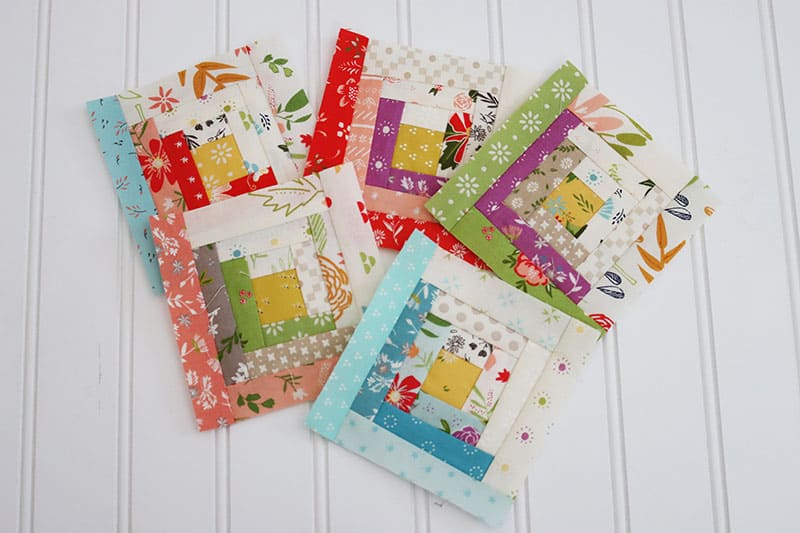 2. Organize your rulers according to category.
Next, once your rulers are all in one place, begin to separate them into piles according to category. I used three different categories with a fourth group for templates. (Note: If you have pre-ordered my Quilting Life Planner, you'll have an explanation of the three main ruler categories and pages to record your inventory and storage included in your planner–yay)! Here are the categories I used:
Standard Rulers–Rectangle and square rulers used frequently for trimming blocks and cutting fabrics.
Utility Rulers–Rulers used to cut the pieces needed for common blocks such as strips, flying geese, half-square triangles, and Easy Corner Triangles.
Specialty Rulers–Rulers with a specific purpose to make a specific block such as Log Cabin Rulers and Pineapple Rulers.
Templates–A piece of acrylic or plastic used to cut a specific shape.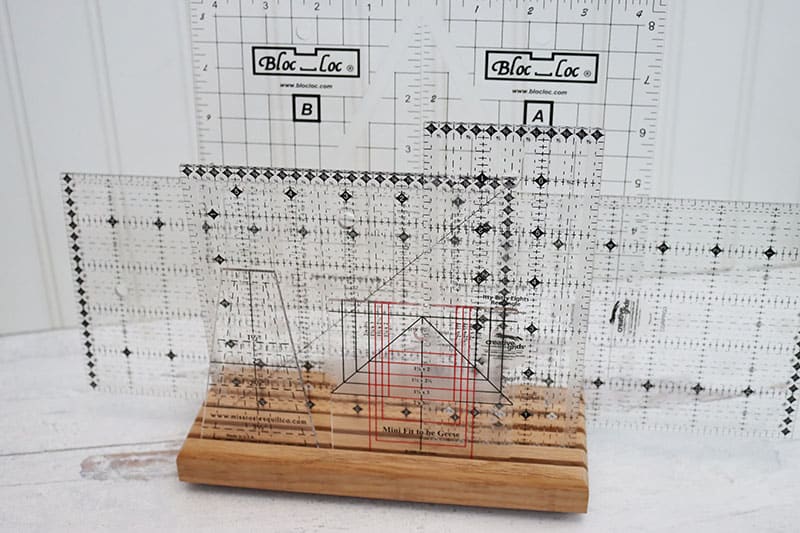 3. Find spaces/containers for each ruler.
Once the rulers were organized into categories, I started thinking about the best place to store rulers. You will need to consider your individual sewing space; however, here are some of the ideas that helped me with choosing storage spaces. After deciding on a space for each ruler, work through your collection until every ruler is placed in its designated storage space.
I placed frequently used rulers in easy reach with my most commonly used rulers on my work table or on shelves in the sewing room. Also, I use grooved ruler stands for frequently used rulers. I also have a smaller ruler stand I take when I travel so that I can stand rulers at my work space while teaching or retreating.
Large rulers are stored in a large bin in the sewing room so they don't take up valuable wall or shelf space.
Drawers are a great option for storing rulers.
I also have a template bin and a larger plastic bin with rulers stored in the closet.
4. Make a spreadsheet of ruler inventory and storage locations.
Then, make a simple list of where each ruler was placed as they are placed in storage locations (see step 3 above). Then, after everything was in a place, I typed my list into a simple table.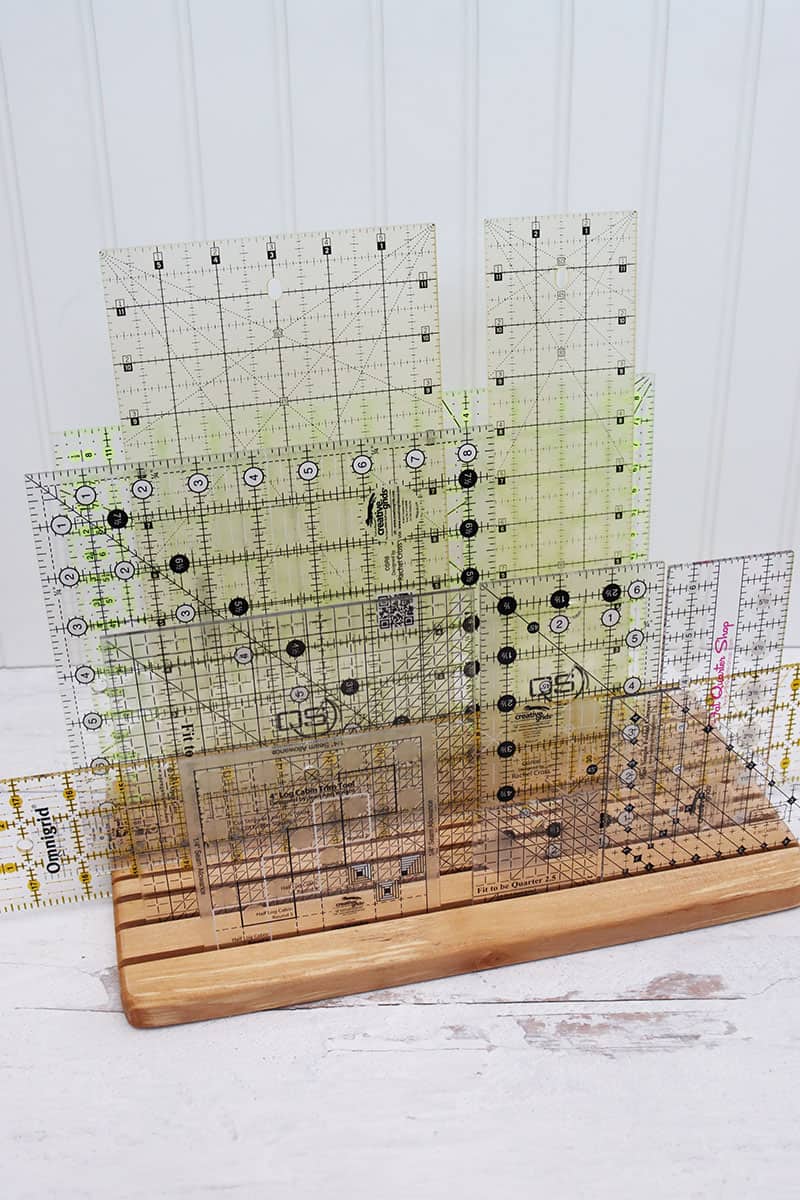 5. Keep ruler direction pages in one place.
Finally, consider a place for storing the instruction pages that come with your rulers. While many instructions are found on-line, I like to keep all of my instruction sheets in a file folder in a drawer in my work table. Because I have the file drawer, this is the best method for me; however, other quilters like to store ruler instruction pages in page protectors in a notebook.
Quilt Ruler Storage Video
Watch my Quilt Ruler Storage & Organization video above, or go here to watch it on my YouTube channel.
Where to Find Ruler Storage Products
Here are links to some of the ruler storage options I shared in the video.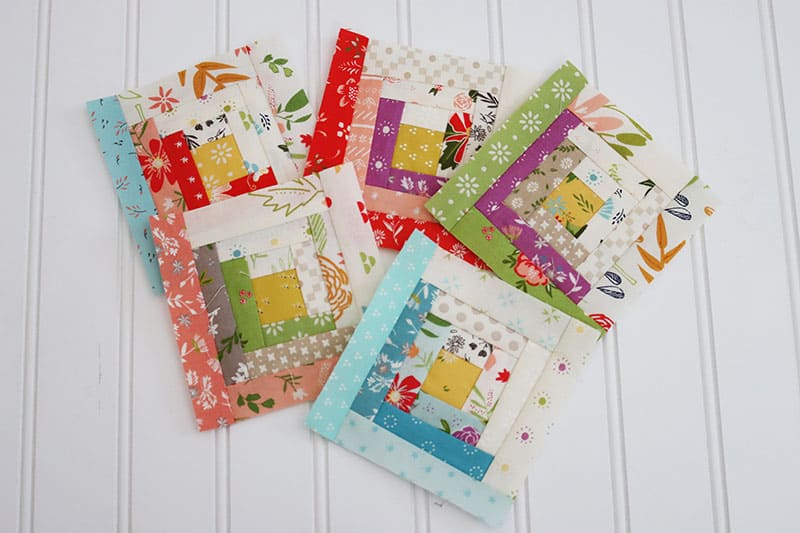 More Blog Posts on Rulers
Finally, here are some of my ruler tutorial posts that might also be helpful as you consider the rulers you need to have.
I hope these Quilt Ruler Storage & Organization ideas have been helpful. Happy quilting, and thanks so much for stopping by!