Hello and happy Monday! Today I'm excited to share some quilted accessory bags in Clover Hollow with you!  These were a spur of the moment project from Friday, and because they are from an older pattern I can share them now! (I have some other small sewing projects I won't be able to share just yet since the patterns haven't been released). This  pattern gives instructions for making three different sizes of bags (medium and large are pictured).  I make and use the smallest size of this bag pretty frequently for gifts and to use in my purse to corral smaller items.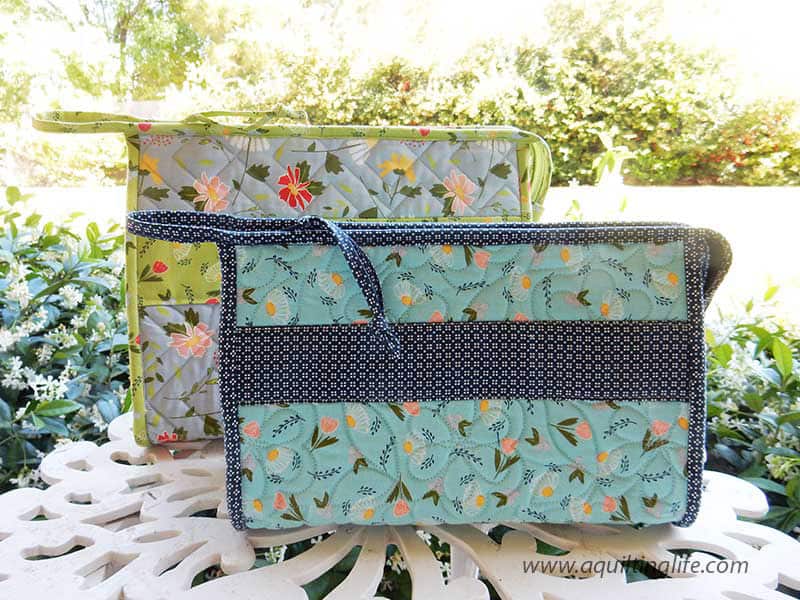 I also have another set of these bags made in our Valley fabric that I've used for years when traveling.  They keep everything nicely organized in my suitcase, and I've been planning to make more for a while. So on Friday I decided it was time to make these since I had the Soft & Stable quilted and ready to use.  The large grey bag measures 9″ high, 12″ wide, and 6″ deep while the medium blue bag measures 6 ½″ high, 10 ½″ wide, and 4 ½″ deep. (The smallest size measures 4″ high, 7 ½″ wide, and 3″ deep). You can see some of the smaller versions I've made here.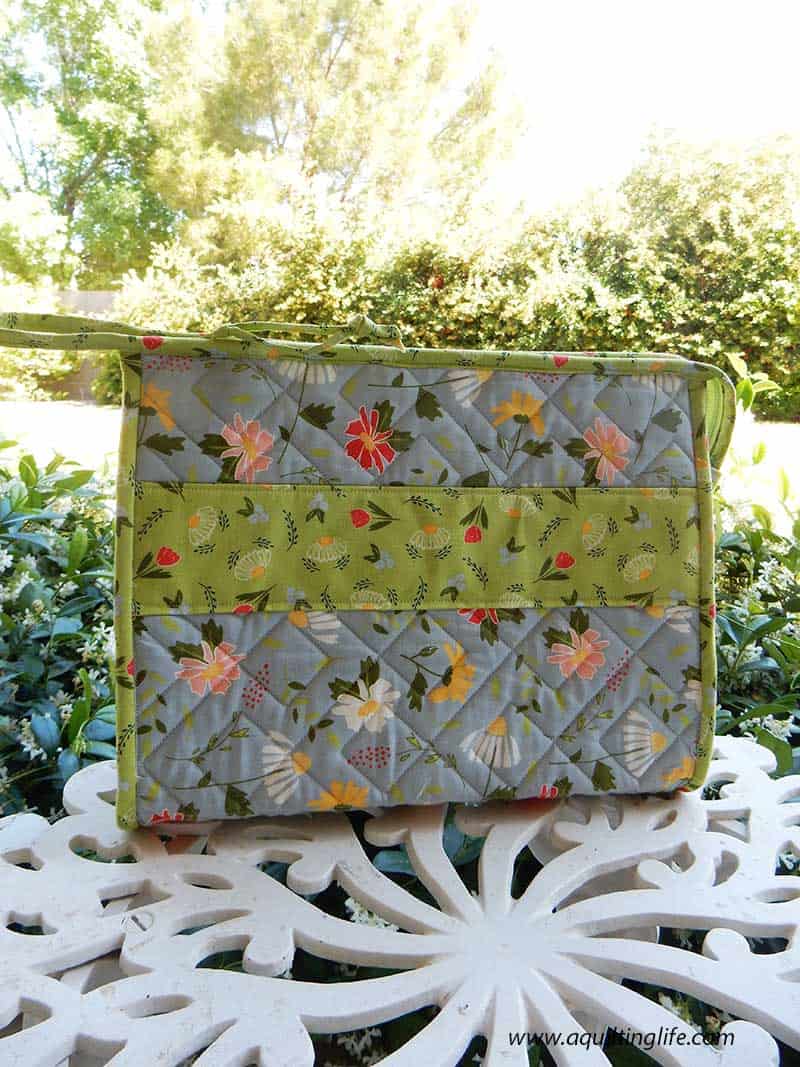 The large size is my favorite for travel, and I will probably still make a couple of others in that size just to use for travel. But these bags are terrific for other things, too.  Use them to corral kids things and baby supplies when in the car, or use them to keep hand-sewing projects organized and ready to work on. The pattern is appropriately named–they really do open wide, making it easy to get things in and out of them! I am thinking that after market I'll leave the large bag in my suitcase but keep the medium one to store my newest hexagon project in.  I'll be able to keep scissors, thread, needles, fabric and packages of hexagon papers in it.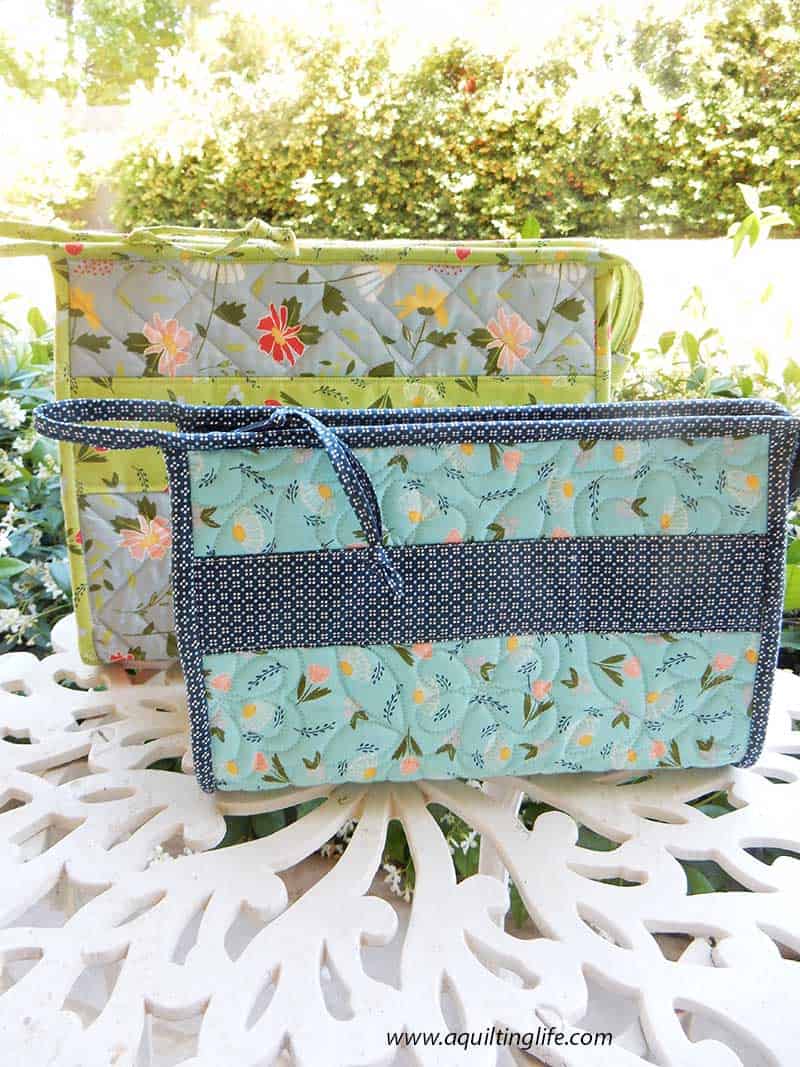 While this is a simple-to-construct bag, the zipper installation is a bit different than most. It's really pretty neat how it all goes together!  And, the instructions and diagrams are very well-written and really help you through the construction process.  Additionally, there are a few tools and supplies that are really helpful to have when sewing this project.
Helpful Supplies for Sewing the Open Wide Quilted Accessory Bags in Clover Hollow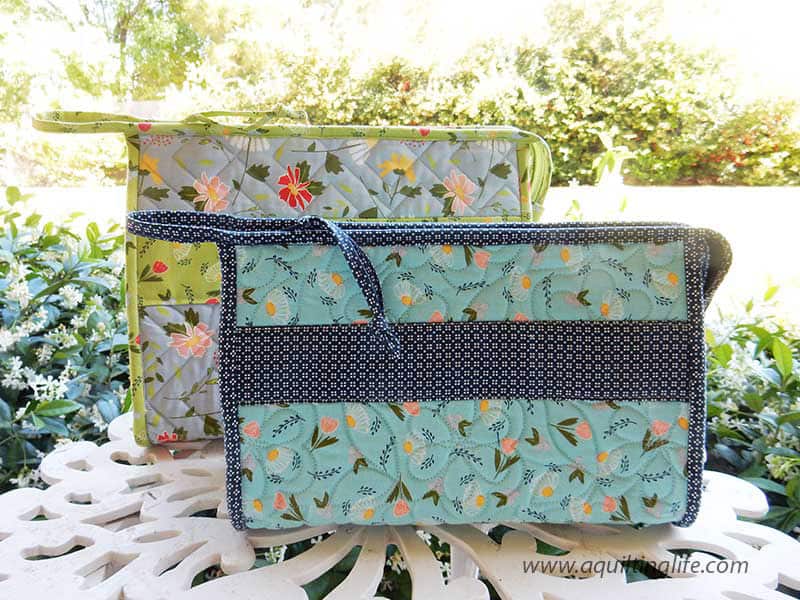 So these bags will be traveling with me to Quilt Market this week.  I'll use them in my suitcase and also as display items in the booth.  While International Quilt Market is about the quilts…it is also about showcasing the variety of ways fabrics can be used for other types of sewing.  Clover Hollow is definitely one of our most versatile collections to date with so many fun ways it can be used, and I think these quilted accessory bags in Clover Hollow really show some fun ways to use the fabric.  Picking out the fabric combinations for these smaller projects is one of my favorite things!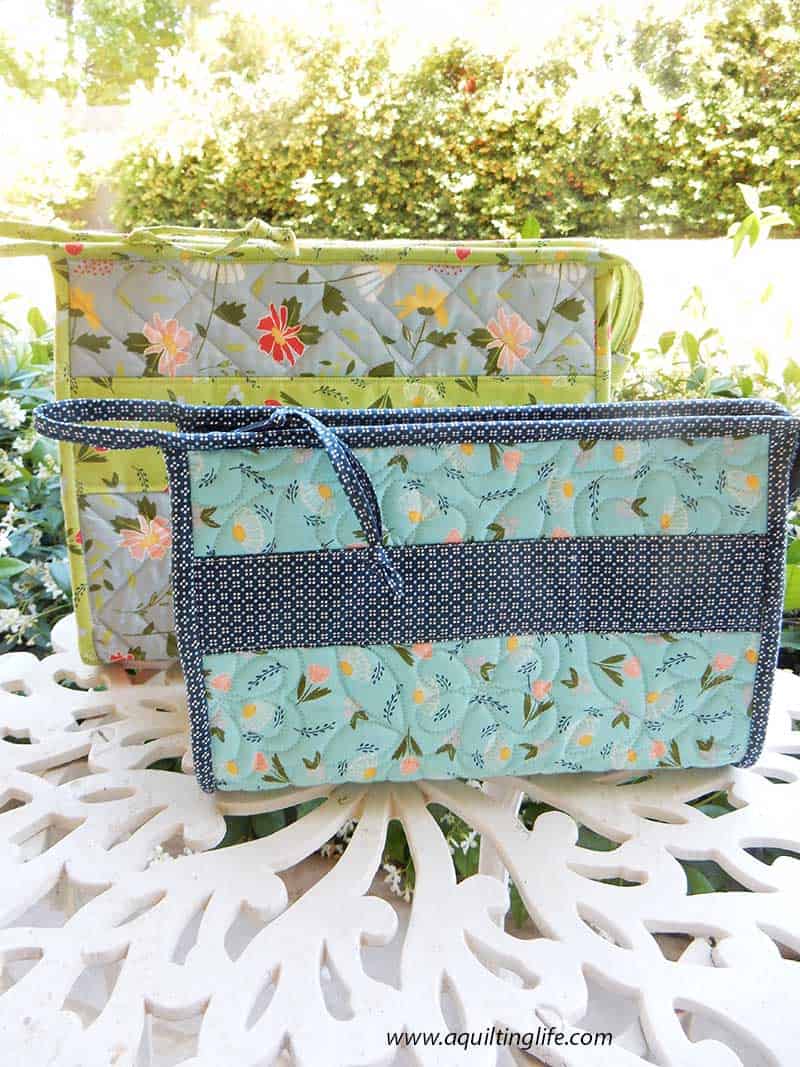 I'm so looking forward to seeing all of the new fabrics, notions and patterns this week.  I will definitely be doing some Quilt Market posts when I return home.  Are there any specific things you are interested in and would like me to showcase in one of those posts? Be sure to let me know in the comment section below, and I'll do my very best to get some photos and information on those topics.
Happy quilting, and thanks so much for stopping by!