Hello and happy Tuesday!  Last fall I started a scrappy blue & cream quilt that I knew would be a long term project.  I've posted about it a few times and finally got the chance the other day to make some more blocks.  So today I'm sharing my progress along with some tips and ideas for keeping up with long-term projects!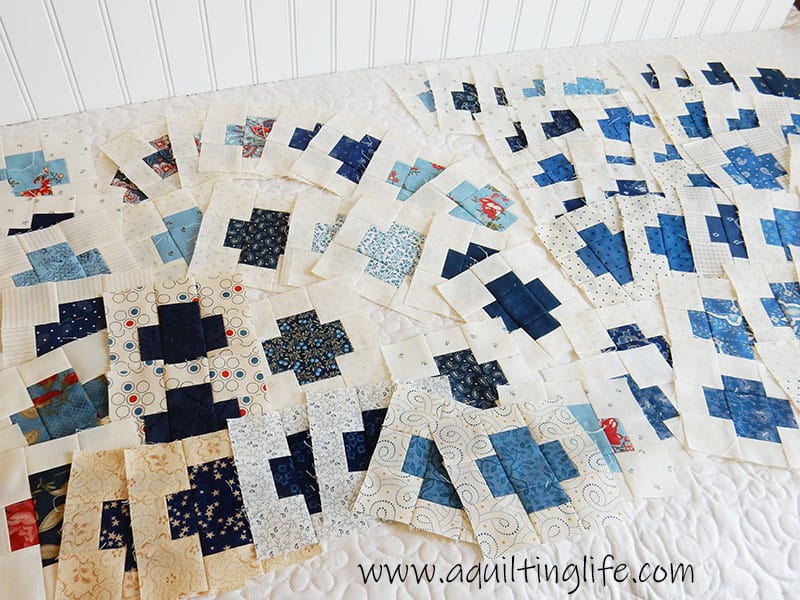 I looked over my previous posts on this quilt and found that I actually started it in September.  I made just a few blocks and was hooked on this fun quilt!  (My last real progress on the quilt was shared back in October here).  And this post shares a lot of my process in how I'm approaching this quilt.  Because of the holidays and Clover Hollow sewing and some other projects I just really haven't been able to work on this much.  But I knew it was a long-term project, so that was okay.  Actually, I love having long term projects that I can bring out and work on at any time!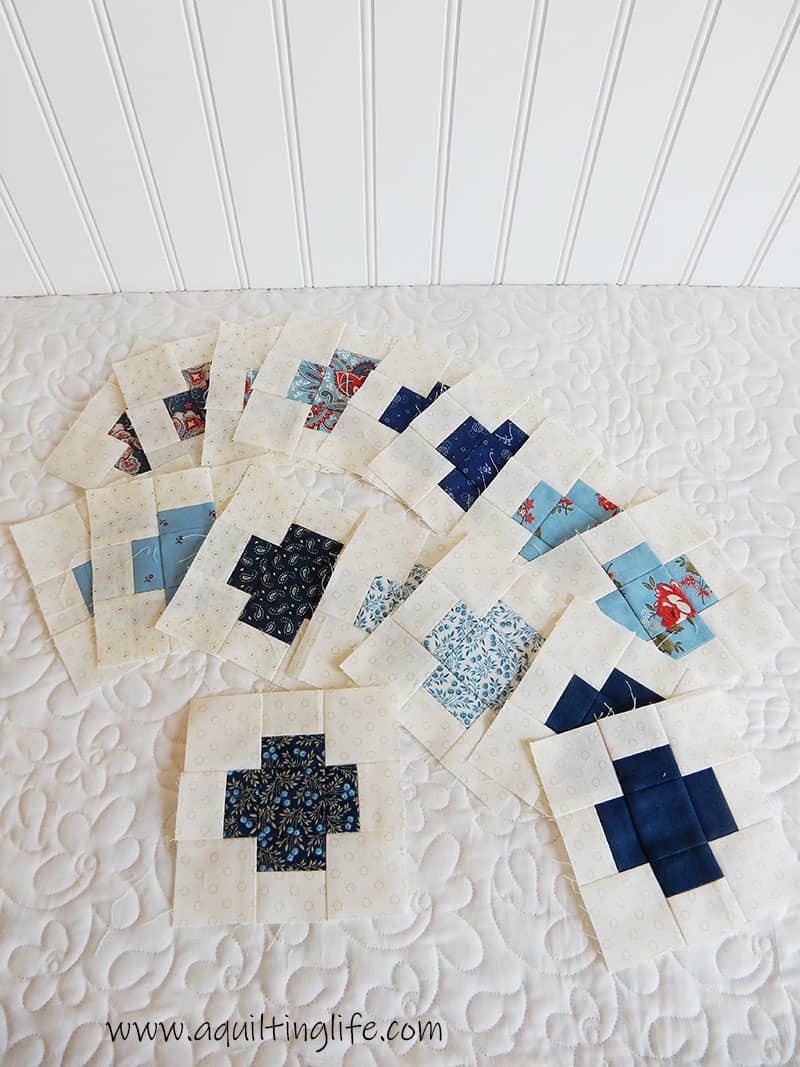 So the other day I was able to make sixteen new blocks to add to the mix!  I had the blue prints I used for these blocks left over from a secret project I worked on this summer.  They weren't very big scraps, so I wanted to be sure to use them in this quilt.  I was able to get two blocks from most of the pieces.  I combined them with two different backgrounds that I had already cut up into the correct size strips and squares.  Chain-piecing the blocks allowed me to put them together quickly.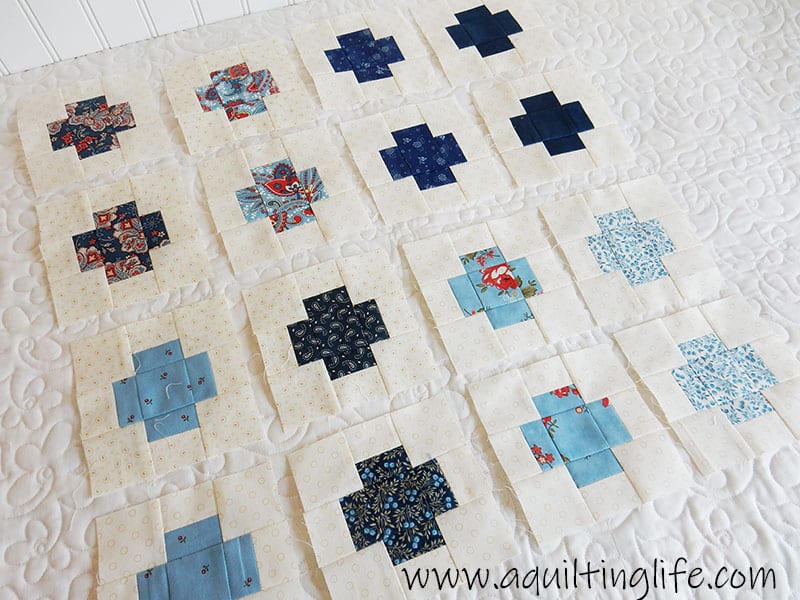 Pattern Details:
The pattern I'm using is called "On the Plus Side" by Laurie Simpson of Minick & Simpson.  The quilt will finish at a large 84″ x 84″ and has a center of plus blocks with a fun pieced border.  (You can see the cover and find the pattern in PDF and Paper).  All of the fabrics in my quilt are from a variety of older Minick & Simpson collections (along with some recent ones).  I'm betting they will have some new fabrics available this fall I'll be able to add in before I finish!  I'm so looking forward to having another scrappy blue & cream quilt!  I love the first one I pieced a few years ago (also with Minick & Simpson fabrics).  You can see my earlier scrappy blue & cream quilt here.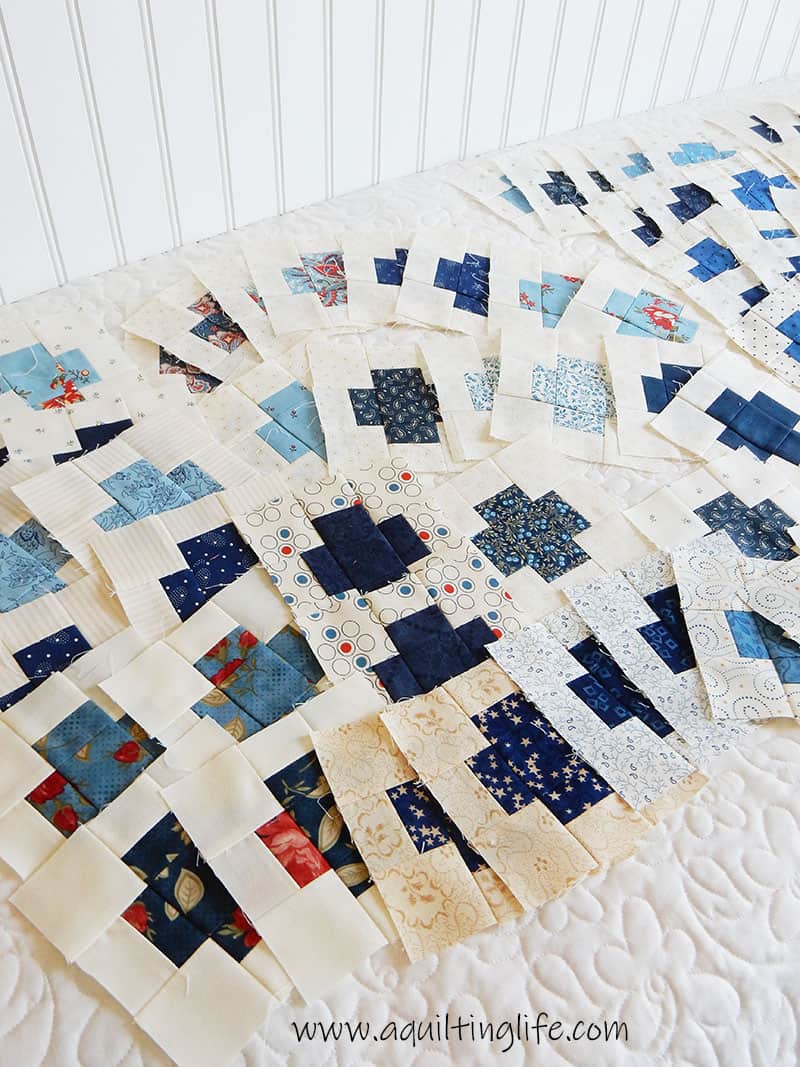 As I mentioned earlier, I thought I'd share some tips for working on long-term projects.  Here they are!
Tips for Working on Long-Term Projects
Create a place to keep everything together.  I have a drawer in my sewing room closet where I keep all of my finished blocks along with extra strips and squares that are ready to use.  I also keep my Minick & Simpson fabrics together in another drawer, so I can pull from them easily.
After each work session, make note of what might be the best approach the next time you start to sew.  I write this on a Post-IT note and leave it in the drawer with my blocks.  That way I can get started quickly with what most needs to be accomplished. (My note for my next work session reads: "Cut out background strips and squares.").
Enjoy the journey!  Long-term projects can be really relaxing and fun because they don't have strict deadlines.  I feel like having projects without deadlines can be really refreshing and can also help us really appreciate being creative.
Do have an end in mind.  I actually want to finish this quilt before the end of the year.  While I have had (and do have) other long-term projects that take several years to finish, I feel like a year is a good amount of time for a scrappy project like this.  Then I'll have to decide on a new long-term project for next year!
You might also want to read my post on Keeping Caught Up…while it is primarily geared toward keeping up with Block-of-the-Month projects, a lot of the ideas apply to long-term projects as well.  Find it here.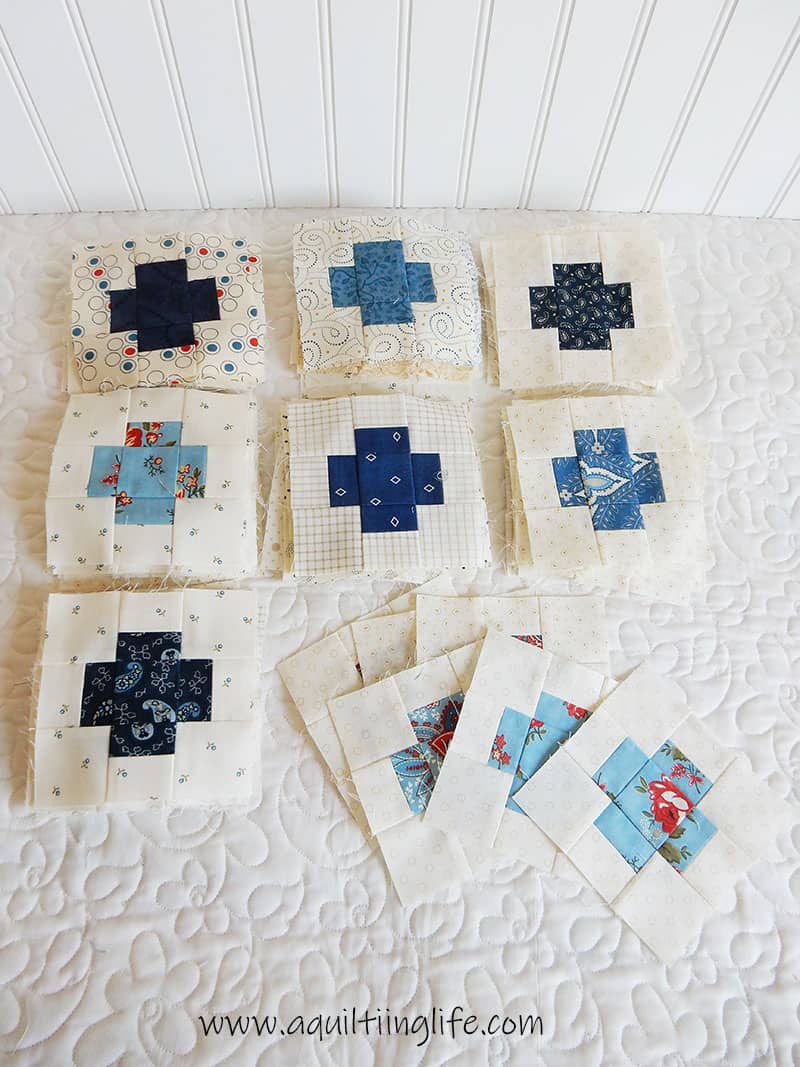 My Plan for this Quilt…
Before I put my blocks away the other day, I did a quick count.  I am up to 76 blocks now!  I need 225, so I'm ⅓ of the way there!  This week I'm hoping to make a little time to cut out some backgrounds and some more of my blue print fabrics and have them ready to sew for next time!  Progress is progress!  Although I'll be busy later this summer sewing with our next fabric collection, I should easily be able to finish this quilt this fall!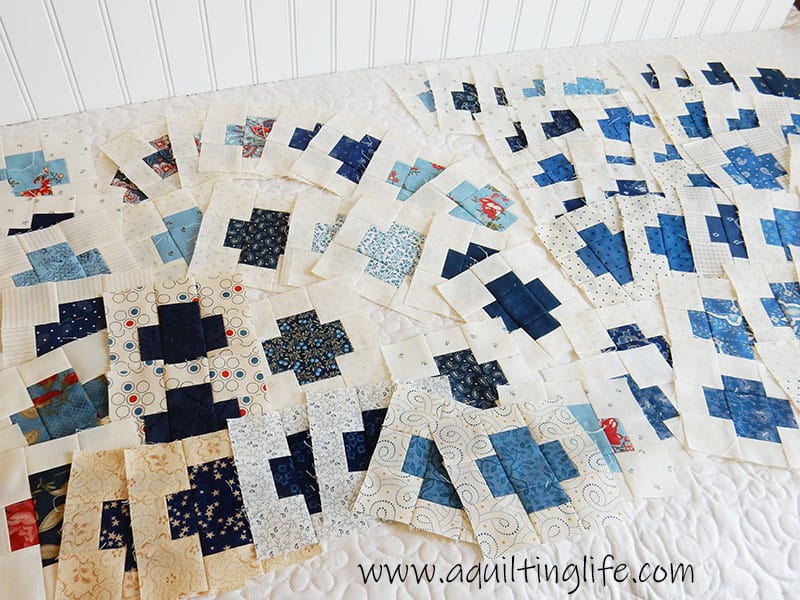 Finally…I do have a blue & white Pinterest board you can follow if you love blue and white/cream quilts like I do!  Find it here!  Happy quilting, and thanks so much for stopping by!