Hello, friends! I'm super excited to share the next project in my 2022 small projects series. This month I have a Scrappy 4-Patch Table Runner to share. This project is perfect for scraps, mini charms, and charm packs with just a little additional yardage needed to finish your project. I can't wait to make at least a couple more of these in different fabric combinations.
Scrappy 4-Patch Table Runner
Use your favorite scraps, mini charms, or charm packs to make the four-patch centers for this runner. And while I alternated between two different block border fabrics, you could definitely use a different border for each block. I used a navy plaid on the bias for my binding (I also used a plaid for the backing–see it in the video. Find fabric requirements for this runner below:
Scraps, or mini charms, or charm squares for the block centers
⅛-yard each of two block border fabrics (or use scraps)
¼-yard white for block inner borders
¼-yard outer border
¼-yard binding (or use an 18″ square for bias binding)
¾-yard backing
Scrappy 4-Patch Runner Video
Watch this month's small project Scrappy 4-Patch Runner video above or go here to watch it on our YouTube channel. In the video you'll be able to see the runner up close with more thoughts on using this pattern.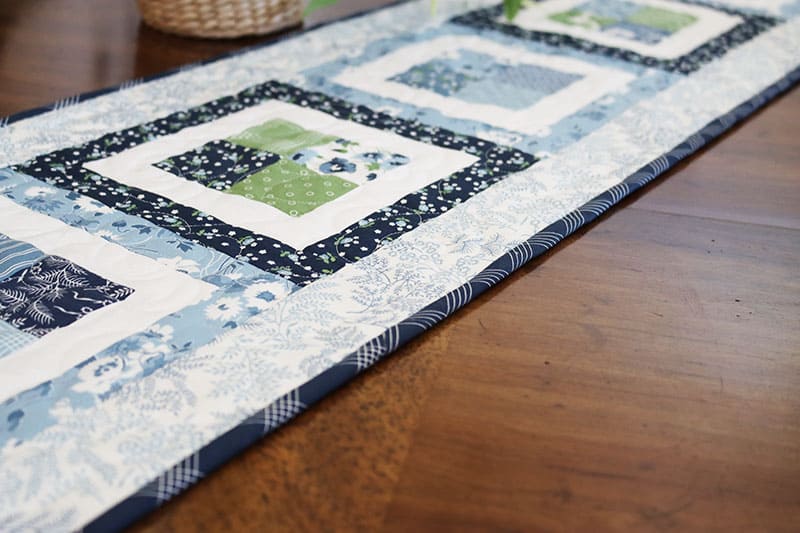 More Ideas for Small Projects
Go here for more small project ideas including the monthly small projects from earlier this year. And find more small projects listed by category below:
Next month's project is already in progress on my sewing table. Can't wait to share it with you in September. Thanks so much for stopping by for today's Scrappy 4-Patch Table Runner. Happy quilting!