Hello and happy Saturday!  I have a busy weekend with family here and a lot going on.  And I'm super excited about getting started on my Christmas decorating next week.  But first, Thanksgiving.  I also filmed some new videos over the holiday weekend last week and hope to be able to post them very soon.  And then of course there are so many things to sew before the end of the year.  Here's hoping this week's Saturday Seven will give you some ideas to make the next few weeks just a little more relaxing!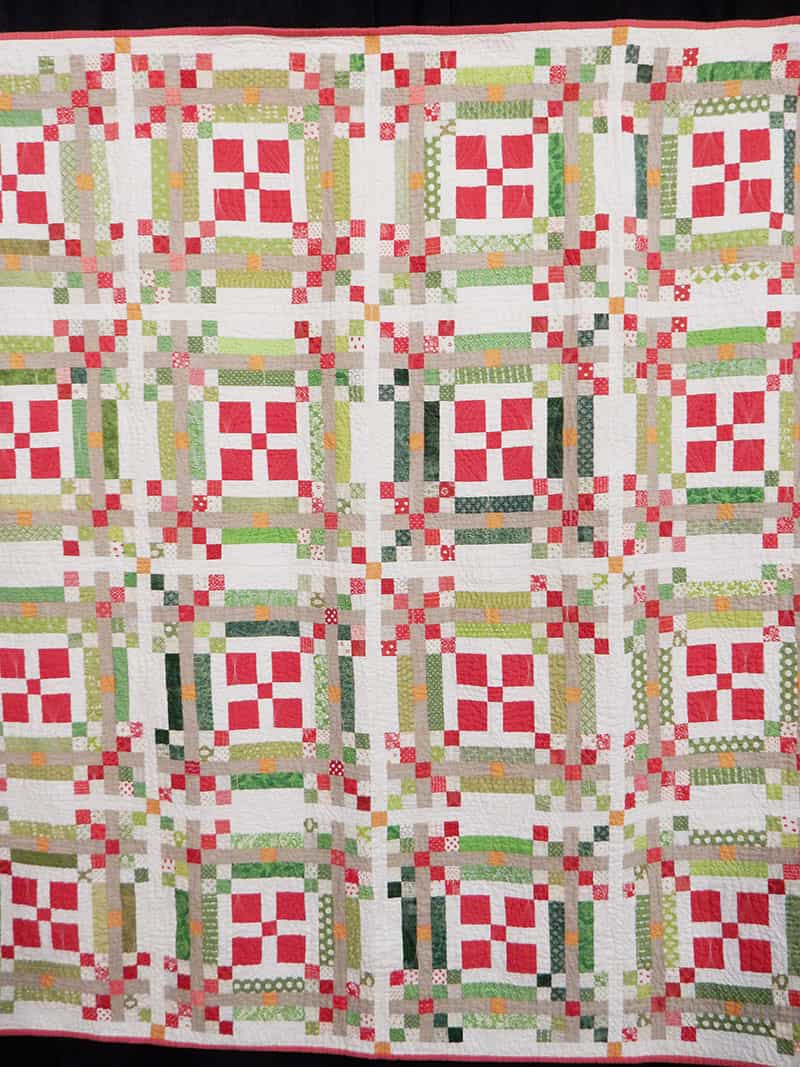 Holiday Party by Lissa Alexander from the 25 Years of American Patchwork & Quilting Cover Quilts Special Exhibit at Quilt Festival
I couldn't think of a better quilt photo to begin this week's post than my friend Lissa's fun and scrappy Christmas quilt from the Special Exhibit at quilt market.  Just looking at the photo as I type has me really ready to decorate.  I always wait until after Thanksgiving, though, so I'm glad it's early this year!  I'll also be punctuating this post with other Christmas photos from my library.
Saturday Seven Inspiration for Quilters 51
Let's Get Going
1.  This post is a super-quick read about "How to Take Control of Your Day."  Shira offers three quick tips that are really useful.  Because we all have a lot to do right now!  Read the article here.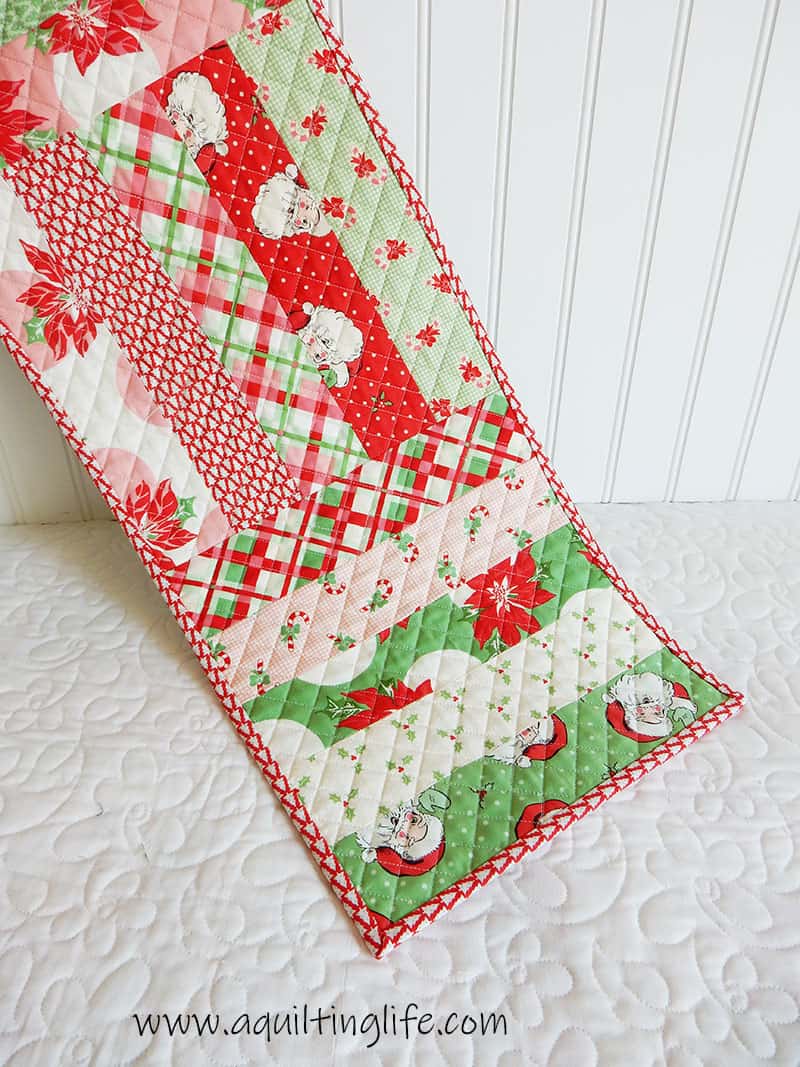 Find this Simple Table Runner Tutorial here.
To Make
2. These apple coasters are cute as can be!  I can't wait to make some for our table.  But they would also make a really fun gift!  You could pair them with a jar of apple butter or even some apple pie filling!  Find the tutorial for the apple coasters here.  And for a really fun Christmas houses pillow like mine below…click here for tutorial information and printable PDF. And if you'd like to put a zipper in the bottom as Carrie suggests…here is a great tutorial for that.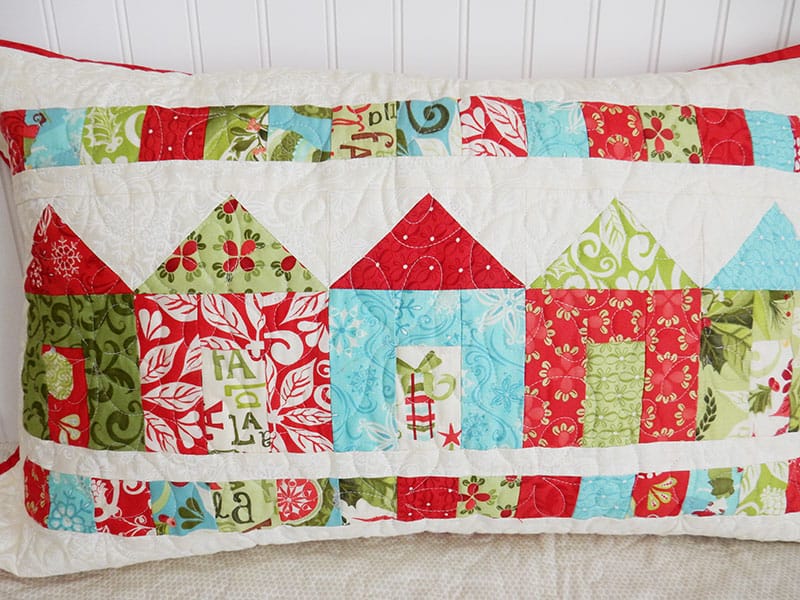 Good Reads
3. I've been loving reading this book in the evenings.  It's full of beautiful photos, lovely inspiration ideas, and is written in an easy-to-read conversational tone.  Find Homebody: A Guide to Creating Spaces You Never Want to Leave
here.  Joanna's cookbook has quickly become one of my favorites as well and makes a wonderful gift idea. Find it here: Magnolia Table: A Collection of Recipes for Gathering
.  And if you live in one of the parts of the country that is now embarking on surviving winter…you might enjoy this article on "The Norwegian Secret to Enjoying a Long Winter."  Turns out the Norwegians have discovered the secret to a positive mindset.  (I will personally need to read this again in May as we embark on our long summer)!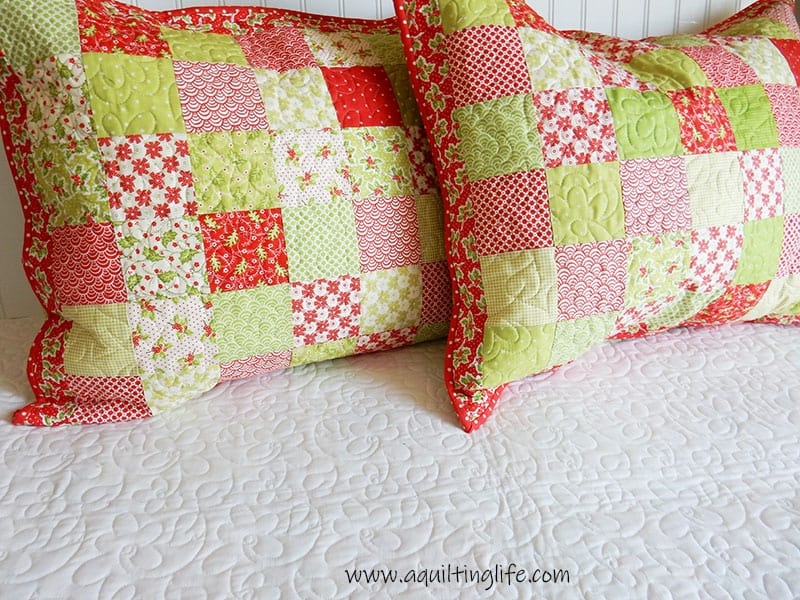 Tutorial for these quilted pillow shams here.
Gift Ideas: Quilting, Organization, Décor, and More
4.  Looking for gift ideas for family friends (or for yourself)?  Visit my Amazon Storefront page for ideas in the following categories: Quilting Books I Love, Organization and Storage, Quilting and Sewing Notions, Home Décor, Cooking and Cleaning, and Inspiring Reads.  Find all of these pages here.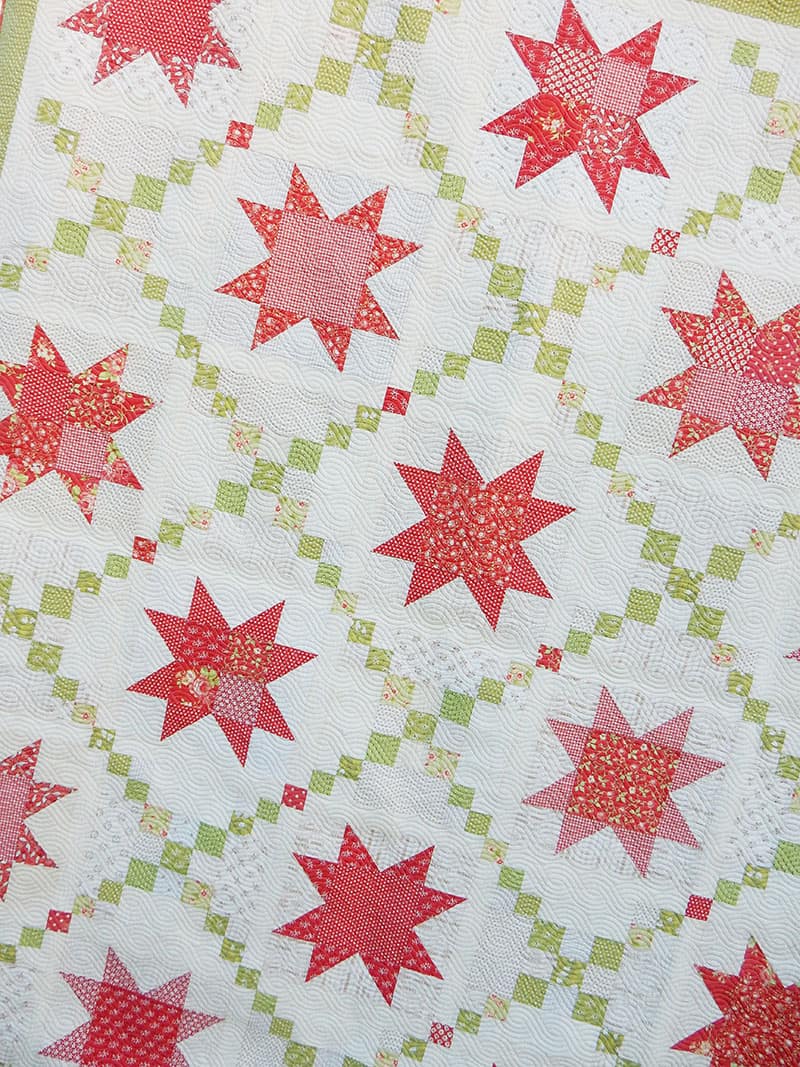 Sugar Pine Stars quilt in scrappy Fig Tree fabrics
Recipes & Cooking
5. I won't have a chance to try this until after Thanksgiving…but I had the most delicious Butternut Squash Soup at a French restaurant in downtown Houston a couple of weeks ago and have been wanting to try my hand at it.  Find a recipe for it from one of my favorite recipe sites here.  And this is the new stuffing recipe I'm going to be making this year…can't wait!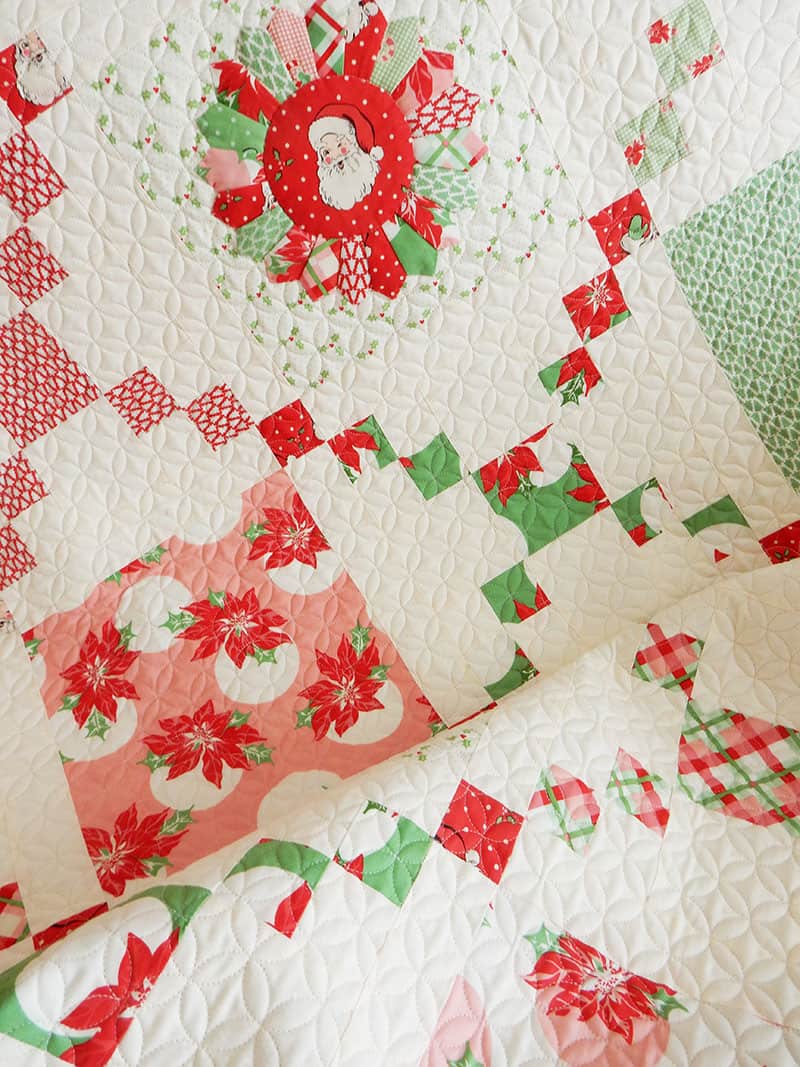 My "Pot Luck" quilt pattern in Swell Christmas
Home Keeping for the Holidays
6. This post on "How to Keep Your Home Clean During the Holidays" has some great ideas…and she has a downloadable printable checklist as well.  Find the post here.  And here are "5 Ways to Create a Cozy Kitchen at Christmas."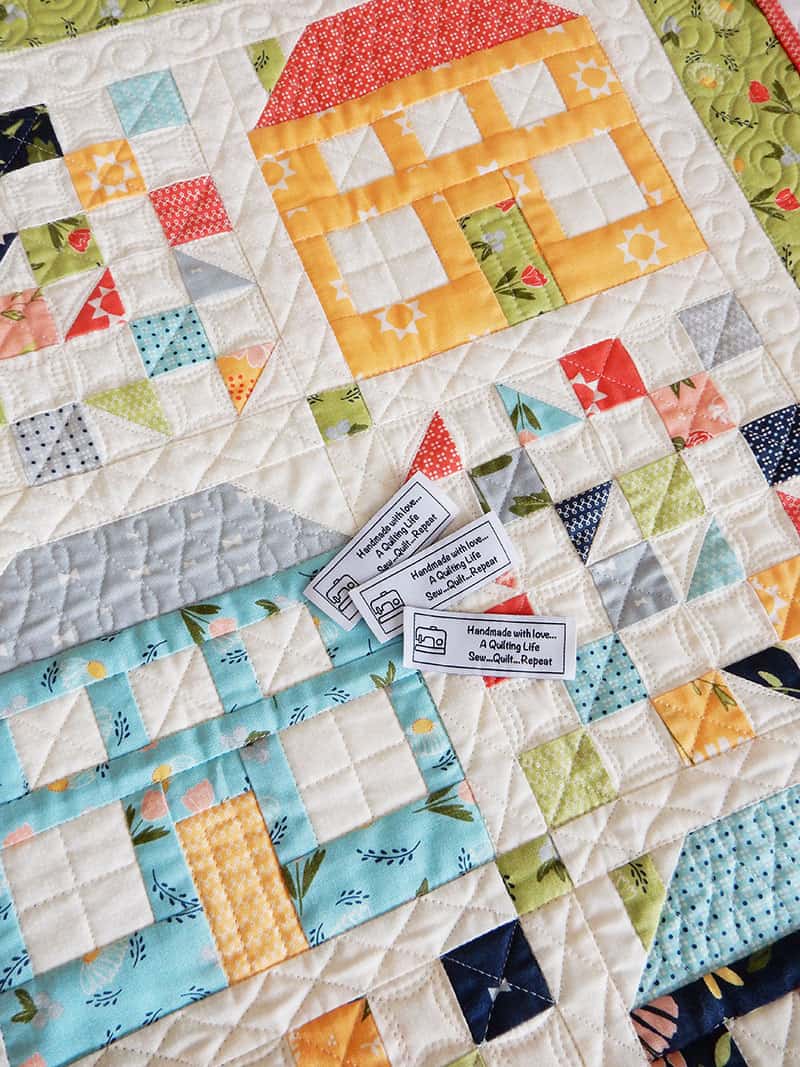 Quilt Label Idea
7. Do you add labels to your quilts? If you're looking for a fast and fun to way to add labels, try The Dutch Label Shop labels. And get them for 15% off by using the code aquiltinglife15 when you purchase.  (Also, I'm thinking of making my Be My Neighbor mini quilt in Christmas fabrics asap)!
Finally, did you know there are only a limited number of the Fat Quarter Shop special Jolly Boxes available?  And when they're gone, they're gone!  Click the banner above or click here to get yours!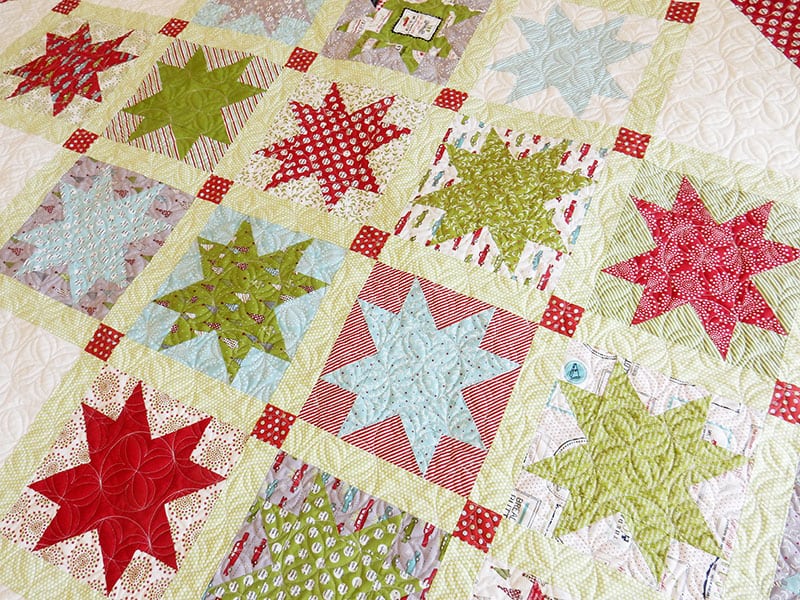 Hometown quilt in Christmas fabrics
More Saturday Seven Notes
Next week's post will be a special one–#52–which means I've been writing this series for an entire year.  Year two of this series will begin the following week!
Happy quilting, and thanks so much for stopping by!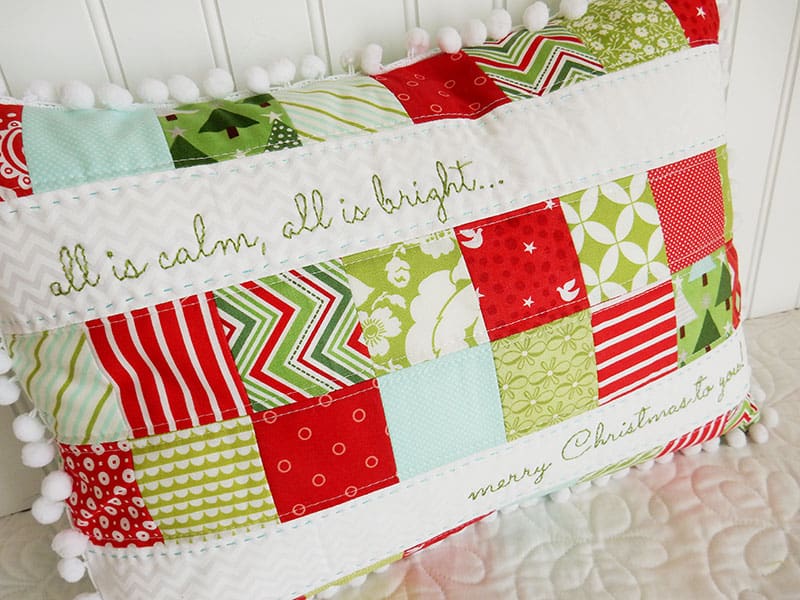 One of my favorite pillows…see it here with link to tutorial.