Hello and happy Saturday!  Welcome to the 29th edition of my Saturday Seven Inspiration for Quilters posts!  Each Saturday I post fun things for quilters: free tutorials, new patterns, fabric finds, recipes, home decorating and organizing and more!  I hope you'll find something you enjoy reading here to day!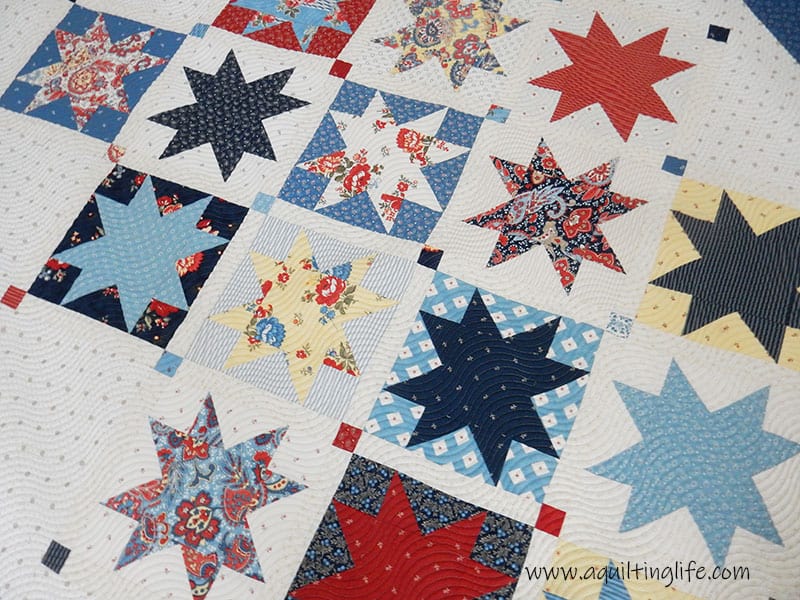 The quilt pictured above is one of my favorites!  It's a simple to piece quilt with blocks pieced from a Layer Cake!  I made this at the beginning of last summer, and since it's away at a shop now, I thought I'd post a photo!  Get the pattern here.  And since the 4th of July isn't too far away, I'm decorating this post with some of my favorite red, white and blue quilts!  And now some fun things for this week's Saturday Seven…
The Saturday Seven Inspiration for Quilters:
1. First, Craftsy is once again offering a great deal: get Craftsy Unlimited free for 2 weeks.  This means that all of their classes are free for you to watch for the next two weeks.  You must sign up by June 19th for this special offer.  Go here to get started.
2.  Next, this Lemon-Blueberry Streusel Coffee Cake is on my list to bake this weekend.  It's perfect for a Father's Day brunch or for anytime!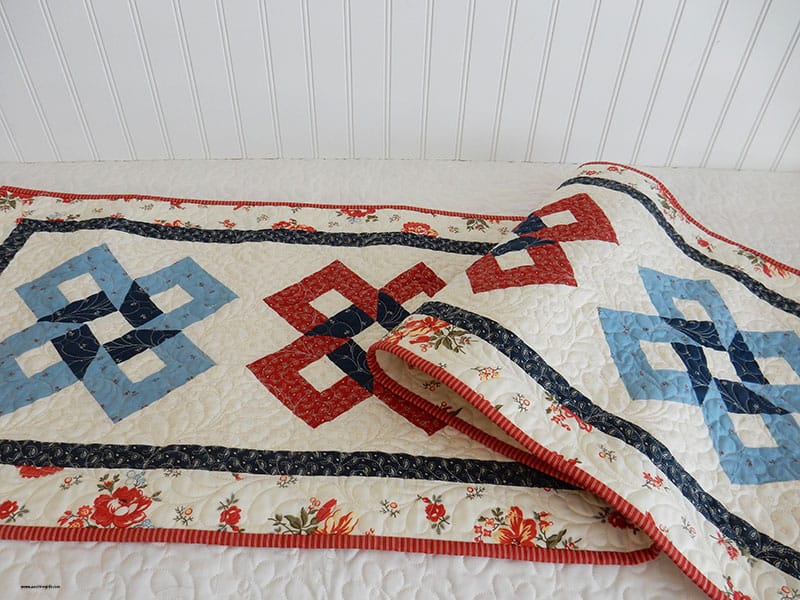 3.  Third, I loved the article "Small Steps: Make Do."  It has some great thoughts on dealing with clutter, chaos and disarray in a positive way.  Perhaps this article really stuck out to me because I have a lot of sewing room chaos and clutter to tackle this weekend!
4.  This two-tier turntable is perfect for storing lots of sewing and quilting supplies.  And this divided turntable is perfect for keeping sewing supplies from falling out or tipping over on a shelf or cabinet.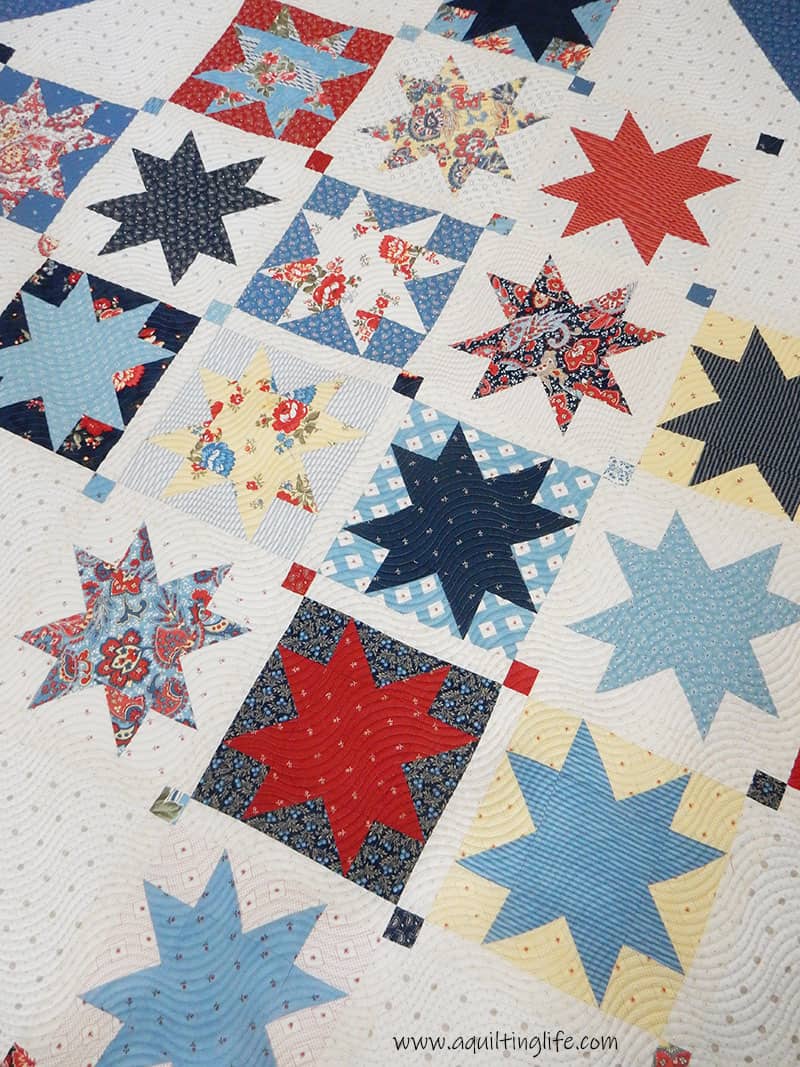 5. Next, looking for a fast and easy pillow for summer?  My Scrappy Patchwork Pillow tutorial is a good one.  I've not made it yet with a red, white and blue color scheme…but it would be perfect with those colors!
6.  Some much-anticipated fabric collections are hitting shops now…or will soon!  If you're looking for another fun Christmas collection for your Christmas sewing, Vintage Holiday is in the shop here! (I have some fun things planned along the Christmas in July theme for next month…so get your fabric ready)!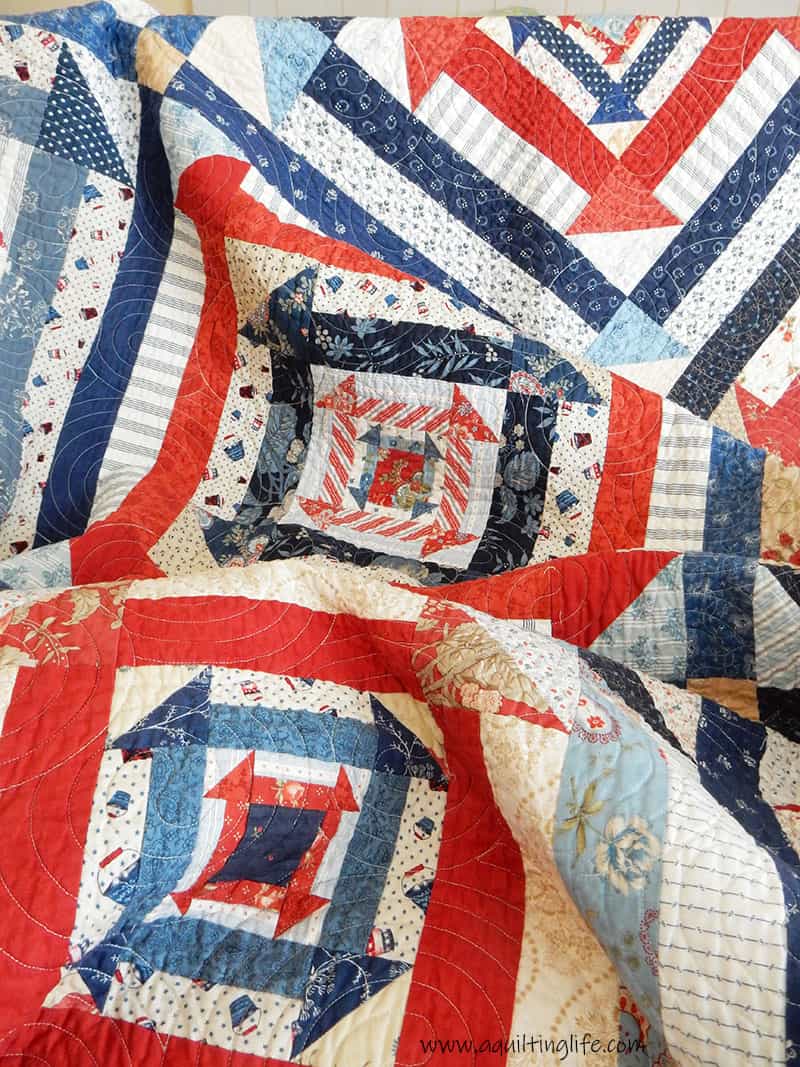 I've started my pillow shams to go on the bed with my scrappy red, white, and blue churn dash quilt!  Tutorial coming soon!
7. The Splendid Sampler 2 sew along just started on Thursday.  If you need another project…you can start with block 1!
Finally, I hope you've enjoyed this Saturday Seven Inspiration for quilters post and that your weekend is off to a terrific start! Thanks so much for stopping by!