Hello and happy Friday!  While the official summer solstice in the northern hemisphere isn't until next week (June 21st), today feels like the first day of summer for me!  You see, I finished up a good portion of a really big project yesterday!  So today I can finally start on my summer quilt projects and other summer projects I've been wanting to do around our home. I'm also going to try to work ahead on some things coming up so that I can have kind of a simplified summer for the next two months!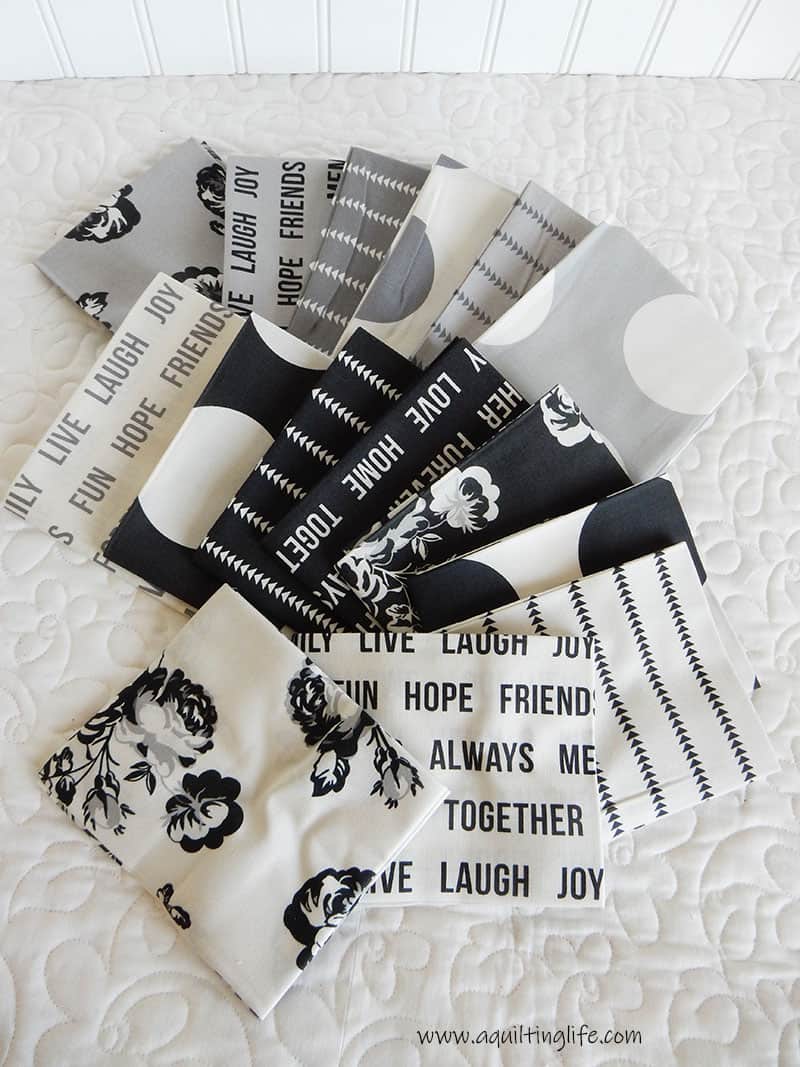 Yesterday, after finishing some work, I treated myself to untying the string on this bundle of Urban Cottage fabrics by Holly of Urban Chiks for Moda. While the fat quarter bundles are oh-so-pretty, sometimes you just want a close up look of the prints!  I've got a couple of ideas for sewing with this bundle–I just need to decide and start sewing!  I have to admit, though, after I took this picture, I bundled this right back up!  I'll untie it again after I've decided for sure on my project!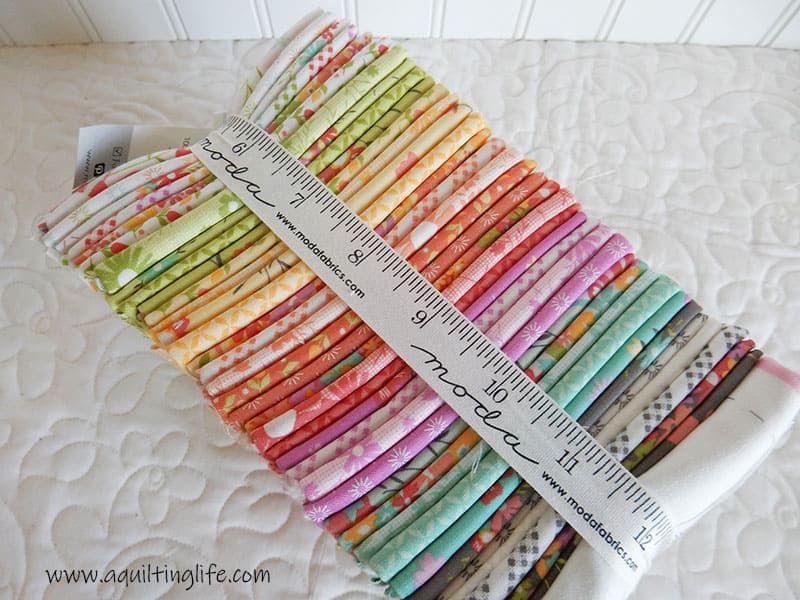 I'm also thinking about starting a project with Corey Yoder's Sunnyside Up collection.  Normally I tell everyone that I don't like purple, but this purple is so very pretty!  I really think it adds so much to this entire collection.  Larger fat quarter bundles are harder to get back into shape, so I settled for a close-up photo.
As I mentioned the last time I wrote about summer sewing, first on my list is some patriotic pillow shams! I've got the fabric on the cutting mat now!  Right after I get those finished up and ready to be quilted I'm going to get ahead on my Moda Block Heads 2 blocks and my own Block of the Month.  I'm also going to get things ready for a little Christmas in July sew along for here on the blog!
Because it wouldn't be summer without a little Christmas in July sewing, right?!!!  And this Christmas Figs collection will be in stores soon, so I'll be able to get fabric for backings for my little projects!
I'm also going to start finishing up the organizing process I began right after Christmas.  I was doing really well at cleaning up, clearing out, and getting great containers and bins for my things.  And then my Clover Hollow sample yardage arrived.  There were quilt market quilts to make along with magazine and book quilts to sew.  And then, I made small projects for the booth.  Quilt Market followed, and then I devoted most of the last month to that big project I mentioned earlier.  So it's back to organizing now, too!  And I'll have some follow up posts to share soon!  You might be able to tell I'm just a little bit excited about being able to get back to the things on my list!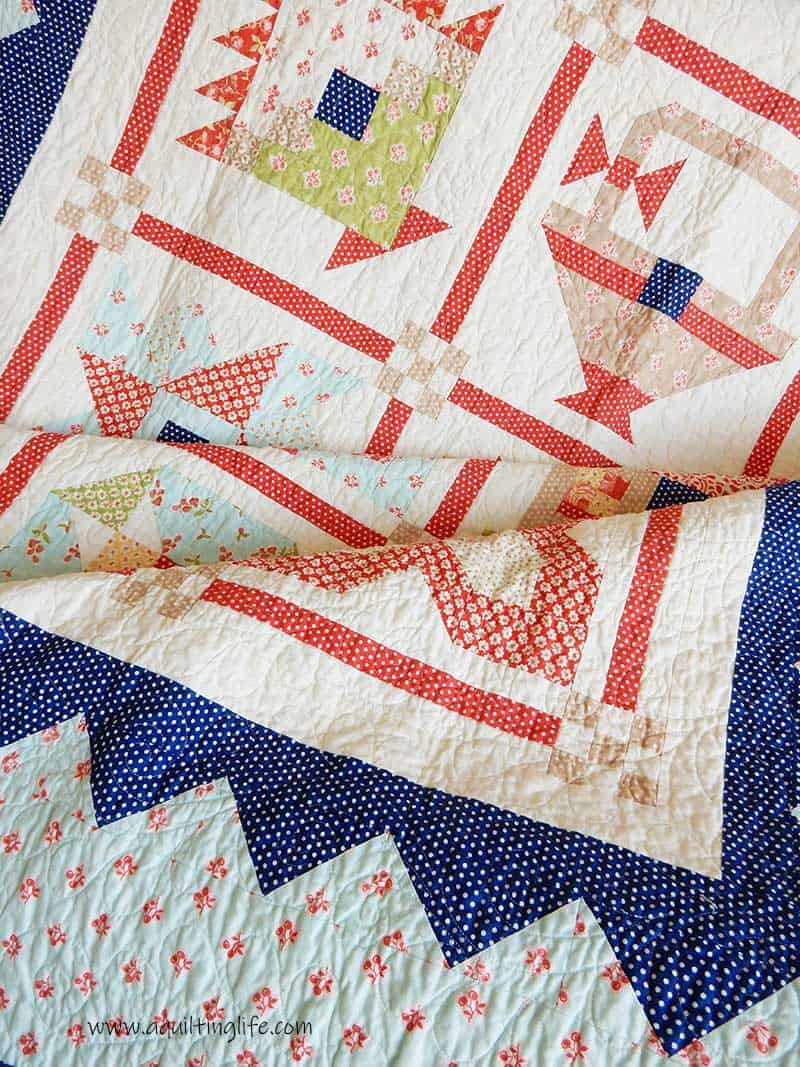 Yesterday I pulled out one of my favorite summer quilts to put on a bed.  The fabrics are from the Avalon collection by Fig Tree & Company, and the quilt pattern was from a Block of the Month by Fat Quarter Shop. (This year's Fat Quarter Shop block of the  month is just beginning–and I have a block included…get it here)!  As I pulled it out in all of it's crinkly-washed goodness, I realized that so many of the quilt photos we share on blogs and on social media are of crisp un-washed quilts.  Of course they are beautiful photos, but the truly beautiful thing about a quilt is that it is used and loved.  And maybe not always so crisp and clear.  Thus, the photo of this quilt!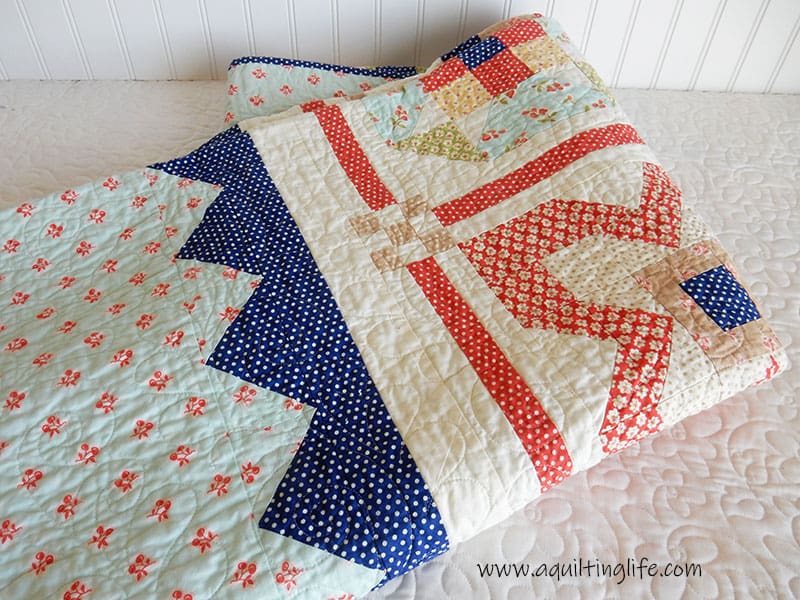 I hope you are getting to work on some of your summer sewing projects as well!  Making a plan to begin and anticipating  the project are the most important parts!  I hope your weekend is off to a great start–thanks so much for stopping by!